"We must make tomorrow happen today."
Mutantkind has taken a giant leap forward, and the nation of Krakoa is more powerful than ever before. But as divisions grow both inside and out, how will the nation continue to evolve? And who will shape the next chapter in the species' history?
Under head writer Jonathan Hickman, X-Men and its sister titles became the story of Mutantkind realising its full potential; transcending violence, scarcity, and death itself by uniting into a single sovereign nation. And after conquering their shadow-selves in the mystic X of Swords Tournament, the species is more driven than ever to expand what they've built, building Krakoa into an empire with galactic reach. To forge this new chapter, the X-Line would add creators Al Ewing, Vita Ayala, Si Spurrier and more to an already impressive roster, further elevating Hickman's vision into a galaxy-spanning cosmic opera.
"It's the next phase of this new era in the story of mutantkind," muses senior editor Jordan White.
"'Dawn of X' was the start of something big for the mutants, they stopped playing the game the way the humans said they had to play. Now, in 'Reign of X,' I think they go even farther and decide that they can be the ones to choose what game they play. They have big plans and the resources to carry them out. They're ready to lead the way to the future."
Through the X-Line's many interlocking narratives, this newly-expanded group of creators take the Mutant Metaphor at the heart of the title into a bold new frontier, exploring a species now fully untethered from the systems that held them down for so long. Mutantkind has taken a giant leap forward, and this is what comes next.
*SPOILERS AHEAD*
ONE GIANT LEAP
Picking up in the wake of Krakoa's victory in X of Swords
, the Reign of X opens with a series of staggering displays of the nation's new power and presence in the Marvel Universe.
Support For Comic Book Herald:
Comic Book Herald is reader-supported. When you buy through links on our site, we may earn a qualifying affiliate commission.
Comic Book Herald's reading orders and guides are also made possible by reader support on Patreon, and generous reader donations.
Any size contribution will help keep CBH alive and full of new comics guides and content. Support CBH on Patreon for exclusive rewards, or Donate here! Thank you for reading!
The X-Men have always been somewhat removed from the rest of Marvel's heroes, with the ongoing struggles of mutant kind backgrounded against the publisher's bigger ongoing stories. (Unless they're being pitted against other groups, that is.) While a global view of the species had been explored as far back as Grant Morrison's New X-Men, the creators behind the Reign of X saw the interconnectivity of the Marvel Universe as an opportunity to elevate mutant kind unlike what had been seen before. This push was given plenty of lead-in, with mutants impacting titles and crossovers like Captain Marvel, Champions and The King in Black event, but mutant kind's real leap forward would arrive through their next line-wide crossover: The Hellfire Gala. Gathering characters from across the Marvel Universe, as well as a number of real-world celebrities, the event is ultimately a showcase for Krakoa's power, culminating in another major step for the species: the foundation of the first mutant world.
(Planet Size X-Men: Gerry Duggan, Pepe Larraz, Marte Gracia)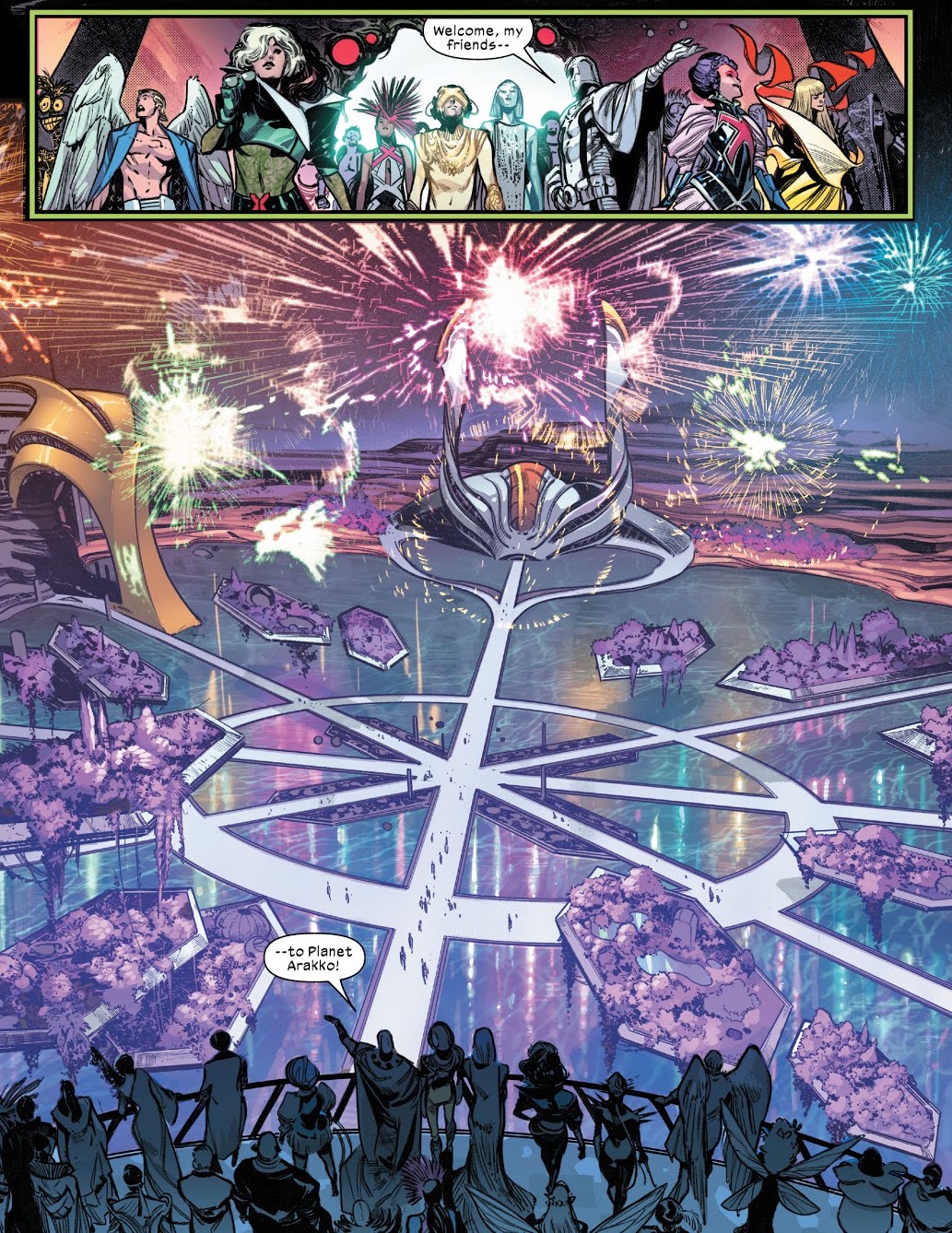 While the event leaves Krakoa on shaky political ground, the nation's power only grows further into the ongoing story. With S.W.O.R.D. acting as their space program, the mutants begin influencing economics and politics on a galactic scale, reshaping the Sol system around the newly-formed planet Arakko. Similarly, Krakoa's limitless resources have given them an advantage on earth, and while the mutants still use vigilante justice through groups like X-Force and the Marauders, they now have the means to dismantle their oppressors at the institutional level.

While Krakoa is still an intensely polarizing force in the Marvel Universe, these developments have caused a near-global shift in how the world sees mutant kind. Making their debut at the Hellfire gala, the newest iteration of the X-Men are treated as both heroes and celebrities, with special focus given to how they interact with their new global community. Even groups like the Morlocks, who were once vilified by the public for their more visible mutations, are given the means to show the constructive, helpful nature of their abilities, giving them the acceptance they've been denied for decades. However, the best example of mutant kind's image comes through Vita Ayala, Bernard Chang and Paco Medina's Children of the Atom
, which follows a group of human teens who use technology to emulate their mutant heroes. While the book's themes can get critical of its heroes, sometimes taking the angle of cultural appropriation, Ayala, Chang and Medina ultimately build the book around the mutants' cause becoming a movement, inspiring younger generations to act against oppression.
"What makes the new cast special to me is that they are reflective of a lot of people I know, who look up to what the X-Men stand for, and have taken it upon themselves to further those ideals," states Ayala.
"These kids grew up seeing X-Men as the ultimate heroes, super cool, revolutionaries. These kids are exactly the kids who, in real life, have posters of Storm and Wolverine in their rooms, who grew up seeing them as heroes and want to live up to that."
These new cultural, political, and scientific expansions have ushered in an age of prosperity, with Krakoan developments eliminating the "human" problems of scarcity, disease, and death. Yet, even as the nation expands into the cosmos, the mistakes and compromises of its founders seek to undermine it all.
WHAT LIES BENEATH

Since its foundation, Krakoa has acted as the ultimate sanctuary for mutants, absolving them of past crimes and uniting the species under the promise of a future that's finally in their own hands. Much of Dawn of X was spent exploring this new paradise, following mutants from across the X-Line as they grew into newer roles within Krakoa. However, the creators would also use Krakoa's influence to interrogate real-world society, with the nation's ethical compromises coming to the forefront in Reign of X. While the new X-Men are seen as a more traditional super-team, titles like Percy and Cassara's X-Force and Wells and Segovia's Hellions have shifted into something more imperialist, toppling foreign regimes and even exploiting mutant prisoners to further the nation's interests.
Reading X-Men comics for years and years, they were these super-powerful characters but their goal was to protect the humans who feared and hated them," muses writer Zeb Wells. "What a noble goal. But as soon as you take that and say, 'Okay, well now they have a different goal,' then easy answers disappear…and as a human reader you lose that safety net of knowing these characters have your best interests at heart…As soon as Jonathan did it, I knew I needed to get in there and play."

There is a pervasive sense of paranoia that underpins much of Reign of X, as the many secrets, lies, and broken promises sown in the previous chapter begin to build. The line's interstitial "Data Pages" have evolved to match this new tone, replacing fairly expository sections with journal entries and personal reports. Information is often subverted and recontextualized over ongoing stories, building a larger picture of distrust and division that eats away at the once-hopeful image of Krakoa. These divisions finally come to a head in the aftermath of the Hellfire Gala, with the nation's leaders turning on each other after the death of a polarizing figure in the mutant world.

(The Trial of Magneto: Leah Williams, Lucas Werneck, Edgar Delgado)
Initially framed as a triumph, mutant kind's desire to transcend their humanity takes on a more sinister light as its founding heroes begin to fall from grace. References to Prometheus and playing god surface throughout the line, and characters in every title are forced to grapple with the consequences of their actions, and the darker realities they've become a part of. The council's plans to stop Nimrod end up failing completely; morally upright characters are corrupted by unknown agendas, Sinister's operations continue to build towards the creation of his weaponized chimera, and closer to home, a dark presence begins to gather in the shared subconscious of its people. In place of older factional struggles, Krakoa has a more intrinsic problem: its imperfect foundation is poisoning the hearts and minds of its people, and if something doesn't change…it might just tear the nation apart.
(WE NEED A NEW WAY)
From the very beginning, a key pillar of the Krakoan era has been examining the mutants' sense of morality as they move beyond human society. Brought to life in the stark good-versus-evil battles of the silver age, the X-Men and their "Mutant Metaphor" has taken on a number of meanings over the years. However, with the species established as a sovereign nation and a galactic superpower, Hickman and his fellow creators hold the metaphor up as a mirror to modern-day society, with many of these flaws being confronted in Spurrier and Quinn's Way of X.
"It runs in parallel to how a new state has to set itself up in the real world," muses writer Si Spurrier.
"Which is, you start from a position of 'We are new, we are perfect, nothing is wrong with us.' Then, over time, it becomes quite clear that actually it's not perfect, and probably they knew it wasn't perfect from the beginning."
While Krakoa is championed as a paradise for all mutants, its leaders' actions tell a much murkier story: this is a flawed paradise, run by people with their own agendas. In turn, we see Krakoas foundational laws corrupted throughout each story: Krakoa's "sacred land" is often weaponized or commodified; groups like X-Force are given carte blanche to cross moral lines for national interests, and even the new generations of mutants are held in the sway of dark, destructive forces. But while much of the Krakoan era is dedicated to exploring these societal flaws, Reign of X sees the mutants finally confront them, with the younger generations rejecting the council's approach in favor of something more global, empathic, and humanitarian.
Even as old vestiges of the "Krakoan experiment" begin to crumble, the nation's philosophers, visionaries, and heroes step in and fill the void. Once the would-be founder of the state's church, Nightcrawler finds a new role alongside another outsider in Krakoa: Legion. Spurred on by the psychic threat of Onslaught, the two end up bringing the nation's people together, collectively renouncing their past trauma and resolving to be something better.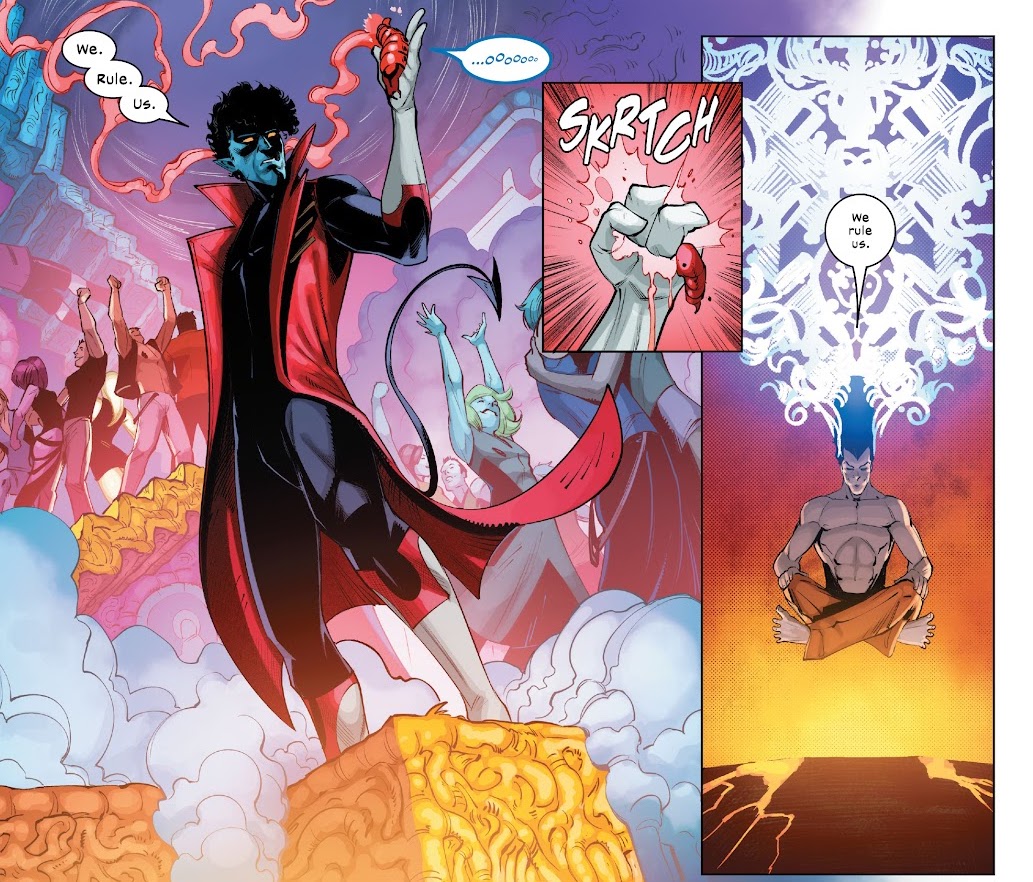 (Way of X: Si Spurrier, Bob Quinn, Java Tartaglia)
These themes of renewal and rebirth permeate many of the later stories in the Reign of X, with characters moving between titles and roles to showcase their arcs in the larger line-wide story. For some, like Cable, this "return to form" is literal, but for groups like X-force, the New Mutants, and Gerry Duggan's relaunched X-Men, it's symbolic of something much larger. The nation founded by Xavier, Magneto, and the rest of the quiet council was one built on moral compromise, a compromise that continues to eat away at the fragile unity they've built. But as heroes continue to rise beyond the nation's founding vision, Krakoa begins to change with them, becoming a nation defined less by its might and more by its growing sense of community. Yet while its predecessor ended on a triumphant note, the Reign of X's finale is a sobering one. Mutant kind has never been stronger, but as its founders plot against one another and its enemies grow, it also feels closer to ruin than ever before.
NEW KIDS ON THE BLOCK
Building on the unprecedented success of its predecessor, Reign of X is an ambitious but complicated entry in Hickman's vision for the X-Men. While the Dawn of X was a chapter defined heavily by close collaboration between creators, the X-Office faced a number of challenges bringing their next story to life. Due to the COVID-19 pandemic, creators who used to share offices had to begin collaborating virtually, resulting in heavy modifications to each book as well as the line's ongoing story. However, the isolation of lockdown would only strengthen the team's collaboration, with creators throwing their energy into streamlining their original plans while keeping the timeline intact for upcoming events. While the line would still follow the broader points of his vision, Hickman would eventually announce his departure as "Head of X," leaving the line in the hands of a group he's grown to rely on over the last few years.
"There's no version of this where I'm putting plans in my back pocket to save for another day," states Hickman.
Everything I have already done, everything I'm currently working on, and everything I had plans to do…belongs to the team. That was the point of having a room and a cohesive group of creators working together… I'm very fond of them, and they've done a great job. And if I'm being completely honest, I'm kinda jealous of some of the stuff they're getting ready to do over the next few years. The plans are amazing."
Through this astonishing group of collaborators, the X-Line is more ambitious and varied than it's been in years, giving titles for every kind of reader while continuing to weave together an ongoing master story. With Jonathan Hickman readying his last chapter for the line, the future of Krakoa and mutant kind remains shrouded in mystery, but there's one thing that remains certain: no matter what happens, the X-Men always endure.
Credit to creators for media used:
Rogê Antônio, Erick Arciniega, Mahmud Asrar, Vita Ayala, David Baldeón, Rain Beredo, Viktor Bogdonavic, Brett Booth, Garry Brown, Stefano Caselli, Joshua Cassara, Bernard Chang, Martin Coccolo, David Curiel, Russell Dauterman, Valentine De Landro, Edgar Delgado, Nick Dragotta, Gerry Duggan, Scot Eaton, Al Ewing, Ivan Fiorelli, Alberto Foche, Sunny Gho, Robert Gill, Marte Gracia, Guru-eFX, Jonathan Hickman, Tini Howard, Klaus Janson, Adam Kubert, Alex Lins, Matteo Lolli, Jason Loo, Marcelo Maiolo, Frank Martin, Paco Medina, David Messina, Matt Milla, Francesco Mobili, Phil Noto, Benjamin Percy, Sara Pichelli, Bob Quinn, Rod Reis, Valerio Schiti, Stephen Segovia, Israel Silva, R. B. Silva, Si Spurrier, Java Tartaglia, Marcus To, Zeb Wells, Lucas Werneck, Leah Williams, Matt Wilson, Nolan Woodard, and Guiu Vilanova.
Sources:
https://www.comicbookherald.com/the-complete-marvel-reading-order-guide/jonathan-hickman-x-men-reading-order/reign-of-x/
https://aiptcomics.com/2020/12/07/x-men-monday-86-jonathan-hickman/
https://aiptcomics.com/2021/09/20/x-men-monday-125-jonathan-hickman/
https://comic-watch.com/news/changing-times-an-interview-with-vita-ayala
hind%20the%20franchise's,stories%20%E2%80%94%20but%20not%20of%20Marvel.&text=X%2DMen%20comic%20fans%20have,but%20alas%2C%20it%20has%20arrived.&text=%22Oh%2C%20plans%20have%20changed%20entirely%2C%22%20Hickman%20says.
https://ew.com/books/inferno-jonathan-hickman-last-x-men-comic/#:~:text=The%20writer%20be
https://ew.com/books/x-men-comics-writers-highlights-house-of-x/
https://www.gamesradar.com/reign-of-x-interview-x-men-editor/