Previously: Pt. 1 – Pulp-Noir Nostalgia
Discovering Brubaker & Phillips
I've been reading comics my entire life, but the early years mostly consisted of me getting an assortment of old, random issues or trades with no sequence to them. I had copies of Batman: Ten Nights of the Beast, Superboy Annuals, Ghost Rider, etc. My first trip to a real comic book store, and my first ongoing series I kept up with was Captain America (2005) by Ed Brubaker, Steve Epting and Mike Perkins. I was around 11 years old, and I followed the monthly adventures of Cap discovering his old sidekick, Bucky Barnes, was being controlled as the assassin, The Winter Soldier. The early parts of the Brubaker run were infused with a cold war spy thriller energy, and the desire to revive Bucky came from Brubaker's own nostalgia.
Speaking to Kevin Smith on the Fat Man Beyond Podcast, Brubaker explained that both he and Bucky were military brats, allowing for a certain level of escapist self-insertion. As he grew up searching for Captain America comics, his holy grail was "Captain America #99" which he assumed was the death of Bucky. In reality, the Marvel revival of Captain America went from Tales of Suspense #59-99, with Captain America spinning off at #100. Bucky's death at the hands of Baron Zemo was a retcon, and "Captain America (1968) #99" doesn't actually exist. Thus, upon receiving the Captain America title, Brubaker requested to bring Bucky back as the Winter Soldier, and re-contextualized Cap's experiences of his dead partner with an arguably greater tragedy.
Reading about the Winter Soldier hooked me on modern comics, and I've kept up with certain characters like Daredevil, Captain America, and Batman (all people Brubaker has written) ever since. However, I never actually saw past Brubaker's superhero work. I read most of his Marvel and DC books, and I knew he was famously partnered with Sean Phillips doing creator-owned crime comics, but I never went out of my way to read any of those stories. For a long time, my fondest memory of reading Brubaker's work was the original 14 issues of the Winter Soldier arc. That character meant a great deal to me and my holy grail in returning to comics collecting in 2020 was buying Brubaker's full run on the Winter Soldier.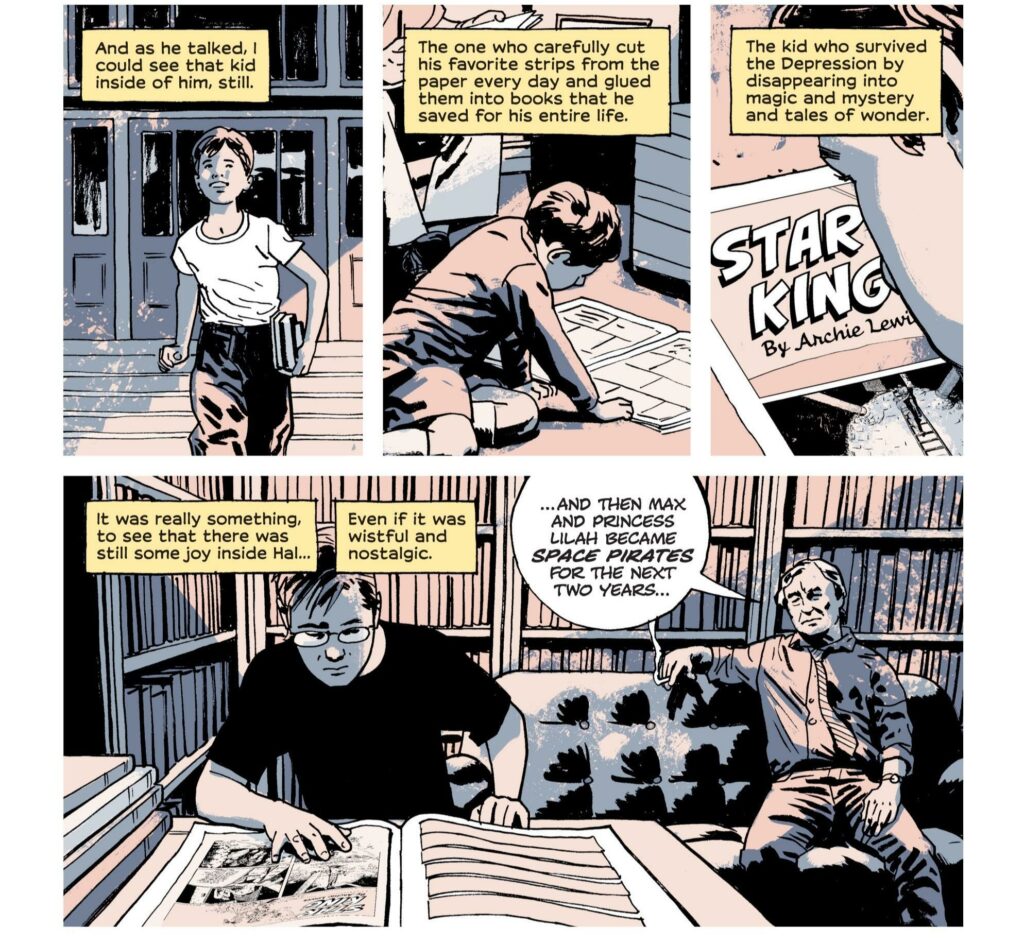 As I worked my way through the Brubaker Cap run as an adult, I discovered my store always had Brubuaker and Phillips' Criminal
on hand. I asked the owner about it, and he said the entire staff enjoys Brubaker and Phillips' work enough to keep all of their titles in stock as much as possible. So I decided to buy Vol 1 "Coward" one afternoon, just to see how I felt about it. Then the next week I bought "Lawless." Then after that "The Dead and the Dying." Then "Bad Night" and on and on and on until I worked through all of Criminal. But I couldn't stop there. I bought all of Fatale and read it in a day. Then all of The Fade Out. I bought both Pulp and the Criminal Graphic Novellas, and before I knew what hit me, I had a shelf completely dedicated to Ed Brubaker and Sean Phillips comics. Essentially the majority of 2020 and the whole of 2021 was me reading around 20 years of Brubaker/Phillips work that constantly made me feel like it was written exclusively for my tastes, and where I was right now. Brubaker and Phillips became my pandemic comfort books.
Support For Comic Book Herald:
Comic Book Herald is reader-supported. When you buy through links on our site, we may earn a qualifying affiliate commission.
Comic Book Herald's reading orders and guides are also made possible by reader support on Patreon, and generous reader donations.
Any size contribution will help keep CBH alive and full of new comics guides and content. Support CBH on Patreon for exclusive rewards, or Donate here! Thank you for reading!
As I tried to collect Brubaker/Phillips comics, two things became clear to me: 1) the quality of the books themselves and 2) the thematic progression from the early days to the modern era. In the first case, I wanted to rebuild my comic collection but I think we can all sympathize with how much of an aesthetic cluster-fuck that can be. Long boxes of single issues are great to dig through, but a pain to carry, organize or take up space in your house. Most Big Two comics don't particularly care about the quality of trade reprints, and as the pandemic supply chain issues worsen, it's harder to find quality books that I want to have on the shelf.
This is never a problem with Brubaker and Phillips. The team prioritizes the physical books as art objects. A deluxe hardcover of something like Pulp looks great on the shelf, it feels nice in your hands, the pages aren't flimsy, and you feel compelled to flip through it even if you aren't actively reading the story. Having Brubaker/Phillips in book form is as much part of the experience as reading the stories. They feel like conversation pieces, like gifts, like display items in their own right.
In the second case, I think reading these stories makes clear that Brubaker cares a lot about death and our spiral towards it on a global scale. I tried my best to read all of their collaborations in publication order, which is hard because you never know what is and isn't on hand at the store. However, even with a loose chronology, you see Brubaker and Phillips evolve from doing comic riffs on classic crime stories to developing what they care about in more complex ways. Stories with Femme Fatales eventually become about the concept of a Femme Fatale. I think it's difficult to parse specific eras for them as such, but once Jacob Phillips begins coloring their work with My Heroes Have Always Been Junkies, every story feels meditative, concerned with life and death akin to a mid-century existentialist novel.
Being-Towards-Death
In 2019, Ed Brubaker nearly drowned after being caught in a riptide. He was stuck in open water for about 30 minutes before a stranger was able to save him. The experience was unmistakably traumatic and translated into his next major work, Pulp
. Brubaker states:
"Pulp was the first story I wrote after that day, and there's a clear strand of the story that comes from that day in the sea, where I can see myself trying to process the fear I felt… But as I started writing, the story just became what it is… a story about a dying man looking back at life as the world around him becomes a horror show."
Ed Brubaker, CBR, 2020
Alongside Pulp, however, his other work in the same handful of years, My Heroes Have Always Been Junkies, Bad Weekend, and Cruel Summer, all share elements of these mortal contemplations. Eerily, Junkies even opens with a monologue about the experience of drowning.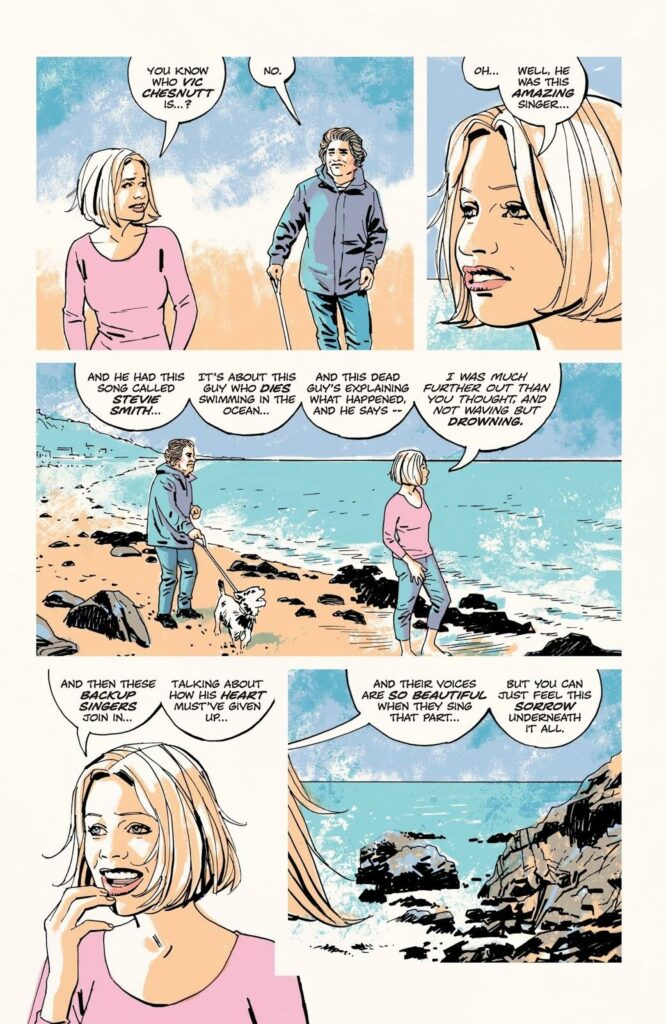 Brubaker and Phillips rarely write heroic characters, and so death follows them in less than noble ways. Rather than the cliché "gun-downed in a blaze of glory" attitude you might expect in other works of the genre, most Brubaker/Phillips characters simply die as a result of the consequences of their actions. Pulp is the first major turn where the contemplation of death as eternal, as natural, as uncaring and constant drives the entire narrative in a way that searches for purpose. The questions aren't about who or what is deserving of death, but where the people we love are left when we die. There's no nobility inherent to dying, the best we can do is make our lives into something where death matters to the people left behind.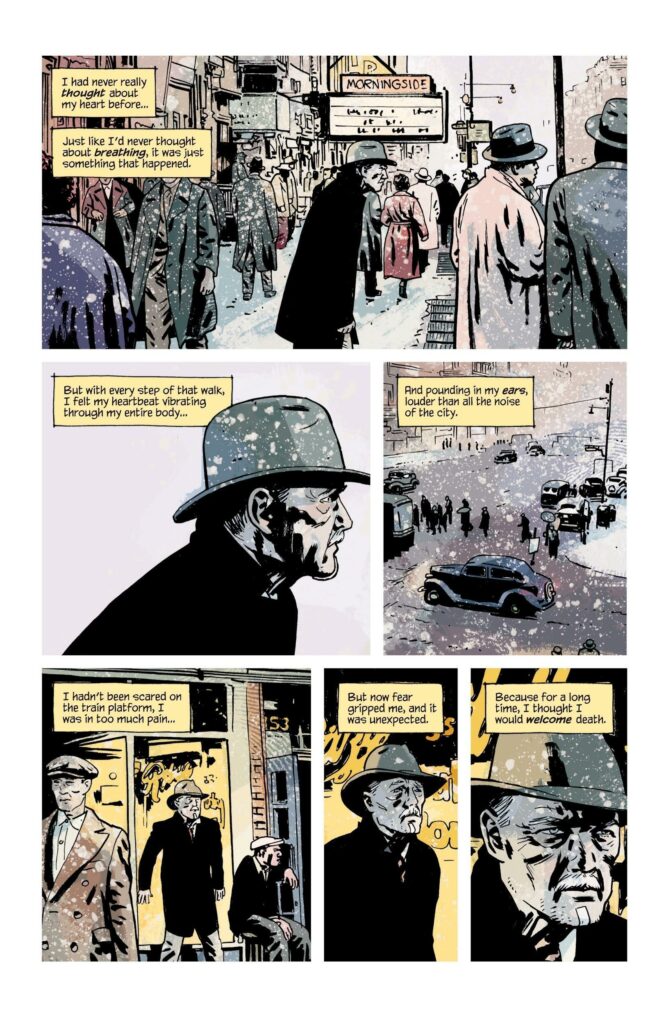 Pulp has its own eerie quality, coming out on the cusp of the first COVID era lockdowns and contemplating the ongoing anxieties of death alongside political monstrosities that never seem to go away. From the cover you expect a fun cowboy story in the style of Brubaker/Phillips. What you get is an existential meditation on death in the face of homegrown Nazism. This is certainly less escapist than you might hope entering 2020.
As Brubaker has discussed in the above interviews, the pandemic makes creative escapism difficult. The stories can deal with grave ideas, but if it's not enjoyable, if it doesn't offer some immersion, then it's hard to blame the audience for not wanting to engage with it. I don't think anyone right now wants to read about the end of the world, but there is certainly a craving for something that feels normal or routine in the face of the end of the world. Reckless is the natural result of that perspective, something cozy and nostalgic, something that knows the perils and the dreads we face, but packages it in a way that laces our fatalistic medicine with honey.
The Perfect Pandemic Read
Reckless is a series that takes all of the previous contemplations of mortality and stacks it on top of a COVID era nostalgia to produce a unique work perfectly suited to our pandemic times. Ethan Reckless embodies a feeling many of us already seem to share, a numbness that makes our emotions difficult to carve out, accompanied with a doomsday paranoia about climate change and the trajectory of humanity. Ethan is built from the mold of detective novel characters, but he isn't exactly a detective. He solves mysteries to help people, but he's not particularly heroic. Instead, he's simply barreling through life with the weight of an existential dread that he can't completely feel and can't stop, just like all of us.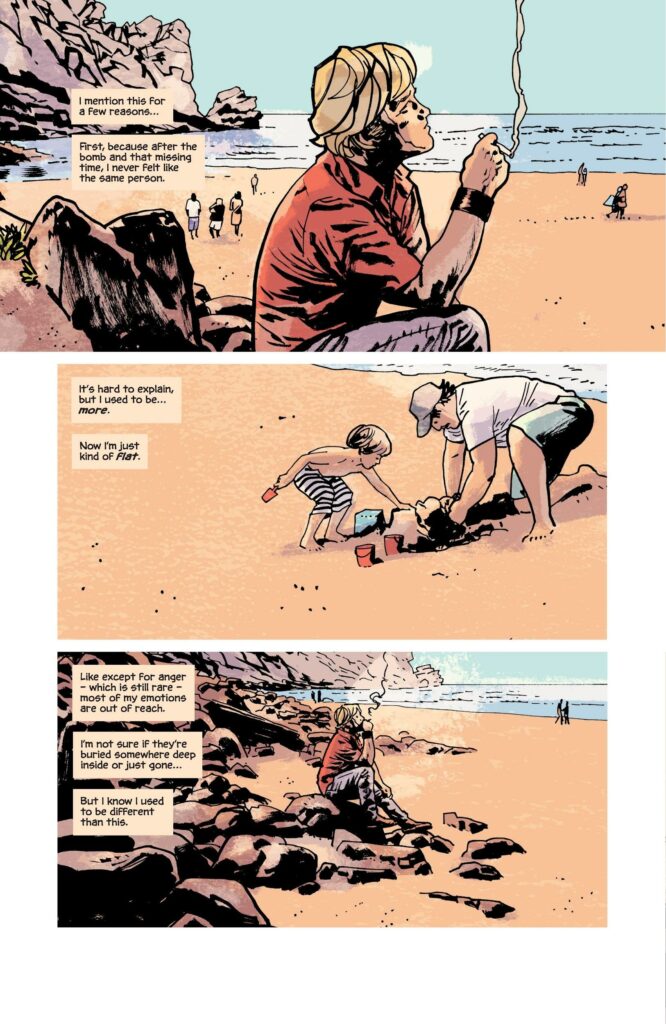 I'm struck by how matter-of-fact Ethan is. There is longing for something more, for the idea that there used to be more. And yet as we live isolated, growing older, letting time pass on and on, there's a growing numbness to it all. Maybe we did used to be full of life and passion, but now it all feels so out of reach.
Each Reckless book offers a mystery with numerous twists and turns. The action is explosive, Ethan racks up quite the body count but by the end all of it resolves in a way that feels almost too clean. The right people are caught, but the wrong people pay the price, and in the end none of it completely matters as we roll into the next adventure. Ethan's first case is perhaps his most emotionally engaging and yet he can't bring himself to feel or meditate on it with any personal investment or intensity. In the end it all washes away like it never happened.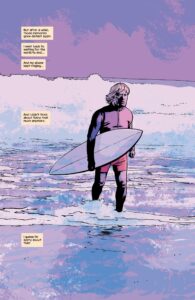 This is of course not a criticism but rather the very model of the stories that I find so captivating. Reckless is a series of inconsequential comfort food, it's a dime-a-dozen pulp paperback experience of our hero solving a mystery and musing on life. And it's done with such reverence for that formula that it's inseparable from its inspirations. Ethan is as much a classic pulp hero as Mack Bolan or Jack Reacher but the comics medium gives it a different kind of life that paints a beautiful picture out of the malaise of existence.
Sean Phillips draws an LA that no longer exists. While we can read Lee Childs describe a 90s computer interface in prose, being able to recapture the images of our former world resonates differently. Brubaker created a database of thousands of images referencing the LA of the 80s, and the result is an authentic look at the past imbued with warm, nostalgic colors. The concerns are of our world, the history and politics are relevant to us, but it at the same time feels unreal, distant. We can't travel to his LA but we see it realized differently than pulp novels.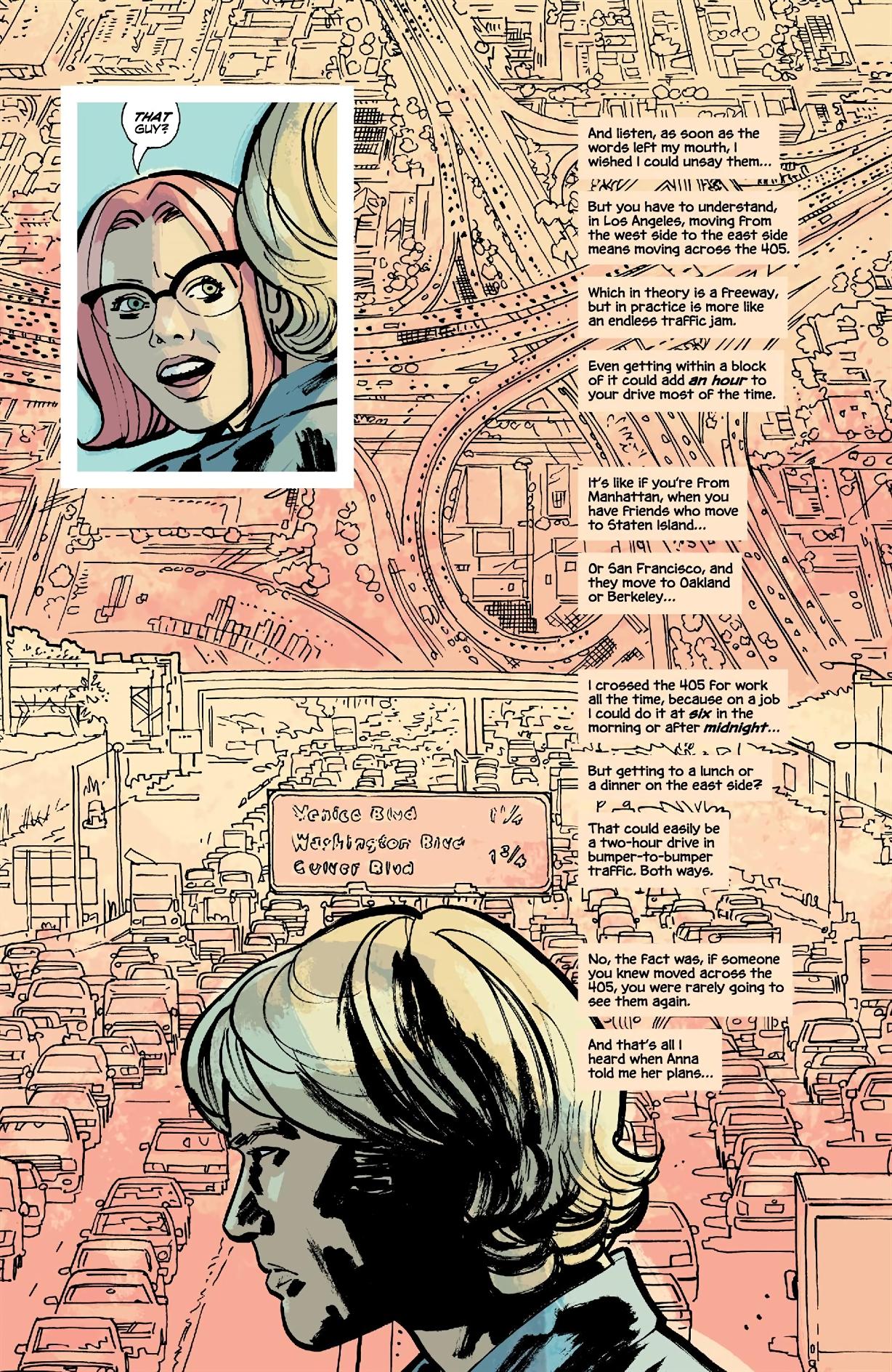 Destroy All Monsters: A Reckless Book (2021) Ed Brubaker/Sean Phillips/Jacob Phillips
Reckless represents a world that's always out of reach. It's real, or at least it once was, but now it only exists in our mind as the picture of a world we can never go back to. Brubaker's romantic view of 80s LA is not unlike the nostalgia that drove the creation of the Winter Soldier: a character born out of a longing for something that didn't exist, an attempt to make re-material a part of our childhood that we assumed would always be there. The emotions of Reckless are large, and yet distant. They feel out of step with the world but are so intensely a part of our current concerns that it leaves us nothing but numb.
Ethan's emotions may stay buried, but he embodies a perspective that feels especially helpful now as we see more and more atrocities with no expectations or hope for improvement. Instead we simply channel his somber acceptance. As Ethan tells Anna in The Ghost in You, we're all disasters waiting to happen, and all the shit we've been through is the only reason we're here right now, as the people we've become.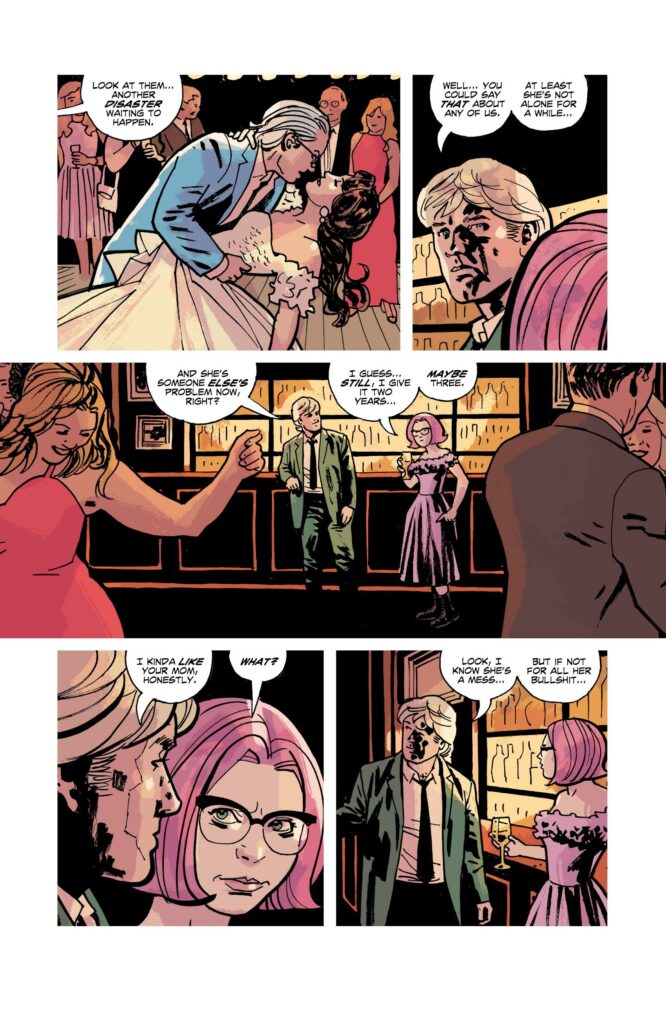 I certainly didn't want to spend the rest of my 20s stuck inside musing on detective novels published before I was born, and reading about characters that feel like they've lost their passion for life. But that's where we are and there's something comforting in how frank Ethan's advice ends up being. It does hurt to see all the tragedy that led us here, but we're here and we wouldn't be here without it. For whatever that might be worth.
Ultimately, if there's a thread to pull in the pandemic age, it's about loss. Not merely today's specific loss, but the universality of loss that comes with simply being alive. The loss of time. The loss of experiences we'll never know. The loss of an anchor to our world. And the loss of lives: friends, family, even just the ongoing distance we feel from the people we love most. And in the middle of that, there's a numbness that might not be our doing but helps keep us in check.
I think about Reckless a lot. I want to believe Ethan about the experience of getting old. Maybe you do just start to feel things less and less. And that doesn't seem like a tragedy, necessarily. It's actually very comforting, the notion that things just pass through you. You'll drive yourself crazy trying to remember, trying to carry the weight of existence on your shoulders whether it's from climate disaster, political violence, a pandemic, or just personal struggles. But maybe eventually, the emotions stop coming to you with such intensity. At some point, time moves on whether you feel it or not, and the inevitable numbness is our best defense against stagnation. A paralyzing emotion can only last so long, and after it's over there's still your routine, your normal. There's something nice about Ethan just sitting alone in that theater, realizing that people come and go, life comes and goes. You could drive yourself crazy trying to remember it all, or you could simply let it be. Maybe you can just spend your days reading detective stories, or surfing through life, like Ethan on Venice Beach.