Another question this week that I get from time to time: Where do I start reading Marvel Comics in layman's terms.
Normally, I'd just respond to this question with my guide on Where to Start with Marvel in 2016, and some egregiously delighted praise for Ultimate Spider-Man, but the recurring frequency of the question got me thinking, which is not something I like to make a habit of.
My 'Where to Start' guide will give you a lot of options, and explain a fair bit about comics, but it doesn't necessarily narrow down approaches, and the pros of cons and each. There's no right path by any means, but it can be useful to at least know your options.
So here we go: Dave's 3 Paths for Starting Marvel Comics.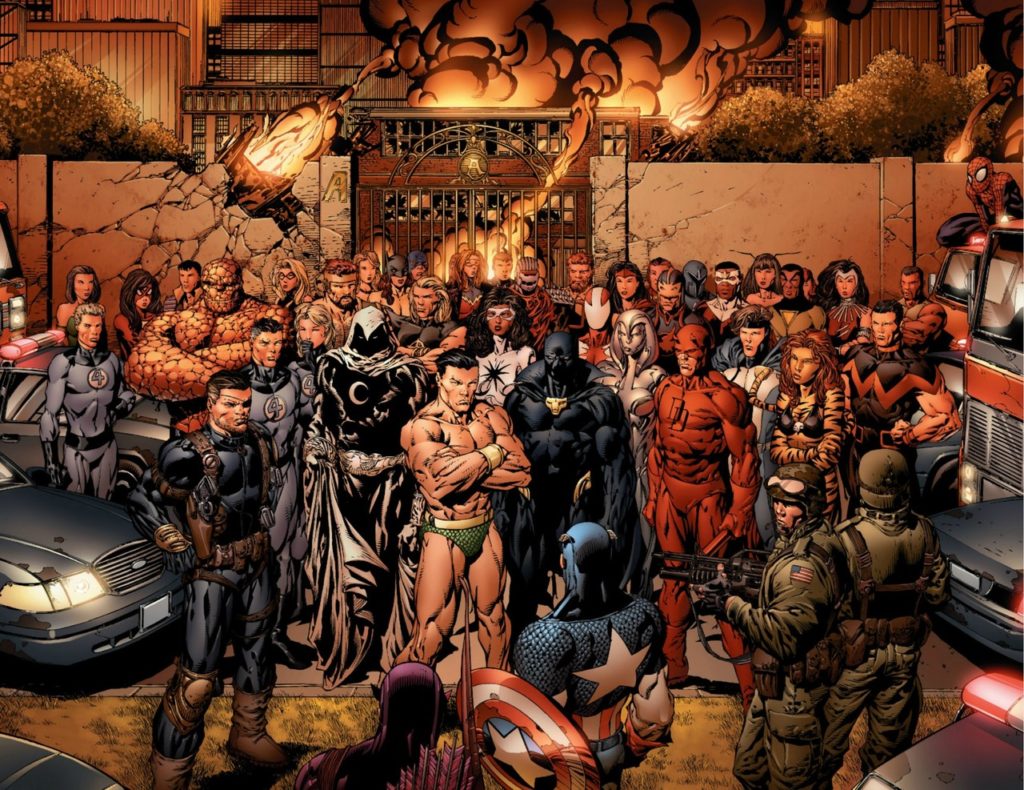 Path 1: I'm Reading Flippin' Everything
Much like watching dogs chase cats, or getting tremendously excited anytime Idris Elba appears on screen, it's only natural to want to read all the Marvel Comics ever. Especially when you first discover the joy of reading comics, there's a tendency to want to read all of them so that you get the full story, and don't wanna miss a thing.
Support For Comic Book Herald:
Comic Book Herald is reader-supported. When you buy through links on our site, we may earn a qualifying affiliate commission.
Comic Book Herald's reading orders and guides are also made possible by reader support on Patreon, and generous reader donations.
Any size contribution will help keep CBH alive and full of new comics guides and content. Support CBH on Patreon for exclusive rewards, or Donate here! Thank you for reading!
I have felt exactly this way. In a lot of ways I still do. I understand completely.
As recommendations go, beginning from… well, the beginning seems like an offensively simple idea. If you want to catch up on LOST, you start with season one episode one. If you want to catch up on Harry Potter, you read the first book. So with Marvel, if you want to catch up, you just start with the first comic (Fantastic Four #1, published in November, 1962) and go from there right?
This is an option certainly, but it's one that can very quickly turn excitement to intimidation to frustration through sheer heft and confusion. In short, reading every Marvel comic is a whole lotta comics goin' on. There's going to be a lot of good, and plenty of bad, and sometimes it just isn't worth the immense amount of time or even sorted coherently (we'll get to that).
BUT… trying to read as much of Marvel's storied history as possible IS totally worth it.
It's exactly the reason I created the My Marvelous Year reading club guides.
(Pitch Time! Time for Dave to try and sell something that doesn't actually cost anything!)
With My Marvelous Year, we're reading 10 storylines published during a single year of Marvel publication, one year at a time, with a new year's reading list covered every week. So the first week of 2016 we read Marvel Comics published in 1963 (plus FF #1 in 1962), and the second week we read Marvel Comics published in 1964, and so on.
If you want to learn more about the club, or want to sign up, you can do so here.
Needless to say, this is my favorite option for the Path 1 reader. I'm having a blast working through all of Marvel's history, and anybody can join at any time, and work through at your own preferred pace.
To recap:
Pros of Path 1:
You read more Marvel Comics than you ever thought possible
You know more about Marvel history than you ever thought possible
You are almost never left wondering "Wait, when did Magneto aggresively threaten a Bovine midwife in order to extract information about his children?"
Cons of Path 1:
You will definitely get less sun.
It takes a lot of time, and reading, and not every comic is great!
Strict adherence to this approach means you won't want to jump ahead to more recent books that you might enjoy more! It's very easy to get bogged down feeling like you "have" to read everything before you can move ahead – this can make reading comics a chore, and that suuuccckkks.
Path 2: Give Me a Guide and I'll Jump In Anywhere
This is basically why the Comic Book Herald 'Marvel Reading Order' exists.
My general framework has been suggesting comics that will help you understand the Marvel Universe as it stands today, and to place them in a chronological order that avoids as many "Wait, when did Character X DIE?" moments as possible.
It's a blend between comprehensive (you still read a WHOLE lot of comics) and efficient (you don't have to read everything, and as always, the choice is yours). Plus, you get a variety of entry points, so if you only want to read from Civil War forward, hey, you can do that.
The second wrinkle with this approach is reading based on a particular character you like. Wolverine fan? There's a guide for that. Shellhead? There's a guide for that? Negasonic Teenage Warhead fanatic? I mean, I do have both an X-Men and Deadpool guide, but that's it, let's not go crazy here.
To Recap:
Pros of Path 2:
You read curated guides through the modern Marvel U.
Flexibility to pick and choose your own starting points
You get some, varied amounts of sun.
Cons of Path 2:
There will always be history or references that you haven't read.
Requires some mental gymnastics initially as you get used to reading Marvel books.
It will make completists sweat profusely.
Path 3: All Killer, No Filler
This Path is the easiest, and probably the most common recommendation. Instead of trying to conquer comic overload, you simply read the good stuff, the best of the best, the classics!
Comic Book Herald has plenty of guides to suit this reading style including:
The 25 Most Essential Comics From 1961 to 1998
The 100 Best Marvel Comics From 1998 to 2015!
My rec for a lot of new readers interested in this approach is to work your way through the 100 Best stories list and see what you like. I've compiled that list in chronological order because, nerd tendencies, but it's substantially looser than other guides.
Pros of Path 3:
You read the good stuff whenever you want!
You're free to go outside and see the sun!
You can START with Superior Foes of Spider-Man like that even makes any sense!
Cons of Path 3:
You're going to miss stuff. Not good for completists.
Can be confusing.
Some stories are simply better with the rich and storied history of the characters.
And there you have it, three possible approaches to starting with Marvel Comics. To each his own, and to all: Enjoy the comics!
Have an approach that has worked for you? Do what feels right to you in the comments below!