As more and more comic book publishers are willing to place sizable portions of their library on "all you can eat" subscription services like Marvel Unlimited or Scribd, it raises the question how this impacts sales.
I took an in-depth look at the impact Marvel Unlimited may have had on Marvel trade sales (shortcut: Trade sales have actually increased as Marvel Unlimited adoption has increased), but I find it similarly interesting on a smaller scale.
Which brings us to this week's question:
How is Valiant making money… just read all of their books on Scribd? ~ @bcgio
For background, Valiant Comics is consistently on the cusp of top 10 comic book sales performance, with a strong roster of alternate superheroes created in the early 1990's by the likes of ex-Marvel Editor-in-Chief Jim Shooter and many others. In 2012, Valiant returned to the comics landscape after a decade-plus absence with their "Summer of Valiant" relaunch.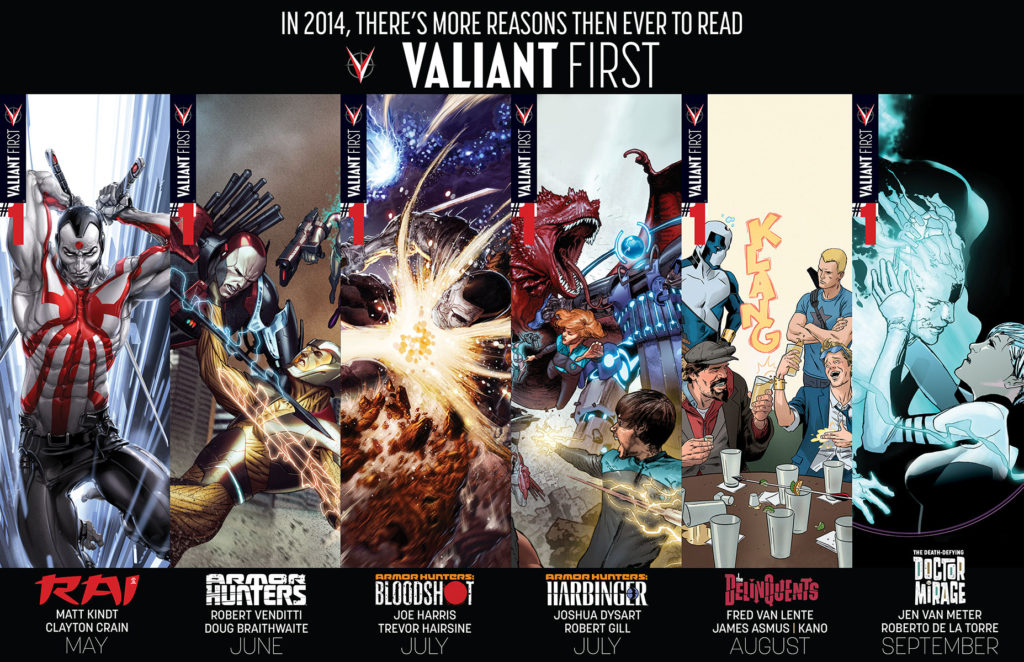 Scribd Unlimited's comics wing launched in February 2015, and Valiant was one of the most notable contributors, with the entirety of their post-2012 relaunch available to consume. Much like Marvel Unlimited, Valiant presented a "6 month wait" cut off – new comics are added to the Scribd library after, approximately, a 6 month wait. Nonetheless, It's an extremely cost-effective way to explore the valiant Universe (highly recommended), at $8.99 a month for Scribd (typically with at least one month of trial free).
Support For Comic Book Herald:
Comic Book Herald is reader-supported. When you buy through links on our site, we may earn a qualifying affiliate commission.
Comic Book Herald's reading orders and guides are also made possible by reader support on Patreon, and generous reader donations.
Any size contribution will help keep CBH alive and full of new comics guides and content. Support CBH on Patreon for exclusive rewards, or Donate here! Thank you for reading!
What has this immense accessibility done for Valiant's trade sales?
Valiant Sales Data Since Inclusion in Scribd Unlimited
Intriguingly, prior to Scribd Unlimited offering the Valiant back catalog, their top performing trade sales came from Quantum & Woody
, and Bloodshot first volumes
. In January 2015, Quantum & Woody Vol. 1 was the 53rd most popular trade for all publishers (estimated 1,556 sales for $15,544) and Bloodshot Vol. 1 was the 56th most popular trade (estimated 1,519 sales for $15,175).
By the end of February 2015, all 5 of the Valiant trades in the top 300 sales had fallen off the charts. Valiant was left with the newly released Delinquents
(a really fun Quantum & Woody and Archer & Armstrong team-up – 144th most popular trade) and the Quantum & Woody Deluxe Hardcover
release (which despite 286th placement, and a meager 326 estimated sales, had comprable estimated revenue to the more popular Q&W January trade due to a higher $39.99 price tag).
The March sales data seems to deflate much argument that all these "wait-for-the-trade" readers had moved to Scribd. Valiant's best selling trade was Unity Vol. 1 – a great opening salvo from Matt Kindt that is very much available as part of the Scribd library. Unity was the 57th most popular trade paperback, with 1,610 estimated sales for an estimated revenue of $24,134.
From April through July, no non-new Valiant volume 1 (or material that could be considered back catalog) sold within the top 300 trades. Valiant still had success in the trade sales space, particularly with a number 7 sales placement from Matt Kindt's Divinity
(the first all-new Valiant character since the company relaunched this decade). Nonetheless, this success in new collections (we're likely to see a similar boost from the eventual "Book of Death" trade) was not supported in mass by back catalog trade sales.
Perhaps most importantly, historical trade sales indicate that, if anything, Valiant was a much stronger player in 2015 – with their comics available via Scribd – than in either of the previous two years. In July 2013, Valiant's only trade inside the top 300 was Archer & Armstrong Vol 2, and in July 2014 it was Unity vol 2. So there's an indication that some of the Valiant audience was waiting on the trade, but obviously you see even more in 2015.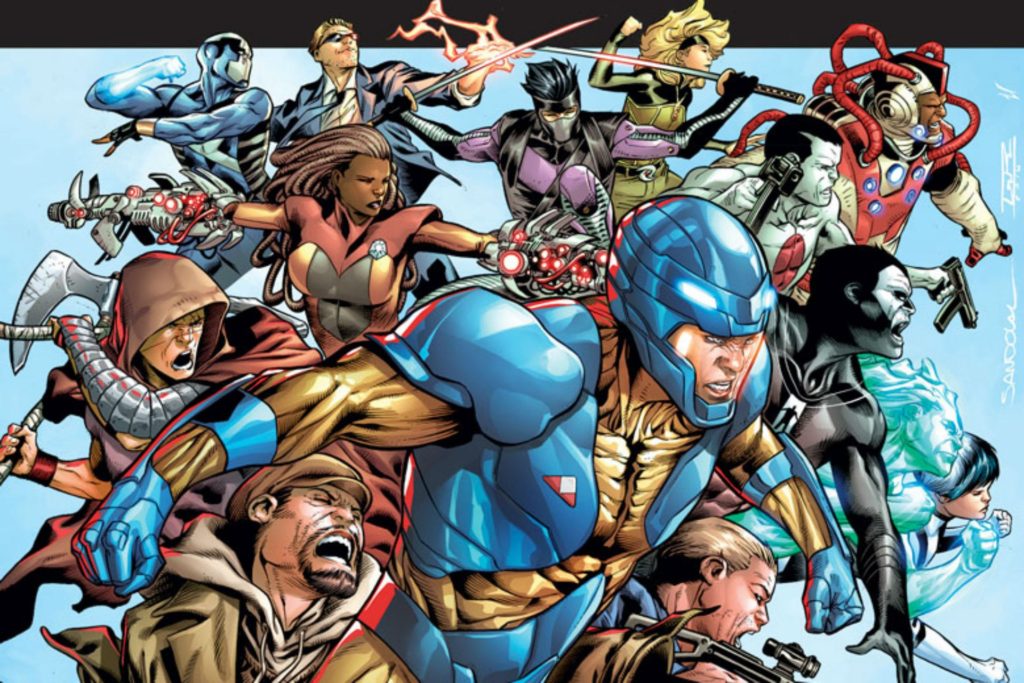 The Valiant Model
I have no internal insight into Valiant's actual revenue. If I'm being completely honest, numbers scare me. I am simply your humble theorist. But based on the numbers we do have, here's the theory that I continue to support:
For publishers with extensive continuity, or back catalog, it pays to allow easy access to older materials – perhaps even at an initial loss – in favor of supporting new trade sales and building life long fans.
Rather than horde their rights to trade sales of X-O Manowar Vol. 1
, Valiant is encouraging Scribd subscribers to give their universe a shot for less than $10. It would cost that much for one trade volume of any series, and instead you get access to all of them. Bloodshot! Shadowman! Harbinger! You get the idea.
This brings in comic book readers who might have never tried the Valiant Universe. Truly, for publishers outside the big 3 (Marvel, DC, Image) it's an extremely competitive market. Valiant is boldly trying to support a superhero universe in a world with Spider-Man and Batman! Allowing Scribd readers – still a small percentage of the comic reading market, I might add – the ability spend a weekend immersed in Archer & Armstrong is a competitive necessity.
For a company like Valiant, a Universe-spanning event like 'Book of the Dead' is a lot harder to pull off when readers don't know your core universe. Digital subscriptions help. Naturally, any publisher wants to make a big event somewhat new user friendly, but it's a perpetual comics problem (unless, you know, it's Secret Wars, and even there, the Battleworld tie-ins are pretty frequently easy to jump into stone cold sober).
Bright Future, Big Library
Valiant is heading into 2016 with a Sony movie deal for their properties, and the ability for newly forming fans to consume backstory through Scribd on the fly. Mix in immensely successful trades like 'Divinity,' 'Book of the Dead's' comic sales, and the fact that Valiant .99 cent sales on Comixology are still entirely appealing, and you have what looks to be a strong foundation.