Welcome back to "Previously On," where this week I'm investigating the launch of Marauders into the X-Men's new Dawn of X!
Marauders is the first non-Hickman written X-Men title in Marvel's Dawn of X (and amazingly, the first non-Hickman written X-book released in 13 weeks!). As such, there's a lot of pressure on Gerry Duggan, Matteo Lolli, and Federico Blee to deliver a convincing case for the title, which has no real precedent to go off – a Marauders ongoing comic book has never existed at Marvel.
Oddly enough, the Marauders – as we've known them historically – are the name of Mister Sinister's murderous ruffians, the ones who commit the Mutant Massacre
. In this series, though, we learn over the course of the first issue that the *new* team will be significantly less deplorable, and consist (so far) of Kate Pryde (captain), Lockheed, Storm, Iceman, and Pyro. The only real connection this new unit seems to have to Marauders legacy is the inclusion of a "Sinister's Secrets" addition at the issue's conclusion – which we'll be coming back to.
In short, Marauders follows Kate Pryde's story, as she is – for reasons that remain mysterious – unable to use the Krakoan gateway network. From the comedic timing of this revelation – Kate (yes, I'll be calling her Kate instead of Kitty as she's requested!) – it's clear that Duggan and Lolli's "Dawn of X" corner will be a wonderfully welcome source of laughter and sight-gags (like Logan literally divining into the ocean to recover his booze!). Since Kit – Kate! – can't enter Krakoa like seemingly every other mutant, she sails the high seas to get there (Blackbirds are… unwelcome? I'm unclear on this.)
Her foray into captain of the oceans gets the attention of Emma Frost who invites Kate to join her Hellfire Trading Club initiatives, including the liberation of mutants around the globe who are being kept from Krakoan gateways.
Support For Comic Book Herald:
Comic Book Herald is reader-supported. When you buy through links on our site, we may earn a qualifying affiliate commission.
Comic Book Herald's reading orders and guides are also made possible by reader support on Patreon, and generous reader donations.
Any size contribution will help keep CBH alive and full of new comics guides and content. Support CBH on Patreon for exclusive rewards, or Donate here! Thank you for reading!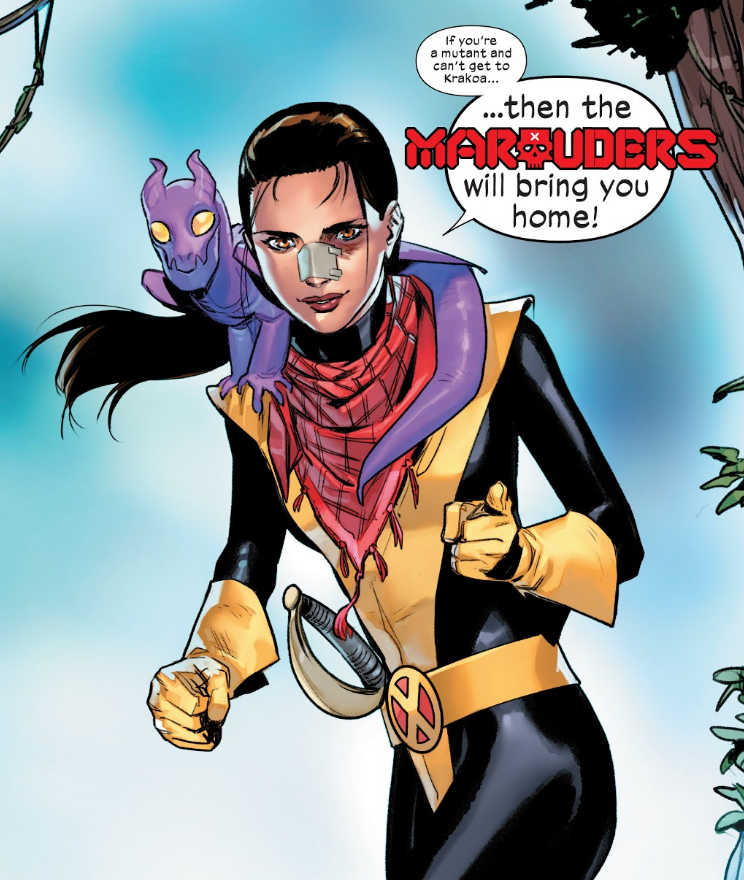 So to recap, What does Marauders bring to the table:
+ Comedy. Data chart jokes!
+ A look at the world outside Krakoa – finally some "response" shots from the world outside of metal murder machine facilities
+ Kate Pryde taking on entire armies (hell yes!)
+ Hellfire Club intrigue and backstabbing (reminds me of Checkmate or Succession)
Honestly, it's a really fun comic, and a great fit into the new Dawn of X. X-Men line editor Jordan D. White has repeatedly said Marauders is the most closely connected to Hickman's larger story in X-Men, and it's not hard to see why. Through one issue, it's already clear that *at least* four members of the Krakoan quiet council are at play in this book – Storm, Emma Frost, Sebastian Shaw, and the Red King. That mixed with the world-building of an X-team navigating the world's response to Krakoa keeps Marauders full of exciting potential.
For my money, Marauders #1 is also writer Gerry Duggan at his best, blending a great sense of humor honed in the pages of Deadpool with the gritter action sensibilities that have worked in books like Savage Avengers or Punisher Kill Krew, or in his favorite indie work of mine, Analog from Image Comics.
Now that it's clear where Marauders fits in the Dawn of X landscape, I'm curious to consider some theories and forecasting about Kate Pryde's inability to access the Krakoan network, along with those Sinister Secrets that the issue ends with.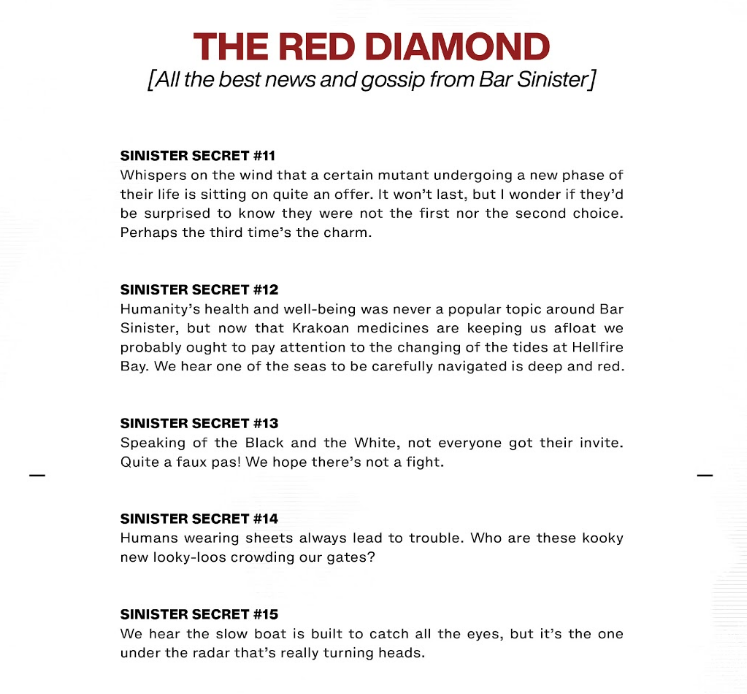 1) What should we make of these Sinister Secrets?
#11 – We know Storm said no, but we don't know who else Emma tried to loop in before Kate Pryde.
#12 – This feels like a reference to the Red King to me. I still really like everyone from Madylene Pryor to Cassandra Nova in this role. If you want to take the "color" clue literally, options could include a very on the nose Omega Red or a completely mind-blowing Scarlet Witch!
#13 – I hope this just means Emma withheld Shaw's invitation because last we saw the two together they were trying to kill each other, and Emma was taking over Shaw's role as Black King.
#14 – Feels like a tease for Bishop's investigations into those blocking mutants from portals.
#15 – This feels like an X-Force tease to me, since they are the ops team under the rader and violently turning heads.
2) Who's the Actual Red King?
I touched on this briefly above, but Emma tells Kitty "be a queen" and "you will ravish in red" which continues to vex the notion that she's simply the mysterious "Red King." I maintain that would be a disappointing reveal – again, why keep it mysterious if the answer's so obvious – which means the King is yet to come.
I'm not sure we get any substantial clues here beyond what I've investigated previously!
3) What's keeping Kate Pryde out of Krakoa?
The most likely answer for Kate's inability to portal to Krakoa is simply that her mutant phasing ability conflicts with the technology.
It's overlooked in the issue, but the fact that Kitty *can* sail to Krakoa means that potential threats could as well. We see the threat in an early data chart where Naval instituations consider how to potentially leverage Kitty's inability to join mutantkind easily. So there's a relatively unlikely possibility that keeping Kitty from accessing the portals is a *human* led hack.
More plausible to my mind is that *someone* within the Hellfire Club, or with Hellfire Club ties is working in tandem with Sage – who herself has longstanding Hellfire Club ties – to keep Kitty in their pocket.