This week on "Previously On," I review Black Badge from Boom Studios, buy some comics at Walmart, and hold a comic book cover like a tiny treasure. 
Feature Of the Week – 
Black Badge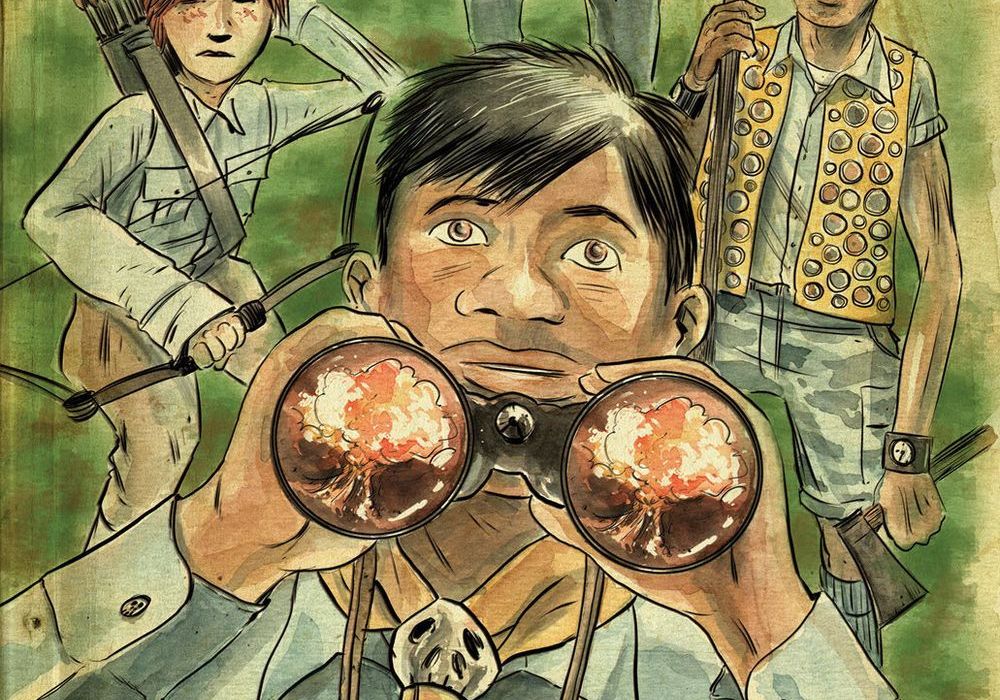 (Spoilers For This Topic Follow!) 
Title: Black Badge #1 to #12 
Writer: Matt Kindt 
Artist: Tyler Jenkins, Hillary Jenkins 
Support For Comic Book Herald:
Comic Book Herald is reader-supported. When you buy through links on our site, we may earn a qualifying affiliate commission.
Comic Book Herald's reading orders and guides are also made possible by reader support on Patreon, and generous reader donations.
Any size contribution will help keep CBH alive and full of new comics guides and content. Support CBH on Patreon for exclusive rewards, or Donate here! Thank you for reading!
Where to find: Black Badge Vol. 1
If you're new to Comic Book Herald, you might not know this about me, but Matt Kindt's Mind MGMT is approximately my 2nd favorite comic book of the last 25 years (seriously, it's documented right here: https://www.comicbookherald.com/the-best-comics-of-all-time/). I like it so much I own every issue, the hardcovers, the newly released omnibus editions, and the Kickstarted vinyl album. I'm, uh, a bit of a fan. 
As such, I get desperately excited when Kindt's name is tied to a new comics project, and re-reading Black Badge for my mid-year 2019 favorites recently, I was reminded exactly why. 
Kindt has an uncanny ability to find the subtly sinister in the seemingly innocent, transforming the Boy Scouts of America into counterintelligence organization run by shadowy forces (And founded by William Randolph Hearst for… reasons). Whether it's his work in Mind MGMT, Grass Kings, Ninjak, Unity, etc, there's a through line of conspiracy and dark tendrils creeping into everything you thought you knew. Mind MGMT does this better than literally anything I've ever read, but Black Badge taps into a similar vein, running secret mission on top of secret mission, and rendering the limits of a mere double agent useless.  
Importantly, though, there's also a playfulness and imaginative thrill to the conspiracy. Black Badge is played straight, but there's a dark comedy at the heart of a book where the all girl team of scouts use cookies as bombs and tools of prisoner interrogation. I can't help but smile at diagrams highlighting how the boy scouts uniform is more deadly than James Bond after a visit to Q, or at Willy, the newest member of Black Badge, shouting "Escape Badge!" as he cuts through the bonds of his would-be torturers. 
The characters are some of Kindt's most memorable as well, wonderfully illustrated by Grass Kings collaborator Tyler Jenkins. The teens running espionage missions behind the auspices of friendly scouting reminds me distinctly of Deadly Class's early days, with seemingly endless stories at the core of each character welcomed into this world. 
It's that possibility that makes the twelve issue run of the series so full of unused promise. I can easily see the various "Badge" factions extending this book for 100 issues and spinoffs. Plus, Kindt and Jenkins use the second half of the narrative to craft a fully fleshed out history, meaning there's a wealth of past stories to be told. 
Nonetheless, there's always value in a concise and direct story, and Kindt and Jenkins have a good one here. Black Badge is one of my favorite comics of 2019! 
COMIC BOOK 
SHOPPING
TREND: 
Walmart Comics
It's been a few months since I wrote about Walmart's DC Giants (and where to find them), although I've been grabbing chapters of the Tom King and Andy Kubert Superman Giant whenever I have to run to the superstore.  
This week, my scan of the available material (which now involves me squatting in a literal checkout line… comics are not my Walmart's priority) revealed both a new chapter I didn't have, and a copy of Superman Giant #1 as part of a $10 for 10 pack.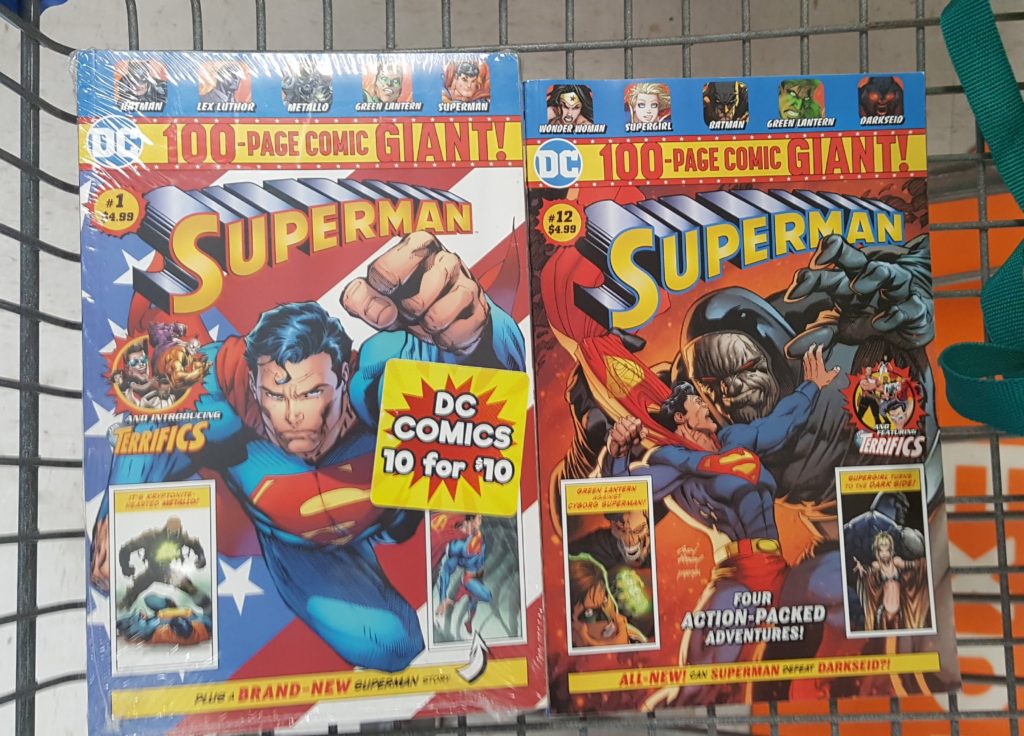 Since I didn't have the first issue (I initially decided I'd only buy the King/Kubert run, but now feel like I need the complete set), this felt like a good time to explore what's in these 10 packs. While DC offers $10 for 10 packs, Marvel offers similar items except $10 for 7 comics (and no giants).  
First things first, the DC pack is a very good deal, and would have been a truly delightful treat for 9 year old me. Despite the oddity of the collection (more on this in a moment), I can easily visualize pouring over these issues until they fell apart. If the intent is relatively cheap on-ramps for new readers, then I do think there's some value here. 
The biggest challenge with the 10 pack is that it's a mix of 4 #1 issues, and 6 surprise grab-bags that seemingly could come from anywhere. Here's what came in my package: 
Superman Giant #1 

 

Batman: Night of the Monster Men #1 

 

Batman: Eternal #24 

 

Future's End #13 

 

Batman: Trinity #1 

 

Earth 2 #27 

 

Justice League United #4 

 

Injustice: Harley Quinn #1 

 

Future's End #20 

 

Future's End: Trinity of Sin – The Phantom Stranger #1

 
Tossing a child twenty issues into Future's End reeks mildly of cruel and unusual punishment. Like I said, there's a certain window of exploratory reading where wide-eyed curiosity is going to overshadow the absolute lack of context. Getting into comics is 85% excitement about missing details that can fill in all these questions you might have.  
But I swear, if a single lad or lass walks away from a Future's End tie-in referencing a Trinity War spinoff without a lifetime of questions (and fear of both strangers and phantoms), I'll be flabbergasted. 
LOVE OF THE WEEK
It can feel silly to try to put into words, but it's shockingly rewarding to pick up an issue of a comic book that feels like it's made of much higher quality paper than the floppiest of floppies. 
I've had this experience over and over with Black Badge from Boom Studios. The covers are thick, almost cardboard-like compared to much of what I read from Marvel or DC. It's like holding a revered tome that should be kept behind glass. 
Obviously, I've discussed my affinity for the work as art above, but the actual physical feel of Black Badge is a tactile treat. And the book still costs a very regular $3.99. Love it!