This week on "Previously On," I check out Graphite digital comics, wonder why more non-superhero comic book TV doesn't exist, and love DC's big ol' comics. 
Feature Of the Week – 
Graphite Digital Comics
Where to find: Graphite Comics 
There's (another) new digital comics streaming player in town, as Graphite Comics launched to significant public fanfare this month.  
The most familiar publishers in the 10,000+ comics library include Boom, IDW, and Dynamite, and readers can download a free (ad-supported) version of the app at any time to begin reading. 
My initial reaction is interest but skepticism given the wide array of similar offerings in the space, including Hoopla Digital and Comixology Unlimited. I think my eyes actually rolled out of my head for a moment reading this quote from the New York Times coverage of the service: 
Support For Comic Book Herald:
Comic Book Herald is reader-supported. When you buy through links on our site, we may earn a qualifying affiliate commission.
Comic Book Herald's reading orders and guides are also made possible by reader support on Patreon, and generous reader donations.
Any size contribution will help keep CBH alive and full of new comics guides and content. Support CBH on Patreon for exclusive rewards, or Donate here! Thank you for reading!
…said Michael Eng, Graphite's chief executive: "There is no solution right now that serves comics in all its forms." 
I'd be curious what Eng is referring to as a gap specifically, since I'll admit there's likely more context to this short quote in the piece. There are a lot of solutions that offer digital streaming of comics. But, if you extend that to include all languages, global availability, creator-owned indie works… there's still potentially room for a broader all-you-can-eat model to take root. 
For me, the most interesting thing about Graphite is the revenue sharing model. According to Comicbook.com, "[T]he Graphite team says it's has a revenue sharing plan in place with publishers and creators alike, giving those they partner with upwards of 70 percent of all advertising and subscription revenue." 
This is particularly interesting – and likely the way Graphite grows into a major player – considering Image creators expressed anger at their works in Comixology Unlimited, and I've never seen a sufficient explanation of creator-royalties that may stem from the likes of Marvel Unlimited.  
As it stands, though, Graphite is a potentially easy way for readers to explore the likes of Teenage Mutant Ninja Turtles, James Bond, and a wide variety of other top tier comics titles from the previously mentioned publishers. The platform is easy to use, quite ad-heavy, and full of early days bugs (I've had issues with landscape mode and the app just crashing out of nowhere). 
Nonetheless, it's another functional option to give a look, especially if Hoopla is less of an alternative in your region!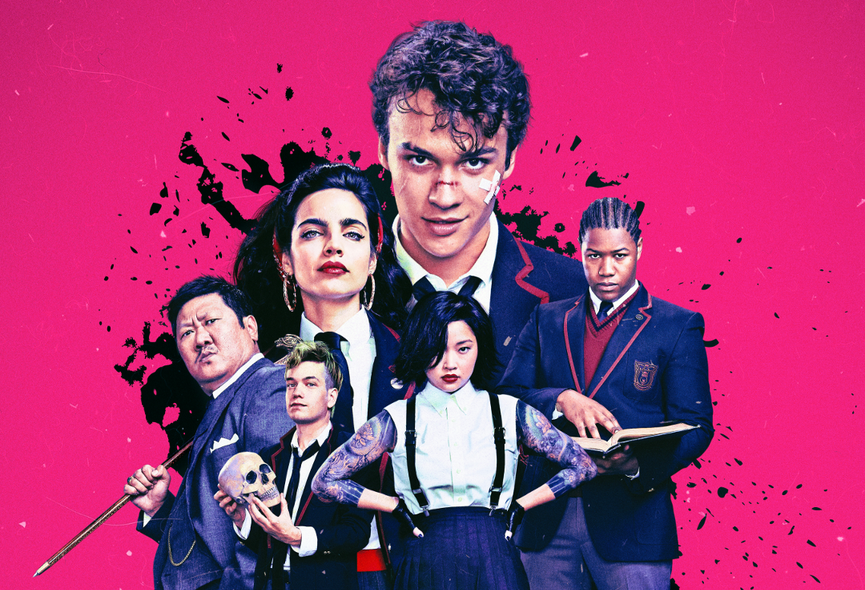 COMIC BOOK TV
TREND: 
Supers Only
Comic book creator Rick Remender announced on Twitter last week that Deadly Class would not be moving to a new TV network after airing for only one season on SyFy. I find this news genuinely baffling, and it got me wondering why it is that the comic book TV industrial complex can't seem to find an easy transition to non-superhero adaptations. 
Obviously, a portion of this is an age old challenge still prevalent in comic books today, given that superhero comics sell and generate tons of fan interest. Yours truly among them! Nonetheless, within comics there's also occasionally more adult, occasionally more critically acclaimed fare at publishers like Vertigo (R.I.P), Image, Dark Horse, etc, etc.  
Why can't these storytelling approaches translate as seamlessly to the small screen? Here's a list of the non-supers shows that come to mind: 
The Walking Dead (aka the Holy Grail)

 

Sabrina

 

Riverdale

 

IZombie

 

Preacher

 

Happy

 

TEOTFW

 

Outcast (I've literally heard nothing about this one but I think I remember it's on Starz or something?)

 
So, not a huge list! Strangely, the list is 2 parts Vertigo, 1 part Image, 2 parts Kirkman (technically Image, yes), 2 parts Archie, and 1 part standalone graphic novel.  
It's the lack of Vertigo and Image greatest hits that I find particularly odd. Everything from Chew to Y: The Last Man (actually coming to FX sometime it seems!) has been rumored all decade, but virtually nothing has made it to screen. Scrolling through the best of Image Comics and it feels like this explosion of possible adaptations in limbo.  
I'm not really making any claims as to whether this is a good or bad thing so much as I'm realizing how far TV will go to avoid a lack of supers. Even more "serious" affairs like Umbrella Academy, Watchmen, and The Boys are all – in their own unique ways – comics about superheroes! 
I won't feign surprise at the appeal of launching your own Arrow-verse, but I wonder when this bubble will burst and the non-supers will spring forward into our TV sets. 
LOVE OF THE WEEK
While the prestige wide format of DC's "Black Label" books Batman: Damned and Superman: Year One has me literally keeping them off my pull list (there are other reasons, but how am I supposed to bag and board those behemoths?!), the density of an oversized DC special is hitting the sweet spot for me lately. 
In particular, the experiences of reading Superman: Leviathan Rising Special
 (80 pages) and Batman: Last Knight on Earth
 (61 pages) are two of my favorite reads in 2019. A+ content obviously helps (both comics are among my 10 favorite DC books of the year so far), but the feel of all that comic in my hands is damn comforting as well!