This week on "Previously On," I re-read New X-Men in the context of Hickman's X-Men, worry about the Avengers video game, and fall in love with unintentionally funny Marvel Comics emails. 

Feature Of the Week – 
New X-Men (2001 to 2004)
(Spoilers For This Topic Follow!) 
Title: New X-Men #114 to #156 
Writer: Grant Morrison 
Artist: Frank Quitely (and many more!) 
Support For Comic Book Herald:
Comic Book Herald is reader-supported. When you buy through links on our site, we may earn a qualifying affiliate commission.
Comic Book Herald's reading orders and guides are also made possible by reader support on Patreon, and generous reader donations.
Any size contribution will help keep CBH alive and full of new comics guides and content. Support CBH on Patreon for exclusive rewards, or Donate here! Thank you for reading!
Where to find: New X-Men Vol. 1
In anticipation of Jonathan Hickman's run on X-Men, I've been returning to Grant Morrison's (and a lot of Frank Quitely's) 2001 to 2004 New X-Men, which extends nearly 40 issues, and frankly revolutionized X-Men comics of the 2000's.  
While it's far from a direct lead-in, it's no secret that Hickman is particularly inspired by the works of Morrison, and Marvel has labeled New X-Men the 4th (of 4) pivotal moments in X-Men history (I'd argue this list should be at least 5 deep and include Messiah CompleX, but strangely, they didn't ask me). Simply based on promo materials, there's already a Morrison/Quitely era take on Professor X wearing Cerebra (debuted in the pages of New X-Men #114).  
More importantly, everything about the 2019 launch indicates a momentous shift in X-Men comic book history. This is both crafted by Marvel PR and earned based on Hickman's pedigree as a worldbuilder and storyteller. There's a reason my modern Marvel reading order starts the X-Men journey with New X-Men, and a reason House of X and Powers of X are among my 3 most anticipated new releases of 2019 (I can't put anything above Jimmy Olsen by Matt Fraction and Steve Lieber).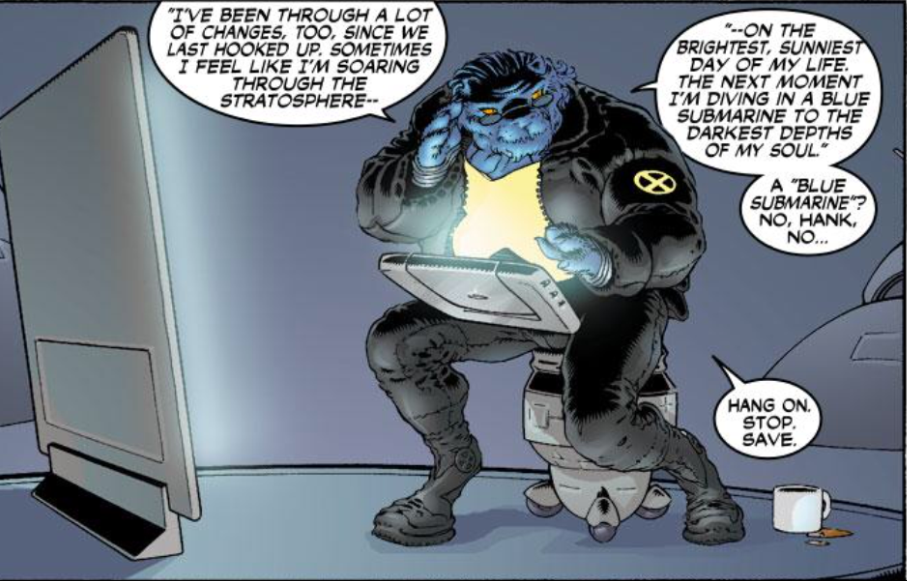 Big picture, one of my favorite things about New X-Men is it feels like an "X-Men" comic you can read without really even considering reading the rest of the line. This is important for "era building" because it provides a clear and direct answer to the age old conundrum known to comic fans everywhere as "where do I start?" 
Compare this to, say, 2018's "Fresh Start" and you have dilution of mutants across X-Men: Blue, X-Men: Gold, X-Men: Red and eventually Uncanny X-Men. And that's before we get to the dozens of titles that are part of the X-Men Universe but don't actually have X-Men in the title. There were, of course, concurrent series running during New X-Men but it was always clear who was leading the charge. 
Looking back, I realize how much thought goes into defining a "moment" like this. Marvel's been releasing some nice videos in the lead up to Hickman's X-Men, and the "Morrison Era" vid provides glimpses into his "mutant manifesto." While this is fascinating purely on a process level, it's also pretty amazing that a creator could not only define "cool" but (with Frank Quitely) bring that through on the page in a meaningful way. 
I'll admit I had forgotten some of the quieter moments in New X-Men. Issue #127 stood out in particular, a neo-noir take on Noir exploring riots in Mutant Town. Morrison's contemplative narrative straddles themes of human/mutant relations (and by proxy, humanity's fear of the "other") before taking a turn into We3-esque emotional devastation. The entire sequence is on the heels of an extended Cassandra Nova sequence, and building towards The World, Fantomax, and "Riot at Xavier's," but it's a healthy reminder that the memorable runs in X-Men history understand pace and reflection. 
Which isn't to say Morrison's time writing X-Men isn't without splash. The first issue results in the death of 16 million mutants (incomprehensible loss of life was oddly en vogue… oh hey Ultimates
 didn't see you there!). Throughout the run the world of mutants is forever altered with additions like secondary evolutions, Cassandra Nova, Xorn, Quentin Quire, and perhaps most importantly, Glob Herman.
Everything from Astonishing X-Men to Wolverine and the X-Men to X-Men: Red is at least partially in debt to the work put forth in New X-Men. It stands the test of time, and absolutely deserves a place among Marvel's seismic shifts in X-Men history.
MARVEL COMICS
TREND: 
Avengers Game! … Avengers Game?
E3 featured the reveal of Square Enix's long awaited Avengers video game, and it was met with a substantially more muddled reaction than the creators probably expected. There's no reality where I don't pre-order and dive into the PS4 beta, but I'll admit I'm feeling a few warning signs. 
Oddly, the most discussed issue is the one I'm least concerned with, as fans seem completely bewildered by the look of the Avengers squad. I'll admit, it's strange to launch a game in concert with the biggest movie franchise in history, and to almost actively avoid character likeness. 
In theory, I'm more than ok with an approach that seems to pull more from Marvel Comics history than the MCU (see also: Insomniac's Spider-Man PS4), and there's a definite tonal connect to the comics here. Apart from the 2012 MCU Avengers lineup, I actually felt like the heroes were acting more like their circa-2004 New Avengers selves. Tony Stark's more arrogant businessman than snarky genius playboy, the team's surprised to hear Thor making jokes (clearly they've never seen Ragnarok), and Hawkeye has apparently recently died in an event comic. 
In general, I'm more concerned that the characters don't look good. Like… at all. At a minimum, I'd expect some visually compelling design choices, and those are missing as well. 
My faith in Square Enix is limited to my experience playing Rise of the Tomb Raider. It's an imperfect but engaging game, with a consistent story engine driving the action. It's not my favorite game I've played in the last 6 months featuring a badass woman with a bow-and-arrow (that honor goes to Horizon Zero Dawn), but it's pretty good! 
For me, that's the key to Avengers: Does the story stand out among the last decade of all-time great Avengers comics and cinema? The early tease – and I can't emphasize enough how frequently analysis is a fool's game – isn't as captivating as I'd hope, but again… it's early.  
Whereas Spider-Man PS4 gave me 10/10 vibes from jump, and Marvel Ultimate Alliance 3 is too nostalgia infused for any rationale assessment (I can't wait!!!), Avengers feels like it could totter over into forgettable disappointment at any moment. There's barely any actual gameplay info – apart from 4 player co-op promises, which YES – but the initial feel is closer to Sonic the movie than I'd like considering that inauspicious debut. 
I've been clamoring for a Marvel video game presence all decade, so I'm still optimistic this will satisfy, but it's always a rough start when the trailer dampens excitement. 
LOVE OF THE WEEK
It took some clawing, but I finally worked my way onto Marvel's PR email distribution.  
Benefits so far include hilariously serious email subject lines like: 
NO COMPROMISE. NO SURRENDER. 
UNITE OR PERISH. 
The best part is these emails run w/ no body text, just teaser images, so when I see the preview on my phone, I just get an alert that reads "NO COMPROMISE. NO SURRENDER." 
I've either joined the Marines or an overly eager gym, and either way I love it.