This week on "Previously On," I review the first 20 issues of Scott Snyder's time writing Justice League, weigh the challenges of reading both high-minded critical darling comics and more genre-baked superheroes, and celebrate Comic Book Herald's first comic con press badge!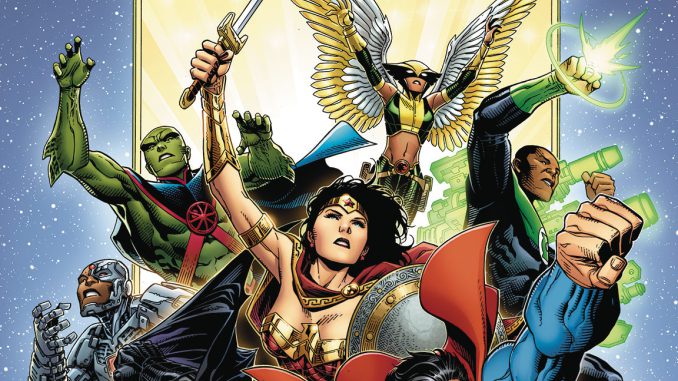 Featured Comics Of the Week –
Justice League
(Spoilers For These Issues Follow!)
Title: Justice League #1 to #17, Justice League Annual #1 (read before Justice League #17!)
Writer: Scott Snyder, James Tynion IV
Artist: Jim Cheung, Jorge Jimenez, various
Support For Comic Book Herald:
Comic Book Herald is reader-supported. When you buy through links on our site, we may earn a qualifying affiliate commission.
Comic Book Herald's reading orders and guides are also made possible by reader support on Patreon, and generous reader donations.
Any size contribution will help keep CBH alive and full of new comics guides and content. Support CBH on Patreon for exclusive rewards, or Donate here! Thank you for reading!
Where to find: Justice League Vol. 1
Sky high expectations are a dangerous place to be for any entertainment, yet that's what I had for Scott Snyder's time writing Justice League. The series launched on the heels of his excellent Batman comics, and perhaps more importantly, the absolutely astonishing Dark Nights: Metal. Plus, the promise of a Justice League Unlimited inspired roster (Superman, Batman, Wonder Woman, Martian Manhunter, John Stewart, Kendra Saunders) really had me feeling this could be my Justice League.
Now twenty issues, a mini Aquaman event, and an annual in to the run, and I've found myself generally nonplussed by the title. A few columns ago I even mentioned that I was considering cancelling it from my pull list. Purely based on the story and the impression it's left, I would have cancelled. Nonetheless, my admiration for Snyder's writing, and for the creative teams involved keep it in my collection.
With that in mind, I wanted to do a re-read of the most recent Justice League issues and come to a more discernible position regarding the book's quality.
While it's not as thoroughly appealing as I found Metal (insane cosmic ambition with a healthy dose of Morrison influence? Just shoot it in my veins!), Justice League does actually attempt to play with similarly ambitious concepts. There's both the grandiose (cosmic doorknobs) and the whimsical (Jarro, the fragment of Starro Batman keeps in a jar). Likewise, the core conceit of the book is the Justice League trying to solve for an exploding multiverse and a broken source wall. These are Total Perspective Vortex problems.
In some ways, this feels like part of Justice League's difficult resonating. The early ambition didn't feel particularly grounded. Each character gets a showcase, and an expansion of mythology, from Flash and the Still Force, Green Lantern and the Indigo Lanterns, and Aquaman and… space oceans! I'll be honest, and this has been the source of my uncertainty, on paper that looks like it could be a lot of fun, and instead it feels surprisingly untethered.
Credit where it's due, I admire Snyder's creative decision to delay the focus on the Trinity. Make no mistake, they're all in these issues, and they all have their moments (Never let it be said that Superman didn't wear a branded eye patch), but these are not really their stories. I'd imagine this avoidance stems from Snyder's long ties to Batman, and a desire to branch out. Similarly, given the involvement of The Man Who Laughs, I imagine Snyder and company have increasingly big plans for the Trinity.
That remaining potential is part of what keeps me hanging on, perhaps simply past the point of no return. Well, I'm in it now I guess. I think part of my lasting dedication – aside from general trust in this #Syndercut – is that I tend to really like wild cosmic ambition, particularly across the pond with books like Jim Starlin's Marvel suite, or more recently Al Ewing's time writing Ultimates. I'm not sure Snyder is a writer built to operate at the intersection between science and philosophy, but it's interesting to watch someone try so earnestly.
I also love the "Legion of Doom" story breaks included within this run and written by James Tynion IV. I like some particular issues more than others – Tynion's grasp on the Joker (as I found evidenced in his "Endgame" backups) continues to thrill – but broadly speaking, I love the idea. I especially appreciate the Doomsters getting their own focused issues within the run, rather than a very much in line with industry trends crossover miniseries.
In part because of these breaks, the last issue I read in this re-read (Justice League #17) is also one of the best, with John Jonn'z and Lex Luthor meeting on Mars to in theory discuss their battle strategies. It's a bit unexpected to find a Justice League run center on Jonn'z v. Luthor (with the Trinity in the background), but that's absolutely what this run has become.
All in all, I can't quite break myself away from all the DC Cosmic madness at the heart of this book. It's not even a comic I'm seriously considering among "best of the year" status, but it consistently draws me in as important.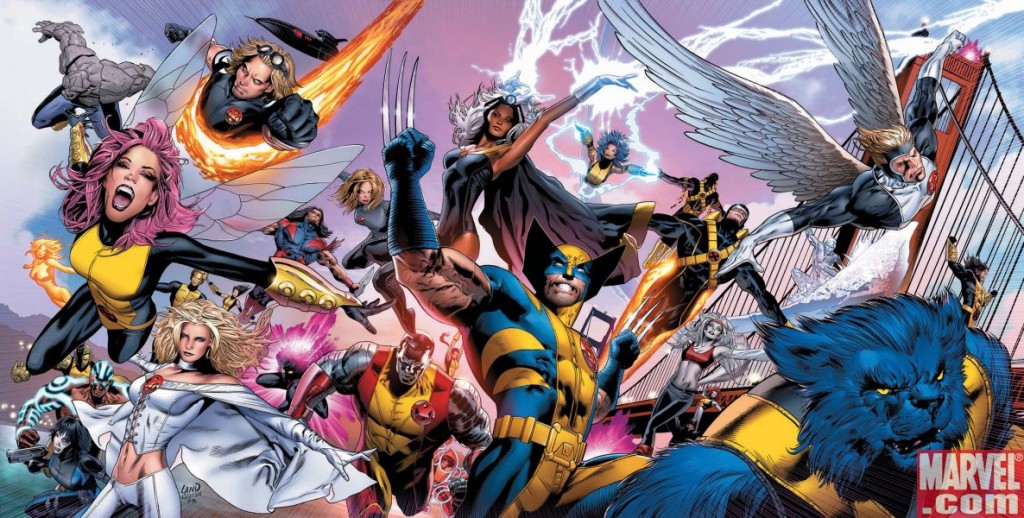 TREND: Too Many Supers
Keeping up with superhero comics can feel like a full time gig, and it's not getting even remotely more manageable. Between the My Marvelous Year podcast, reading DC Universe for enjoyment, and the never-ending deluge of Comic Book Herald reading orders to update, I'm up to my ears in heroes.
I wouldn't have it any other way.
Nonetheless, I've been finding it increasingly difficult to find time for those pretentious snoots who dare to use this glorious medium for capeless stories. After all, when you have over 50 "War of the Realms" tie-ins to digest, how is one supposed to fit in the likes of Die by Kieron Gillen and Stephanie Hans?
At the end of the day, any dilemma that involves lots of time to read comics is far from a genuine concern. I do think a balance between the literary ambitions of the "indies" and more familiar supers helps tickle different pleasure centers, though, and helps identify new perspectives on the ways I want my comics to work.
Too many superheroes in a row can feel like eating a box of donuts by yourself. And too many Very Serious Art comics can put me to sleep well before my bedtime.
Anyway, I'm off to catch up on the Bendis' era of Superman.
LOVE OF THE WEEK
I decided to apply for a press pass to C2E2 (Chicago's largest comic con), and was delighted to find that I'll be permitted as press for the event's duration!
You may be surprised to learn that 2018 was the first year I've ever attended a con (it was, in fact, C2E2), so I am by all accounts a complete novice. Still, I'm quite excited for my first big time fancy pants press pass. Comic Book Herald: The site they're calling, "Sure, you can come."
If you're going to be at C2E2 and want to meet up (preferably to tell me nice things about my beard, but I'm open to suggestions), shoot me a note!