Welcome back to "Previously On" where this week I'm digging in to Carol Danvers' role with the Ultimates, making sense of easy free comic book streaming online, and loving Doom Patrol GO!

Featured Comic Book Of the Week –
The Ultimates (V2)
(Spoilers For These Issues Follow!)
Title: Ultimates #1 to #12, Ultimates2 #1 to #9, #100
Writer: Al Ewing
Artist: Kenneth Rocafort
Support For Comic Book Herald:
Comic Book Herald is reader-supported. When you buy through links on our site, we may earn a qualifying affiliate commission.
Comic Book Herald's reading orders and guides are also made possible by reader support on Patreon, and generous reader donations.
Any size contribution will help keep CBH alive and full of new comics guides and content. Support CBH on Patreon for exclusive rewards, or Donate here! Thank you for reading!
Where to find: Ultimates Vol. 1: Start With the Impossible
Newly Available Complete Story Arc in Marvel Unlimited: Yes!
The Ultimates was my favorite Marvel comic of 2016, and remains one of my favorite books of the decade. There's a universe where Ultimates was Marvel's flagship title of the last three years, and the perception of the company is completely altered (for the better) as a result.
For the uninitiated, Ultimates launched in the wake of 2015 Secret Wars with writing by Al Ewing and art primarily by Kenneth Rocafort (Christian Ward, and later Travel Foreman contribute as well). The team lineup is Captain Marvel (Carol Danvers), Black Panther, Blue Marvel, America Chavez, and Monica Rambeau.
With Captain Marvel set to take over the MCU (and conceivably, the world), I wondered what insights could be gleaned from her time among the Ultimates, both in terms of an overall role in the Marvel Universe and the kinds of stories that work for the character.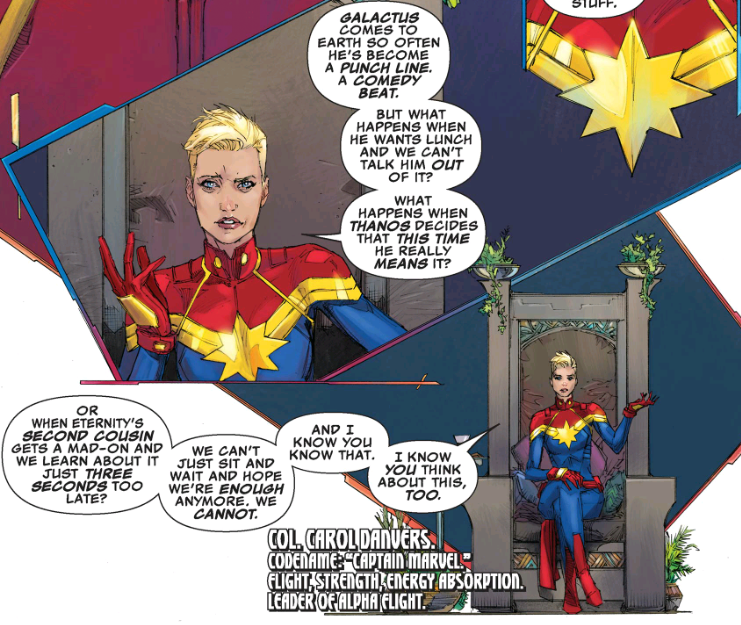 Admittedly, Ultimates is a tough book to look at through a Captain Marvel lens because with a few notable exceptions, Ewing is clearly more interested in the development of Dr. Adam Brashear and, well, Galactus.
The toughest beat for Carol in the series' first twelve issues stems from the fact that the non-Carol centric first six issues are inarguably superior to issues #7 to #12. Carol's a team player in the first arc, but both Adam Brashear and Black Panther are given more central roles, with the overall narrative working best for Galactus and the literal concept of Marvel cosmic.
By the time the second story arc rolls around, Carol is clearly at the center, but it's as a part of the Civil War II event narrative that dominated 2016.
About that. This is the elephant in the room for any post-Deconnick Carol Danvers conversation, as Carol's pro-predictive law enforcement stance makes here the clear "villain" in Marvel's internal hero brawling. Much like Iron Man in the original Civil War, Carol is the hero siding with government, military, and "the man," and just inherently less likeable than the vigilante justice framework all superhero stories work within. It becomes less about who has a point in the debate, and who is behaving the worst.
Carol begins with extremely valid uses of authority – attempting to shut down the new Project P.E.G.A.S.U.S. and the rebuilt cosmic cube – before Thanos invades and murders her boyfriend, Jim Rhodes. It's not unreasonable to think this trauma could influence her decision making moving forward. Nonetheless, throughout the book's second arc – which, again, devotes the most time to her character – it feels like an increasingly unsalvageable stance.
How do you root for the hero locking up civilians on bad information?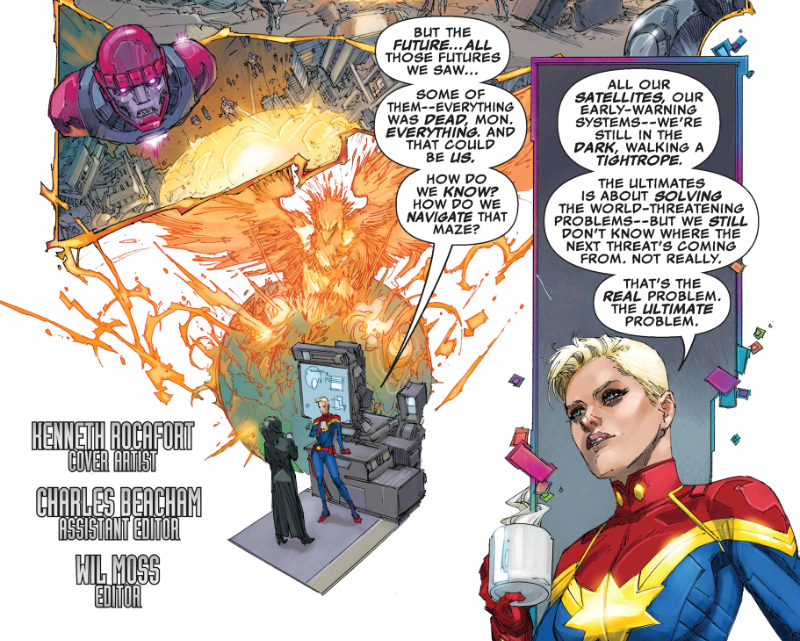 Reading these narratives again, with the baggage of the poorly executed Civil War 2 as distant in my mind as I can put it, Carol's arguments are more interesting. She repeatedly points out that the Ultimates are a team designed to identify and solve problems. To her mind, the predictive power of the inhuman Ulysses is perfectly in line with the team's role as problem-solvers. She's just solving the issue before it can took root.
By the time Ultimates2 rolls around, Ewing and company have discernibly moved away from a focus on Carol, instead diving headfirst into the conceptual cosmic. Carol's still reeling from the perceived betrayal of Civil War 2 (particularly by T'Challa), and largely acts as the "by-the-rules" grounding for the secret superteam.
I don't expect Ultimates to inform Carol's debut in the MCU, but it's interesting to think about how it could apply to a post Avengers: Endgame landscape. This exact team lineup is very much an option in the ashes of Endgame, and while that may be too much to hope (Adam Brashear and America Chavez would be brand new post Captain Marvel), I retain hope nonetheless.
Comic Book Industry
TREND: Comics Are So Free It Hurts
There's a lot of consternation and hand-wringing over the state of comic book sales today, some of it thoughtful and much of it woefully misguided. It's not a new phenomena, but sales of a particular series' single issues are frequently a barometer for the series/character's popularity, as well as the longevity of their title remaining available.
In these conversations, I'm endlessly bothered by the common oversight of modern realities in the comics market. I won't go into all of them, but digital comics sales are still not accounted for in public-facing reporting, streaming app revenue for services like Marvel Unlimited, Comixology Unlimited and DC Universes are guesses at best, and some comics simply sell way better as collected editions than they do in single issue form.
The piece of the puzzle that gets ignored every step of the way is the evolution of comic book piracy. It's never been easier to "steal" comics.
Why isn't this a bigger deal?
As a millennial (Look out, he's a killer of industries!), my general understanding of "piracy" has involved downloading software that allows for file-sharing download with other like-minded pirates. From music, to TV, to comics, the general approach is the same.
Torrents and file-sharing hubs have twenty plus years in the public awareness at this point, and are generally just accepted as a clearly illegal behavior many people enjoy, like speeding or marijuana cigarettes. The music industry was hit the hardest, to the point that I now pay $7.99 a month for access to basically every song in history and think that's completely normal. A decade ago that might have bought me a single on some weird plastic coaster with a hole in the center.
I rehash the basics of traditional pirating to clarify that this is not what I'm talking about. Traditional pirating requires some effort and assumption of risk.
Getting at free comics today is as simple as a Google search.
If you haven't tried, or don't believe me, just try "Read Immortal Hulk online" in your search engine of choice. You'll find plenty of sites that offer the entire series, up to its most recent release, just a click away.
Comics are free and it feels like nobody noticed.
The most common site I see in these searches is called readcomicsonline.to, and both their library and traffic are impressive. It's harder to find comics that aren't instantly streamable than the opposite.
(Tangent: As it turns out, ".to" domains are the CCLTD (basically country identifier, a la .uk) for Tonga, a Polynesean kingdom consisting of 169 islands. The more you know!)
I'm not going to get into the ethics of reading comics this way. Not today at least. Mostly I just want to highlight this sea change, and the obvious impact it could have on comic book sales. When I buy comics from my local comic shop it is a clear-eyed decision that I am going to support a medium and a retailer I enjoy and respect with my income – knowing full well that there is an impossibly easy alternative that would not cost me a dime.
So, the next time you hear about the slipping comic book market, or Marvel's latest convoluted variant program, remember there's an elephant in the room the industry hasn't even noticed.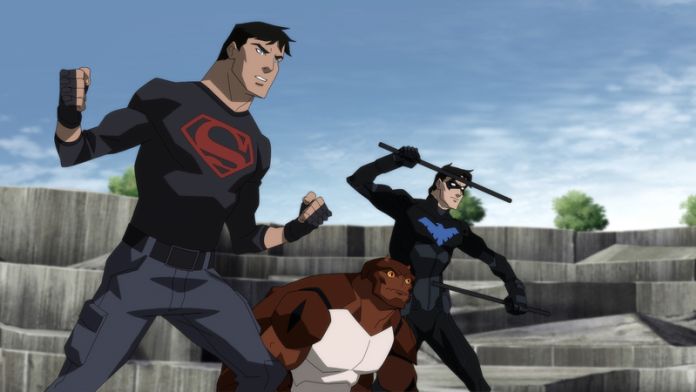 LOVE OF THE WEEK
I was pleasantly surprised and enthralled by the Young Justice: Outsiders crossover with Teen Titans Go! The surprise in-episode swerve occurs in the DC Universe exclusive's twelfth episode, as Garth (aka Beast Boy) gets trapped in the virtual reality of Goode Goggles.
Given Garth's connections across Titans and Doom Patrol, the morbid comedy of a Doom Patrol Go! parody works beautifully. I love art within art, and the commitment to a true Doom Patrol Go reflection of the Cartoon Network's Titans is genuinely one of my favorite moments in TV this year.
The excellence got me thinking about other comic book TV crososvers, and whether this was the best I'd ever seen.
For my money – sheerly on nostalgia and impact it had on me – the 90's Spider-Man and X-Men universe crossovers are the winners.