Throughout 2018 comics fans expressed pretty clear dissatisfaction with the state of comic book websites, and the broader concept of comic book journalism. Themes of consternation frequently include the fixation on adapted media, perceived clickbait tactics, and poor content quality. There's a consensus from the old guard (this Strawman is brought to you by: Dave's Twitter timeline!) that things at the big comic sites used to be better and that modern coverage is a near unfixable wasteland.
At the forefront of all this criticism is CBR, the once and future Comic Book Resources. CBR has been the biggest player in town for much of the 2000's, and at various times in the past included regular contributions from comics icons like Warren Ellis, Joe Quesada, Jason Aaron, and myself (among many, many others).
When CBR and the like are brought up as broken machines, I hear a lot about degradation of quality but little about site performance. The rationale for why comics sites operate as we see is likely clear (C.R.E.A.M.), but I haven't seen many glimpses into how these strategies are impacting things like website traffic or search visibility.
After all, if CBR is embracing strategies that churn out lower quality content at a high rate, I think it's worth considering if this is effective. Likewise, are there compelling arguments for a change of behavior, or gaps for competitors or new sites to fill?
Up front it should be made very clear that the numbers I'll be working with are primarily via SEMRush, a search analytics software I regularly use in my professional alter ego. These numbers are estimates and are intended to be used in terms of comparisons and trends – they are not to be taken as exact performance data. I don't have access to these sites' actual owned analytics data, at least until they contact me (dave@comicbookherald.com) requesting consultation!
Support For Comic Book Herald:
Comic Book Herald is reader-supported. When you buy through links on our site, we may earn a qualifying affiliate commission.
Comic Book Herald's reading orders and guides are also made possible by reader support on Patreon, and generous reader donations.
Any size contribution will help keep CBH alive and full of new comics guides and content. Support CBH on Patreon for exclusive rewards, or Donate here! Thank you for reading!
CBR's 2018 In Review
2018 is an interesting year for CBR because it marks the first full year of traffic following their major rebrand and site redesign. The decision to redirect from comicbookresources.com to cbr.com (among the countless other site changes and URL changes that go into a migration of that size) resulted in very low performance data for most of 2017. As a result, CBR's 2018 results are 2-3x higher per month compared to the previous year.
I'd assert here that this does not likely indicate 3x growth, given the time it takes to recover from a migration of that size.
In terms of overall traffic, CBR is a very comfortable second place, while comicbook.com is the dominant player by several factors. I'll note here that I excluded "competitors" that are not at least branded as exclusively "Comics" focused, as well as some more complex multi-facted brands like Gizmodo and Kotaku.
| | | |
| --- | --- | --- |
| Domain | Visits (December 2018) | Avg. Visit Duration |
| Comicbook.com | 53.1M | 5:10 |
| CBR | 13.9M | 5:01 |
| Bleeding Cool | 4.9M | 3:59 |
| Newsarama | 2.2M | 4:40 |
| Comic Book Herald | 478K | 6:05 |
| Comics Alliance | 416K | 3:06 |
A couple notes about the above table. First, Comics Alliance was shuttered in early 2018, and is operating purely as a zombie traffic driver at this point. Second, since I obviously have access to my own site analytics, I can tell you that SEMRush's estimates are… different. Again, these metrics have to be considered directional, so I'll simply say mine are off but not atrociously so. Give or take 25,000 😊
With that in mind, after comicbook.com, CBR is nearly 3x more visited than the closest competitor. For some non-comics context, CBR is estimated in the same general ballpark as broader news sites like Slate.com, which registers an estimated 16.4M monthly visits in December, 2018.
As trends go, CBR saw the greatest decreases throughout 2018, although it's worth noting they also had the most to lose. CBR peaked in Jan 2018 with nearly 18M visits and decreased nearly every month of the year.
This was very surprising to me, given the boosts my own site saw in April 2018 in conjunction with Avengers: Infinity War. If CBR's April and May 2018 traffic actually were down from January 2018, that defies audience trends.
SEMRush estimates the following traffic sources breakdown for CBR:
26.8% Direct
10.39% Referal
54.48% Search
8.31% Social
Given what I know about CBR's overall focus on social, I find this breakdown dubious (albeit in line with general online trends). That said, for Comic Book Herald, the "Traffic Source" estimates are very accurate. For comparisons, Newsarama is the only site estimated to achieve more direct traffic than search, indicating a loyal audience with the site as a regular part of their browsing routine. Nonetheless, the channel estimates are similar across the reviewed sites.
CBR's Search Presence
SEMRush tracks over 628,000 keywords that generate some organic search visibility for CBR. The real kicker for CBR's competitive set, though, is that although they're ranking for 2x the amount of top keywords as their closest competitor, they're achieving nearly as 4x as much organic search traffic off those keywords. So they've achieved more presence in search, and they're doing more with what they have – whether through strong rankings, click-through-rate, or both.
| | | |
| --- | --- | --- |
| Domain | Keywords | Traffic (Avg. 2018) |
| Comicbook.com | 1,100,000 | 3,300,000 |
| CBR | 628,000 | 1,300,000 |
| Bleeding Cool | 386,000 | 353,000 |
| Newsarama | 116,000 | 163,000 |
| The Beat | 114,000 | 56,900 |
As you can see from the table, search traffic is where comicbook.com has really gained separation from other comics sites. SEMRush estimates that in December 2018, comicbook.com saw 4.4M visitors via search. That's nearly 4x CBR's totals, and 41x The Beat. Comicbook.com is also the most reliant on search, with over 71% of all traffic coming via search (with just over 15% via social, and 8% "loyal" direct visits).
For some context on how comicbook.com and CBR are so far above their competitors in this space, sheer volume of produced content goes a long way. As of the live January 2019 data, each tracked domain saw the following number of pages with literally any traffic driving potential in search results (Google only).
| | |
| --- | --- |
| Domain | Pages |
| Comicbook.com | 119,870 |
| CBR | 80,290 |
| Bleeding Cool | 61,030 |
| Newsarama | 16,493 |
| The Beat | 17,868 |

So What Does Any Of This Mean?
It shouldn't be a Herman Schultz that the two sites churning out the most content at the fastest rate are reaping the rewards of site traffic. Looking at the data here – again, far from a comprehensive audit, but a start – it's clear to me that yes, the current online strategies of CBR (and the surprisingly dominant comicbook.com) are effective. At least at driving eyeballs that can read and view ads for respectable average view times.
I am mildly surprised at the size of the gap between the top tier of traffic-driver and everyone else in the specific comics website niche. I did not know the gap between Newsarama and CBR was quite so great, for example.
I can't speak to their profit margins, but CBR is paying writers a very cost-efficient freelance rate and mass producing a never-ending deluge of content that will only drive more traffic and ever onwards. The perhaps distasteful truth to this is that for the time being Google's content quality algorithms – as advanced as they've become – will continue rewarding this approach, so long as the content is unique and specific. Like many industries, the big get bigger, and room for the smaller competitors to interrupt seems to dwindle!
The harder question – and one I'm by no means trying to answer here – is whether or not this is the right approach for a publisher in today's digital landscape. Likewise, if you're a site like The Beat (a site I quite like and respect), what do you do to try and narrow that gap? Especially when scaling up to their sheer level of content output is costly and unattainable?
The Beat is particularly interesting to me because SEMRush charts a clear, sizable positive trend for the site since Avengers: Infinity War in April. They've also recently tackled some intriguing counter content strategies like this oral history of Jason Todd's death, which can live on as a high quality evergreen traffic driver.
Whatever the answers (and yeah, I have thoughts), expecting a change to the current state of comics sites without some dramatic upheaval (I'm thinking mergers & acquisitions), doesn't seem very likely to me.
Good thing you can always read Comic Book Herald!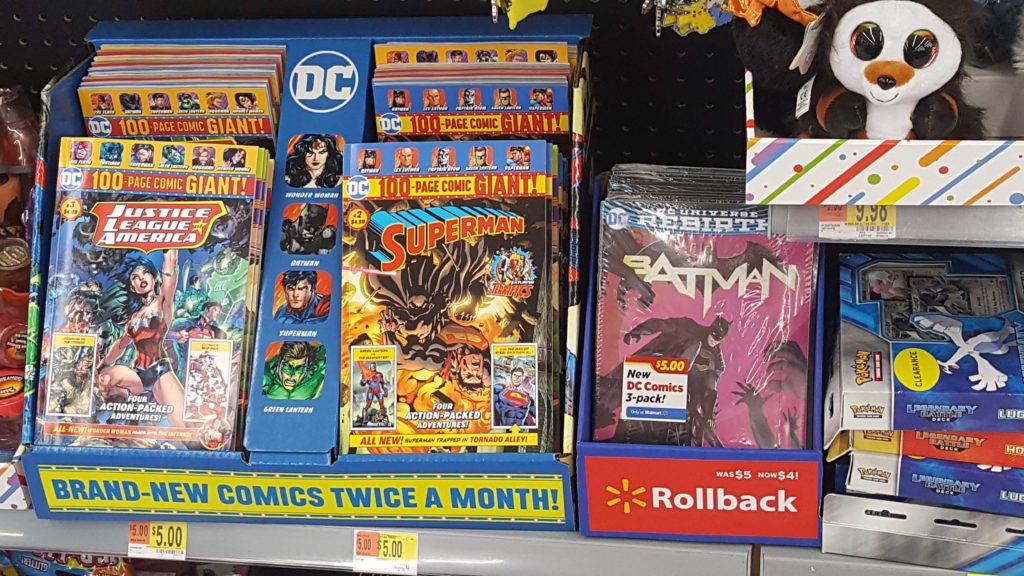 DC Comics
TREND: Walmart Giants Stirring Controversy
DC's "Walmart Giants" stirred up the pot again with the release of Superman Giant #7, and particularly the Tom King and Andy Kubert original story graphically detailing the thousand deaths of Lois Lane. In a rare feat of offensiveness, the story upset both Walmart shoppers purchasing the comic for their kids, and comics critics who've had more than enough of "fridging" female characters.
Before I get to the story itself – in what is a more traditional, frankly too long-running comics conversation – the issue of intended audience with DC's Walmart Giants is a compelling question. When an outraged mother or father complains about the copy of The Killing Joke handed to their pre-pubescent kid, I roll my eyes, but is it actually that weird to expect more all-ages leaning content in the aisle at Walmart?
From what I've seen these comics are mixed in aisles full of Pokemon cards and toys. They are also clearly the sort of off-the-cuff, keep-your-kid-happy purchases that puts them very nearly in a class with Snickers and those strangely titillating issues of National Enquirer. Per DC's own ambition, the Walmart Giants are also an attempt to reach new readers.
Now as far as I can tell, DC has never said these books are intended for a younger audience, and from the copies I've purchased (the very first reprint I read in Batman Giant #1 was for Hush – decidedly teen & up), they have not been printing with younger readers in mind. But again, think about the destination; Isn't a Walmart audience of parent and younger child more likely than surly teenager?
Don't get me wrong, Walmart's a big ol' superstore with widely varying demographic by region, but I can at least see why a parent might expect to purchase one of these Superman Giant comics and not need to compare it to a "snuff film."
This is where retailer's chief complaint about the entire enterprise really enters the picture: Why in the name of Mxypitlyk is a twelve-part Superman story written by Tom King and Andy Kubert a Walmart exclusive?!
Not only would King and Kubert's Superman sell like hotcakes at any local comic shop, but they're telling the sort of story consumers expect to find at a local comic shop! It's money off the table for the already challenging local retail business of selling comics, and it could be argued it's not even finding the right kind of audience at Walmart.
And then there's the story. As much as I've enjoyed King's work, it's disappointing that he wouldn't have seen the obvious flaws with this story. I'm not the writer in the room, but bouncing between both characters sharing visions of their spouses demise at least offers a balance. Instead we get page after page of a celebrated woman character beaten, humiliated, and threatened. Nobody saw the issue here? Nobody saw an imbalance?
The last few months have admittedly been a series of questionable creative choices by King, deepening the cracks in his once shining suit of armor. Coupled with Heroes in Crisis and its reviled reception, Superman Giant #7 is another gross misread of the room. I can absolutely see the creative traps King would have bumped into – if he flips the issue from Lois's perception then it's just the wife worrying about the big strong man – but the end result is a real bummer of an ineffective comic book story.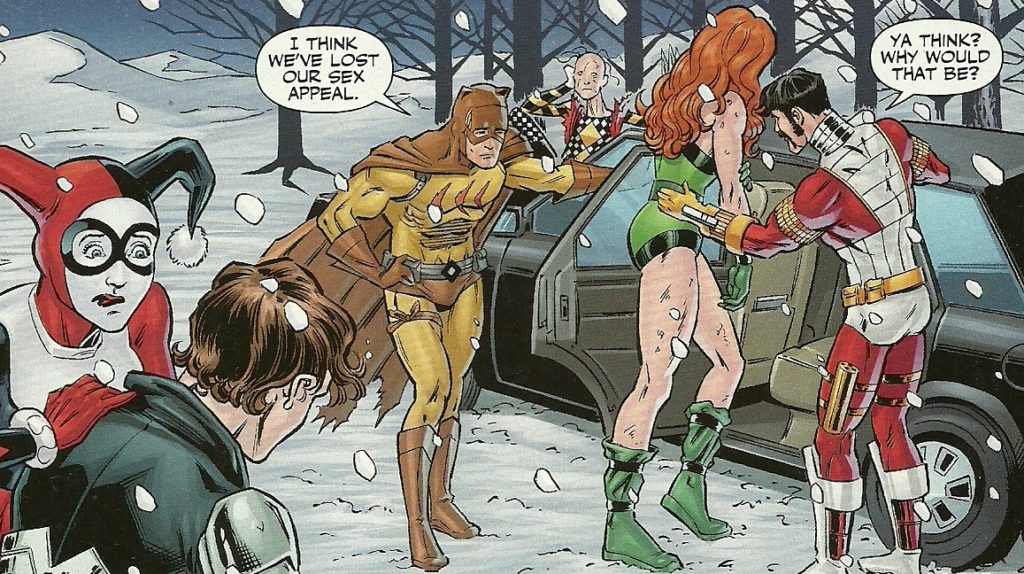 LOVE OF THE WEEK
I realized these past weeks how much I love it when a celebrated, critically acclaimed comic lives up to the hype. This reflection was prompted by Gail Simone and Nicola Scott's work on DC's 2008 Secret Six
, the Villains United follow-up starring Catman, Ragman, Bane, Deadshot, Scandal Savage, and, uh, a Banshee named Jeannette?
I've heard for a good long while that Secret Six is one of the best DC runs of the 2000's, but it wasn't until I dove into my Infinite Crisis omnibus and caught team's first amoral assemblage in Villains United that I began to realize this wasn't just hype. Fourteen issues into the 2008 relaunched ongoing as I prepared for a full Secret Six reading order, and I can confirm, Secret Six is outstanding!
I'll be honest, I definitely struggle these days with the balance between consuming enough comics to keep up with the demands of Comic Book Herald and just savoring good stories. So when I dive in to a comic and it doesn't hook me, or it feels predictable, or it simply isn't my speed, I speed-read, or abandon altogether. It's a great problem to have – literally, the best problem to have – but it's a balance of time-management.
With Secret Six, though, I stayed the course happily, engaged with the humor and completely delusional "teamwork" of the almost-reformed villains. Sadly, only the first collected trade is available on Hoopla, so I'll be checking out the remaining issues either via Comixology or my local library. Either way, I have no doubt I will be making time for a series that lives up to the praise!