This week on "Previously On," I rank my favorite superhero universes besides Marvel or DC!
One of the biggest tricks in identifying the best "indie" superhero universes was settling on criteria for what makes a superhero universe. To some degree it's all about look and feel, and the very flawed but telling question: "Can you picture characters in this universe wearing capes at some point?"
The trickiest inclusion was Hellboy (I love Mike Mignola's supernatural gothic superteam, but I still waiver on whether the series shares superhero comics DNA). By that same token, the trickiest exclusion was Teenage Mutant Ninja Turtles, which is almost certainly a shared superhero universe, but my familiarity just isn't strong enough (yet – the IDW work is perpetually on my to-read list).
Before I dig into my picks, it's worth calling out some other notable omissions that I either don't like that much (The Boys) or couldn't bring myself to call a superhero universe (Transformers, Mind MGMT). You could make a valid case for all of these, but I rest easy knowing most are represented on my picks for favorite comics of all time:
Mind MGMT
Bulletproof Coffin & Disinterred
Dreadstar
Teenage Mutant Ninja Turtles / Transformers
Judge Dredd
The Boys
Project Superpowers
The Best Superhero Universes (non Big 2)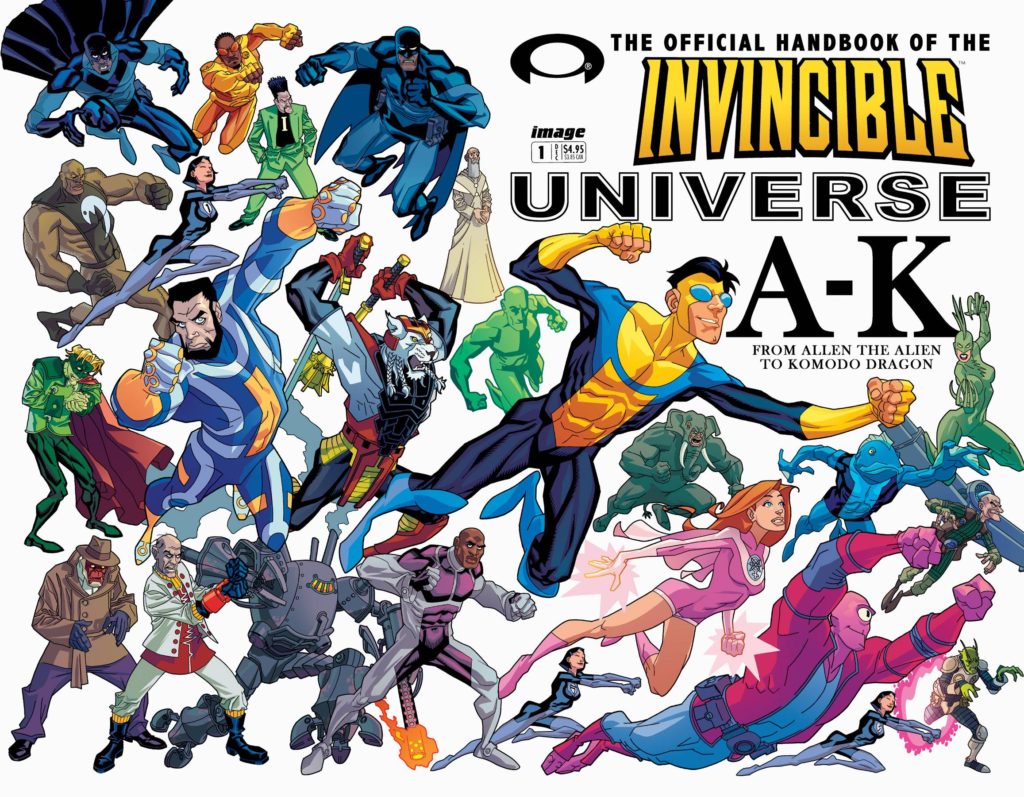 Invincible
Support For Comic Book Herald:
Comic Book Herald is reader-supported. When you buy through links on our site, we may earn a qualifying affiliate commission.
Comic Book Herald's reading orders and guides are also made possible by reader support on Patreon, and generous reader donations.
Any size contribution will help keep CBH alive and full of new comics guides and content. Support CBH on Patreon for exclusive rewards, or Donate here! Thank you for reading!
I love me some Invincible.
In many ways, the thing I love most about Invincible is how Robert Kirkman, Ryan Ottley and Cory Walker acknowledge the tropes of superhero universes and then plow right past expectations with twists, inversions, or sometimes blatant disregard for convention. Whereas Marvel and DC's decades of stories mean the toys always find themselves back in the box, Invincible learns to ride the wave of mutilation and just deal with the consequences.
For more, check out Comic Book Herald's Invincible reading order.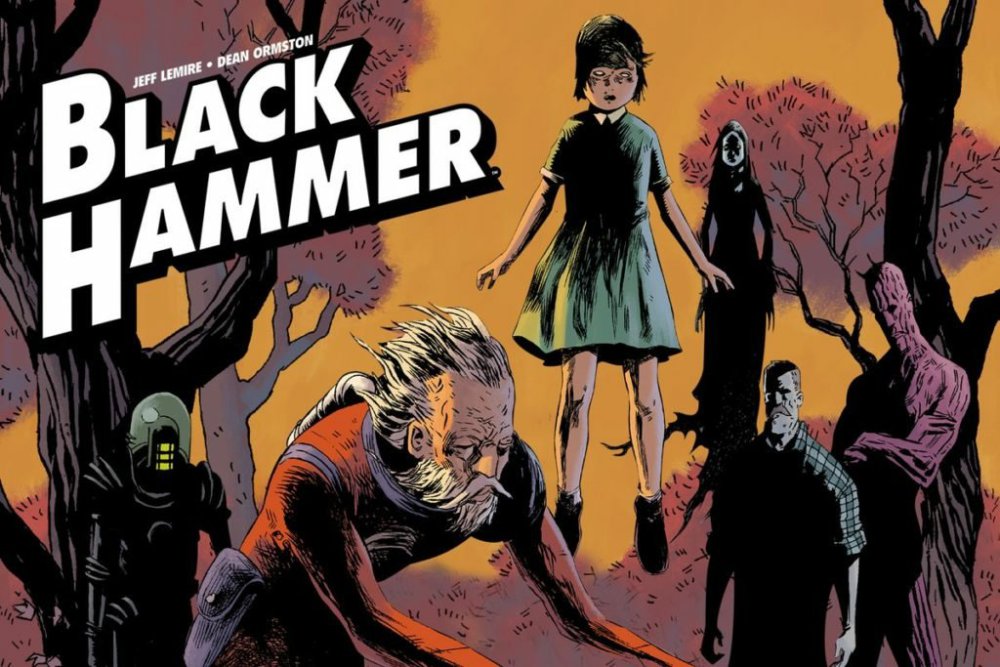 Black Hammer
I like to talk about the excellence of Black Hammer approximately every chance I get.
One of the coolest things about Black Hammer is how quickly it's become a creative playground for creators beyond Jeff Lemire and Dean Ormsten, as the fantastic core series has now led to spectacular miniseries like Black Hammer '45
 or the current Skulldigger and Skeleton Boy
.
For more, check out Comic Book Herald's Black Hammer reading order.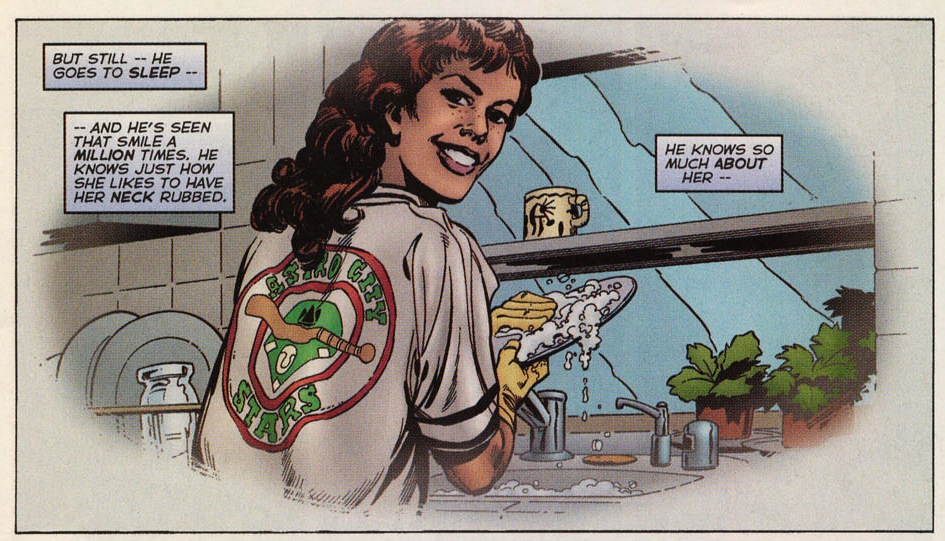 Astro City
Honestly, it's possible the top spot on any independent superhero universe should just be called "The Astro City Memorial Award For Excellence In Superhero Comics."
Writer Kurt Busiek certainly didn't invent the idea of superhero analogs, but it's possible he honed the entire affair into it's best possible version, exploring the supporting players and humanity of the world inhabited by godlike crimefighters.
For more, check out Comic Book Herald's Astro City reading order.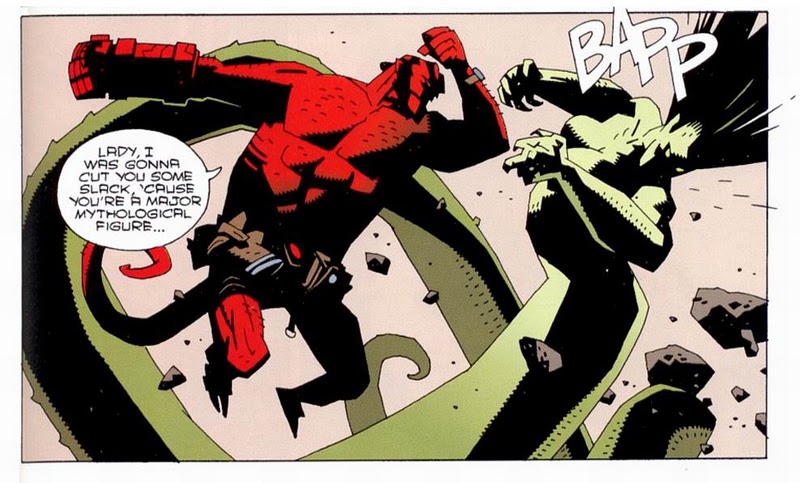 Hellboy (Mignola-verse)
I already mentioned in the intro my reticence towards Hellboy's status as superhero universe, but Mike Mignola's work is simply too good to keep off the list.
Hellboy and the B.P.R.D. explore the paranormal and demonic like nobody else.
For more, check out Comic Book Herald's Hellboy reading order.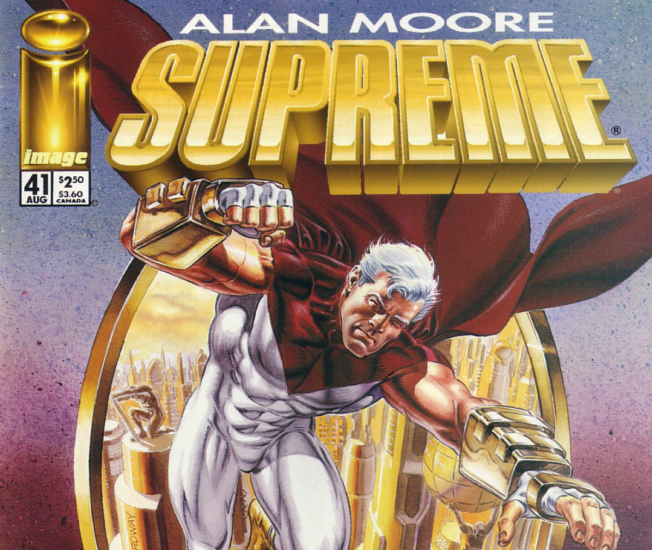 While Rob Liefeld has a hand in a whole lot of alternate superhero verses (shouts to Youngblood!), and the entire 90s Image comics boom could generate a handful of picks for this list (no WildC.A.T.S?!), it's definitely the Superman analog with a significant chunk written by Alan Moore that gets my vote.
With Moore on board as writer, Supreme becomes the 90's "All-Star Superman" that the Watchmen writer never wrote. It's an all time classic, and even today remains a compelling playground for top creative talent.
The short-lived Image comics series from Nick Spencer and
Riley Rossmo is another regular on our best of the decade picks, and digs into an alternate vision of Batman's Joker called Madder Red.
The biggest knock against Bedlam is that it died an ignominious death at issue #11, but in a lot of ways, going out in a psychotic blaze of glory is the truest way to end the saga of Madder Red.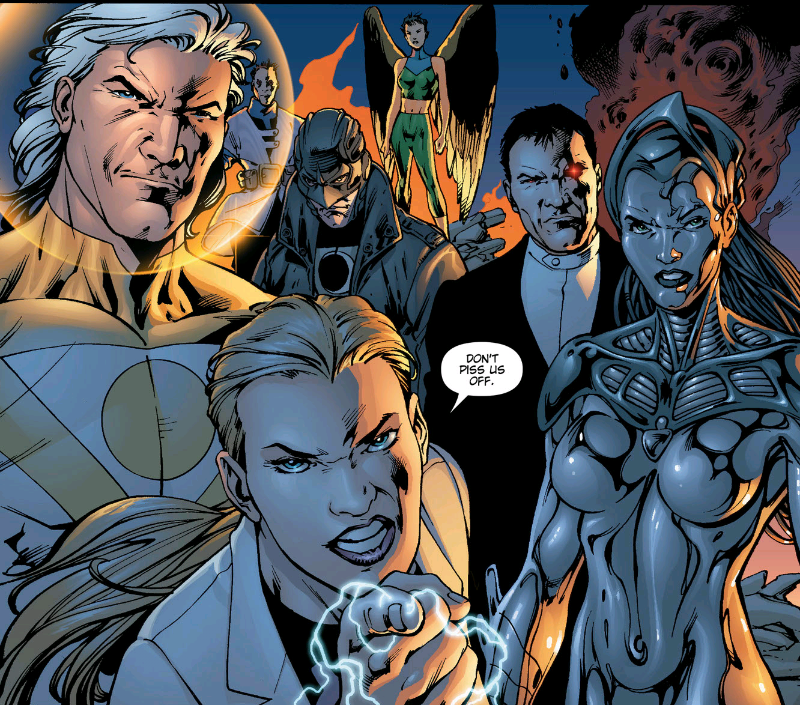 Planetary
/ The Authority
(extended Warren Ellis' Wildstorm)
While The Wild Storm
 has technically (I think?) been folded into the DC Universe, the late 90's work of superstar writer Warren Ellis remains an independent superhero universe staple.
Planetary in particular, with art by the great John Cassaday, is a powerhouse display of the medium's potential, with a powered investigative unit exploring the secret true history of otherworldly pop culture. Beginning, of course, with a captivating Justice League analog!
For more, check out Comic Book Herald's Wildstorm reading order.
League of Extraordinary Gentlemen
I'll admit to falling well behind on Alan Moore and Kevin O'Neill's extended League universe, but the modern reinvention of turn-of-the-century literary heroes (and villains) begins with a fascinating opening salvo. The story follows Allan Quatermain, Mina Murray, Captain Nemo, Dr. Henry Jekyll and Edward Hyde, and Hawley Griffin, the Invisible Man as they explore supernatural and alien mysteries at the behest of the British government.
Strikeforce by Peter Gillis, Brent Anderson, and Whilce Portacio is a great concept about a group of young heroes fighting against impossible alien overlords, with the knowledge that their powers will inevitably result in a premature death.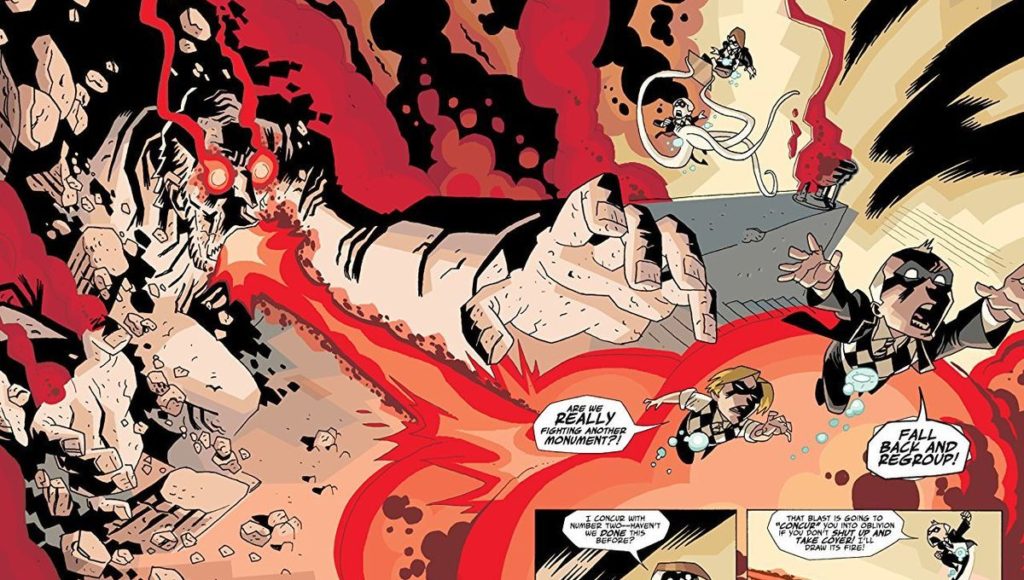 The Umbrella Academy
Way back when Gerard Way was still marching in "The Black Parade," he teamed up with the incredible Gabriel Ba to deliver a Morrisonion look at a group of former child heroes and dysfunctional family unit. The result was one of the most entertaining new takes on superheroes of the 2000's, and ultimately a successful Netflix franchise.
Peter Cannon, Thunderbolt
Perhaps the most surprising choice for the list, 2019's 5 issue Dynamite Comics mini from Kieron Gillen and Caspar Wjingaard is no lock to kick off any continuing superhero universe. In fact, it's likely the book's primary function as enlightened Watchmen
 criticism prevents any moves in that direction.
Nonetheless, I'd love to see more! Peter Cannon, Thunderbolt is an insanely smart meta-commentary on the state of superhero comics and would be a welcome continuing series.
Top 10
Alan Moore, Gene Ha, and Zander Cannon's Top 10 is brilliantly conceived as a world where everyone in Neopolis is a superhero. The question is less about unique power and responsibility, and more about policing and containing a superpowered world where the people are still just people.
What if Superman broke bad?
Mark Waid and Peter Krause are far from the first creators to ask this question, but over the course of 37 issues and change, Irredeemable proves most adept at exploring the rationale for a rogue Superman. Importantly, Irredeemable is able to explore the darkside of heroes without the cynicism of The Boys, or even the escalating hopelessness of Injustice.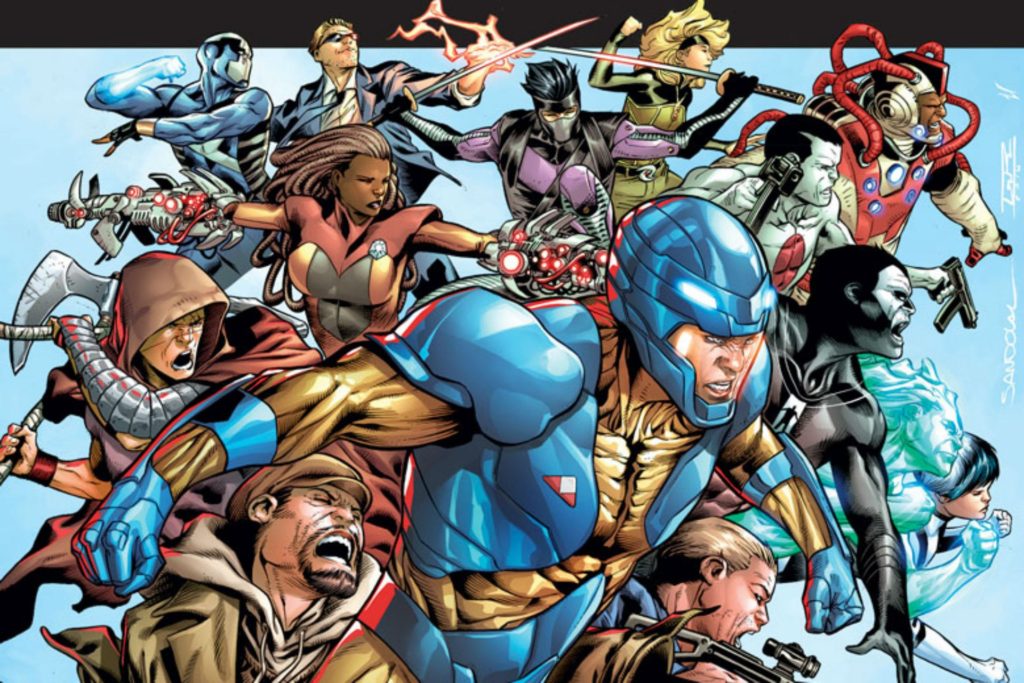 For a while, the reborn Valiant Universe was my go-to recommendation for alternate superhero universes. My passion for the universe has slowed, but there's no denying the strength of these characters and this world, especially as one of the best examples of a truly different and ambitious effort to take the superhero universe crown from Marvel and DC.
For more, check out Comic Book Herald's Valiant Universe reading order.
Copra
Michel Fiffe's Copra is a hearty loveletter to the John Ostrander, Luke McDonnell, Kim Yale era of DC's Suicide Squad, with a general love for superhero comics sprinkled in. While I'm using "indie" as shorthand to describe all of these universes, Copra is truly that, an absolute DIY triumph from Fiffe.