Invincible isn't just one of my favorite comic books of all time, it's up there for my favorite superhero comic book run of the 2000's.
While Invincible is fantastic, it actually gets mildly overlooked due to writer Robert Kirkman's otherworldly success with The Walking Dead (not to mention all the many great Image Comics). Nonetheless, it's a brilliant superhero universe, that expands to a number of other Kirkman penned titles like Astounding Wolf-Man and Tech Jacket.
In general, you can read Invincible all the way through without worrying too much about tie-ins. Reading all the in-universe additions can really help fill out the world, though, and you'll find a complete reading order for all those comics below!
5/14/21 – Updates by Karan Bijani
Invincible Comics Fast Track!
The shortest, and easiest approach to reading Invincible is to check out Image / Skybound's compendium editions:
Support For Comic Book Herald:
Comic Book Herald is reader-supported. When you buy through links on our site, we may earn a qualifying affiliate commission.
Comic Book Herald's reading orders and guides are also made possible by reader support on Patreon, and generous reader donations.
Any size contribution will help keep CBH alive and full of new comics guides and content. Support CBH on Patreon for exclusive rewards, or Donate here! Thank you for reading!
Collects: Invincible #0 to #47
Collects: Invincible #48 to #96
Collects: Invincible #97 to #144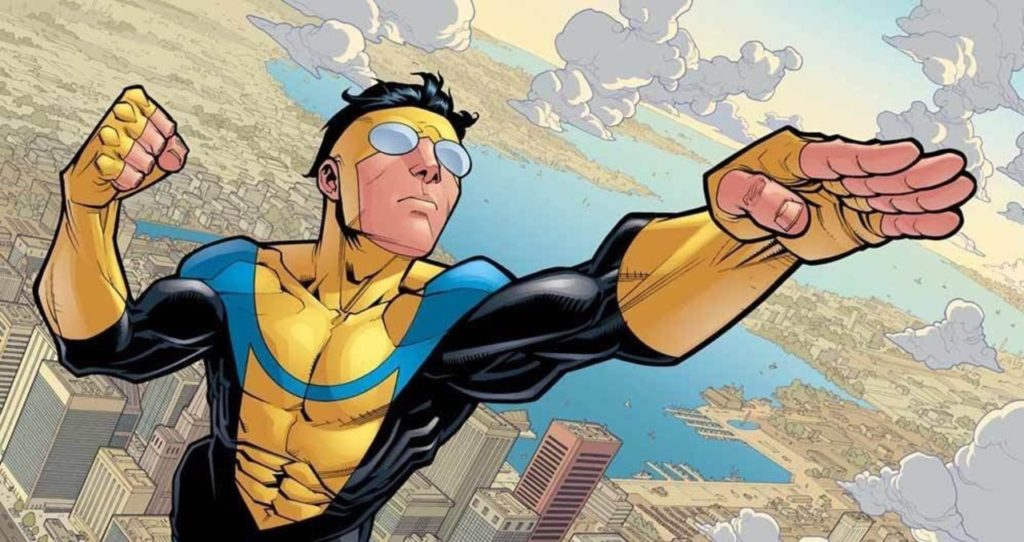 Invincible Universe Comic Book Reading Order
Invincible: The Ultimate Collection, Vol. 1
Collects: Invincible #1 to #13
If you want to, you can mix in some other Invincible Universe works written by Kirkman as follows:
Invincible #1 to #6
Invincible #7 to #13
Invincible Presents. vol. 1: Atom Eve & Rex Splode
Collects: Invincible Presents: Atom Eve #1-2 & Invincible Presents: Atom Eve & Rex Splode #1-3
While actually published 4-5 years after the first issues of Invincible, this Atom Eve & Rex Splode collection flashbacks to a time before the first Invincible story arc. I still recommend reading it after the first Invincible story.
Invincible: The Ultimate Collection, Vol. 2
Collects: Invincible #14 to #24, Image Comics Summer Special #1, Invincible #0
The expanded universe reading order throughout the second ultimate collection is as follows:
Invincible #14 to #15
Image Comic Summer Special #1
Tech Jacket Volume 1: The Boy From Earth (Tech Jacket #1 to #8)

Again, Tech Jacket technically occurs prior to the first Invincible story arc, but I would recommend reading after simply to familiarize yourself with the character.

Invincible #16 to #22, #0, #23 to #24
Invincible: The Ultimate Collection, Vol. 3
Collects: Invincible #25 to #35
The expanded universe reading order throughout the third ultimate collection is as follows:
Invincible: The Ultimate Collection Volume 4
Collects: Invincible #36 to #47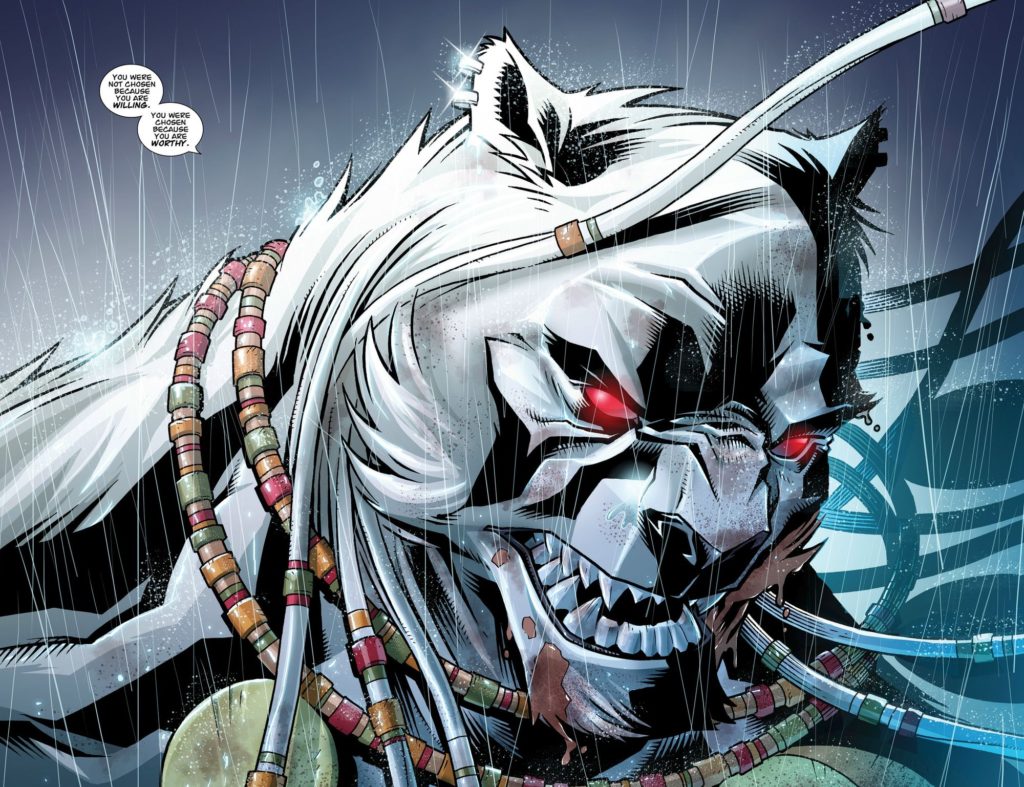 The Astounding Wolf-Man Volume 1
Collects: The Astounding Wolf-Man #1 to #7
Order:
Invincible #36 to #42
Astounding Wolf-Man #1 to #4
Invincible #43 to #47
Invincible: The Ultimate Collection Volume 5
Collects: Invincible #48 to #59, Astounding Wolfman #11
The Astounding Wolf-Man Volume 2
Collects: The Astounding Wolf-Man #8 to #12, Invincible #57
Read Astounding Wolf-Man #8 to #10, then read Invincible through issue #57 before reading the Invincible crossover issue in Astounding Wolf-Man #11. Or follow this order:
Invincible #48 to #53
Astounding Wolf-Man #5 to #10
Invincible #54 to #57
Astounding Wolf-Man #11
Invincible #58 to #59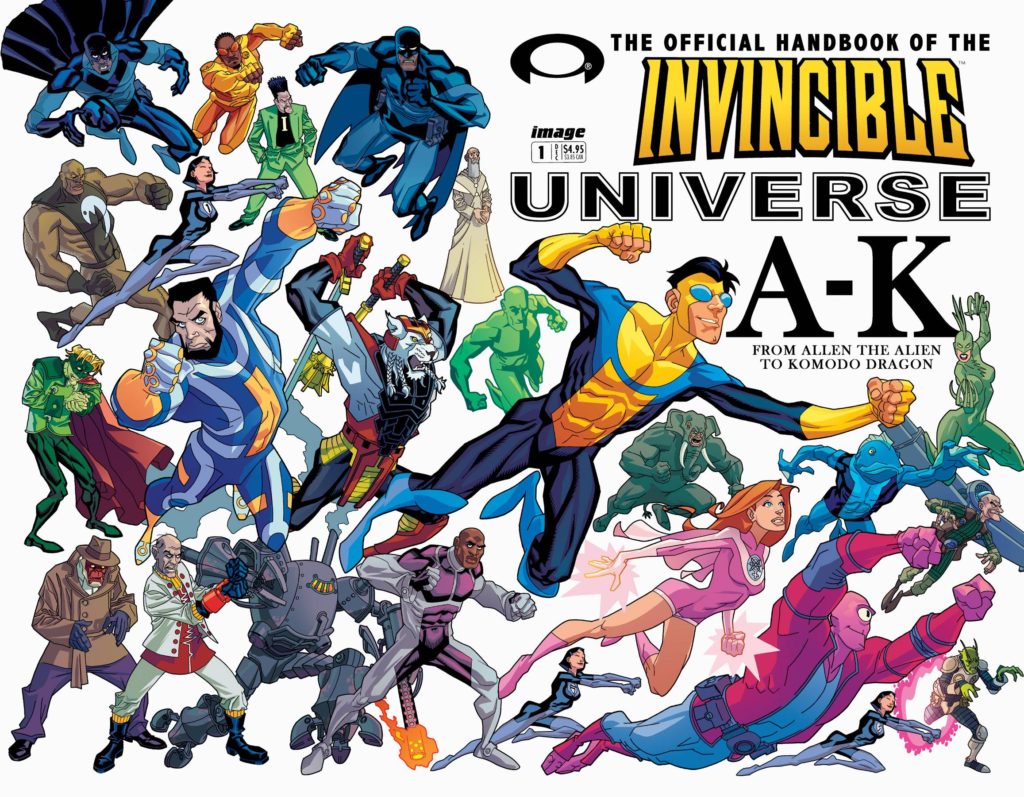 Invincible War
Invincible: The Ultimate Collection Volume 6
Collects: Invincible #60 to #70, Invincible Returns #1
The Astounding Wolf-Man Volume 3
Collects: Astounding Wolf-Man #13 to #18
Order:
Invincible #60
Astounding Wolf-Man #12 to #18
Invincible #61 to #70
Invincible Returns #1
Viltrumite War
Invincible: The Ultimate Collection Volume 7
Collects: Invincible #71 to #84
Guarding the Globe Volume 1 TP
Collects: Guarding the Globe #1 to #6
The Astounding Wolf-Man Volume 4
Collects: Astounding Wolf-Man #19 to #25
Order:
Invincible #71 to #73
Guarding the Globe #1 to #6
Astounding Wolf-Man #19 to #25
Invincible #74 to #84
Invincible: The Ultimate Collection Volume 8
Collects: Invincible #85 to #96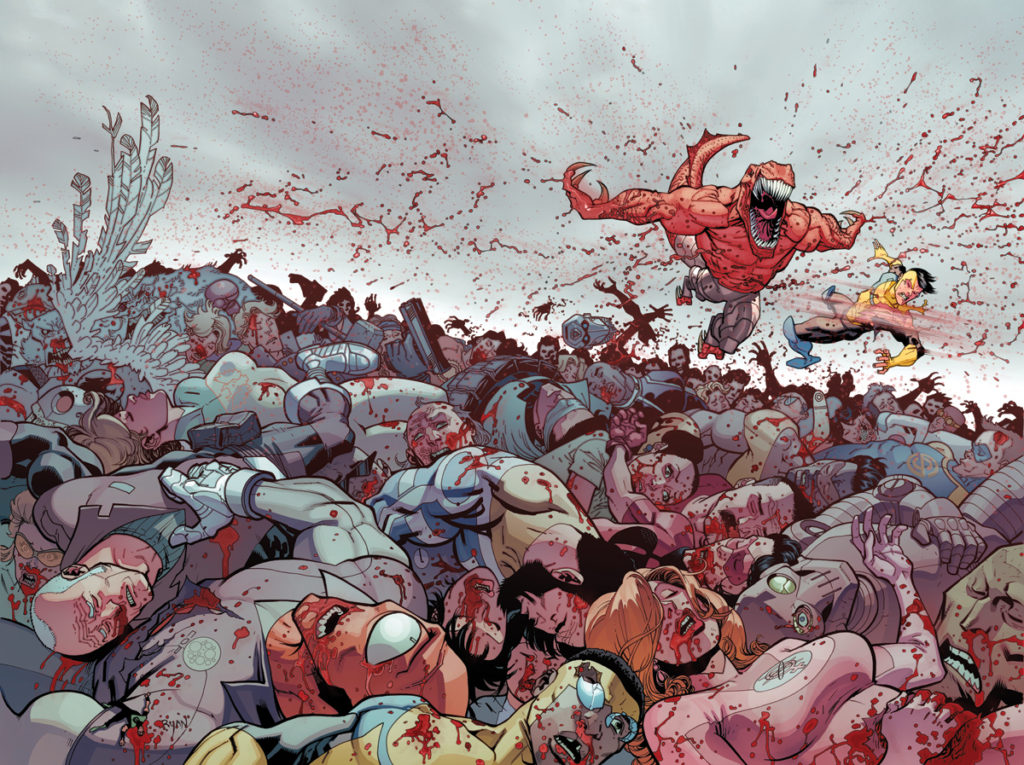 Guarding the Globe Volume 2 TP
Collects: Guarding the Globe #1 to #6
Invincible: The Ultimate Collection Volume 9
Collects: Invincible #97 to #108
Invincible Universe Volume 1
Invincible Universe Volume 2
Collects: Invincible Universe #1 to #12
Order:
Invincible #97 to #102
Invincible Universe #1 to #12
Invincible #103 to #108
Invincible: The Ultimate Collection Volume 10
Collects: Invincible #109 to #120
Invincible: The Ultimate Collection Volume 11
Collects: Invincible #121 to #132
Invincible: The Ultimate Collection Volume 12
Collects: Invincible #133 to #144