I've been hesitant to dip my toes into the subscription box waters for a while now, and Power Up, a relatively new player in the geek & gamer gifts space, gave me the perfect opportunity. That's right: they sent me a Star Wars themed box to review!
So is the monthly gift box subscription service worth it? And more importantly, should you check out Power Up when you try it? Let's take a look, and see how you can save 10% with a Comic Book Herald exclusive coupon.

I Pay Money… For Boxes?
If you're new to this whole gift box craze (I am too, so you're in good company), here's how this works:
You sign up online with a service like Power Up, subscribing to one of their tiers. For Power Up this means you can select from:
Premium Subscription (6-9 items)
Support For Comic Book Herald:
Comic Book Herald is reader-supported. When you buy through links on our site, we may earn a qualifying affiliate commission.
Comic Book Herald's reading orders and guides are also made possible by reader support on Patreon, and generous reader donations.
Any size contribution will help keep CBH alive and full of new comics guides and content. Support CBH on Patreon for exclusive rewards, or Donate here! Thank you for reading!
1 Month – $29.99 + shipping & handling
3 Month – $28.45 / mo + shipping & handling
Full Year – $25.45 / mo +shipping & handling
Deluxe Subscription (4-6 items)
1 Month – $19.95 + shipping & handling
3 Month – $18.95 / mo + shipping & handling
Full Year – $16.95 / mo +shipping & handling
Once signed up, you will begin to receive boxes full of goodies in the mail once a month. To my knowledge, there's no way to know the contents of the box (Would somebody ask Brad Pitt to stop shouting please?) until it's at your doorstep.
That said, Power Up is "geek & gamer" specific, so it seems the likes of Marvel, DC, Star Wars, Star Trek, Halo, and Flash Gordon are all safe bets.
Basically, you have to be somewhat eager to receive new shirts about things you love, new toys of things you love, and various accessories related to things you love. I have to admit, these are fun things to anticipate monthly, and the main reason Power Up is such a charming option.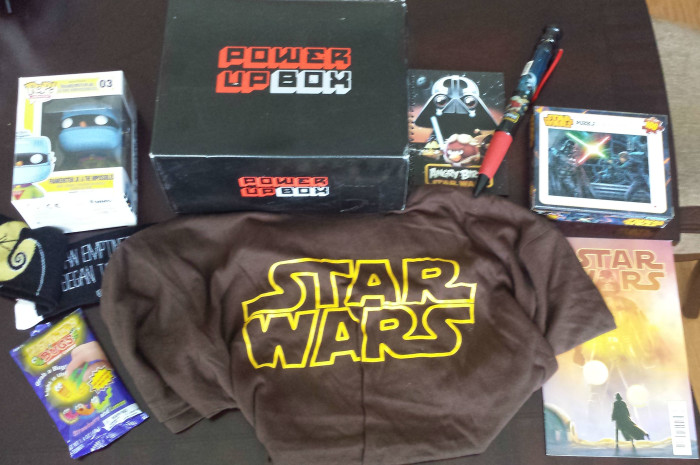 What's In the Box?!
My favorite moment of the Power Up experience was definitely opening my box to discover a fresh copy of Star Wars #4 resting right on top.
I've been Marvel Unlimited waiting for Jason Aaron and John Cassaday's Star Wars relaunch, but it was a blast to get a copy in my hands ahead of time (especially an issue featuring a Darth Vader / Jabba the Hutt negotiation… if you can call it that). For the comic fans out there, it's important to note you also run the risk of receiving a comic you might already collect. For example, I would have been significantly less excited about Marvel's Secret Wars, simply because I'm already reading every issue.
As for the rest of the box:
Classic Star Wars Tee
Brown tee with classic yellow Star Wars font. Extremely simple, but definitely a shirt I'll wear. There's a part of me that wishes they'd taken more chances here (Bobba Feta Cheese… a cheese dressed like Boba Fett) but that also runs the risk of a shirt I would never wear, so acceptable compromise.
Star Wars #4 Comic
As discussed, highly enjoyable comic from a high profile series. A clear win for me.
Angry Birds Star Wars Giant Pen
We now enter the "Wait, do I really need this?" stage of collectibles. The world's largest Angry Birds / Star Wars pen is not something I would have purchased on my own. That said, I love having it. I think it's hilarious, and immediately wanted to send pictures of myself holding this enormous pen to everyone.
Angry Birds Star Wars Note Pad
See above. A practical accoutrement.
Star Wars 100 piece puzzle
The final piece of Star Wars memorabilia was a 100 piece puzzle of Luke Skywalker facing down Darth Vader in a lightsaber duel. I'm on the fence about keeping this one – feels like a solid "Shoot, we don't have a gift for our friend's 4 year old!" last second save.
For Fox Sake coffee mug
This item definitely made me laugh out loud, but good lord I can't have this in my house! I'm not going to try and explain a "For Fox Sake" coffee mug to my mother-in-law. Nonetheless, the mug may or may not now take up a prominent space in my office
Frankenstein Jr Funko Pop Up
Funko Pop collectibles are all the rage, and as per usual I feel like 100 years old not really understanding why. They're absolutely adorable, sure, but what am I supposed to do with these? Place them next to my Doctor Doom loose change bank and pretend they belong?
The absence of a Star Wars character here was one of my biggest gripes with the box too. It seems fairly standard for some variance in each box, but I would have been far more partial to an on-theme Funko. I think Doctor Doom and a Bobba Fett would have gotten along nicely.
Glow Worms candy
Gummy Worms that glow when you eat them. Who am I to say no?
Nightmare Before Christmas Socks
My least favorite item of the box, although pretty unreasonably. I actually love nerdy socks (I'm wearing Batman socks with capes to work right now) but I'm not a Nightmare Before Christmas
fan. Am I supposed to wear these socks any time I want to be completely unable to sleep? Another instance where an on-theme connection would have won me over.
Final Score:
3 items I love
4 items that are fun to have
2 items that I'll give away
Worth noting, the Box itself was a bit dinged upon arrival, but the contents were very neatly packaged with no damage to anything inside, including that all too bendable issue of Star Wars #4.
Value?
There are two essential components of the toys and treats in a gift box for me: 1) Do I enjoy the treats, or did I just create clutter for myself and 2) Is the value in the box greater than the price of subscription.
 By my estimate, the May 2015 Power Up Box I received has a retail value of about $65.
The one month subscription price for this premium box would have been $29.95 plus shipping, so let's call it $40.
That's a solid $25 gain on value for this box.
Final Assessment
I enjoyed receiving my Power Up box quite a bit. It's basically a box of Christmas toys every month, so there was some definite excitement and anticipation to open things up.
My biggest hang-up would simply be that I really like Star Wars, so a Star Wars themed box with some completely unrelated goodies was a let down.
Then again, I get that this is a part of the gift box subscription game. Every month is a mystery, and some elements will be surprisingly great, and others will go in your least favorite cousin's stocking.
Coupon Code
If you're interested in your own Power Up Box subscription (or giving Power Up as a gift), you can use coupon code ComicbookHerald and save 10% off your first month of either the premium or deluxe box. Check out more about Power Up Boxes here!