Spin-offs can be a tricky business. Is it too much? Is it diluting what was in the original material? Is it lesser than said material? Was it worth it? A lot of questions immediately pop up. That's twice as true when you're dealing with a spin-off built around resurrecting a dead character. And very specifically, a character whose death was central and pivotal to the original material in question. So there's a number of questions, but also, ultimately, just one:
Does it work?
I'm happy to report that, at least for my money,  Peacemaker absolutely does.
But before we dig into that, let's consider what all brought us here a moment.
The Past Of The Peacemaker
This is from his original debut in the Charlton Comics Fightin' 5 #40 by creators Joe Gill and Pat Boyette, this is how we're first introduced to the man. His insignia a dove of peace, his occupation as a diplomat at the Geneva Convention. And yet here he was, a man of violence in secret. In that very debut, we'd see his chateau, and the secret bunker it held. Not unlike a Bat-Cave, this place held, as the narrative captions put it:
Support For Comic Book Herald:
Comic Book Herald is reader-supported. When you buy through links on our site, we may earn a qualifying affiliate commission.
Comic Book Herald's reading orders and guides are also made possible by reader support on Patreon, and generous reader donations.
Any size contribution will help keep CBH alive and full of new comics guides and content. Support CBH on Patreon for exclusive rewards, or Donate here! Thank you for reading!
Every damn weapon under the sun, basically. This man Christopher Smith/Peacemaker, he called this chateau and base of his The Peace Palace. As did his knowing associates, a fact revealed to us in the later 5-issue long solo-series The Peacemaker which followed this, edited by the legendary Dick Giordano.
There's a rather revealing moment in these early Charlton comics, wherein Smith is asked why he does what he does, especially given he supposedly is such a devout man of peace.
"Why? Because man is civilized…governed by law, but unfortunately there are madmen who will not obey these laws, and will not submit to the sanity of diplomacy. The Peacemaker is an 'action-buffer' between these madmen and global war." – Christopher Smith, The Peacemaker #4 (1967)
You see all of this and evidently, the creators of the comic weren't trying to set him as some sort of dreadful monster. He was, for all intents and purposes, an action hero with an ironic gimmick. See also: Daredevil The Outlaw Vigilante/Matt Murdock The Man Of Law. He was just another handsome super-champion amongst a legion of many in the 1960's.
Then in the 1980's Dick Giordano was with DC Comics, and as a former Charlton editor he oversaw the sale of Charlton's key superheroes to DC. DC suddenly had these brand new toys to play with, and then came along The Biggest Thing To Be In Comics: Alan Moore. He was joined by Dave Gibbons and John Higgins. They wanted to play with these Charlton figures to try out some ideas they had. The seed of Watchmen
took root, though soon the creative team would move away and pivot to making original characters inspired by the Charlton figures, rather than using the Charlton toys which carried baggage, expectations, and limits.
Watchmen could not have existed with the Charlton heroes. It was only in not using them that the creative team created what they did- something wholly new and original, of their own, with a great love for that had come before. But still, it was hard to not see the original strain of Charlton there, particularly with The Comedian being a loud riff on The Peacemaker. And while The Comedian wasn't The Peacemaker, much like Nite-Owl was no Blue Beetle, it would become hard for the Charlton characters who inspired the Watchmen icons. They were now forever in the shadow of their pastiches, who had hit the world of American Superhero Comics like a tsunami. There was no going back now. Watchmen had to be reckoned with. It had changed superhero comics for good. There was only Pre-Watchmen and Post-Watchmen.
And thus, change was inevitable. Peacemaker would, in this context, inevitably acquire a more deliberately disturbing streak. It happened in the Post-Crisis world of 1987, when the character was relaunched for a whole new era and audience. Under the creative team of Paul Kupperberg, Tod Smith, Pablo Marcos and John Costanza, Peacemaker changed
. A whole new backstory regarding his Nazi father was revealed and he was a much more tortured and traumatized figure that didn't seem quite as put-together as in the Charlton era. He was a much more disturbed figure, and that not as a reading of the character or material, but in-text.
That is the stepping stone that's cemented the character's modern portrait.
The Nature Of The Peacemaker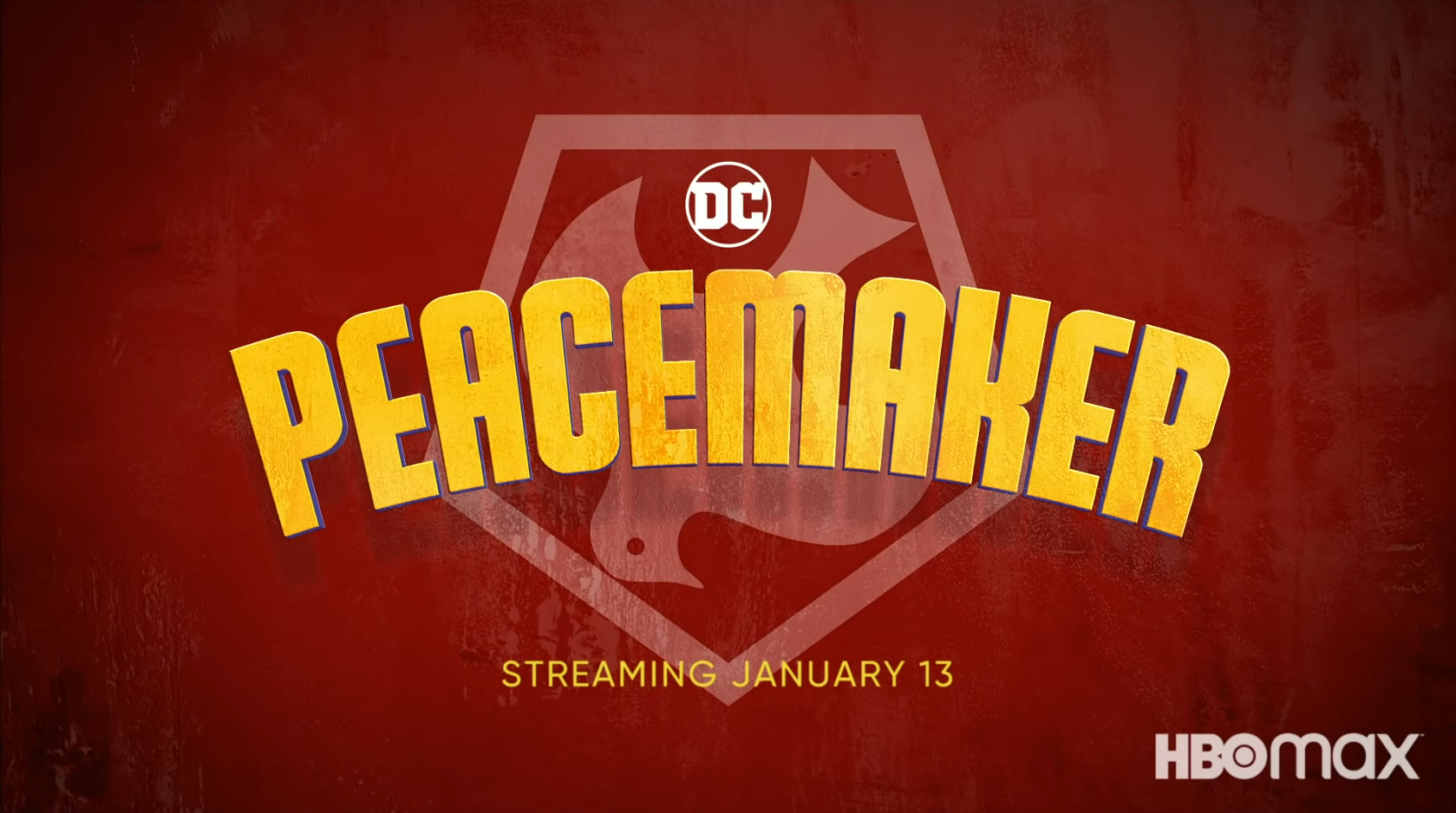 In that context, it might be easy to view what happened to Peacemaker as another cheap 'darkening' and 'deconstruction' in light of the arrival of Watchmen. But that feels off. You go back and read those original issues, and while the creators may not have intended a bastard, there is something disturbing there.
Here is a man that bears a sigil of the dove of peace, but wears a blood red shirt to go out and 'enforce peace' with a gun. Here's a self-proclaimed lover of peace, who dubs his home The Peace Palace, yet literally collects and possesses every damn dangerous weapon under the sun. He even designs 'em! For a man so taken with peace, he clearly spends way too much time on weaponry and war. There's something that feels like it's not right if you think about it for a second. In fact, it all feels rather like a joke. You even look at his name- Christopher Smith. It feels like the most generic Christian White American boy name in the world. Even the gimmick of 'A man who loves peace so much he's willing to fight for it!' with this gun-toting militaristic figure feels like a joke. It all feels parodic of a certain type of person, especially coming to it as a modern reader. 'This has to be someone taking the piss, right?' is the immediate thought that occurs when one looks at the man known as Peacemaker in the 2020s, in a world where we've lived through a Trump Presidency and a Capitol Hill attack.
There's long been something uneasy and uncomfortable about Christopher Smith. He feels like a man that'll shatter with a single touch, like a broken glass barely held together. He's a man one step away from being destroyed by his own hypocrisy. It's why even a riff like The Comedian makes sense. It tracks. And it's why even the Post-Crisis reworking by Kupperberg makes sense.
And it's also why the take in 2021's The Suicide Squad made sense:
Within James Gunn's film, The Peacemaker (played by John Cena), is an agent of The American Empire. He is the imperialist who will 'keep the peace' no matter how many men, women, and children he has to kill to do it. He is an inexorable agent of The Status Quo, and absolutely a parody of a certain kind of individual. It's why he's so willing to die than let the truth be free. He'd rather have people believe a lie than see the truth, which would be against 'peace', which he's all about. 'Peace', 'Law', 'Order', he is the embodiment of the American desire to be The World's Policeman.
So how goes his resurrection here in this show? Was it worth it? Did it work?
Well, you take a look at this glorious opening sequence, and tell me if it did:
That opener is, aside being excellent, honestly a good sampler for the show. If you vibe with that, the show might just very much be your thing. At its core, Peacemaker is even more of an outright comedy than the movie its spun-off from. It boasts a tone that would fit with all the silliest and most outrageous parts of that movie, but without as much of the 'serious' bits that try to aspire for some measure of gravitas. Which is another way of saying there is no Idris Elba in here, and he is not the lead. John Cena is the lead, and he brings a very different vibe and sensibility as leading man, and the show reflects that in its nature.
Cena's Christopher Smith is, without question, a total piece of shit. What then makes the show really work is it's not laughing with Peacemaker, but rather at Peacemaker. It's about this broken bastard and how truly messed up he is, while digging a bit into why it is that he is so messed up, in the ways that he is. Gunn is smart enough to know that to truly make it click, and make it a viable TV drama, you need an ensemble cast. You gotta have more than just Peacemaker here, you have to other people's reactions to Peacemaker. A joke is made funnier, a parody made sillier, when there's someone there who actually gets the absurdity of it. In the end, you have to give Peacemaker a lot of personalities to regularly bounce off of to bring out the best in him, like in the original film.
And thus we get our cast of characters in Emilia Harcourt (played by Jennifer Holland), John Economos (played by Steve Agee), Clemson Murn (played by Chukwudi Iwuji), Adrian Chase/Vigilante (played by Freddie Stroma), and Leota Adebayo (played by Danielle Brooks). They're the squad saddled with dealing with Peacemaker and running ops with him after the mess in the movie. They've got very few resources, a rubbish HQ, and this clown called Peacemaker they have to deal with, all the while trying to execute their mission of 'Project Butterfly'. Vigilante operates as Peacemaker's weirdo co-worker/best-friend who just forces his way into these ops and missions, while the other highlight dark horse of the cast is Auggie Smith (played by Robert Patrick), the perpetually pissed off and disappointed Nazi dad of Peacemaker. Beyond all those, however, the real star of the show is Peacemaker's one-true sidekick and partner– his pet eagle Eagly.
The general fun of the show comes from watching Peacemaker's foolishness and suffering land him in messes, and watching how things play out from there. The demeanor of the character means that no matter how badly things are going, no matter how much he's screwed up, Cena's Christopher Smith will put on a brave macho-man act until he's truly alone (wherein he'll sob and let loose his self-loathing). He always has a line or a curse, and due to Cena's performance, he remains genuinely fun to watch on screen. The general sense of the series may then perhaps be best summed up by this evergreen gif:
It's kind of an extended gag laughing at a conservative costumed caped crusader who is an agent of the military industrial complex. It's about how f**ked up he is and how that's funny, and how sad and hollow he is (which is also pretty funny). Here is a man who has nothing and no one, and who genuinely does not know how to do or be better. The first and only time he aims for some sort of real emotional connection by talking about music he loves, having just had a one-night stand with a stranger, he's met with a literal attack by said woman, who turns out to be a metahuman killer deadset on taking him out. The man just keeps losing consistently. He's a toxic asshole, raised to be this way by an even worse father who's a Nazi jackass who watches Alex Jones-esque rubbish, and goes by 'The White Dragon', as a mini-troop of White criminals 'hail' to him in prison.
Perhaps the most telling scene comes at the end of the first episode, wherein Leota Adebayo is talking to Amanda Waller:
'How's Peacemaker?'

"[Chuckles] Yeah, he's his own thing. Sexist."

'Yeah.'

"Probably racist."

'Oh, you know who his father is.'

"Oh, yeah. But there's something else about him that's…sad."
That feels like the essential heart of the show. It's not asking you to sympathize with this Climate Change-denying dipshit. But it is asking you to empathize with what makes a monster like him. There's something deeply sad about this big handsome man who just does not know how to be decent and truly human. Superhero shows can really struggle and feel same-y, as the burden and baggage of 'superhero' means and implies they must be or do certain things, and in response the shows feel the need to check certain things off as well. That's particularly true the bigger and more iconic the characters in question are. You know who The Flash is or must be by the end. You know that Wanda must be The Scarlet Witch by the end of Wandavision. Even a figure like Loki who has had a villainous streak must adhere to The Charming Rogue sensibility and his popularity means certain expectations are met and maintained. The IP Expectations, as it were, can then limit characters. You can't 'break' or 'mess them up' too much.
But the more niche you go in these worlds, and the less the strict 'hero/villain' binary part matters in the 'super', the more freedom you can have. Certain toys can be broken more than others, which is kind of the entire appeal and draw of The Suicide Squad
, or at least was originally in that classical John Ostrander tenure. You can bend and break The Peacemaker in a way that you can't Superman or Wonder Woman, with Executives and notes breathing down on you with concern.
Here is a bastard who is more flexible, and that gives the show a range of possibilities that are not as readily available to others, wherein the central figures are morally obliged to adhere to some measure of heroics. The show gets to exist at a messier place than a number of these tend to be allowed, and thus has a lot more personality, as this is very clearly a James Gunn vehicle, with him writing all of it, and directing 5 of the 8 episodes. This has a very distinct style and identity as being from one person's head in a way that I don't think we've ever quite seen with DC Television series to date.
Gunn leans into all the absurd supehero mechanisms of the genre, with Peacemaker having a 'super-car' of sorts, a 'super-sidekick animal', and a super-dad who trained him and made him into a superhero. But it's all part of this recipe of curdled comedy, as we get to see how sad a man who loves freedom so much he owns an eagle named Eagly and drives a car draped in the American Flag really is. Even his super-dad who made all his slick costumes is an abusive Nazi dick who he can't get any love from. It's very much a show that employs the detached ironic 'hah, what a silly name, what a dumb, goofy costume' self-awareness comedy shtick that the Marvel Cinematic Universe is a hallmark for, but it really works for it here in a way it tends not to with a lot of the MCU stuff. And it does so because the gag is ultimately very centered and focused on how Peacemaker is a shitty dude and must be relentlessly mocked, with the show reveling in that fact.
It's why when the show does the classic superhero comic shtick of 'his new lover is actually out to kill him!' after Peacemaker's attempt at intimacy, it's actually hilarious. It's a very superhero beat, and the kind of beat that lands best with an absolute asshole like Peacemaker, who you love to watch, and love to watch suffer in outrageous situations. It's where the 'Man, being a superhero must kinda suck, huh?' works in a way where it may not with someone like The Flash for instance. Having Super Speed and being a Super-Scientist who discovers the multiverse probably rules no matter how you slice it. Having a Nazi Dad and becoming a superhero who works for the US Government under Amanda Waller? Yeah, that surely sucks. It's a lovely little case of 'right pick for the right message in the right context'. Hell, it even fits right in with Prestige TV's (and particularly HBO's) long line of shows about Horrible Men.
James Gunn truly feels free here, making this, than perhaps he has ever been with any of his other IP work. There's a freedom and surprise to the comedy here that never existed within the PG MCU framework of Guardians, and a real 'Whoa! I was not expecting that!'. There's a thrill here. And it's impossible not to think on some level that the attempted 'shared, connective' DCEU scheme that WB pursued so hard for a good bit, in emulation of the MCU's succession, failing was a boon. That's led to these break-off projects and just handing talented creatives sandboxes to just play and make cool things, above all else, with a lot of leeway and rope for them to do their own personal thing. And that's honestly the way to with these things, and historically speaking, is the strength of a publisher like DC who were the home of Karen Berger and Shelly Bond's Vertigo Comics.
There's a ton of promise here thus far, particularly with Brooks' Leota Adebayo, who really feels like the heart and soul of the show. She plays the innocent newbie agent who is secretly Amanda Waller's (queer) daughter, which feels like a Big Idea with a lot of legs, and I'm very interested to see where they take her and develop that character. The show's take on Vigilante may be divergent from any prior material, but playing him as the weird, goofy BFF of Peacemaker is honestly inspired within the context of the show. It very much fits the show's 'Live-Action Cartoon' sensibility rather nicely, and he brings a great comedic dynamic with Cena.
On the whole, Peacemaker is very much a strong, solid debut, and I'm very curious as to where this goes. There's questions of growth and understanding being posed Christopher Smith's way, but what would that even look like? Is such a thing even doable for a bastard like Smith? Can he learn? I suppose that's what the show's for. Meanwhile, I reckon we can all just enjoy the ride, and bask in the glory of Eagly, the superhero comics character of the year.