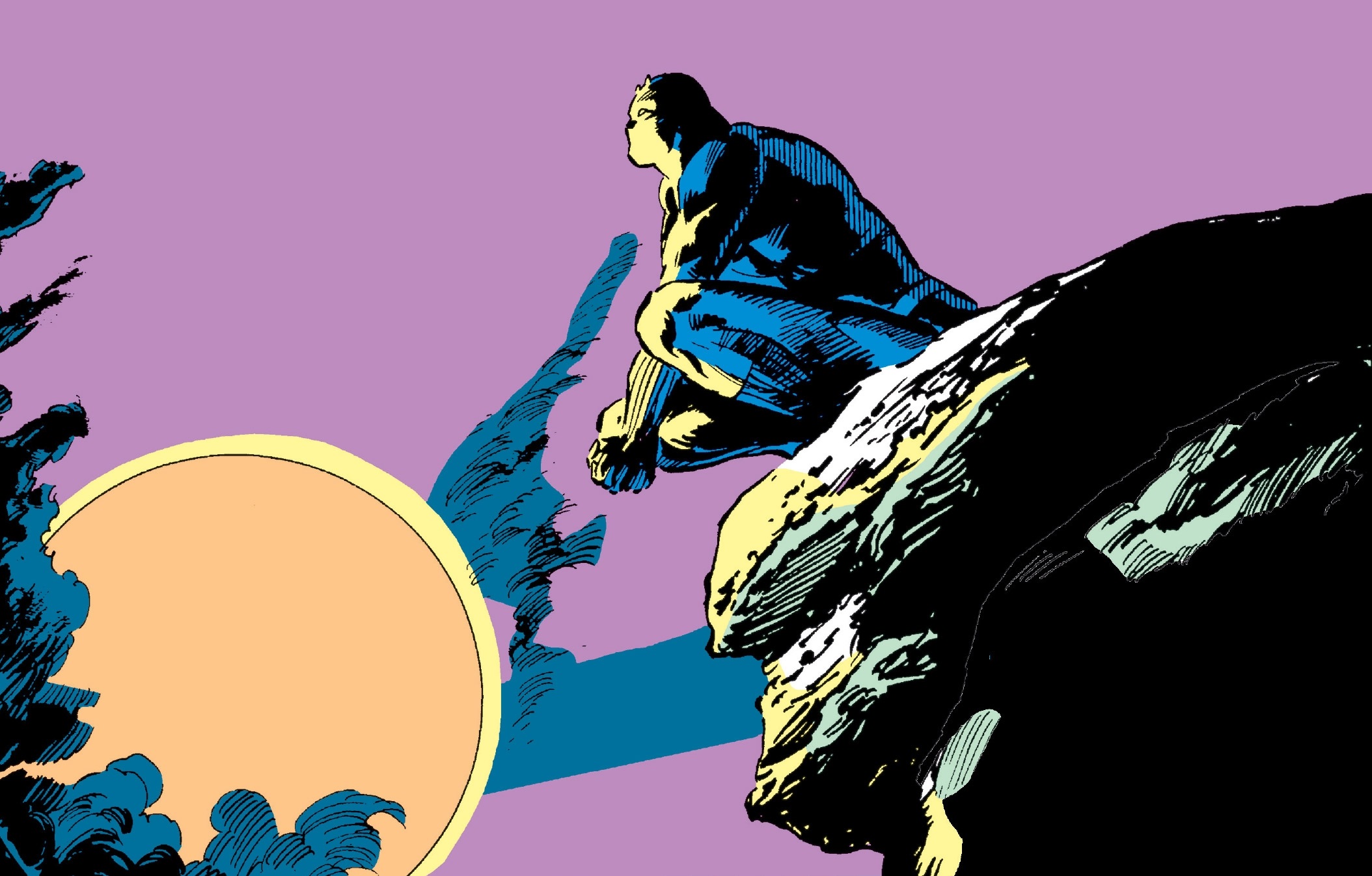 The release of 2018's Black Panther was a bit of a surprise hit for Marvel Studios. One good reason we know that is that the publishing arm of Marvel did not bother to prepare a single hardcover collection in time for the film's release—something they've begun to do for all of their movies. Marvel vowed to do better next time around, and they have: where once there were no Black Panther omnibuses, now three have been released in a span of a few months, just before the release of the much-anticipated sequel, Black Panther: Wakanda Forever. And another one's on the way! But Black Panther has a long comics history, so these don't even begin to cover all his adventures: what omnibuses are left? What will they contain? That's what we're here to find out!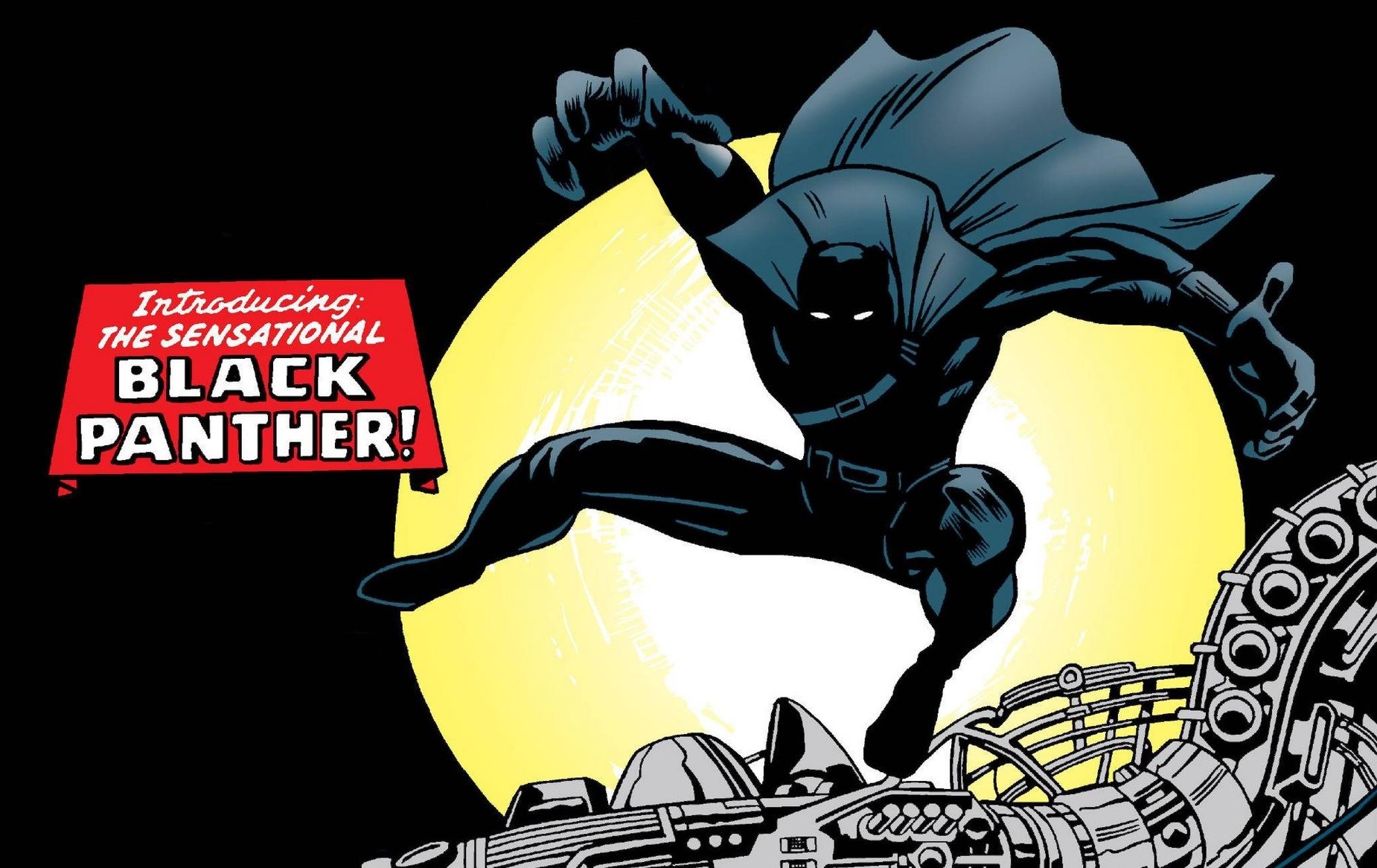 Before we map what's missing, we should review what we've got, starting with Black Panther: The Early Years Omnibus, which encompasses the early stories of T'Challa from his 1966 Fantastic Four debut in the hands of Stan Lee and Jack Kirby to his later adventures with the first family, Captain America, Daredevil, and the Avengers, culminating in his first solo tale in the pages of Jungle Action. If you're raising an eyebrow at that title, you should: up to that point, the title was a forgettable throwback to fifties comics which merely reprinted old racist jungle-themed stories in which Tarzan-like white men became the saviors and conquerors of "uncivilized" tribes. Don McGregor was aghast that such stories were still being published and resolved himself to fix that, adhering to the jungle adventure theme but with a black protagonist, the existing T'Challa, the Black Panther. In 1973, with pencilers Rich Buckler, Gil Kane, and Billy Graham, and early work by inkers Klaus Janson and Bob McLeod, McGregor wrote one of the earliest long-running stories in Marvel—and one of the best, too. Although no one can doubt Stan and Jack created the character, McGregor was the one who provided him with an inner life and an ensemble of Wakandan characters—as well as a Wakanda that started to feel like a real country instead of King T'Challa's personal high-tech theme park/fiefdom. If you want to know Black Panther's origins as originally told, and some of his most iconic stories up to the mid 1970s, this is the volume for you.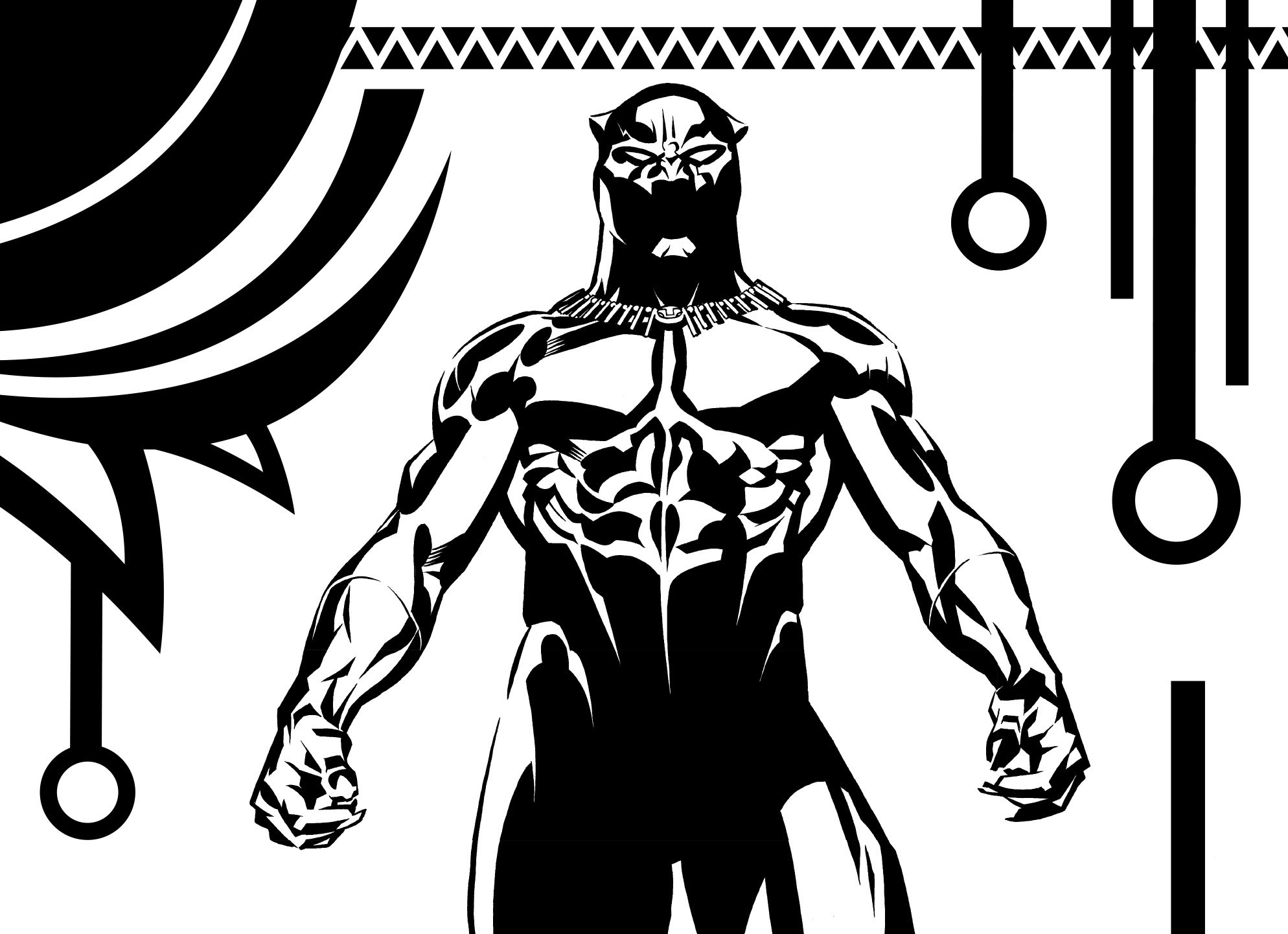 With T'Challa's "earliest years" well-covered, Marvel decided to take a different tack with the next two omnibuses they released—the opposite tack, in fact, collecting the most recent material instead. Black Panther by Ta-Nehisi Coates Omnibus includes every Black Panther comic solely written by the famous author and journalist, from 2016's iconic relaunch to 2018's cosmic saga, with artists that greatly elevate the material, including Brian Stelfreeze, Chris Sprouse, Daniel Acuña, Kev Walker, Ryan Bodenheim, and Jen Bartel. If what you want is a modern Black Panther that you'll largely recognize from the MCU, this is definitely the way to go, although in the early issues Coates—a first time comics writer—is clearly still getting acclimated to the medium.
Coates's relaunch of the title, coinciding with T'Challa's MCU debut in Captain America: Civil War, was such a success that it spawned a myriad different Black Panther (or more generally Wakanda-related) miniseries and one-shots: Wakanda: World of Black Panther Omnibus can be seen as a companion to Coates's volume, as it contains every single contemporary ancillary comic, some of which are co-written (or co-plotted) by Coates himself. This packed 1376-page omnibus includes, amongst many other comics, Rise of the Black Panther by Evan Narcisse, Paul Renaud and Javier Pina, which retells T'Challa's origin; Black Panther: World of Wakanda by Roxane Gay, Alitha Martinez, and Roberto Poggi, which follows from Coates's opening arc by expanding on the revolution of the Dora Milaje (some of these characters and concepts are present in Black Panther: Wakanda Forever); the short-lived Shuri ongoing title by Nnedi Okorafor, Vita Ayala, Leonardo Romero, Paul Davidson, and Rachel Stott; and much more. With such a huge anthological volume, it's not surprising some of the stories aren't exactly stellar, but the omnibus may be worth it just for the fact that it collects World of Wakanda in oversized hardcover format, as well as other overlooked gems, such as Black Panther Annual 2018 and The Last Annihilation: Wakanda.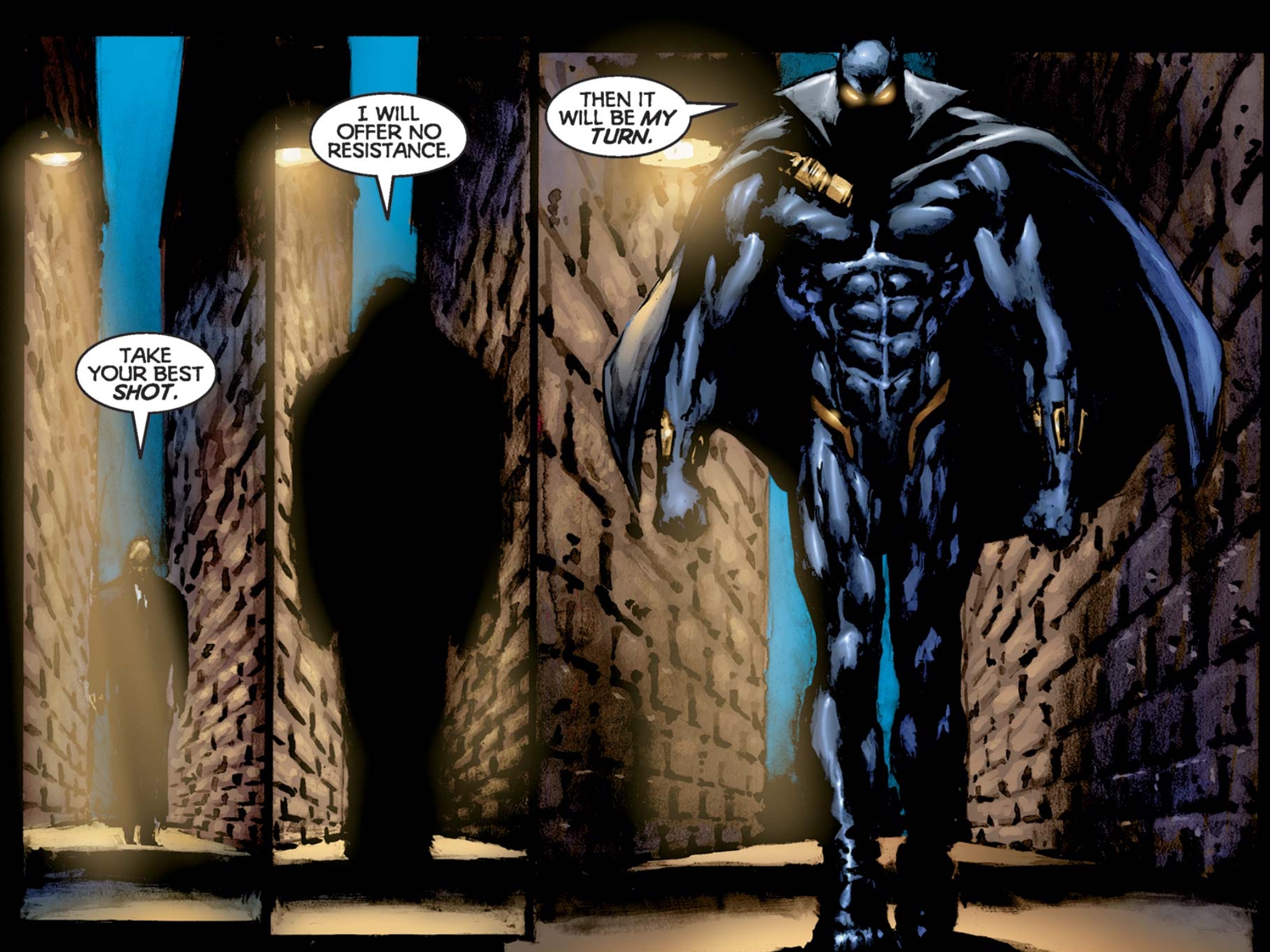 The fourth Black Panther omnibus hasn't been released yet but is coming soon: Black Panther by Christopher Priest Omnibus Vol. 1 will include the first half of Priest's complex yet acclaimed late 90s-early 2000s run. If this is not only your entry point to T'Challa but to comics in general, it may not be the best way to go—especially early on in the run, Priest utilizes time jumps more often than Cable of the X-Men time travels, which is saying something. It makes for a complicated reading experience, but an immensely satisfying one if you're paying close attention.
Support For Comic Book Herald:
Comic Book Herald is reader-supported. When you buy through links on our site, we may earn a qualifying affiliate commission.
Comic Book Herald's reading orders and guides are also made possible by reader support on Patreon, and generous reader donations.
Any size contribution will help keep CBH alive and full of new comics guides and content. Support CBH on Patreon for exclusive rewards, or Donate here! Thank you for reading!
These volumes finally gave hardcover collectors and Black Panther fans something, anything. It can't be repeated enough how ridiculous it is there was no Black Panther omnibus until 2022. But there is much more Black Panther to collect, with gaps spanning decades, so let's get to it.
We should start at the beginning: Black Panther: The Early Years was first announced as Black Panther: The Early Marvel Years Vol. 1, which promised a sequel volume—or more. That's no longer the case, but that doesn't change the fact that there are many Black Panther comics left to "omnibize" between the mid-70s and the late 90s (between Black Panther: The Early Years and Black Panther by Christopher Priest Vol. 1). I would name this volume—or set of volumes—Black Panther: The Later Years, for lack of a better title. But what would it collect, exactly?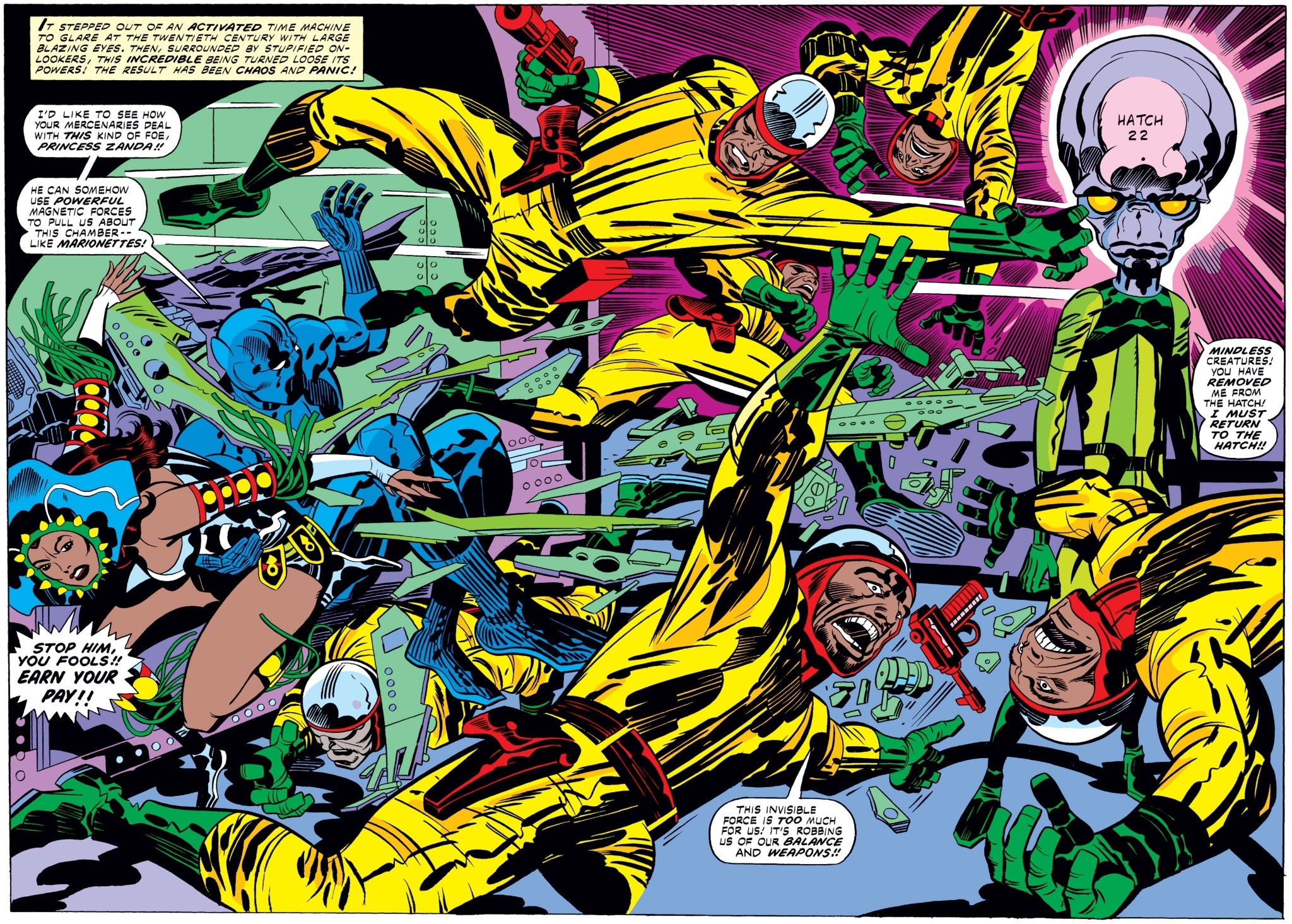 There are several ways to "map" this era and we'll look at all of them in detail. The Early Years didn't merely collect T'Challa's first appearance in Fantastic Four and his first solo adventure in Jungle Action (the contents of his first softcover Epic Collection, Panther's Rage), but also every major appearance in-between, including almost every Avengers issue in which he co-starred prominently. One would assume the following volume would follow the same formula… but it's not as easy as that. Merely by putting the next two Epic Collections together into an omnibus, we would have a volume of more than 900 pages, but—unlike The Early Years—it would only focus on Black Panther-starring comics: Jack Kirby's "inventive" (but nearly unreadable) 15-issue run upon his brief return to Marvel in 1977; Ed Hannigan and Jerry Bingham's famous three-part Marvel Premiere story in which T'Challa faces the Ku Klux Klan; Chris Claremont and John Byrne's short flashback tale which first established the childhood encounter between T'Challa and Ororo Munroe, to be later known as Storm of the X-Men; Peter B. Gillis and Denys Cowan's dark 1988 miniseries which saw Black Panther battle apartheid in Azania, a fictional South Africa analogue; McGregor's return to the character in Marvel Comics Presents, with all-time artist Gene Colan, on a "Panther's Quest" that takes the title character to actual aparthaid South Africa, where he must save a family member he'd thought long-dead; a short solo adventure by Sandy Plunkett; Don McGregor's third and final "Panther's" saga, the beautiful 1991 "Panther's Prey" with artist Dwayne Turner; Walter Simonson's first and only time writing T'Challa, with returning artist Denys Cowan, in Marvel Fanfare; and a few other unremarkable short stories of the era starring T'Challa.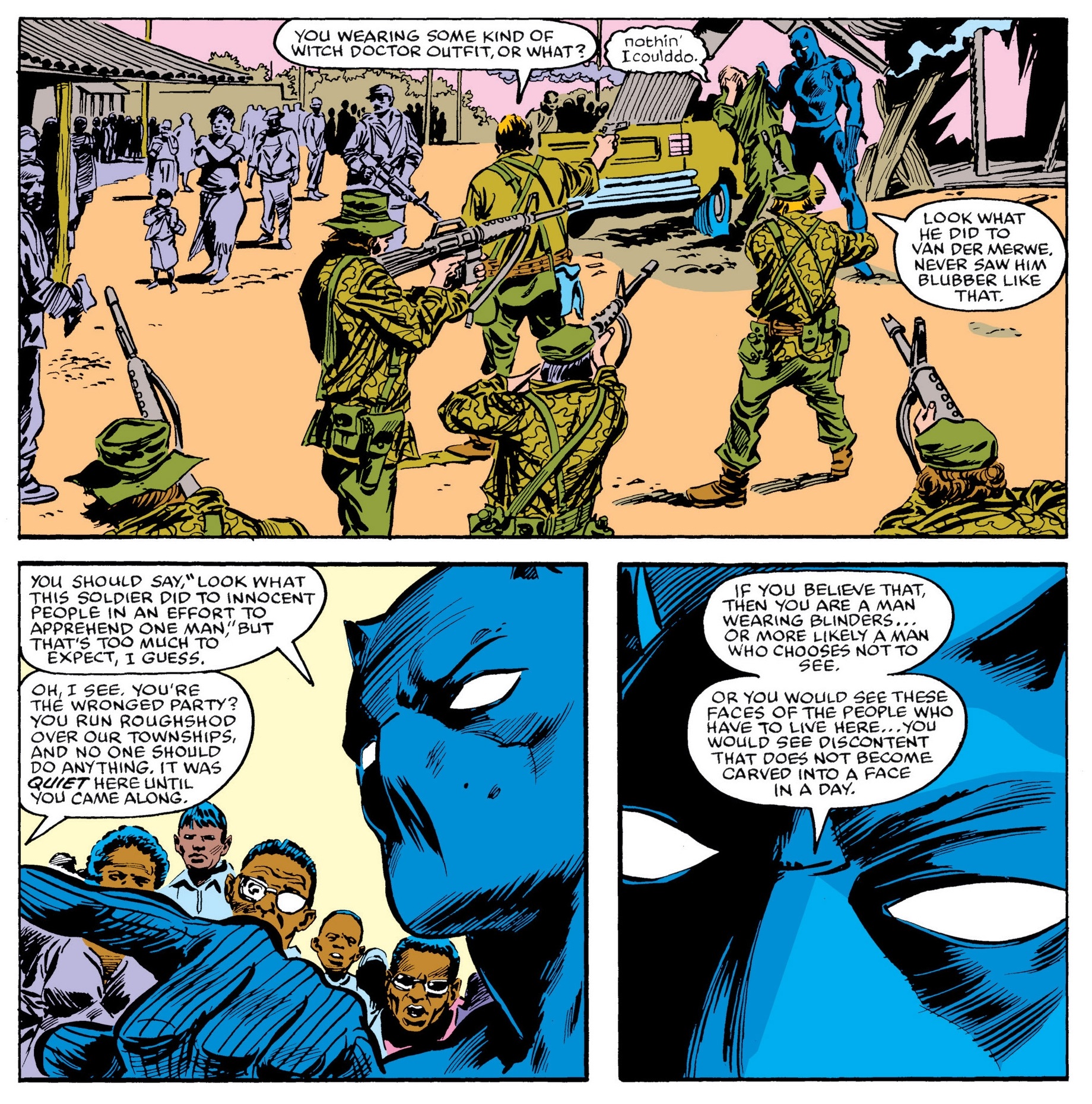 This would be the compact version of a Later Years volume, a simple stitching-together of two existing softcover collections blown up to oversized hardcover format:
Black Panther: The Later Years Omnibus (Compact Edition), largely by Don McGregor, Jack Kirby, Ed Hannigan, Peter B. Gillis, Gene Colan, Dwayne Turner, Jerry Bingham, and Denys Cowan, would collect, in this order: Black Panther (1977) #1-15, Marvel Premiere (1972) #51-53, Marvel Team-Up (1972) #100 (2nd story), Black Panther (1988) #1-4, Marvel Comics Presents (1988) #13-37 (2nd stories), Solo Avengers (1987) #19 (2nd story), Black Panther: Panther's Prey #1-4, Marvel Super Heroes (1990) #1 (7th story), Marvel Fanfare (1982) #60 (1st story), Marvel Comics Presents (1988) #148 (3rd story), and Fantastic Four Unlimited #1 (2nd story). This compact version would be at least 923 pages, and around 20-to-50 more with extras.
As you might have picked up, this is not my ideal mapping for a mid-70s to mid-90s Black Panther omnibus. It's not outrageous—it'd be perfectly acceptable, just as the Epic Collections it'd be mapped after are. But it would miss on a lot of stories—some of them better Black Panther stories than the ones that'd be collected in such a compact version, even if they are part of an existing regular title and T'Challa is merely a guest star. I was ecstatic that The Early Years collected most of his key Captain America, Daredevil, and Avengers appearances of the sixties and early seventies, and I think he deserves the same treatment for his next chronological volume.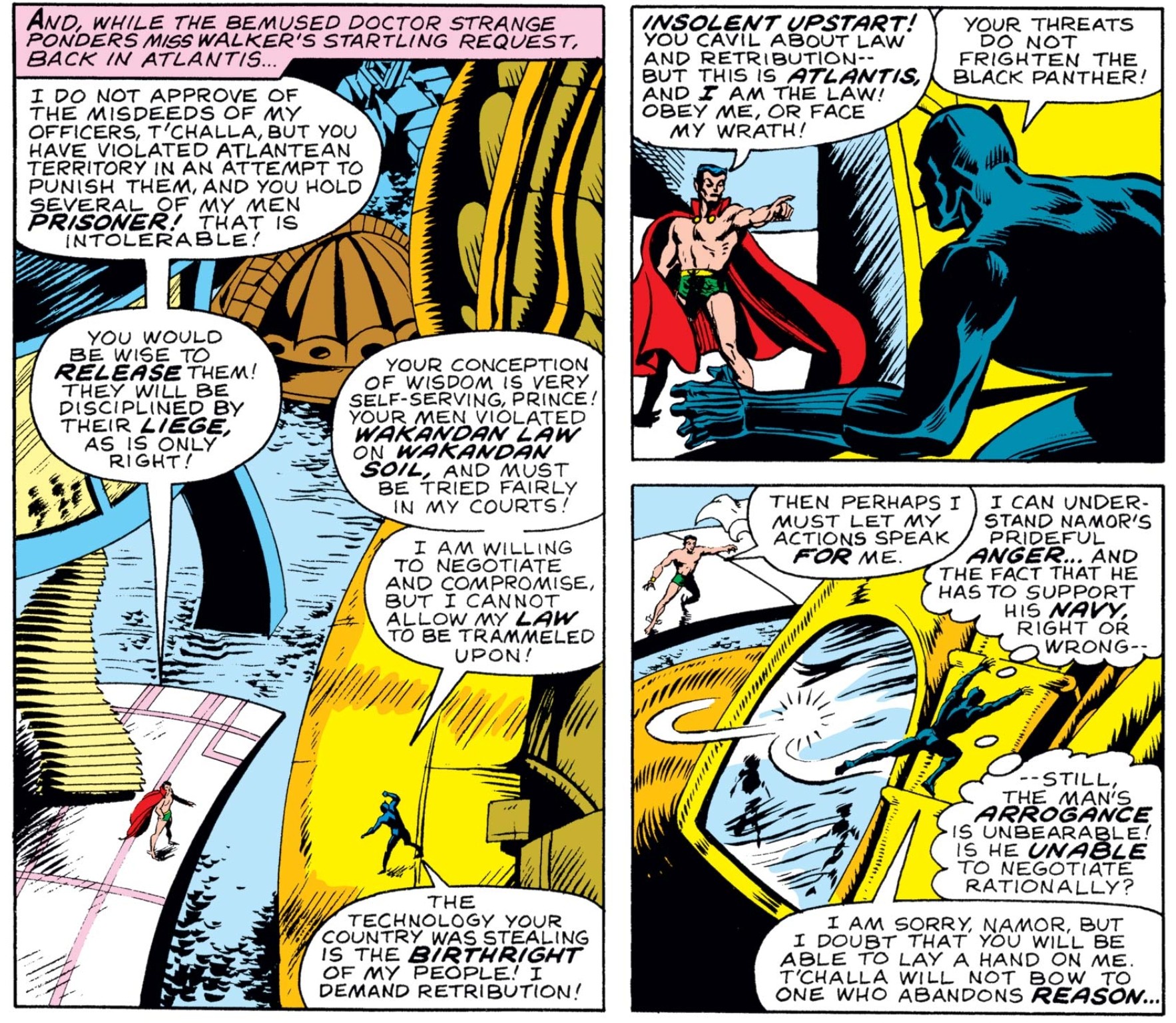 The easiest way to go about this would be to extend the "compact" volume with the Black Panther stories that should absolutely be included in any truly worthy expanded collection of the era. The first (and most essential) of these would be a three-part story in Ed Hannigan and Don Perlin's Defenders run, which has T'Challa and Namor the Sub-Mariner—and Wakanda and Atlantis—facing off for the first time. This is the beginning of a complex relationship that will develop through the years, sometimes as allies and other times the most bitter of enemies. With Namor and his nation being introduced to the MCU in Black Panther: Wakanda Forever, this inclusion is a no-brainer. Next up, there is Peter Gillis, Ralph Macchio, and Jerry Bingham's Iron Man Annual #5, in which Tony Stark helps T'Challa fight off Killmonger once again; Ann Nocenti and Chuck Patton's Daredevil #245, in which the titular character and T'Challa, who are old friends at this point, fight about what to do with a former Wakandan gone rogue; 1998's Ka-Zar #17, in which Christopher Priest introduces Everett Ross (played by Martin Freeman in the movies), who essentially becomes the protagonist of his Black Panther run that would fit right after this volume; and finally a highlight from Joe Casey and Jose Ladrönn's incredibly underrated era of Cable: issue #54 has T'Challa team up with Cable against Ulysses Klaw. With Ladrönn's art being so reminiscent of Jack Kirby and T'Challa facing his original villain, I can imagine no better way to end the volume before passing the baton to Christopher Priest with Ka-Zar #17 and Priest's omnibus.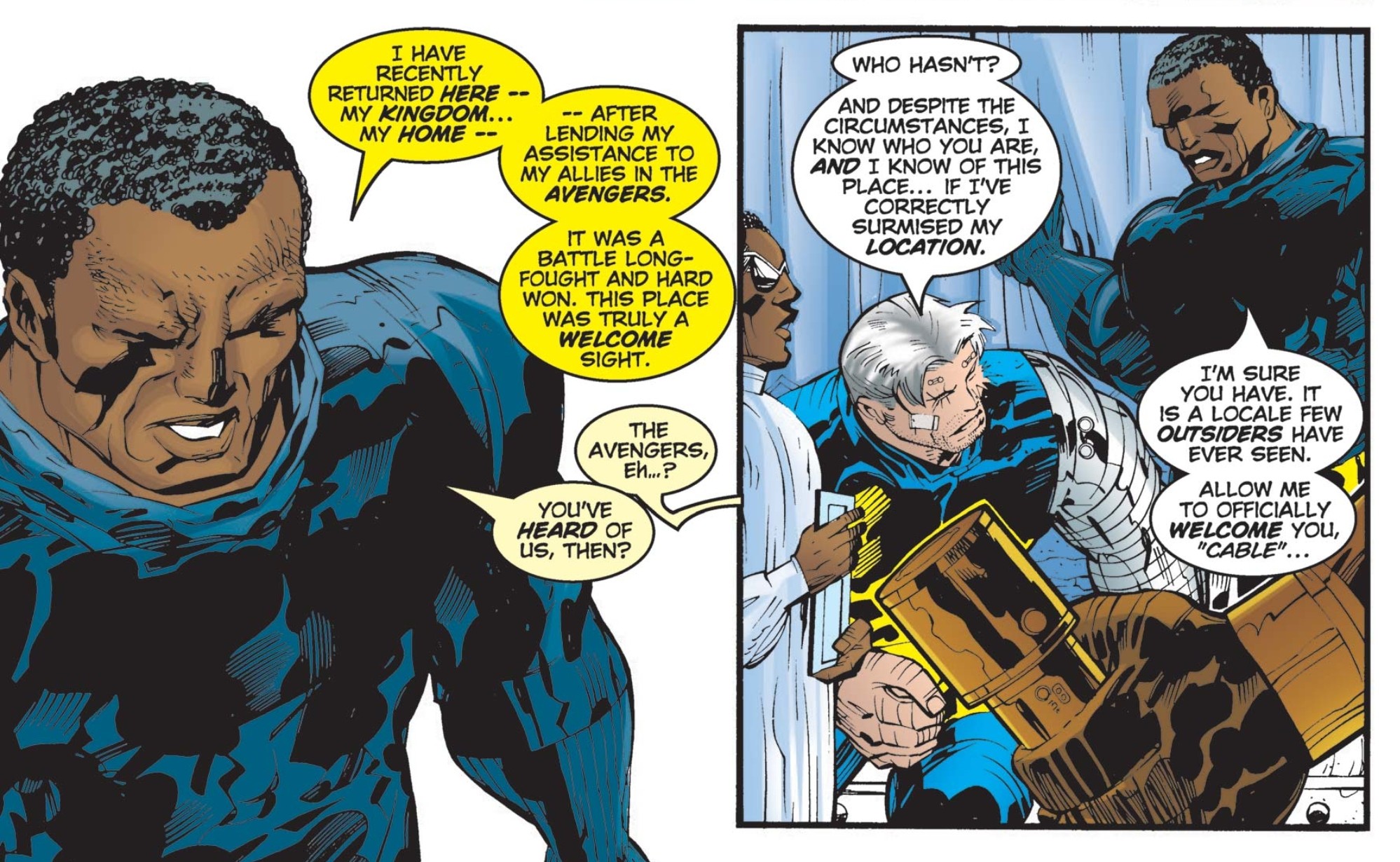 Black Panther: The Later Years Omnibus (Extended Edition), largely by Don McGregor, Jack Kirby, Ed Hannigan, Peter B. Gillis, Gene Colan, Dwayne Turner, Jerry Bingham, and Denys Cowan, would include Black Panther (1977) #1-15, Marvel Premiere (1972) #51-53, Defenders (1972) #84-86, Marvel Team-Up (1972) #100 (2nd story), Iron Man Annual #5, Daredevil (1964) #245, Black Panther (1988) #1-4, Marvel Comics Presents (1988) #13-37 (2nd stories), Solo Avengers (1987) #19 (2nd story), Black Panther: Panther's Prey #1-4, Marvel Super Heroes (1990) #1 (7th story), Marvel Fanfare (1982) #60 (1st story), Marvel Comics Presents (1988) #148 (3rd story), Fantastic Four Unlimited #1 (2nd story), Cable (1993) #54, and Ka-Zar (1997) #17. This extended version would be over 1091 pages.
Although I'd be more than happy with such an omnibus, personally I lean towards splitting The Later Years into two separate volumes, allowing for many other T'Challa stories in that twenty-year period. Some of these are hidden gems, while a few of them would admittedly be there mostly for the sake of completion, but they are all Black Panther-centric enough to deserve being collected if Marvel decides to follow the same formula they did for The Early Years.
As well as everything in the "extended" version I outlined, this first of this two-part completist set would include the following: before Kirby's run, Jim Shooter and Sal Buscema gave the spotlight to the Black Panther in Avengers #159, in which T'Challa returned from a long absence to save the whole team from Graviton in a very Batman-like way; in issue #169, with Sal Buscema still as the artist, Marv Wolfman pens a story focusing on how Black Panther, Captain America, and Iron Man defuse the same situation in different ways, highlighting their differences; a two-part Thing / T'Challa / Brother Voodoo team-up in Tom DeFalco, Roger Slifer, and Ron Wilson's Marvel-Two-In-One; a Spider-Man team-up by Steven Grant and Gene Colan; John Byrne's Fantastic Four #241, in which SHIELD seeks the family's help for a mission in Wakanda; a fascinating early encounter between King T'Challa and Doctor Doom as monarchs in Steve Englehart's and Keith Pollard's otherwise unremarkable Fantastic Four run; and a story highlighting Black Panther and Bill Foster's Giant-Man (Laurence Fishburne in Ant-Man and the Wasp) in a West Coast Avengers annual (set during the convoluted Evolutionary War saga, but don't worry about it). The first volume would end with McGregor and Colan's "Panther's Quest," which seems fitting as the last big story in The Early Years is McGregor's first saga, "Panther's Rage."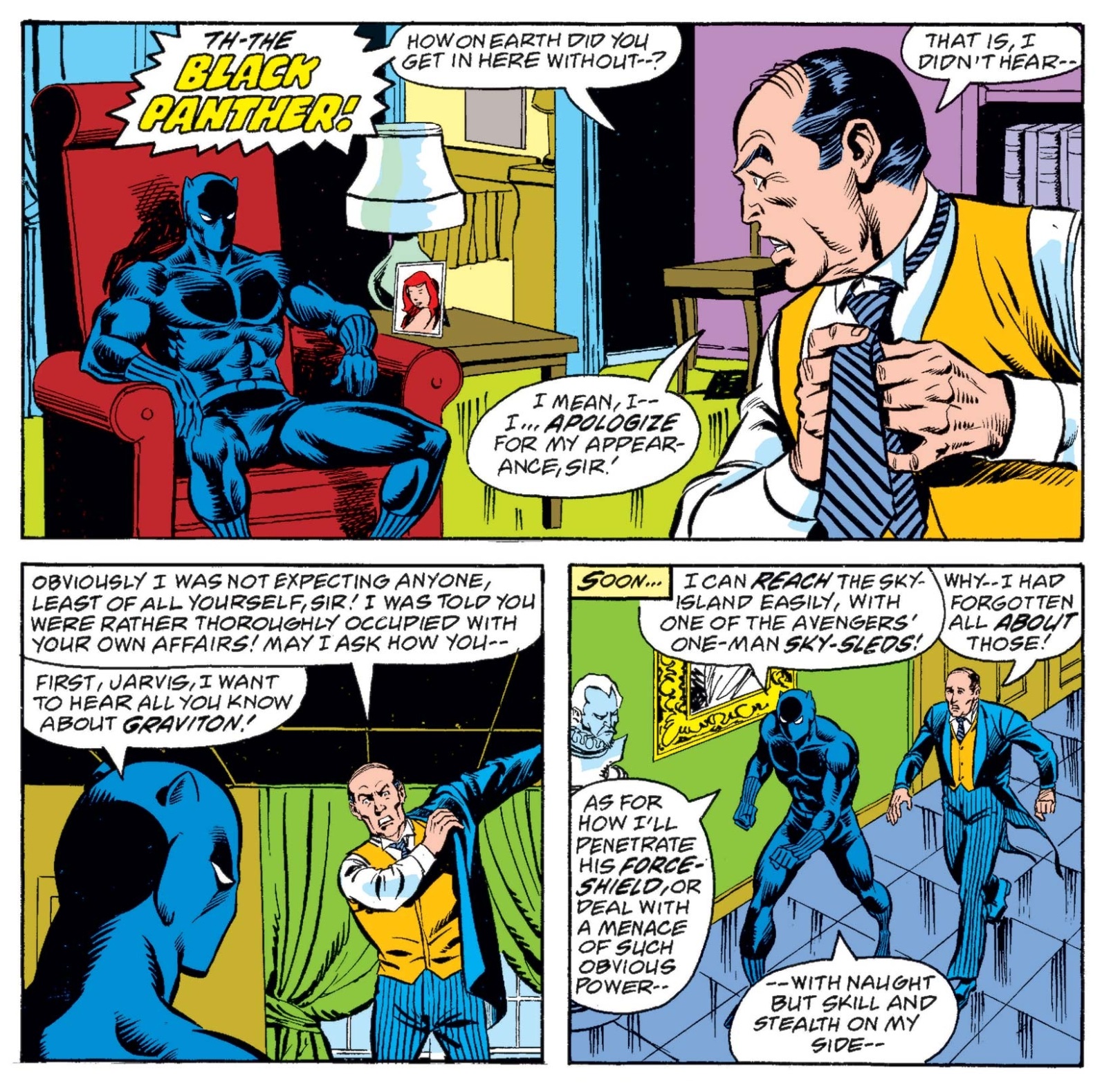 Black Panther: The Later Years Omnibus Vol. 1 (Complete Edition), by Jack Kirby, Don McGregor, Ed Hannigan, Peter B. Gillis, John Byrne, Steve Englehart, Chris Claremont, Ann Nocenti, Roger Silfer, Gene Colan, Jerry Bingham, Denys Cowan, Don Perlin, and Ron Wilson, would comprise Avengers (1963) #159 and #169, Black Panther (1977) #1-15, Marvel Two-In-One (1974) #40-41, Marvel Team-Up (1972) #87, Marvel Premiere (1972) #51-53, Defenders (1972) #84-86, Marvel Team-Up (1972) #100 (2nd story), Fantastic Four (1961) #241, Iron Man Annual #5, Daredevil (1964) #245, Fantastic Four #311-312, Black Panther (1988) #1-4, West Coast Avengers Annual #3 (1st story), and Marvel Comics Presents (1988) #13-37 (2nd stories). This first volume of the complete set would have a minimum of 960 pages.
The second volume would start with Solo Avengers #19 and end with Ka-Zar #17, with everything in the extended version of The Later Years between those issues as well as several very "nineties" additions… by which I mean they're of varying quality but always of some historical significance. First, there is T'Challa's intervention in the oft-forgotten 1991 Knights of Pendragon Marvel UK title, which I wouldn't have seriously considered as a possibility if not for the fact that the entire run was recently remastered and collected in omnibus format. A more obvious inclusion is the three-part "The Vibranium Vendetta" saga, a story running across 1991's annuals for the Spider-Man titles by David Michelinie, Guang Yap, and Marie Severin: Black Panther, Spider-Man, and Iron-Man face the threat of a stolen formula for synthetic Vibranium created by the evil Roxxon Corporation, in a long adventure involving the villains Kingpin, Ghost, and Ultron. Avengers #356 is a bit of an oddity, as it's part of a much larger story in Bob Harras and Steve Epting's "The Gathering" saga (it's very nineties, but I recommend it!), but it still fits here, as it sees the story move to Wakanda as T'Challa faces a mysterious yet familiar foe… the Coal Tiger. That name may ring a bell to those who know the story of Black Panther's creation, but I won't spoil it here! Then, there is a two-issue tale in Scott Lobdell and Scott Kolins's short Excalibur run, in which Black Panther teams up with the titular UK-based X-Men-adjacent team, as well as Captain America and Iron Man (at the time, Jim Rhodes), against a new threat trying to seize the throne of Wakanda. Next up, Deathlok #22-25 is a significant addition as one of the few stories here written by a black person, the late Dwayne McDuffie: the black cyborg Deathlok finds himself in Wakanda and becomes embroiled in a four-part adventure at the side of T'Challa against Moses Magnum.
This final Later Years volume should also include Captain America #414-417, set near the end of Mark Gruenwald's decade-long run on Captain America, with art by Rik Levins and M.C. Wyman, in which T'Challa, Steve Rogers, Sam Wilson, and Diamondback team up with Ka-Zar against AIM on the Savage Land. Although the backup story in Fantastic Four Unlimited #1 would be collected in any version of The Later Years, this completist edition would also include the main story by Silver Age veterans Roy Thomas and Herb Trimpe, as it co-stars T'Challa. This leads to many other Fantastic Four appearances in this era, as well as in the spin-off title Fantastic Force, which co-stars the young Wakandan superhero Vibraxas. Very much like in the case of Deathlok, as Marvel's original black superhero T'Challa also becomes involved in the adventures of the young black superhero Night Thrasher, in a story by Kurt Busiek, Steve Mattsson, and Art Nichols. The volume would be closed out by Black Panther's appearances in Tom DeFalco and Ron Frenz's Thunderstrike #20 and Ralph Macchio and Robert Brown's Over The Edge #6, a Daredevil/Black Panther team-up against classic T'Challa villains Killmonger and Klaw.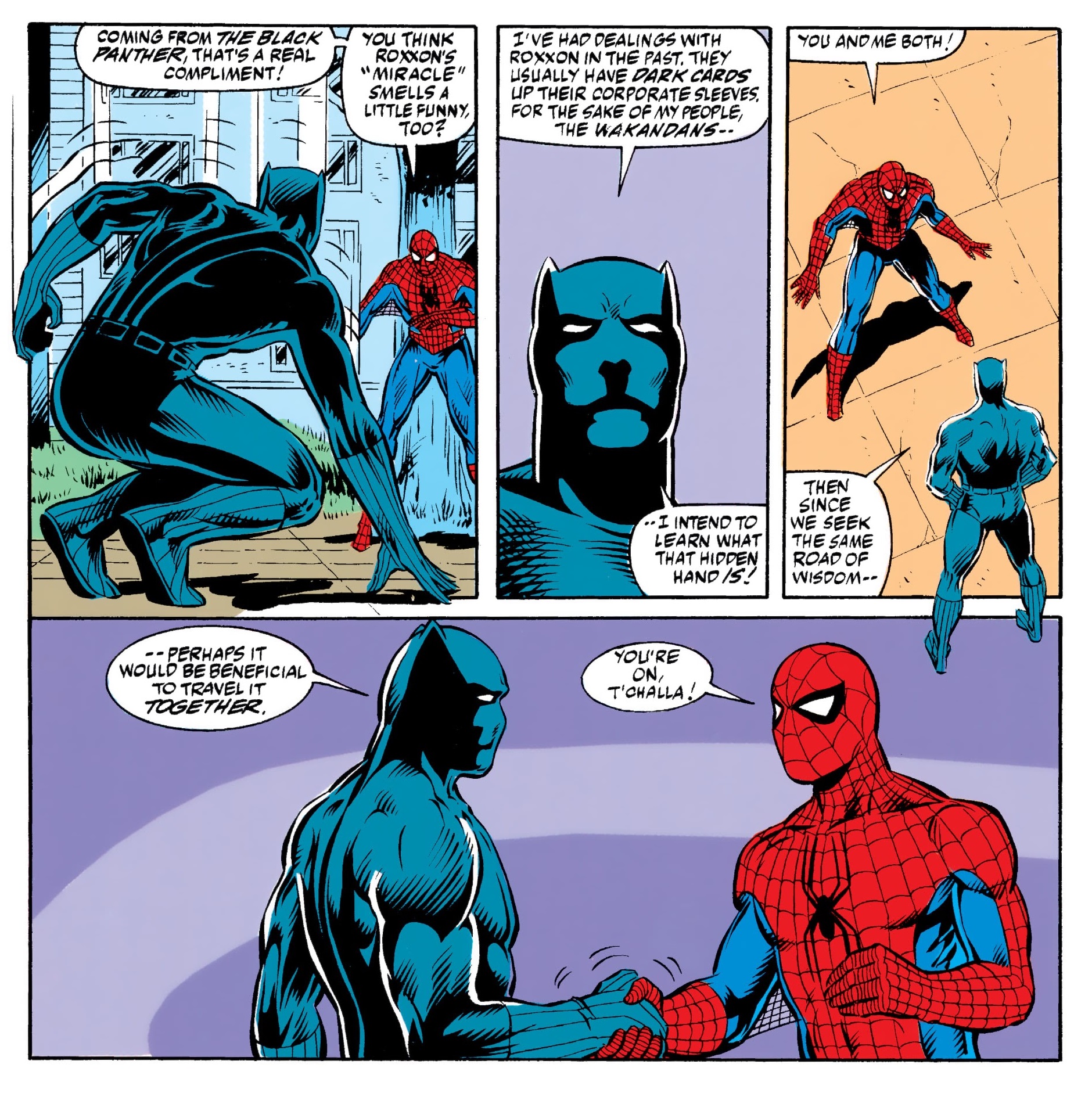 Black Panther: The Later Years Omnibus Vol. 2 (Complete Edition), by Don McGregor, Dwayne McDuffie, Mark Gruenwald, Tom Brevoort, Dan Abnett, Mike Kanterovich, John Tomlinson, David Michelinie, Scott Lobdell, Christopher Priest, Walter Simonson, Joe Casey, Kurt Busiek, Dwayne Turner, Gary Erskine, Rik Levins, Dante Bastianoni, Guang Yap, Scott Kolins, Paul Ryan, Ron Lim, Denys Cowan, Jose Ladrönn, Marie Severin, Steve Epting, and Ron Frenz, would have the following contents: Solo Avengers (1987) #19 (2nd story), Black Panther: Panther's Prey #1-4, Marvel Super Heroes (1990) #1 (7th story); Knights of Pendragon (1991) #14-16, #17 (pages 17-18), and #18; Marvel Fanfare (1982) #60 (1st story); Amazing Spider-Man Annual #25, Spectacular Spider-Man Annual #11, Web of Spider-Man Annual #7 (1st stories); Avengers (1961) #356, Excalibur (1988) #59-60, Deathlok (1991) #22-25, Captain America (1968) #414-417, Marvel Comics Presents (1988) #148 (3rd story), Fantastic Four Unlimited #1, Fantastic Four (1961) #390 (pages 16-17) and #391 (page 12); Fantastic Force (1994) #1, Night Thrasher #18, Thunderstrike (1993) #20 (1st story); Fantastic Force #4 (page 11), #5 (page 15), #10, and #14-15; Over the Edge #6, Cable (1993) #54, and Ka-Zar (1997) #17. This second and finale volume of the complete edition set would have at least 950 pages.
I've provided several mapping options: a compact one, an extended one, and a complete one split between two volumes. But what kind of "omnibussin" would this be if I'm not also betting on what mapping Marvel will realistically go for? As I mentioned earlier, the compact one is sufficient, but it pales in comparison to the approach found in The Early Years and skips several key stories. On the other end of the spectrum, the complete edition in two volumes is my ideal version, but I admit it's not likely—I'm sure Marvel would rather skip some of that 1990s material I delineated, just like they skipped several Black Panther appearances I'd have ideally included in The Early Years (I still can't believe they skipped T'Challa giving Falcon his Vibranium wings!) Taking everything into consideration, the extended edition is what I imagine Marvel might plausibly map… although I wouldn't be surprised if they add a few stories from my complete edition as well, such as The Vibranium Vendetta across 1991's Spider-Man annuals.
The modern material is, as usual, much more simple to map, as these collections tend to be much less anthological, focusing on a single author or a single run instead. Still, there are almost two decades of comics between Black Panther by Christopher Priest Omnibus Vol. 1 and Black Panther by Ta-Nehisi Coates Omnibus, so I will return in a few days with my mapping for Priest's second volume (it's not just the rest of the run!), the Hudlin and Shuri era, and more… including a surprise omnibus that Marvel may never publish but they totally should, because it would have some of Black Panther's best modern stories written by one of the best comics writers. I'll leave you with a tantalizing question: who's the best Black Panther writer who never wrote a Black Panther-titled comic? Find out in the next installment of Omnibussin!