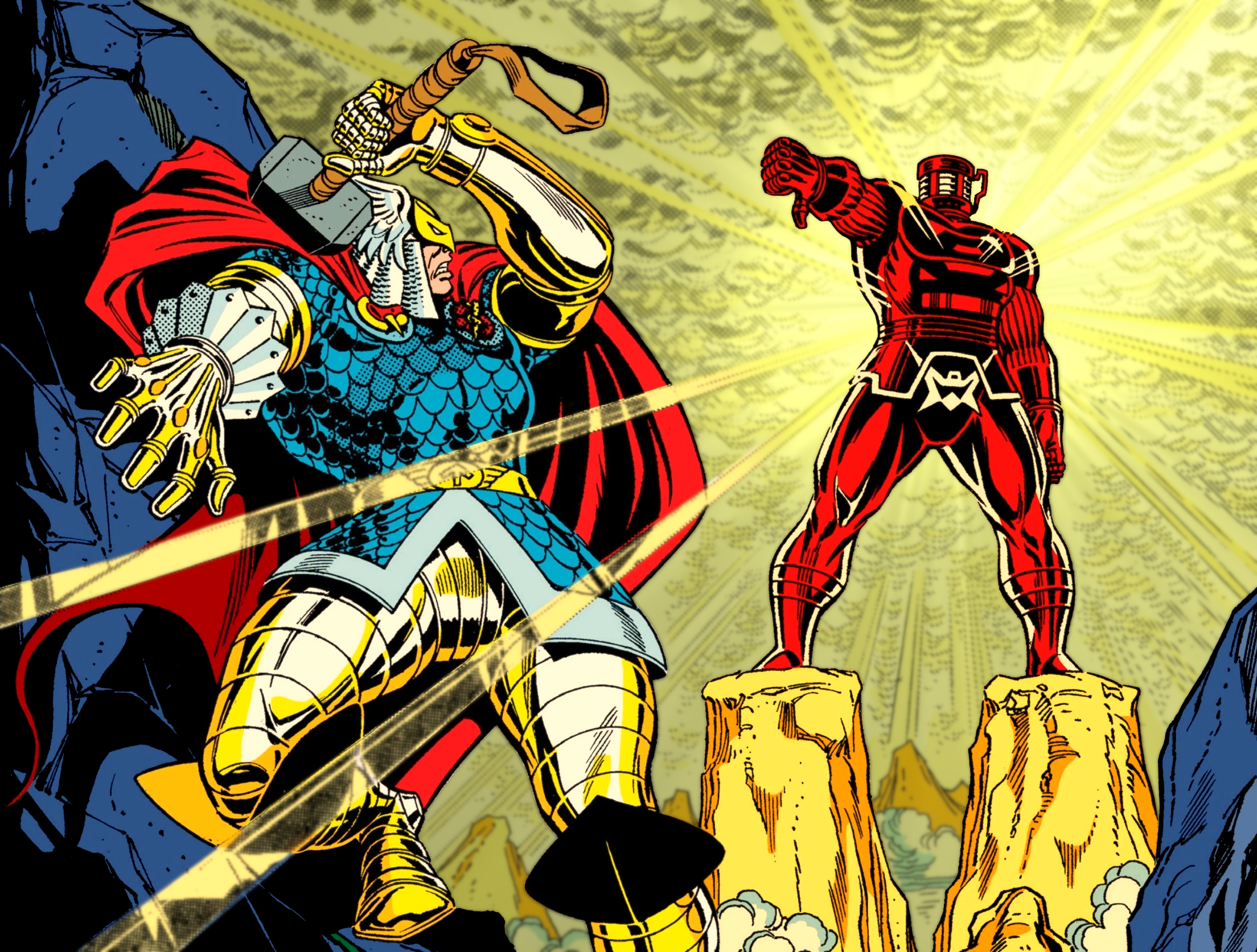 Our attempt to decide how Marvel should ideally collect all of Thor comics in omnibus format continues, with all the Silver Age and Bronze Age material already covered in the first part. Thankfully, things get much easier to work out from here: after Simonson, whose work on Thor received a dedicated omnibus
back in 2011, writer Tom DeFalco and artist Ron Frenz collaborated on the title and a few spin-offs for nearly a decade, taking Thor well into the nineties.
This run does read like a much more modern comic in some ways, which would probably make it easier for the average reader not accustomed to how comics used to be, but it starts getting a tad too "Xtreme" and "radical" for my liking as we get deeper into the nineties (not nearly as much as it will get once DeFalco and Frenz leave, but we'll get to that.) Still, though this may not be my favorite era of Thor, it's a solid era of Thor, and one that long-time comic readers list among the likes of Lee and Kirby, Simonson, and Jason Aaron. Ultimately, how much 90s-ness you can stomach may be the deciding factor on your enjoyment of this run.
Thor by Tom DeFalco & Ron Frenz Omnibus Vol. 1 would begin were Simonson left off, for once without a single fill-in issue between long runs, with issue #383. Tom and Ron would get a start with a few stories out of time: one set a few years earlier during the Secret Wars, and another five-hundred years in a possible future, where a human named Dargo Ktor has become the Thor of this dystopian corporate-run future. Incidentally, if you have heard people complaining about Jane Foster taking up the mantle of Thor despite it being Thor Odinson's actual name and not a title, and you're wondering why you haven't seen similar complaints about Dargo and others who've used it as a title before, well… you know why, don't you? They will never say it plainly, of course.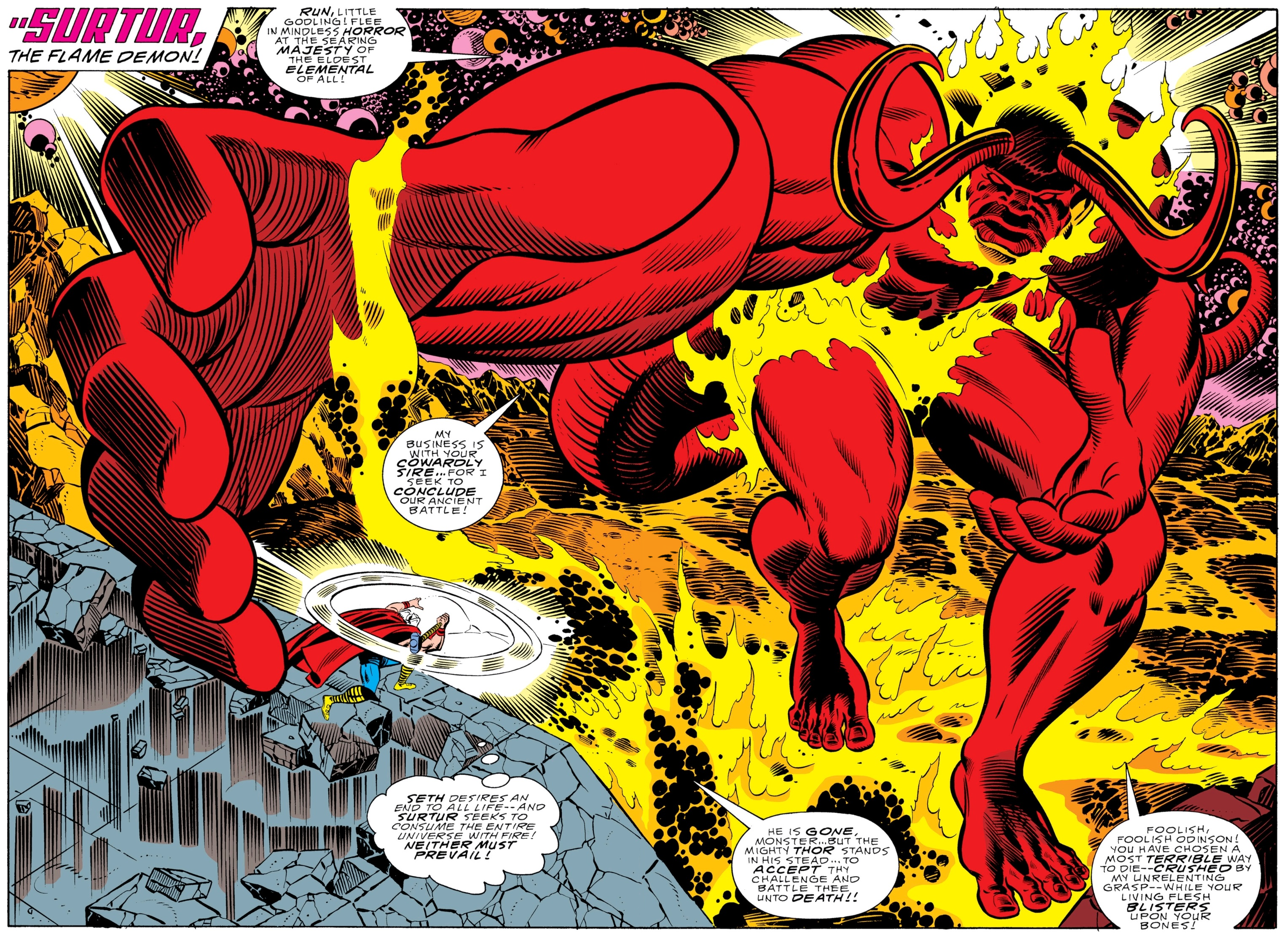 DeFalco and Frenz then pick Thor back from where Simonson left him, with the fabulous new gold-and-blue armor that obviously inspired Thor's costume in Thor: Love and Thunder, and take him all over the universe: the Thunder God comes up against Exitar the Executioner (the Celestial who actually destroys the worlds Arishem has judged unworthy) and becomes the only person (or god) we've seen so far to breach a Celestial's armor; he then must defend asgard against an all-out invasion by Seth, with the help of the Black Knight; and battle Surtur across time and space in the giant-sized issue #400, after which the Tales of Asgard return as a regular feature. In this volume, Thor also faces Annihilus, Doom, the Juggernaut and the Wrecking Crew, and becomes involved with several events of the era, such as Atlantis Attacks, Acts of Vengeance, and Terminus Factor.
Thor by DeFalco & Frenz Omnibus Vol. 1 would include Thor (1966) #383-408, Thor Annual #14, Thor #409-418, Thor Annual #15, and Avengers Annual #19 (though only the first story that follows from the previous Thor annual), leaving it at 1031-plus pages.
Support For Comic Book Herald:
Comic Book Herald is reader-supported. When you buy through links on our site, we may earn a qualifying affiliate commission.
Comic Book Herald's reading orders and guides are also made possible by reader support on Patreon, and generous reader donations.
Any size contribution will help keep CBH alive and full of new comics guides and content. Support CBH on Patreon for exclusive rewards, or Donate here! Thank you for reading!


Thor #419 would be the natural place to start with a volume two, as it kicks off the epic six-issue "Black Galaxy Saga", in which Thor becomes embroiled in a scheme of the High Evolutionary that can lead him only to madness, but which allows Thor to witness a cosmic rarity: the birth of a Celestial! Midgard isn't forgotten, however, and Thor teams up with Excalibur, the NYPD's anti-supervillain "Code: Blue" division, Ghost Rider, Doctor Strange, and more. Thor also gets involved in the events of the time, namely The Korvac Quest, Citizen Kang, and Operation: Galactic Storm.
What truly defines this era is that, with Simonson having detached Thor from his human Donald Blake identity at the start of his run, DeFalco now decides to create a new character to fill that gap: Eric Masterson. Unlike Blake, however, Masterson very much feels like a real person with his own life, and sharing his life with the duties of Thor creates effective drama in a way Blake never could. At one point, Thor's spirit is lost and Eric truly becomes the new Thor on his own, very much like Dargo would in an alternate far future, and just as Jane Foster does as well in the near future.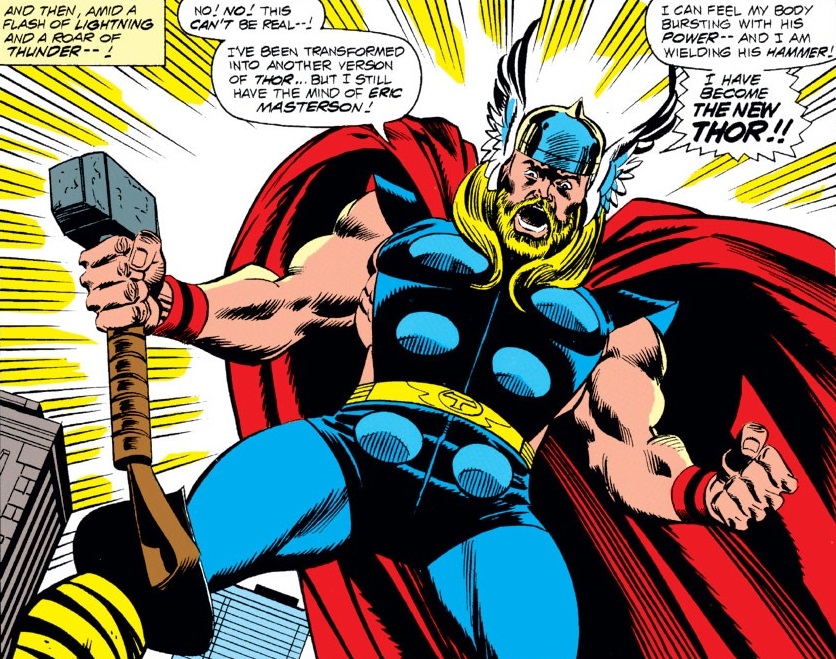 In the "Thor War!" arc, current Thor Masterson meets future Thor Dargo, and together with Beta Ray Bill, a previous holder of Mjolnir, they become the "Thor Corps", a concept that will return more than once. To top it all off, the omnibus would end with DeFalco and Frenz's brand-spanking new, oh-so-very-nineties new nemesis for Thor, BLOODAXE!—a name you can only shout.
Thor by DeFalco & Frenz Omnibus Vol. 2 would be Thor (1966) #419-436, Thor Annual #16, Thor #437-446, Thor Annual #17, and Thor #447-456. It would be 1062-plus pages.


With Odinson's return to the title in Thor #457, we now have two Thors but only one Mjolnir, which is the perfect start for a third and final Tom DeFalco & Ron Frenz volume. In their final few issues on the series together, they give the mantle back to the original Thor and the title to the next creative team, while also granting Masterson and themselves a new lease on life: just as Odin once created Stormbreaker to put an end to Thor and Beta Ray Bill's fight for Mjolnir, he has Eitri of Nidavellir forge a new weapon for Eric: Thunderstrike, which also becomes his superhero name. For 24 issues, as well as a Thor Corps limited series with art by Pat Olliffe, Tom and Ron would continue their Thor saga through Eric, until the tragic end of the series and an epilogue back in the main Thor title. Incidentally, Thunderstrike hasn't been collected in full anywhere, in any format!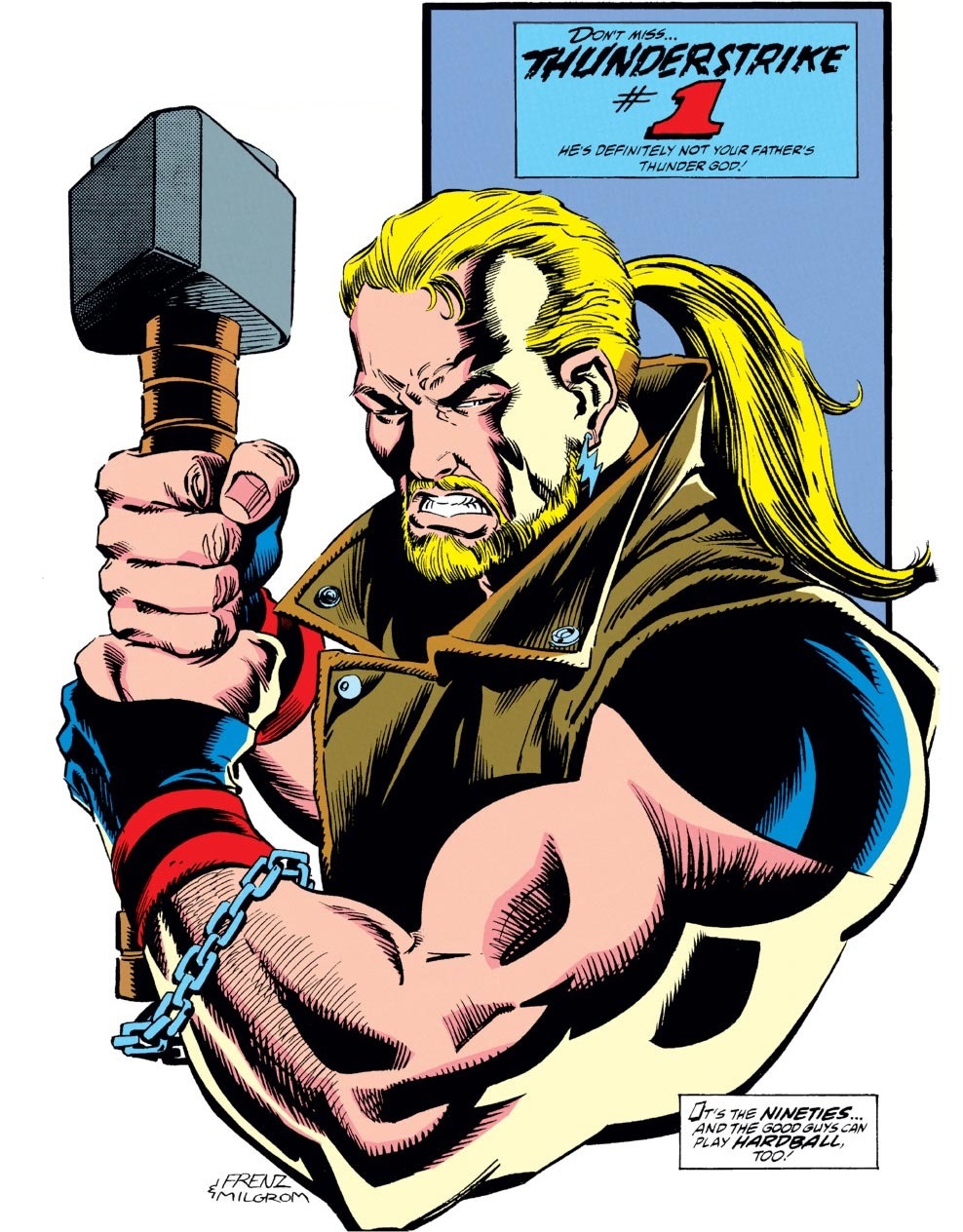 If it seems like a few Thor issues and a relatively short spin-off make for a thin omnibus, that is very true. But DeFalco wasn't done with Thor or Thunderstrike, and a complete author-centric collection should reflect that: during the "Heroes Reborn" era, the Thor series would be retitled to the original Journey Into Mystery and run from issue #503 to #513 under an apparently very different premise concerning the "Lost Gods", but it soon doubles back to the Gods of Asgard we know and (mostly) love. Years later, in 2010, DeFalco and Frenz would reunite for a five-issue limited series about Masterson… Kevin Masterson, son of Eric, as the new Thunderstrike!
Thor by DeFalco & Frenz Omnibus Vol. 3 (or Thor: Thunderstrike by DeFalco & Frenz), with Mike Deodato Jr., would contain Thor (1966) #457-459, Thunderstrike (1993) #1-3, Thor Corps #1-4, Thunderstrike #4-24, Thor #490; Journey Into Mystery (1996) #503-513, Journey Into Mystery #-1, and Thunderstrike (2011) #1-5, which would leave it at 1149-plus pages.


The mid-to-late nineties Thor material after DeFalco and Frenz's long run but preceding the "Heroes Return" era is mostly famous for the uber-nineties-to-the-extreme makeover Mike Deodato Jr. gave Thor, but there is more to it than that. There is just enough here for one slimmer and one regular omnibus, or a single absolutely gigantic one. In my experience, Marvel would opt for the former, especially when a reasonable dividing line can be drawn between two.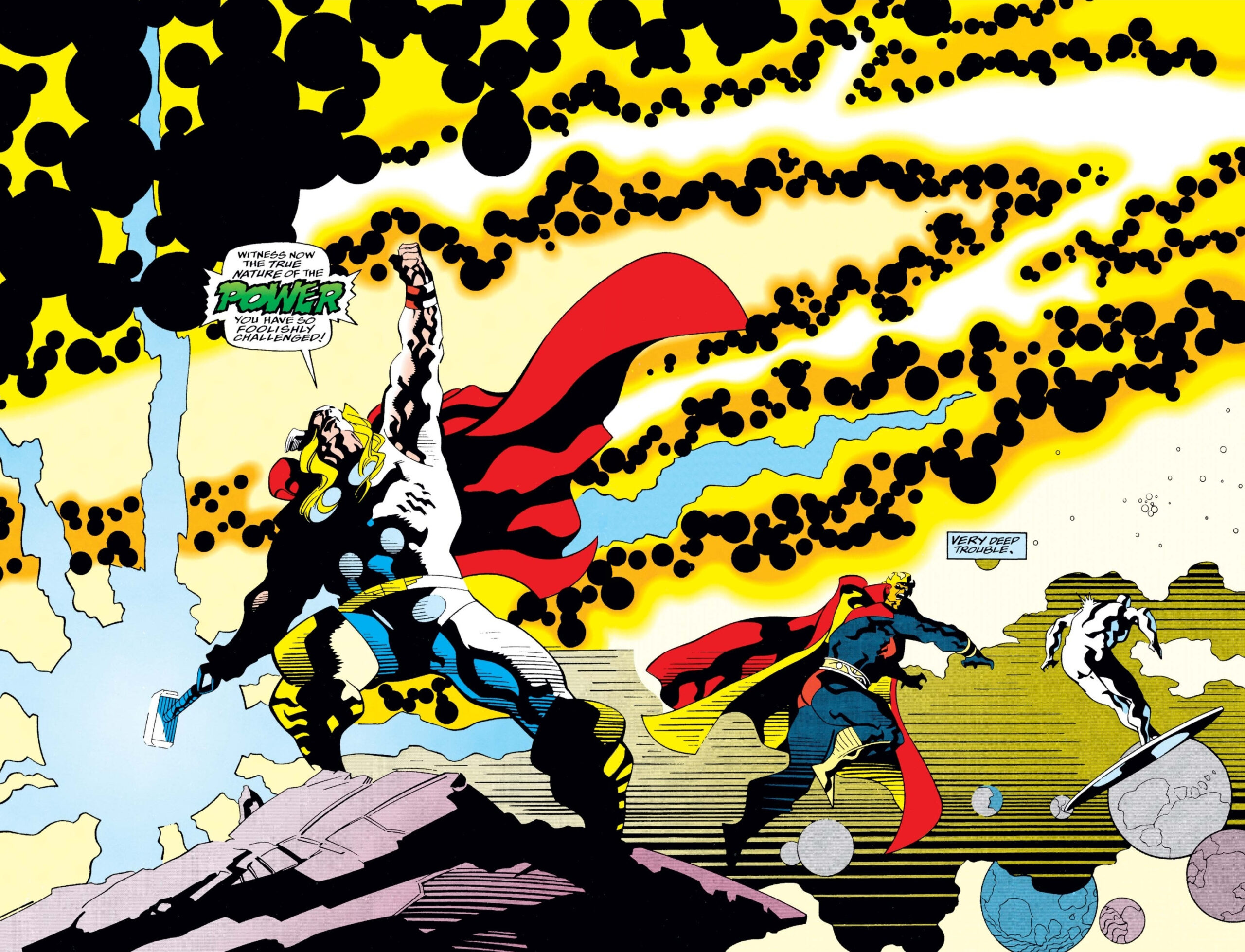 If you're acquainted with this era, you know there is only one way to title the first of these: Thor: Blood and Thunder Omnibus. Though Thor has returned and taken Mjolnir back, there is something amiss with the young god of the Aesir: He has the warrior's madness! Once this is set up in Ron Marz and Bruce Zick's early issues, there's a tie-in to the Infinity Crusade event, including a crossover with Warlock and the Infinity Watch. All of this leads to Blood and Thunder, a Thor-centric crossover event running through the other cosmic titles of 1993: Silver Surfer, Warlock Chronicles, and the aforementioned Warlock and the Infinity Watch. The Thor and Silver Surfer issues are written by Ron Marz and illustrated by Bruce Zick, M.C. Wyman, and Andy Smith; but there are notable creators involved in the other titles, especially Thanos-creator and cosmic god Jim Starlin (who also co-wrote Marz's first few Thor issues) and artist Tom Grindberg, whose penciling style (seen above) may not be to everyone's taste but is certainly striking and original.
Thor: Blood and Thunder Omnibus, by Ron Marz, Bruce Zick, Roy Thomas, and M.C. Wyman, would contain Thor (1966) #460-465, Warlock and the Infinity Watch #21, Thor #466-468, Silver Surfer (1987) #86, Warlock Chronicles #6, Warlock and the Infinity Watch #23, Thor #469, Silver Surfer #87, Warlock Chronicles #7, Warlock and the Infinity Watch #24, Thor #470, Silver Surfer #88, Warlock Chronicles #8, Warlock and the Infinity Watch #25, Thor #471, and Thor Annual #18, for a modest omnibus of at least 548 pages, or around 600 at most.


Roy Thomas, who wrote a pretty well-regarded Thor run in the late 70s (and one of my personal favorites), returns for a much less renowned one after Blood and Thunder, with Wyman still on art duties. As usual with Thomas, these stories feel like they come straight out of the Bronze Age, despite the art; he even brings Jane Foster, Thor's old flame, back from obscurity! But this isn't a run many people remember, and that's because it's sadly not memorable.
The same cannot be said for the next one, by great writer (and terrible everything else) Warren Ellis and artist Mike Deodato, in another "Amora the Enchantress enchants Thor" story, but for the edgier crowd of the mid-1990s. Ellis brings his modern stylings to the title but he leaves promptly, while Deodato stays on with writer William Messner-Loebs, for a crossover event between the Avengers' "big three", and the end of Asgard just before the cataclysmic Onslaught event. I'm usually charitable with comics of another era, and this is an attempt to map the missing gaps in Thor omnibuses, not a review… but if this omnibus ever comes into existence, maybe don't bother, unless you're a completionist! I'll just leave it at this—by the end of the story, Thor looks like this: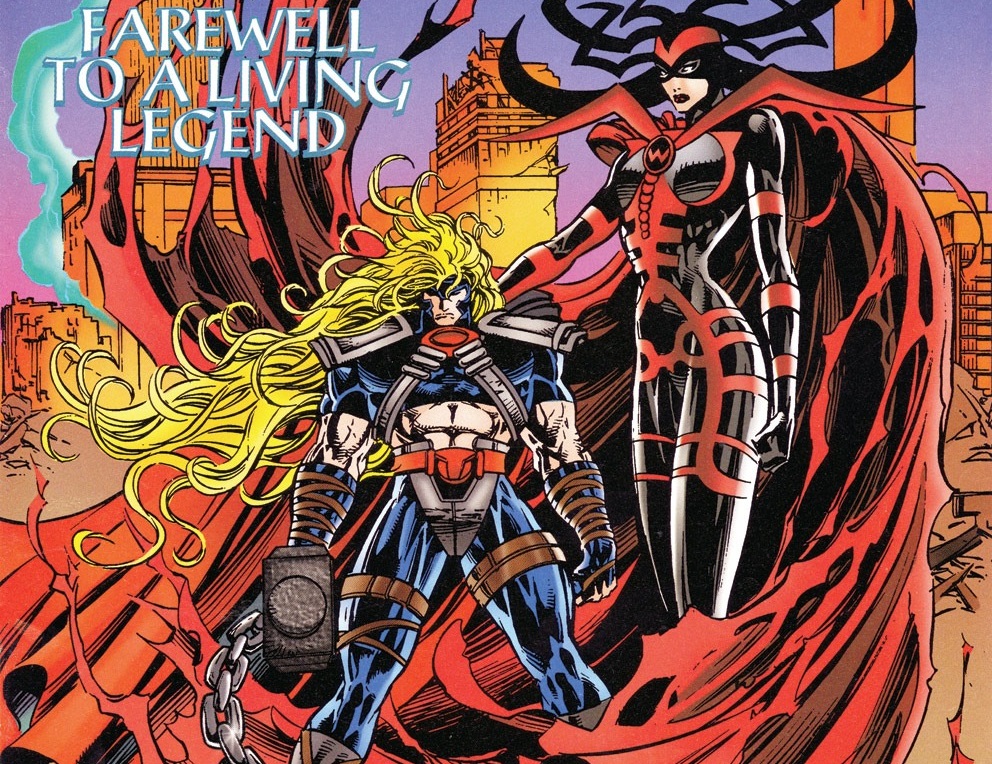 Thor: The Living Legend Omnibus, by Roy Thomas and M.C. Wyman, and Mike Deodato Jr. with Warren Ellis and William Messner-Loebs, would include Thor (1966) #472-475, Thor Annual #19, Thor #476-489 and #491-495; Captain America (1968) #449, Thor #496, Iron Man (1968) #326, Avengers (1963) #396, Thor #497-502, and Thor: The Legend. It'd be at least 925 pages.


Jumping forward to a much better era of Marvel comics, there is a seemingly slim gap between the Thor by J. Michael Straczynski Omnibus and the upcoming Thor by Matt Fraction Omnibus. Straczynski and Coipel revitalized the character and redefined it more than anyone had before: as Thor had been gone from publication for a few years, the title and character's return gave them the opportunity to try something new. The Asgardians no longer talk with "thees", "thous", and "wherefores"; Thor has a new 21st Century costume, which was so excellently designed by Coipel that no one since has returned to the classic Kirby look even after 15 years (instead creating new designs with Coipel's work as their basis); and the Asgardians live on Earth upon their revival from Ragnarok. Straczynski accomplished much in his run, but he wanted to accomplish it on his terms. When Brian Michael Bendis came up with the upcoming Siege event that pitted Norman Osborn (now chief of the US government organization H.A.M.M.E.R.; a more evil S.H.I.E.L.D.) against Asgard, Straczynski considered this would deviate from his plans and called it quits. He quickly wrapped up his run with a Giant-Sized special issue, but there were many plots left dangling, and someone had to write the Siege tie-ins for Thor, too! Enter Kieron Gillen.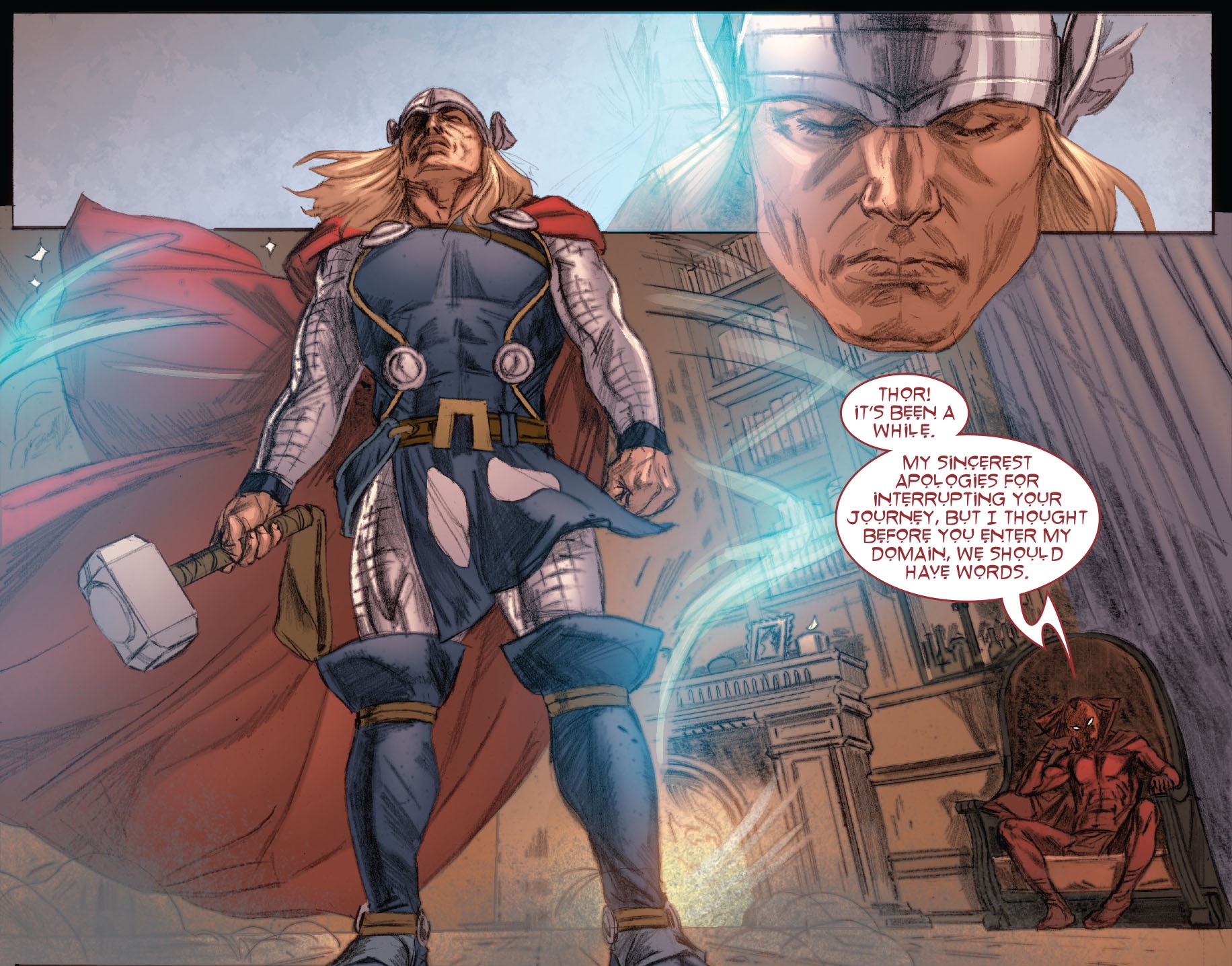 At the time, Gillen was rather new at Marvel. In fact, this was his first ongoing work at the publisher! Though he only worked on the title for a dozen issues, any comprehensive collection would have to include Brian Michael Bendis and Olivier Coipel's Siege event limited series, as well as the New Mutants tie-in written by Gillen and his work on Beta Ray Bill. You get the gist: there is enough for a slim omnibus after all! Which is good news, because Gillen's run is as fantastic as it is brief, and the art by Billy Tan, Doug Braithwaite and Rich Elson deserve the oversized format. With his usual wit, Gillen has Thor deal with Doom, in a story Straczynski did not quite finish; he involves the Warriors Three in the battle for Asgard during Siege; and sets up the events of his excellent Loki: Journey Into Mystery series (already collected in an omnibus I couldn't recommend more highly) with the secret deals Loki made with Mephisto before Siege as well as the introduction of Bor's fallen Valkyrie, the Dísir. As a proper conclusion to Straczynski and Coipel's run, Gillen's first arc is indispensable; as a companion to Siege, Gillen's second arc is not only a fun diversion but a way to give the explosive incidents of the event some more emotional heft; and as a prelude to Matt Fraction's Thor run and especially Gillen's own Loki: Journey Into Mystery, his final arc is yet again a must-read. I can't think of a more underrated Thor run.
Thor by Kieron Gillen Omnibus, with writer Brian Michael Bendis and artists Billy Tan, Doug Braithwaite, Olivier Coipel, Kano, and Jamie McKelvie, would be composed of the following: Thor #604-606, Siege: The Cabal, Siege #1-2, Thor #607, Siege #3, New Mutants (2009) #11, Thor #608, Siege #4, Thor #609-610, Siege: Loki, Thor #611-614, Secret Invasion Aftermath: Beta Ray Bill – The Green of Eden, and Beta Ray Bill: Godhunter #1-3. This would make it at least 581 pages, or realistically about 600, which is more than enough for an omnibus.


Finally, we get to the present day! Thor by Jason Aaron Omnibus Vol. 1 has just been released at the time of writing, so it's just a matter of time before a second volume is announced. This would naturally contain the rest of Aaron's critically-acclaimed run with Russell Dauterman starring Jane Foster as the Mighty Thor, which is one of my favorite comics of all time—not just Thor, not just Marvel; I do mean one of my favorite all-time comics. Alongside this, the limited series illustrated by Olivier Coipel following the misadventures of Thor Odinson as The Unworthy Thor would also be included; and then that Thor's grand return in the 2018 series with Mike del Mundo, and the King Thor epilogue with Esad Ribić, with whom Aaron began his 7-years Thor saga.

The only possible question about what this second volume could contain is whether the War of the Realms event would be included, as it got its own omnibus with all the tie-ins… but given that it also acts as the climax of Aaron's run, it isn't really much of a question, is it?
Thor by Jason Aaron Omnibus Vol. 2, with Russell Dauterman, Mike Del Mundo, Olivier Coipel, and Esad Ribić, would include Unworthy Thor #1-5, Mighty Thor (2015) #13-23, Generations: The Unworthy Thor & The Mighty Thor, Mighty Thor #700-706, Mighty Thor: At the Gates of Valhalla, Thor (2018) #1-11, War of the Realms #1, Thor #12, War of the Realms #2-3, Thor #13, War of the Realms #4-6, Thor #14, War of the Realms: Omega (A and B stories), Thor #15-16, and King Thor #1-4. This would be enormous, at 1270-plus pages, which is indeed quite large but in the ballpark of the first volume and not even close to the largest Marvel omnibus.


Before we go, there is a final possible omnibus I would like to discuss… Surprise!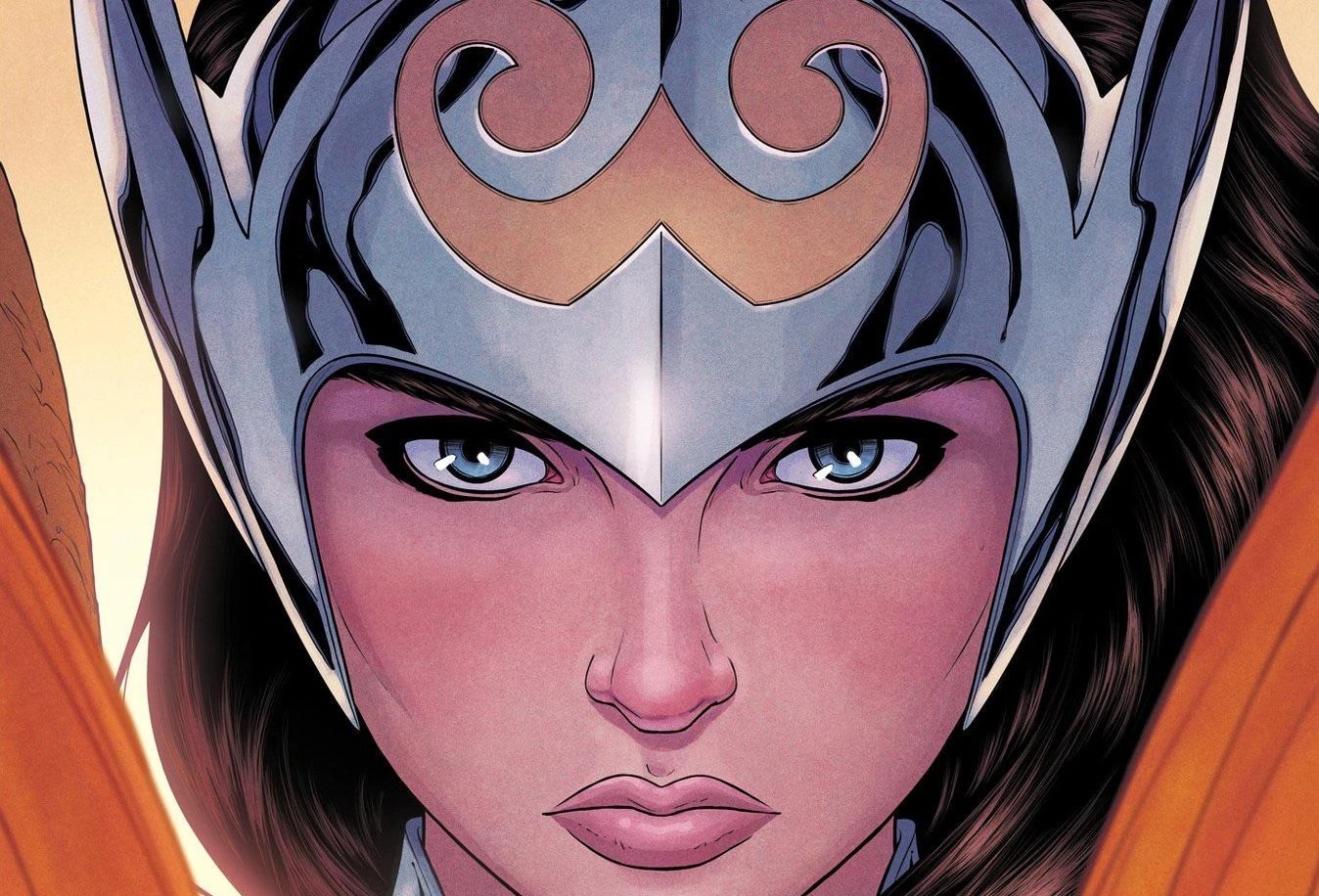 Though the next Thor run after Aaron's is still going on and it doesn't make much sense to map it yet, Jane Foster's adventures continued after she stopped being Thor. She became a Valkyrie! The Valkyrie, truly. Jason Aaron co-plotted the ten-issue Jane Foster: Valkyrie title, scripted by Al Ewing and then Torunn Grønbekk, who continued working on the character in a King in Black tie-in series, which led to the recent The Mighty Valkyries and the upcoming Jane Foster & The Mighty Thor limited series. There are good arguments against mapping this: for one, more comics that would fit this volume could still exist after this, so it's a bit of a work in progress; and I don't believe it makes much sense to consider this a Thor by Jason Aaron Omnibus Vol. 3, since this isn't strictly about Thor anymore and Aaron isn't the main writer for most of it. Nevertheless, these are all excellent comics with astounding art, so I'm putting the idea out in the universe!
Thor: Jane Foster & The Valkyries Omnibus, by writers Jason Aaron, Torunn Grønbekk, and Al Ewing, with artists Cafu, Mattia de Iulis, Michael Dowling, and Nina Vakueva, would contain (for now!) War of the Realms Omega #1 (B story); Jane Foster: Valkyrie #1-10, King in Black: Return of the Valkyries #1-4, The Mighty Valkyries #1-5, and Jane Foster & The Mighty Thor #1-5, which amount to 543 pages… but there is room for more! Just hire Grønbekk for a Jane Foster ongoing book, Marvel! Jane's co-starring in a Marvel movie in a few months, come on!