Our last issue gave us a "Secret Wars II" showdown between Phoenix and the Beyonder! While not a huge fan of cosmic-type Marvel stories (a damn shame, innit, what with the recent announcement that they'll be revisiting Secret Wars next year), I still counted it an overall win for Claremont because it told a good story about Rachel Summers dealing with her newfound powers–not only the mantle of Phoenix, but a measure of the Beyonder's own strength–in a manner worthy of an X-Man; namely by not scragging the Beyonder when she very well could have, and planned to.
This week…well, I was as surprised as you may be, since we've reached the point where I stopped reading ahead when I started writing this column. The very next issue is another Secret Wars tie-in, featuring the Beyonder and Rachel on the cover, looking very much like they haven't squashed their beef. The first five pages of the issue, penned by Chris Claremont with art by John Romita, Jr., are taken up with Rogue narrating her backstory, presumably for the benefit of those new readers picking up the issue because they're following the Secret Wars II crossover. Die-hard X-Heads won't need this, but I don't mind the filler because, well, last issue stood well as a single-issue, editorial-mandated tie-in that still did a decent job. I'm not really all that excited about undoing that by getting into the Phoenix/Beyonder thing all over again.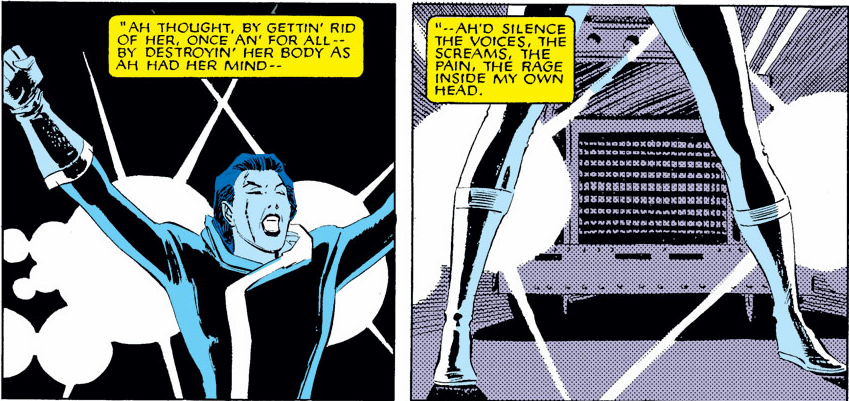 We then cut to present-time Rogue, having finished her maudlin trip down memory lane, descending from the sky into the backyard of former Spider-Woman turned private investigator Jessica Drew–they're still in San Francisco, where the Beyonder left them last issue. She sees Shadowcat, meditating in the dark, dressed in a Japanese kimono, and stops by to say hello. Kitty's not doing all that well. She pulls back the robe to reveal half her upper body covered in her friend Illyana's (Colossus' sister, the New Mutant called Magik) sorcerous armor (TL;DR Magik was raised in Limbo, basically Marvel Hell, as a child and learned dark sorcery in addition to her teleportation power). She then pulls Magik's Soulsword, a mystical weapon bonded to Illyana, out of thin air. Rogue is taken aback, not only because Shadowcat shouldn't be able to do those things, but because she doesn't even remember who the hell Illyana is.
Rachel steps out of the shadows, and Kitty fills her in on recent events–the Beyonder has destroyed the New Mutants, including Illyana (in New Mutants #37, another Secret Wars tie-in issue). Rachel reveals that she still has the Beyonder's power, granted her by him last issue, and that she's still willing to use it to destroy him. Only, as Kitty suggests, he could take the power back as soon as she confronts him. Rachel then declares that she'll destroy the entire universe to get rid of the Beyonder, but that she'll need the X-Men's spirits, tied with her own, to accomplish the feat. Rogue, Kitty and Jessica all rapidly agree to Rachel taking their spirits into her own. Phoenix then helps herself to a sleeping Colossus, Wolverine and Magneto and when Ororo, awake in her bed, confronts her, she takes her essence by force.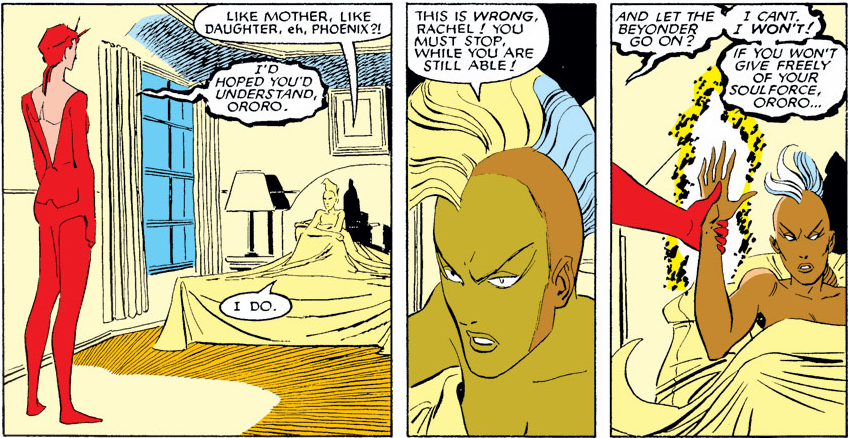 At this point, I'm truly "reading, so you don't have to." I totally understand the concept of editorial mandate, and absolve Chris Claremont 100%, but this is a poo-poo platter, and I don't mean Chinese food. Since her introduction, 80s Rachel has sort of become an accepted member of the X-Men "behind the scenes;" none of the in-depth exploration and mistrust that happened with characters like Cable and Bishop in the 90s, when they arrived from their timelines. She's gotten her character development in bits and pieces at this point and, not to beat a dead horse to death, but some of that occurred in the last issue. This issue is like, eight steps back. She stole her friends' life essences, with the intent of sacrificing them for good to kill the universe. This isn't like Rogue sampling someone's powers while they're asleep so she can beat a Sentinel or something.
Support For Comic Book Herald:
Comic Book Herald is reader-supported. When you buy through links on our site, we may earn a qualifying affiliate commission.
Comic Book Herald's reading orders and guides are also made possible by reader support on Patreon, and generous reader donations.
Any size contribution will help keep CBH alive and full of new comics guides and content. Support CBH on Patreon for exclusive rewards, or Donate here! Thank you for reading!
Phoenix leaves the solar system and we get a couple panels of monologue from The Watcher before segueing into the Starjammers' point-of-view–remember, they're stranded in space right now, aboard Corsair's ship, with Charles Xavier in tow. Phoenix materializes herself and the spirits she stole from the X-Men in the heart of the M'Kraan crystal. We get a couple of
"holy crap!" type comments from Colossus and Magneto before Storm starts tearing into Rachel about the choice she's taken from the others and how she's just like the Beyonder if she takes the type of action she is. A couple pages of decent Romita art and philosophical monologuing later, Rachel opts to return everyone to Jessica's home and their own bodies and declares herself a failure for choosing not to end the universe. Then…the Beyonder shows up and basically tells the X-Men to fight or he'll terminate them on the spot.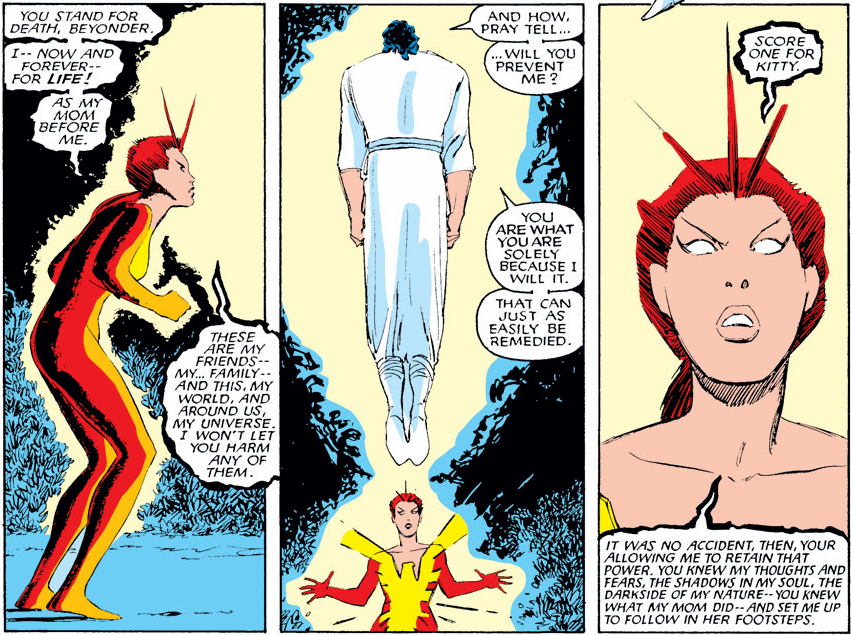 Logan–and Kitty, God love her–get in the Beyonder's face about how unfair his treatment of humanity is, and how immature he is. It's interesting to note that, when Kitty steps up, Magik's armor returns in place of the sleepwear she had on initially upon her return to Jessica's lawn. This is the Beyonder, though, and the only person he really takes seriously is Rachel, who, with the Phoenix Force, is actually "worth his notice." The lightbulb comes on in her head and she realizes the Beyonder wanted her to destroy the universe, because it wouldn't have killed him, but would have instead let him recreate the universe the way he wanted it to be. He asks Rachel for his power back, and she gives it to him–along with the Phoenix Force. It overloads him momentarily, but the breadth of the Phoenix's experiences opens his eyes to what humanity really is, and he decides to part ways with the X-Men.
Next Issue: Remember how I noticed Kurt's conspicuous absence? He was up to something, after all–and thank Bob, it's not Secret Wars-related!