After the dramatic, game-changing action of Avengers 40, it's clear Jonathan Hickman's two-book narrative is simultaneously going into wrap-up mode as it sets the table for Marvel's bigger-than-big Secret Wars eventacular. As a transition piece, this week's chapter isn't as uneven as it is just outright all over the place. With very little advance information to guide reader experience, managing one's expectations is the new name of the game and this issue really tests Marvel's tight-to-the-vest stance. However, patience pays off (and then some!) as readers from decades past will have their minds blown in a pleasantly unexpected manner.
[Ed Note: Spoilers for Avengers #40 and New Avengers #29 below!]
Before arriving at the twist conclusion, though, there is the matter of sixteen or seventeen pages that offer little comforting barometer. It's ironic that once Earth's Mightiest more or less discontinue their version of "The Battle of the Five Armies" that the creators start coming off the rails. It's also ironic that they are consistently inconsistent during this stretch as Hickman and artist Kev Walker almost take turns in delivering hiccups. Rightfully acclaimed for his uber-methodical approach to storytelling, it's rare to see an unintentionally less-than-airtight script from the writer.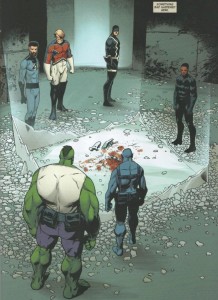 In fact, the wrong-footedness begins at the title page. Dubbing this installment "Eight Months Ago…" is misleading in that assumptions are automatically made regarding what's in store. To which, recalibration is an immediate necessity as actual flashbacks are sparing. Adding to the out-of-the-gate confusion is a liberal amount of suspension of disbelief regarding certain character logic. It's difficult to believe that after displaying such single-minded tenacity in pursuit of his former cohorts that Steve Rogers would let the Illuminati go. Yet there they are, released under their own recognizance to double back to their old secret HQ in Wakanda. Maybe they played some sort of "It's what Namor would've wanted" trump card to have Steve give them a five minute head-start. Who knows.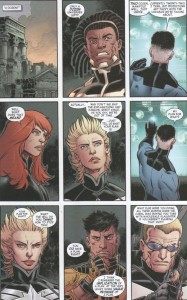 Along those lines, once Rogers and a scaled-down representation of Avengers (both S.H.I.E.L.D. and New) join them, there's evidently some allowance for more off-panel freeplay. This is frustrating considering the note last issue alone left off on. It's impossible to imagine how these guys aren't all about business because well, everybody still kinda hates everyone else on a personal level. As such, the caption denoting "Later" at the top of page five is particularly irksome. What happens in between the landing of the Quinjets and Reed giving his big "state of things" address?! How much down-time are we talking about here and what did we miss? If it's anything like the on-panel interaction, it's probably pretty awkward. To his credit, Hickman does make this unfortunate comedic element work. So, point for irony in the grim face of certain doom spelled out by the smartest man ever. Yay?
Support For Comic Book Herald:
Comic Book Herald is reader-supported. When you buy through links on our site, we may earn a qualifying affiliate commission.
Comic Book Herald's reading orders and guides are also made possible by reader support on Patreon, and generous reader donations.
Any size contribution will help keep CBH alive and full of new comics guides and content. Support CBH on Patreon for exclusive rewards, or Donate here! Thank you for reading!
Speaking of ironically grim faces, that is a category in which artist Kev Walker excels. Having become something of a recurring series regular over the past year, his previous New Avengers efforts showcase perhaps some of his strongest work. Coming back after a few months away, his art shows slight qualitative backslide yet new stylistic expansion. While artistic growth is fundamentally good the results are far from fluid. No doubt the man draws great chins and beards but facially, many characters look like they've endured their own Rogers-esque flash-geriatrification!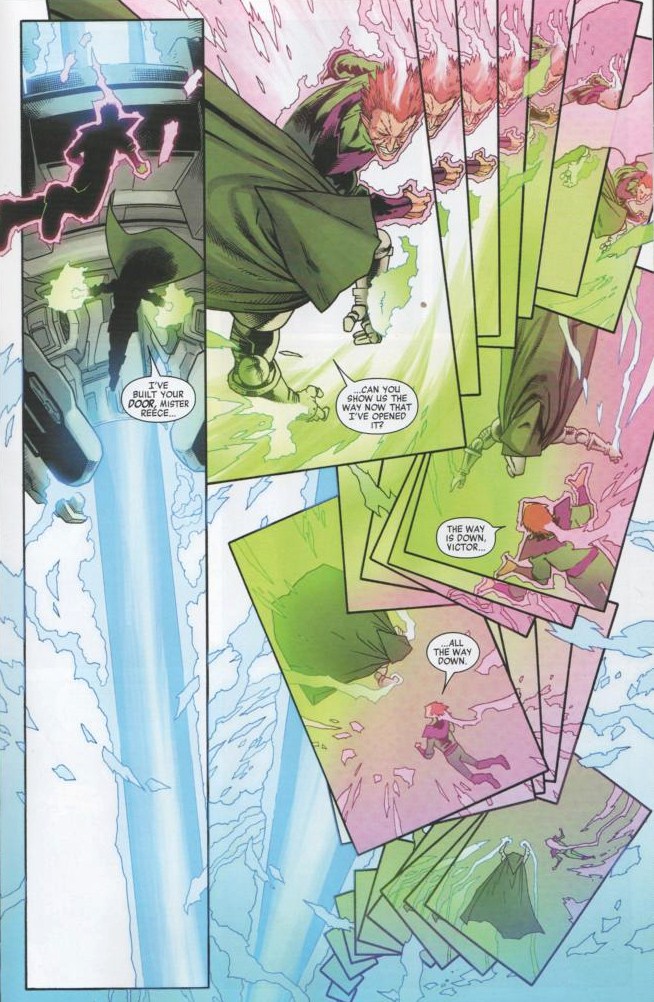 Most positively, though, the literal and figurative centerpiece is the Doctor Doom and Molecule Man interlude. Serving as a three-page Secret Wars teaser, the creators truly fire on all cylinders here. Hickman lays out just enough diabolical plan to ensure return eyeballs while Walker dazzles the ocular activity on hand with a dizzying visual array bordering on the psychedelic. Long-time series color artist, Frank Martin, also does a superb job showing off some real pop-art chops and softening his usual hard, muted palette. And really, who's groovier than a dark wizard evil genius with a metal mask and dude rocking an Ace Frehely-esque triangular frock-collar affair with jagged face tattoos? Seriously…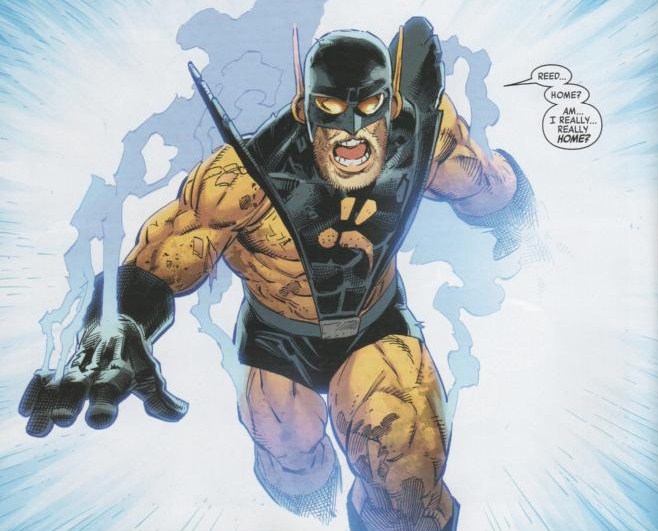 In all, this issue is an incongruous and semi-enjoyable episode. While righting itself before any real energy is lost, it does project its share of nosedives along the way. Again, a major plus is that Hickman's greater story is in much stronger shape coming out of this issue than going in. With Walker also slated as artist for the remainder of the run, the missteps here are far from the creators' final testimony. There's still ample opportunity to get back to fighting strength… before time runs out!