The Silver Age was a very strange time. A time of rampant science fiction, where anything was possible and nothing was adequately explained. Where Superman could turn into a tree in Lois' yard one day, then trying to kill her in space the next. The silver age was a time completely free of consequence. And the Metal Men were perfect for that age, right down to their creation.
Writer Robert Kanigher and penciler Ross Andru were asked to slapped together a last minute fill-in for Showcase #37. Somehow, this mixture of dire deadline and relaxed editorial standards combined, letting the creators turn in a punch-drunk idea about Doctor William Magnus, a rich inventor who created a team of metamorphic robots with bodies made of different metals and personalities to match. All of this in an effort to stop a dinosaur from attacking the Chrysler building.
The ridiculous story was a big success, allowing the idea to be built out as a satire of the Silver Age itself, set in a goofy, fantastical universe all its own. This worked incredibly well for the team (and DC comics), gaining them considerable popularity.
Then, Infinite Crisis happened. And it was all going so well…
Forced to play by the rules of the normal DC universe, the title's popularity tanked and they were scrapped. Since then, there have been a number of attempts to revive them… but DC refuses the learn the lessons of Crisis.
Support For Comic Book Herald:
Comic Book Herald is reader-supported. When you buy through links on our site, we may earn a qualifying affiliate commission.
Comic Book Herald's reading orders and guides are also made possible by reader support on Patreon, and generous reader donations.
Any size contribution will help keep CBH alive and full of new comics guides and content. Support CBH on Patreon for exclusive rewards, or Donate here! Thank you for reading!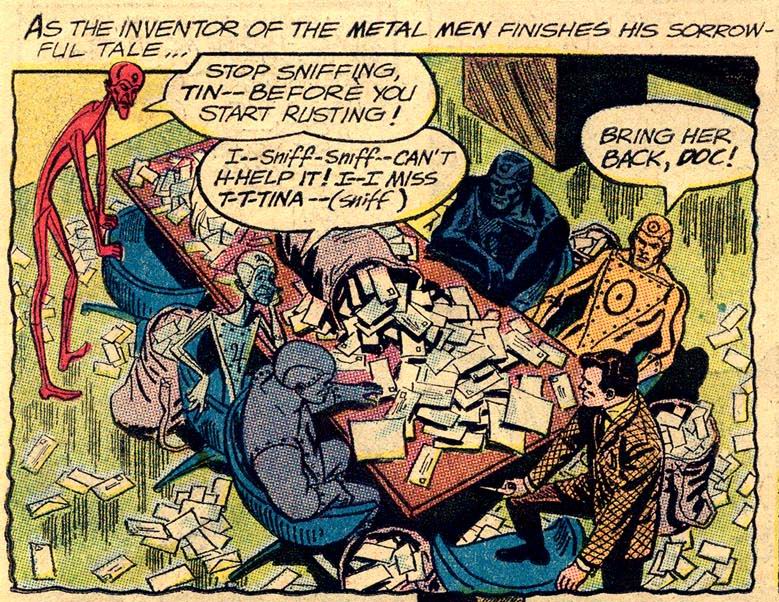 Origins of The Metal Men
Somehow, possibly through some flaw in the reality matrix hologram, the Metal Men were popular for several years. It was a team book about robots fighting other robots, usually from space, and then it would end on a teachable moment where the book taught readers about Medieval alchemists, fountain pens, and bells. One has an entire page dedicated to cobalt. It's insane.
The popularity only lasted a short while, though, until the universe righted itself and put an end to this buckwild sci-fi nonsense.
Showcase Presents: Metal Men Vol. 1
Collects: Showcase #37–40, Brave And The Bold #55, Metal Men #1–16
This book features the birth of the Metal Men (Showcase #37), their first story arc (Showcase #38-40).
This, along with the first sixteen issues of their solo series should give any reader a good foundation for the characters, basic plotlines, and tone of the series. It also features some great, old school monsters along with hilarious villains.
Highlights include:
Balloon Man: a giant balloon that would later go on to survive Crisis on Infinite Earths
.
Robot Amusement Park Rides: Just like it says on the tin, only they're alien. Alien amusement park rides. That are also robots.
Skyscraper Robots. Who were robots as big as skyscrapers. Also aliens, and — much to my confusion — cannibals? Why is this happening to me.
Showcase Presents: Metal Men Vol. 2
Collects: Brave And The Bold #66, Metal Men #16–36
The insane sci-fiction fun continues!
Highlights include:
Dr. Snakelocks: an evil community from… somewhere. He has a suitcase filled with evil robots and diplomatic immunity.
The Plastic Perils: a plastic version of the Metal Men. Surely, plastic beats metal, right?
Mulehead: A centaur cursed by Zeus himself, who has now traveled to Earth to make Platnium his wife through a scheme involving… you know what? No. Dave, you can't make me do this one. I may die. [Ed Note: The internet is starved for Mulehead content, John! But fine, we can save it for the next Deep Dive.]
Collects: The Brave And The Bold #187
Sometimes, Brave and the Bold was like one of those episodes of Scooby Doo where TV's Batman and Robin show up. Only here it's comic Batman (who I think would be Freddy in our analogy) and the Metal Men (who I think are Scrappy Doo.)
This story follows the Metal Men as they search for their long lost member, Nameless, who I don't think we knew about before now.
Better Dying Through Chemistry: Action Comics #590
Collects: Action Comics #590
One of those classic Silver Age story in which Superman falls into a vat of chemicals, turns into a supervillain, and then et cetera happens. Primarily, this story is a retcon for part of Crisis on Infinite Earths; the Metal Men are basically just around to bare witness.
Failed 90s reboot
Metal Men vol.2
Collects: Metal Men Vol.2 #1-4 Miniseries
Mike Carlin, Dan Jurgens, and five more people created this brand new take on the Metal Men. Because it was the 1990s, the book was a dark, edgy retcon of the story, in which Dr. Magnus accidentally trapped the minds of his loved ones — plus one pizza guy — into the bodies of his robots. Later, Dr. Magnus himself follows suit.
To be honest, this is a hard skip. It's not fun, it's not funny, and the whole unfortunate miniseries is retconned in 52.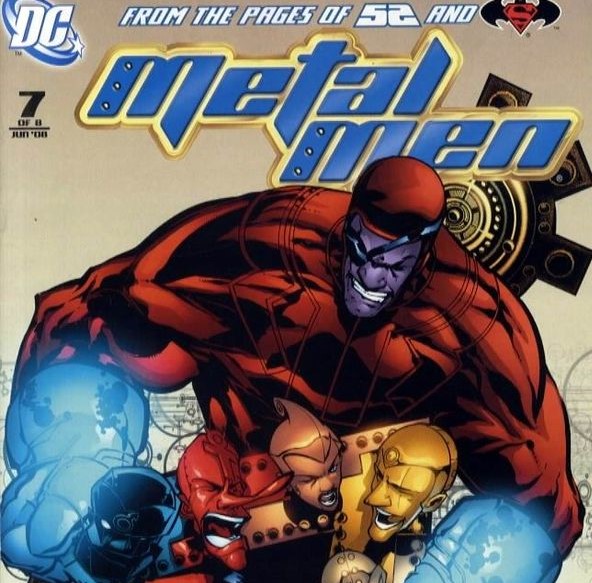 Infinite Crisis and the 2007 Reboot
These mini's are the absolutely definitive version of the character and the best place to start. Accept no substitutes.
Collects: Infinite Crisis #1-7, Villians United #1-6
Geoff Johns loves himself some deep pulls. Still, when the Metal Men show up in Infinite Crisis, fighting the O.M.A.C. and protecting Metropolis, it was a bit of a shock. Johns does maybe the best job at a modern reboot here.
Collects: 52 #1 to #52
Doc Magnus is a major player through 52!
Metal Men: Superman/Batman #34-36
Collects: Superman/Batman #34-36
This story has a good setup, with Lucius Fox employing the Metal Men as a security force for Wayne Tech. This should be like hiring the Moe, Larry, and Curly as plumbers.
Unfortunately, it turns into a pretty bog standard affair with Brainiac taking them over, forcing Batman and Superman to fight them.
Collects: Metal Men Vol. 3 #1-8
Dr. Will Magnus has a lot of brothers, all of whom are equally obsessed with robots. In this story, his brother, David Magnus, goes back in time to prevent a catastrophic future that the Metal Men create. David's "plan" is to go back in time and use a gizmo he got off a supervillian to turn the metal men both radioactive and evil. Time travel, make evil, save world?
Collects: Final Crisis #1-7, Superman Beyond #1-2, Submit #1
Justice League: Generation Lost
Collects: Justice League: Generation Lost 10-11
Maxwell Lord is mindcontrolling members of the defunct Justice League International.
Keith Giffen and Judd Winnick do a great job here, turning the Metal Men into a tragedy as the team members are forced to believe they're actually human.
This is a fantastic anthology series that allowed incredible creative teams to take Adam Strange, Batman, Hawkman, and the Metal Men and reimagine them in the form of old newspaper comics.
Dan Didio writes and Ian Churchill illustrates a great tale for the Metal Men here. But honestly, the whole book is a treat.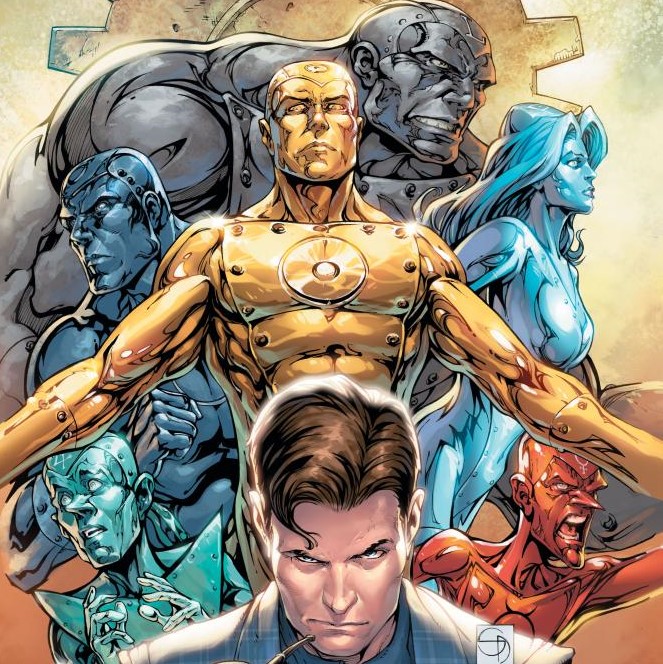 The New 52 and Beyond
Another reboot for the DC universe, another retcon for the Metal Men.
In this version, Dr. Magnus created them for the military as a tool for retrieving people out of dangerous environments. They promptly disappear.
Cyborg helps find them, only for he and Magnus to learn that the military intends to use the team as assassins for the government.
It's at this point that I think that either DC has given up on the team's comedic beginnings, or else they've created a satire so perfect that it's come around the other side as dramatic.
Doomsday Clock
Collects: Doomsday Clock #1-12
The Justice League recruits the Metal Men to fight on Mars.
Yep. Humorless.
Metal Men
Collects: Metal Men #1 to #12
The 2019 limited series relaunch by DC's head honcho Dan Didio and Shane Davis.
The Doom Patrol connection
The Metal Men debuted at DC comics less than a year before Doom Patrol.
These two books have shared a kind of bond over the decades. Maybe it's the fact that Metal Men debuted less than a year before Doom Patrol, meaning the two books practically occupied the same crib. Or maybe it was the success of Metal Men that allowed Doom Patrol to be as weird as it was, perhaps even paving the way for Grant Morrison's run on the title.
It's fun to go back and read the silver age stories for both teams, side by side. While they don't explicitly connect, there's a kind of back-and-forth between the books as they try to one-up one another in terms of sci-fi goofiness.
This is especially evident with Robotman (Cliff Steele) of Doom Patrol, who seems an intentional barb at Kanigher and Andru's work on Metal Men.
Collects: Doom Patrol V2 #60
Dr. Will Magnus makes a guest appearance in a rather poignant moment that finally connects the two teams
DC Comics Presents: Metal Men 100 Page Spectacular
Collects: Reprints Parts Of Doom Patrol V5 #1-7
DeMatteis wrote this 7-part back-up story for Keith Griffin's Doom Patrol. J.M. has a great flair for the characters and really plays with the fun and innocence that makes them work in a narrative.
Alternate versions and different media
Collects: Jla: The Nail #1-3; Jla: Another Nail #1-3
In this alternate version of the DC universe, the Metal Men are monotone, brainwashed robots working for the White House security team. Just like all the other government workers!
Collects: Elseworlds: Kingdom Come #1-4
The Metal Men are one of the countless easter eggs in Mark Waid and Alex Ross' classic. Keep an eye out for their combined form, Alloy.
Collects: Batman Beyond #20-24
Old Man Bruce reveals that Dr. Magnus was forced into the supervillain group CADMUS, who wanted the good Doctor to build an indestructible metal army to defeat the Justice League.
The Metal Men appear in "Clash of the Metal Men" (s02e06), "The Super-Batman of Planet X!" (s02e09), and "The Siege of Starro!" (s02e13 and s02e15)
"Metal Man Has Won His Wings" by the Mothers of Invention
How strange are the Metal Men? Enough that Frank Zappa and Captain Beefheart wrote a song specifically about them. In your face Donovan's "Sunshine Superman."