Thanos is back. Everybody dies. Rinse. Wash. Repeat. Full review to come – keep reading for Comic Book Herald overview.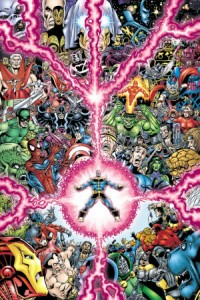 Comic Book Run: Marvel Universe: The End
Publication Dates: 2003
Writer: Jim Starlin
CBH Score: TBD
Continuity Relevance?: Minor.
Who Needs It?: Not the most essential addition to the Thanos mix, but it will lead into the 2003 solo Thanos series if you really love the ol' purple knucklehead.
Want more on Thanos? See the Complete Thanos Reading Order.