As much as I love the world of comic books, I haven't been very into collectibles as an adult. This probably has more to do with complacency than any latent "toys are for kids!" feelings I may be harboring. I mean, I have a Mr. Crabs figure on my book shelf and my wife genuinely asks what toy I want any time she orders from the kids menu at a fast food joint. Toys are fun, collectibles make for great office/home décor, and being an "adult" is extremely overrated.
At the same time, there's something regal about the game of chess. Whether it's Professor X and Magneto playing in the park, GZA rapping about it on Liquid Swords, or Captain Kirk and Spock playing the future's coolest version, chess carries a perpetual aura of intelligence and class. Some of my favorite family memories are facing off against Big Phil in epic games of wit, watching as he matched my every move to a stalemate one game, and then inexplicably lost in 6 moves the next. I feel like The Leader every time I win a game of Chess (see also: every time I calculate percentage changes accurately; every time I properly use a Vlookup formula in Excel; and absolutely every time I get to tell someone I've read James Joyce's Ulysses twice).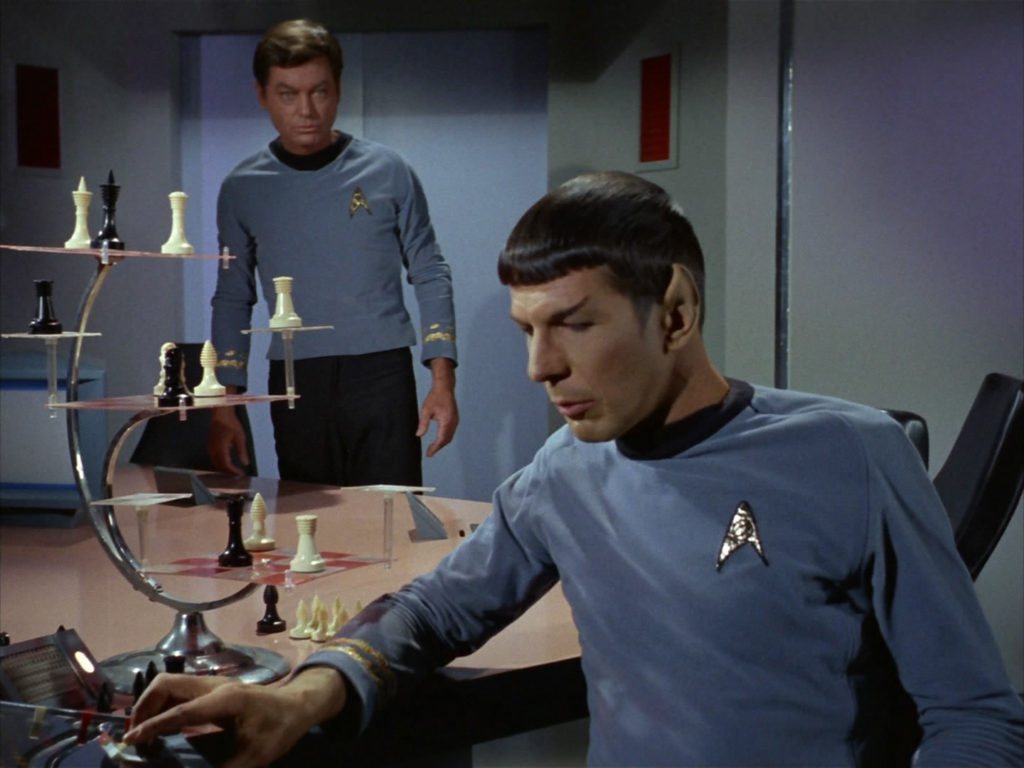 It's not hard to imagine my excitement, then, when Eaglemoss Collections contacted me about the Marvel Chess Collection. (full disclosure: Eaglemoss asked me to write about their service, and this post contains affiliate links to their site. I make a few pennies if you click through and decide you like the goods, and you get a cool chess collection.)
I'm a sucker for sci-fi or fantasy twists on popular games, to the point that I exclusively grew up on Star Wars Monopoly and am genuinely confused when people reference Boardwalk (you mean Coruscant?). A Marvel Chess Collection is so far up my wheelhouse I had to check to make sure my wife didn't actually start a business in her ongoing endeavor to one-up me with ridiculously personalized and perfect gifts (full disclosure: My wife occasionally reads the blog. Hi honey buns!).
Turns out the Marvel Chess Collection is very real, and available via a subscription mailing model for $4.95 the first month. I'll explain a bit about the pricing, packaging, and most importantly, the actual chess pieces and goodies below, but if you've heard enough: Check out the Marvel Chess Collection!
Support For Comic Book Herald:
Comic Book Herald is reader-supported. When you buy through links on our site, we may earn a qualifying affiliate commission.
Comic Book Herald's reading orders and guides are also made possible by reader support on Patreon, and generous reader donations.
Any size contribution will help keep CBH alive and full of new comics guides and content. Support CBH on Patreon for exclusive rewards, or Donate here! Thank you for reading!
The Marvel Chess Collection Goods
From the Eaglemoss starter guide "The Marvel Chess Collection is a new fortnightly series offering the comic fan and chess lover alike the chance to collect a unique chess set, featuring some of the greatest and most loved Marvel characters."
When you subscribe, you will get a Marvel binder to hold your magazines, a free digital online subscription to your magazines, and most importantly, a Marvel chess board.
The magazines that come with each character are surprisingly useful. Each magazine includes character history, good comics to read (goes great with Marvel Unlimited) and even chess strategies involving the character's chess piece alignment.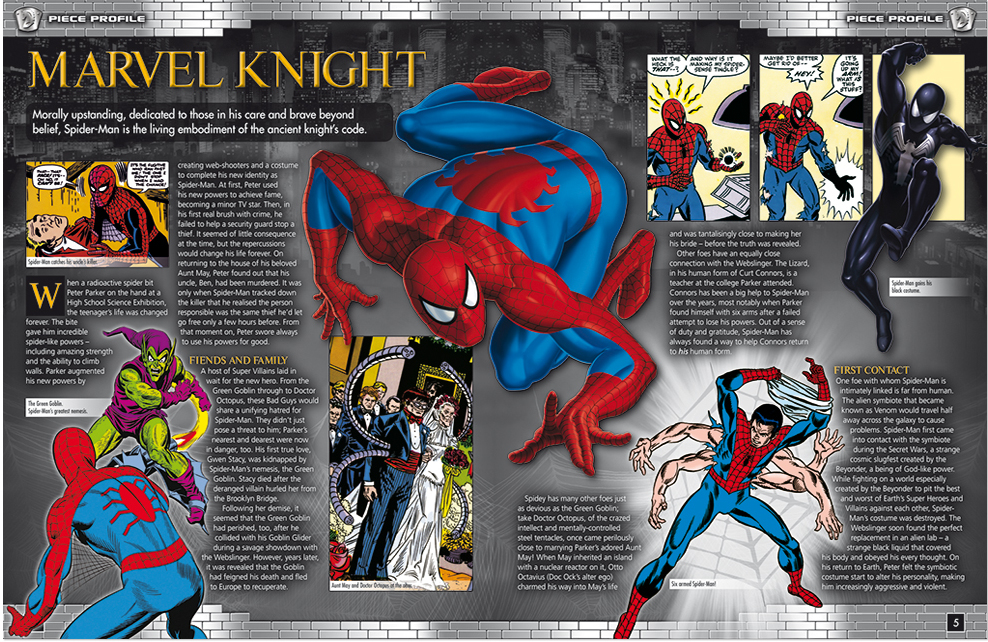 In a lot of ways these mirror the value of the Marvel Encylopedia. When I was first getting into comics this was the ultimate gift for my brothers and I. Learning all the stories and plots that favorite characters have experienced throughout the years is completely fascinating. This chess collection actually offers that experience, along with learning the game of Chess, which frankly is like the ultimate "you'll be ruling the world someday" combination for any youngster.
Who do you actually get for your Marvel Chess Collection?
White Team:
Pawns:
Daredevil
Luke Cage
The Wasp
Ant-Man
Black Widow
Hawkeye
Quicksilver
Scarlet Witch
My only real gripe with the pawns is probably the Scarlet Witch (more powerful than a mere pawn). As we've all seen in Axis, the Chaos Queen ain't nothing to mess with.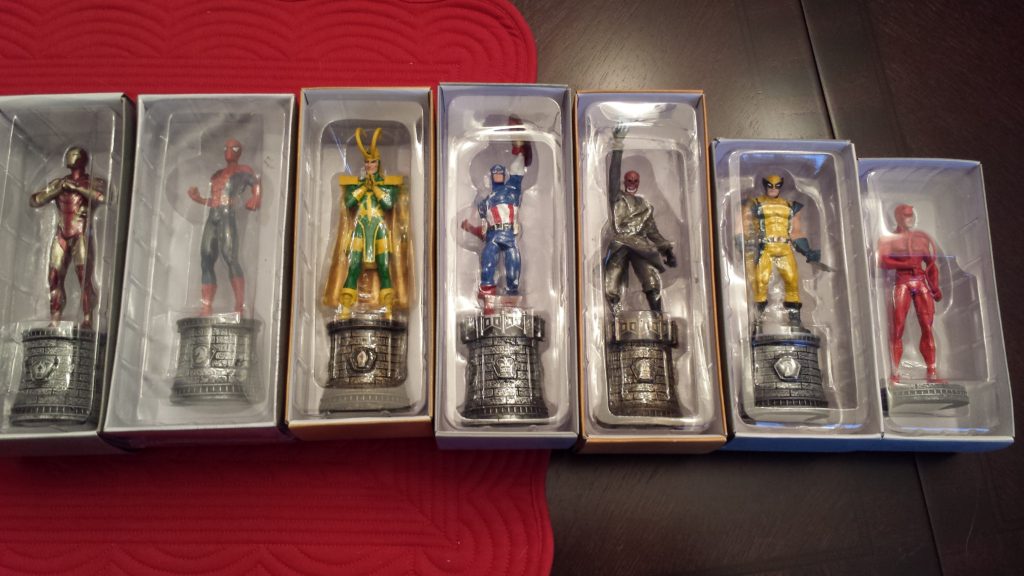 Rooks:
The Vision
Black Panther (literally a king… but I get it)
Knights:
Spider-Man
Wolverine
Bishops:
Iron Man
Thor
King:
Captain America
Queen:
Captain Marvel
I kind of love making Captain Marvel (Carol Danvers) the most powerful piece on the board, and I can't help but think the Carol Corps. would agree with me.
Black Team:
Pawns:
Venom
Absorbing Man
Bullseye
Klaw
Molecule Man
Taskmaster
Lizard
Electro
Rooks:
Ultron
Kang the Conquerer
Knights:
Green Goblin
Doctor Octopus
Bishops:
Loki
Mandarin
King:
Red Skull
Queen:
Viper
That's a murderer's row of villain collectibles. Literally. I initially objected to Molecule Man's position as a pawn considering his power level, but Owen Reese is totally Doctor Doom's pawn in Secret Wars (as well as the current New Avengers run), so that makes a lot of sense.
Viper as the Black Queen feels a little underwhelming, but the alternatives aren't really obvious. Literal Black Queens like Emma Frost, Selene don't quite work, and Dark Phoenix is a little too morally ambiguous (Jean Grey on the black team? The treachery!). That essentially leaves us with The Enchantress, who would probably be my pick, although not by a very wide margin. 
Marvel Chess Collection Pricing
The most important thing to know about the Marvel Chess collection is that you are paying for a subscription, not a one-time payment for a fully stocked chess board with pieces. Your initial payment is for the Issue 1 Collector's Magazine PLUS the Ironman White Bishop Chess Piece for $4.95 with free shipping. You will then receive 2 issues per month at regular subscription price of $14.95 per issue + $1.95 shipping. You can also become a Platinum Member and receive 8 Fantastic Four pieces for an additional $1.50 per issue.
It's important to note here as well there is no minimum purchase, you can cancel your subscription at any time (no questions asked), and there is a 30 day money back guarantee.
I found this a little confusing at first, and as far as I can tell, there is no "just purchase the whole thing" option. So the subscription is definitely more about collecting pieces over time, and taking some time to enjoy each figure individually. I'll also mention that I did some price shopping, and these pieces are not easily found for less than $16 a pop through any other retailer (or even Ebay). So while it may seem expensive, there's an element of rarity and quality (hand-painted!) that goes with your Marvel chess collection.
As an additional note, the premium subscription option gets you a Fantastic Four bonus set of pieces including: The Thing (White Bishop), Human Torch (White Bishop), Mr. Fantastic (White King), Invisible Woman (White Queen); and Super Skrull (Black Bishop), Annihilus (Black Bishop), Doctor Doom (Black King), Malice (Black Queen).
Marvel Chess Collection Customer Service
As I mentioned above, Eaglemoss contacted me about an affiliate relationship (*deepest voice* why hello…) so your customer service experience may be slightly different.
Nonetheless, I've been impressed with the Eaglemoss team's responsiveness and desire to deliver the highest quality materials and services to their customers. In particular, after a tragic incident involving the dismemberment of The Red Skull, Eaglemoss sent me a brand new piece, as well as the assurance that their policy is to replace any broken pieces you might happen to receive.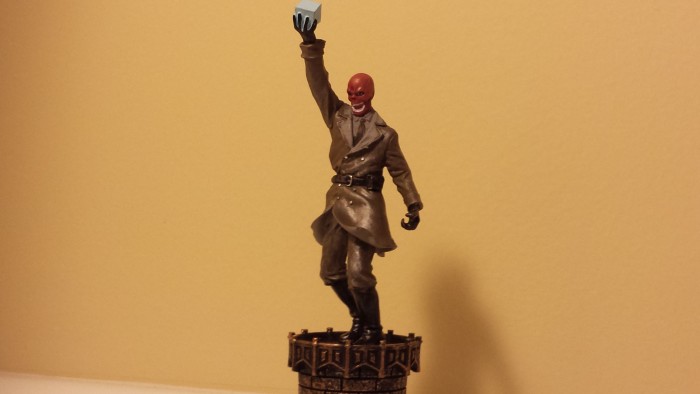 And there you have it. A fun, unique collectible for the Marvel, chess, or awesome things lover in your life. Or, you know, for yourself. If it feels right, treat yourself!
Any other awesome gift ideas you all are looking at this year? Do what feels right to you in the comments, or the new Comic Book Herald forums!