I have been saying to anyone who will listen to me lately that Magneto is probably the most underrated book from Marvel at the moment.  Only hitting its seventh issue this month, the pages of Magneto have been crafting an interesting and exciting adventure from the perspective of this long time villain, sometimes hero of the Marvel universe.
The tale since issue one has been penned by Cullen Bunn, who has recently gotten more acclaim thanks to series like "Deadpool Kills the Marvel Universe", but is a solid novelist in his own right.  His talent shines through, as he effortlessly crafts a dark and brooding picture of a man who has lived through the lowest of lows, and is now vying for a purpose to continue on in a world that fears him.  One of the true delights of a book like this is how Bunn gets the turmoil and anguish from Magneto's head to the page.  Because the narrative follows Magneto on his lonely quest to become the "Protector of Mutantkind" once again, much of the story is told without dialogue and through the thoughts of this singular character.  Outside of a scant flashback scene, there are almost no word bubbles, until the climax of the story when Magneto finally addresses those that have watched his struggle, telling them to warn others of who he is and what he is capable of.  The script pulls you in and before you know it you are on an incredibly insightful ride into the mind of a broken man, and you want to turn it right over and ride again when it's finished.  I seriously can't say enough about the weight that Cullen Bunn is throwing around with his prose.
This issue is the first of a departure and change in artistic direction, from the cover to the inside.  The covers up until now had been done by Declan Shalvey, and this is the first issue to feature a cover by David Yardin.  He holds true to the darkness of the subject matter on the pages underneath, and even gives away the reveal of the big bad that Magento must face in the issue.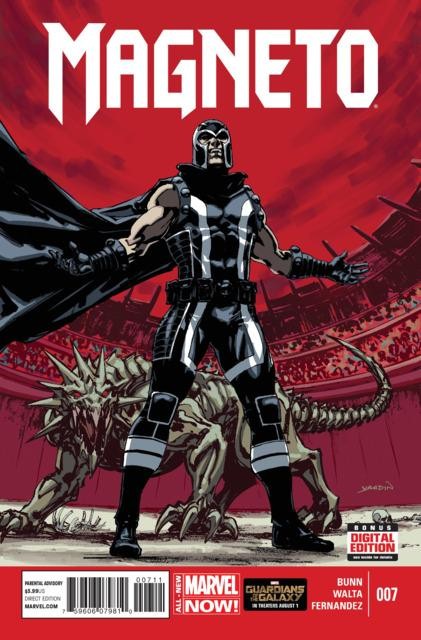 For readers new to the X-Men universe I won't spoil it, but it is a weak choice in my opinion to reveal that on the cover, when previous covers by Declan had been much more metaphorical.  The art throughout is split between two artists, Gabriel Hernadez Walta, who has been drawing some of the other issues in the series, and Javier Fernadez.  The colors are also split, between returning colorist Jordie Bellare and last issue's color artist Dan Brown (not of Davinci Code fame).  Each brings their own style and flair to their pages, and both try to keep up with the shadowy brilliance provided by Cullen's script.
(Author's Note – seeing as though I am a life-long Wolverine fan, my first ever Comic Book Herald review was for Wolverine, [which got an amazing response – thank you]. I will continue to do The Best There Is and The Isn't Very Nice at the end of all my reviews as an homage to my favorite character.)
Support For Comic Book Herald:
Comic Book Herald is reader-supported. When you buy through links on our site, we may earn a qualifying affiliate commission.
Comic Book Herald's reading orders and guides are also made possible by reader support on Patreon, and generous reader donations.
Any size contribution will help keep CBH alive and full of new comics guides and content. Support CBH on Patreon for exclusive rewards, or Donate here! Thank you for reading!
The 'Best There Is':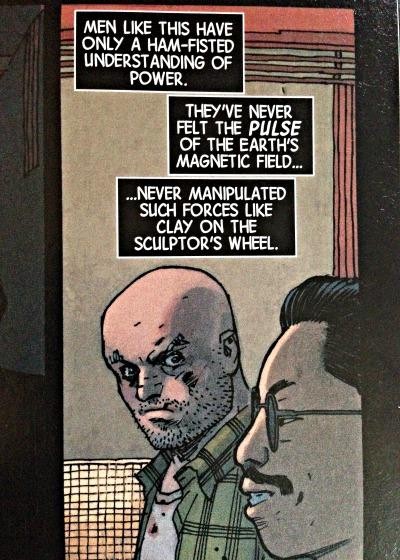 Again, I cannot say enough about Cullen Bunn's work on this book and the character study of Magneto that he is accomplishing.  Magneto comes from an origin routed in the concentration camps of World War II, and has been seen as the savior of mutants and the most feared mutant on the planet, bent on world domination.  Now, this character is looking for redemption, but also retribution, and in an almost Punisher-like fashion he is carving his way through groups of people that have seriously wronged the race of mutants over the years, and enacting his own brand of justice.  I'm not going to lie, I picked this book up on a lark because of the hilarious Hastings Deadpool Variant of issue number 1, but Cullen's take on this character and how he writes that onto the page took hold of my interest like Magneto takes hold of the metal in your blood.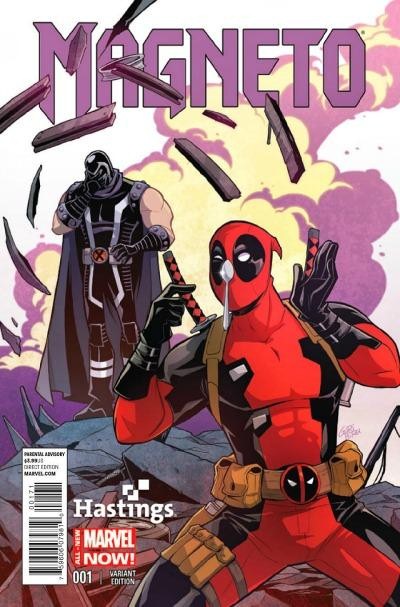 The 'Isn't Very Nice':
The doubling up on artists and color artists in this book really grinds my gears.  When a script calls for a lot of different perspectives and possible time jumps like flashbacks and forwards, I understand the idea behind employing multiple artists to convey the differences.  But a story that is centered around a single character, and told mostly from his own thoughts, should not go down that road, and it's evident even to the casual reader that the two styles don't really coalesce.  The subtle darks and shadows of the first few pages are in stark contrast to the fight sequences that have more defined shading and manic lines.  I am not saying that either artist is better or worse, but the story told by one team and not two would have worked a lot better.
I love being surprised by comics.  I have not collected much in the X-Men realm of comics in the last few years, save Wolverine and some various crossover events.  As I said, I might never had picked this book up if it wasn't for a random cover on the first issue.  But it has grown on me to the point that I list it in the first few books when asked the question: "What do you currently collect?"  I have been telling my personal circles about this book for a few months, and now I am telling you – go down to your local comic store and pick up this issue.  It's a great jumping on point and if you like it there are only six previous issues to get prior to this one.
CBH Score: 4.0 out of 5.
It would have scored higher if not for the unfortunate choice of multiple artists