There are no small characters. Not even ones who stand next to giants.
Lois Lane is popularly thought of an adjunct to Superman. A mortal with no powers save the ability to ask a question and turn Clark down for a date. But she's so much more than that.
She can be brave, brilliant, cunning, and utterly unique. There can be — in fact, has been — a world without Superman
. But I can't think of DC main continuity without Lois Lane.
I'm here to show why that is.
Ridiculous Beginnings
Silver Age Lois Lane was frequently written as an insane, marriage-obsessed harpy who was either tricking Superman, being tricked by him, or else being space-murdered. With the occasional, temporary superpower hijinks.
Support For Comic Book Herald:
Comic Book Herald is reader-supported. When you buy through links on our site, we may earn a qualifying affiliate commission.
Comic Book Herald's reading orders and guides are also made possible by reader support on Patreon, and generous reader donations.
Any size contribution will help keep CBH alive and full of new comics guides and content. Support CBH on Patreon for exclusive rewards, or Donate here! Thank you for reading!
No need to read the actual issues, as the covers tell the whole story.
Crisis on Infinite Earths effectively rebooted the DC universe, becoming a new, shared origin for each hero, and each individual series starting 10 years "post-Crisis."
All except for Superman.
Superman — the book, character, his friends, and his world — are so important to the DC universe as a whole that the publisher made an exception, letting comic legend John Byrne fill in some information in this new, post-Crisis origin.
Making History
Each issue of The Man of Steel is a snapshot showing one moment in one of those "missing years."  It only seems fitting that issues 2 and 4 should focus on Lois Lane, the most important woman in both Clark Kent and Kal El's life. And, as Byrne would tell it, one of the most important women in the world.
Scaled-up
In Byrne's hands, Lois is elevated to the equal of not just Clark Kent, but of Kal-El. Her talent and reputation give her access to people and places that Superman simply cannot go. But it's her fearlessness that makes her such an incredible character. Byrne finds a courage and heroism in Lois that puts her on equal footing with anyone, keeping her not only cool around a flying alien god, but able to dress down even the most terrifying supervillains. (Her ability to cut Luthor to ribbons will make you wonder what Superman is even doing here.)
This Lois may get in over her head, but not because she's foolish and not because she's sure that Superman will save her. But because she knows, deep down, that this is where the story is, and she must be equal to the task.
In the 1970s, DC had finally given up on Lois Lane's solo book along with the rest of their romance line. And while there's an argument to be made regarding how Superman's Girlfriend Lois Lane could be seen as both progressive and important for the comics industry… mostly it is remembered for giving us a Lois Lane who was marriage obsessed, totally without agency, and constantly being murdered by Superman.
Something to Report
When a child's body is found in the East River, Lois Lane suffers a crisis of conscience. Has she been working the supervillain beat and neglecting the stories that matter? This guilt and rage drive Lois as she uncovers an epidemic of missing children in the city that's pointing at one organized cause. 
Newell gives us a street-level story that's hard-boiled enough to be an enjoyable read, but real enough to make the punches land. This is amplified by Marrow's character designs, with their clean lines and humanist expressiveness. Honestly, you can "read" this book just by looking at the body language.
This book was a masterpiece when it came out and still holds up 20 years later. I think the only reason it's not better considering is that it had the bad luck to come out the same year as Watchmen.
The death and rebirth of Superman are largely remembered today as a marketing bonanza. A pr move designed to make the news. An excuse to sell variant covers, limited editions, and new number ones.
But there's also a second set of lessons to be learned:
How much room does a character take up in the universe (and our collective unconscious)?

What happens when that space is freed up? How do "smaller" characters change?
Lois Lane's grief was palpable in this event. But more interesting was who she became in a world without Superman. Watching her interact with Conner Kent, John Irons, and the Justice League, we see a rare sentimentality. A vulnerability that pre-death, "Ace Reporter Lois Lane" could never afford.
At the funeral, as heroes walk up to pay their respect, we see an impossibly strong version of Lois Lane who is trying desperately, in her heartache, to be the beacon that these heroes need.
Once in a while, comics allow for a special kind of magic. One where stories and their creators talk to each other across time. This is the case with Lois Lane '86 and '98.
Like it's predecessor, this book follows Lane investigating cases of missing children. However, this newer story is tightened up to a single issue, which gives the story a more desperate, dangerous feel. This also has a secondary effect, of making Lane feel more like a sleuth or a spy rather than a reporter simply following a story. 
The Creative Team
I chalk a lot of that success up to Barbara Kesel's script. Kesel is perhaps better known as Marv Wolfman's editor on The New Teen Titans.
I need to take a hot second to talk about Amanda Conner's art. Conner is, hands down, one of my favorite cartoonists in comics. She's up there with Mike Allred in her ability to work economically to remove distraction while leveraging exaggeration to make her point land. Cartooning — both classical and pop-art varieties — are undervalued in comics right now, so I'd recommend this book just to see how Amanda, even in early efforts, makes use of these skills to give Lois' range, stretching from "raw emotion" to "sly nuance."
This book might be under DC's regrettable "Girlfrenzy" banner, but it's much better than that. It's strong, fun work from one of the first female creative teams on the title, and it deserves a read.
Remember all those terrible Silver Age covers up top? What if they were actually good?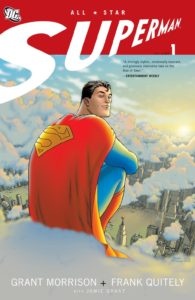 This is basically the synopsis of All-Star Superman by Grant Morrison, which plays like a love letter to the 50s, 60s, and 70s. For instance:
Lois finally learns Superman's secret identity

She gets superpowers and her own suit

Lois and Superman go on a date, complete with heroics

Lois tries to kill Superman with an honest-to-god raygun
But somehow, it's perfect. Morrison doesn't write "Superman's Girlfriend Lois Lane," but instead shows her for what she really is: The love of Superman's life. His partner, the equal other half to him.
This was the first comic where I really felt the romance between these two. The strange and beautiful history that they both share. How something so simple and old-fashioned as the love between two people can save the entire world.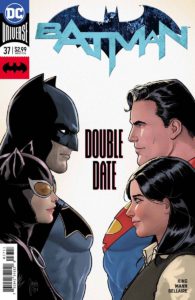 Issue #37 of Tom King's run on Batman sees the two super-couples — Bruce and Selina, Clark and Lois — go on a double date. This story is as low stakes as it gets, but it affords an interesting view of Lois' character.
She lets her hair down.
Here, in the safety of friends and the carnival, we see Lois let go a little and open up. In fact, for what may be the first time in her publication history, Lois is the one answering questions. Over a flask, Lois opens about why she loves Clark ("he always catches me"), gets vulnerable about her relationship with him, and the dangerous potential in loving a superhero.
This unguarded view of her is endearing and refreshing, and Tom's knack for natural dialog and finding character moments really drives home this simple, Gold Age-style story about love old and new, romantic and platonic.
Greg Rucka is the entire reason I'm writing this list.
Rucka is a rock-solid writer, delivering plots that are efficient, pacing that is fast but not hurried. His stories have no fat, no wasted effort. This frees him up to write some of the rawest and most compelling characters around.
Most especially for women. Rucka's heroines steal the show every single time. They are strong, capable, clever. But most of all, because they reveal themselves to the audience in ways you simply don't see in other books. Every interaction, every private moment, every everything becomes about focus and mining depth of character.
And that's exactly what Greg and team are doing on Lois Lane.
Lane has been tough before. She's been combative and she's been clever. But Rucka shows us a version of the character who is cunning, a Lois Lane that lays verbal traps for people and pushes them in. She does not chase a story but hunts it down. For the first time, her character feels deadly serious.
That seriousness is important for two key reasons:
It makes a character who fills a role that superheroes leave vacant. She's armed with different weapons, different allies, and press credentials that give her a kind of access even the Justice League don't get.

It allows the book to explore modern-day problems, political and sociological. And unlike with superhero books that deal in metaphor,

Lois Lane

is addressing them openly and directly.