What happens when mutantkind runs into their erratic god? Welcome to Krakin' Krakoa #59 where today I'll be exploring a Milestone in Marvel mutant history, the infamous Secret Wars II and the X-Men's relationship to the event and to the all-powerful Beyonder.
Today I'll answer:
What happened when the X-Men met the Beyonder in Secret Wars II?
What do these encounters have to do with the Hickman era of X-Men and the ongoing Dawn of X?
Podcast: Play in new window | Download
Potential spoilers for discussed comics may follow!
Support For Comic Book Herald:
Comic Book Herald is reader-supported. When you buy through links on our site, we may earn a qualifying affiliate commission.
Comic Book Herald's reading orders and guides are also made possible by reader support on Patreon, and generous reader donations.
Any size contribution will help keep CBH alive and full of new comics guides and content. Support CBH on Patreon for exclusive rewards, or Donate here! Thank you for reading!
Related Reading Orders:
All Comic Book Herald X-Men videos
In 1984, Marvel launched a 12 issue standalone event series called Secret Wars
, by Jim Shooter and primarily Mike Zeck, bringing a huge collection of Marvel heroes and villains together to fight on the mysterious, alien Battleworld.
While there the Marvel characters are told they've been brought to Battleworld by a being of immense power, the mysterious Beyonder, able to stand up to the likes of Galactus with easy, at least until Doctor Doom suckers him into losing his immense power (for a time).
It's not my focus today, but there are some notable themes for the X-Men including:
Continued allied relationships with Magneto, stemming from the conclusion of Uncanny X-Men #150
X-Men vs. Avengers hostilities and feelings that the "human" heroes aren't really doing all they can to support mutantkind
Colossus being the biggest dweeb, and Wolverine and Nightcrawler taking issue with him falling head over heels for Zsaji, the mysterious healer, at the expense of "wait, isn't she still way too young for him?" Kitty Pryde.
Enter Secret Wars II
, the sequel event launching later in 1985 and running through early 1986, written again by Jim Shooter this time with art by Al Milgrom. As a whole, I dislike Secret Wars II almost exactly as much as I love the original Secret Wars, which is to say Secret Wars II currently sits among my 10 least favorite comics of all time (but no, it could not unseat Marville for the worst ever).
Secret Wars II is all about The Beyonder journeying to Earth to discover his purpose, and it's a bloated monstrosity with tie-ins to nearly every Marvel book at the time to boot! The only things I really like about the main event are the time Spider-Man taught the Beyonder how to poop, the time the Beyonder built a machine so he could be his own Mom/Dad and birthed himself, and the sheer number of "Dave" panels I get to use for any occasion because the Beyonder made a friend named Dave.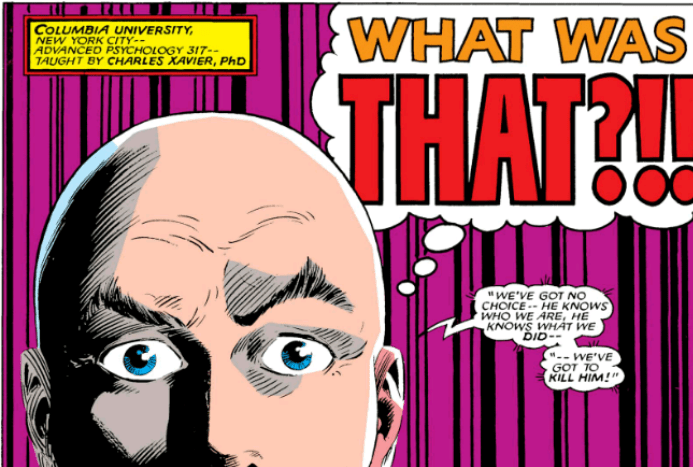 Amazingly, Head of X Chris Claremont takes this premise, and the mandate for tie-ins across his X-Men and New Mutants and manages to salvage some pretty good comics and interesting ideas. A few notes upfront about this era of New Mutants – since New Mutants #18 kicked off the incredible "Demon Bear" saga the book's in the hands of Chris Claremont and Bill Sienkiewicz, in what is inarguably my favorite stretch of New Mutants ever. Issue #30 is mostly focused on Sunspot and Magma's starring turns as Russell Crowe in Gladiator, as well as Dazzler's apparent literal addiction to fame. The Sienkiewicz Gladiator monsters are worth the price of admission alone.
More interestingly, things kick off with the New Mutants, Kitty Pryde and Rachel Summers sent to Limbo at the Beyonder's behest following Secret Wars #1.
There are a couple really important developments here. 1) The New Mutants are becoming fully aware of Illyana's Darkchilde persona, and the demonic part of herself she's been keeping at bay until the Beyonder set it off. 2) We learn of the connection between Illyana and Kitty Pryde that allows Kitty to wiled the Soulsword and take on Illyana's Eldritch armor (Eldritch being the endlessly overused way to say "magical" in Marvel sorcery).
Why does this matter? Well the threat of Illyana's Darkchild persona and the demonic threats of Limbo will come into play in a big way in 1989's Inferno, and have been teased heavily as very relevant historical details in the Dawn of X, from everything from "Sinister Secrets" allusions to "inferno" to the return of Madylene Pryor in the pages of Hellions. If you've watched my X of Swords theories, you know I think there's a strong chance elements of Inferno will play a role in the upcoming crossover.
I'll also admit at this point, I'm unclear if the Darkchilde is still a part of Illyana in 2020, or actually if she even has her soulsword. This could easily just be something I've overlooked, but if not, there's more to that story.
Uncanny X-Men #196 is another early, loose tie-in, setting the stage for Rachel Summers major role as a core protagonist against the Beyonder's all powerful whims. While she technically debuts in Uncanny #141 & #142 (Days of Future Past), Rachel is relatively new to the X-Men at this point in their history, the daughter of Scott Summers and Jean Grey from what has now been revealed as an alternate past. Emotionally, Rachel's dealing with a lot, from the traumatic life experienced in "Days of Future Past" to finding out in this reality her "mom" is dead and her "Dad" is married to a dead ringer lookalike currently pregnant with a baby boy.
The issue opens with one of my favorite John Romita Jr, Dan Green, Glynis Oliver, and the KING Tom Orzechowski splash pages, showing a startled Professor X overhearing some Columbia university student's plot to assassinate him.
Stuff like this – really everything to do with Charlie ballgame – is fascinating in the wake of House of X
, just contemplating what Xavier knows is at stake for the future of mutantkind and Moira's lives, and then still needing to put up with like random student-run minors in lecturer murder. All of it kinda continues to put the question in my head: Why aren't they on Krakoa yet? What was actually the hold up there?
Easily the most memorable – in all the wrong ways – part of UXM #196 is Kitty Pryde responding to one of Charlie's would-be assassins calling her a "mutie" by calling the black man the "n-word." Like, the whole ass word, uncensored and right there on the page for posterity. Not for the first time either, as Kitty (and let's be clear here, writer Chris Claremont) does the same thing in God Loves, Man Kills. The use here is deeply flawed reasoning and drawing parallels of prejudice that simply do not work. Since Marvel can't be bothered to throw up some disclaimers, I'll certainly say I can understand if you don't want to waltz into a Secret Wars II tie-in to find racial slurs.
Otherwise, my biggest takeaway is Rachel's clear love for Kate. When Kitty is threatened, Rachel responds "My Kate!" and flies off to save her without any help. Much like Illyana, these female relationships from the Claremont run are a big part of the queer subtext fans continue to discuss in comics today, and why things like the characters interacting in the recent Excalibur #10 is such a big deal to fans.
On a final note, shortly after his debut in Uncanny, it's also kind of wild to go back and see that Nimrod had a weirdly strong PR game, appealing to the bigoted anti-mutant populace as evidenced by the bro spraypainting "Nimrod #1, Muties Die!" on the wall like some kind of racist sports cheer.
This is far from the focus of the issue, but given Nimrod's star turn in Powers of X it's interesting to see the ways the mutant-hunting machine has been turning human allies all along.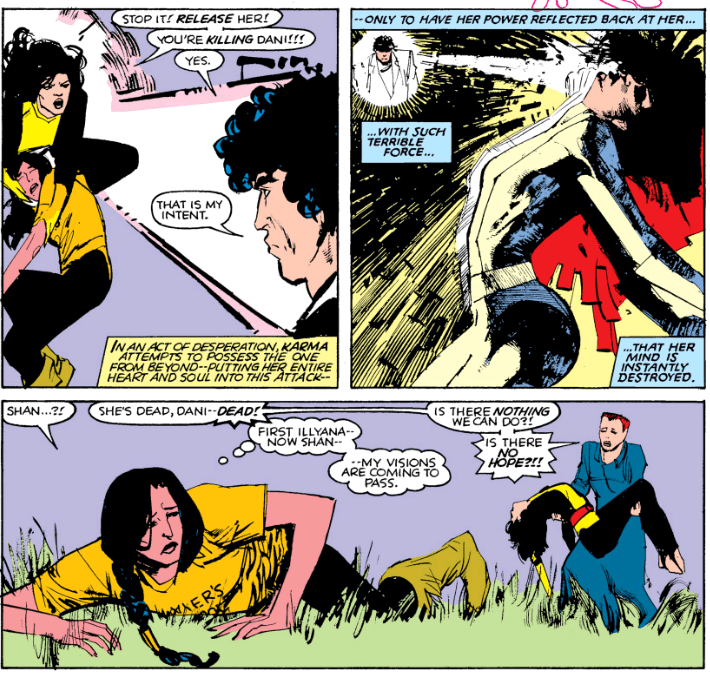 Returning to New Mutants for two issues and an epilogue, we get a brutal knockout battle against the Beyonder, who takes a particular interest in tormenting Illyana and the team. It's worth noting, too, that these issues are penciled by Mary Wilshire with Bill Sienkiewicz inks, to give proper credit where it's due.
The Beyonder shows up and decides to remove Illyana's Darkchilde presence and ties to Limbo. While this is actually pretty great for Illyana to finally be free, it also connects Kitty once again to the realm, and releases the demons of Limbo on Earth in their neverending quest to unleash the Elder Ones and conquer all that is.
In order to stop the demon hordes from invading Earth – this time at least – and to save Kitty, Illyana sacrifices her short-lived innocence and takes the Darkchilde back into herself, reestablishing her ties to Limbo.  As we know, this will be particularly relevant approaching Inferno.
New Mutants #37 is the most brutal tie-in of the bunch, and one of the most striking, as the Beyonder responds to Illyana's refusal of his gift (his warped interpretation of course) by viciously and tortuously murdering the team.
Dani Moonster's new Valkyrie powers allow her to foretell her teammate's deaths, but there's still nothing she nor the team can do to stop the Beyonder on a mission. This is honestly the most bloodthirsty and pure evil I think the Beyonder gets across the entire event, not only killing the New Mutants but erasing their memories from the world as well.
The entire experience is deeply traumatic for the New Mutants, and will follow them into future issues, as even though their lives are returned in Secret Wars II #9, the team is in a depressed, traumatized, zombie-like state until finally Headmaster Magneto (this is post Uncanny X-Men #200 and Mags is in charge – which is a fascinating time in and of itself) decides to send them to Emma Frost's Massuchetts Academy alongside the original Hellions.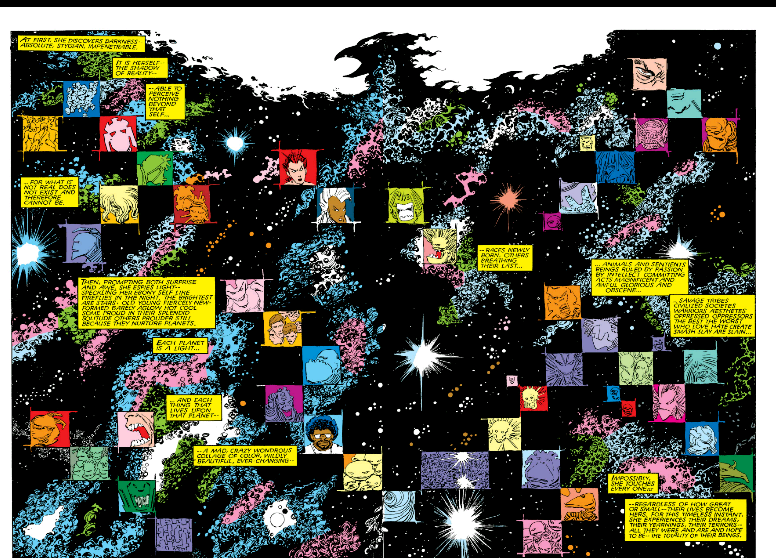 Meanwhile in Uncanny X-Men #202 into #203 we get the Rachel Summers / Phoenix vs. the Beyonder throwdown this has all been building up to. In addition to the Beyonder's actions against the New Mutants (which only Kitty Pryde can remember), Rachel is especially hellbent on killing the Beyonder because he plans to destroy the X-Men (and possibly all life) on his merest whims. While this is a very valid concern, Rachel's plan to destroy the universe including the Beyonder is met with some resistance by Storm. I can't imagine why.
Oddly, even with the Phoenix, Rachel isn't quite a match for the Beyonder (her blasts literally do nothing) until he grants her some of his power as another one of his tiring experiments. While he grants her enough power to kill him, he also attacks the X-Men with Sentinels forcing Rachel to choose between killing him, or saving her friends. To Rachel's credits, she chooses the X-Men.
It's only in Uncanny X-Men #203, including one of my favorite John Romita Jr era X-Men double page spreads ever, that Rachel decides she's going to travel inside the M'Kraan Crystal like her mother Jean Grey once did and wipe out all life in order to end the threat of the Beyonder. After sensing so many sentient beings, Rachel eventually backs down (and even gets the Beyonder to do the same by sharing the experience with him), but there's no doubting she was close.
While I don't anticipate the Beyonder's reemergence in Hickman's X-Men (Although can we rule out 2015 Secret Wars Beyonders?), the interesting tie-in to me is how the X-Men and mutantkind have seen and reacted to absolute cosmic level powers, and what they might be prepared to do to secure mutant safety in the future.
There's so much focus on securing Krakoa in the here and now against human hate, against Nimrod and machine devastation, but as we've seen with the Phalanx in Powers of X, there are some even larger potential threats. What about Galactus deciding Krakoa looks like a snack? What about a return of the Beyonder? What about Thanos and the Infinity Gauntlet?
I don't think these are questions that Professor X, Magneto, Moira, Apocalypse and whoever else are ignoring. I think whatever Moira's true schemes are for making this lifeline the one where mutants win takes all these types of entities into account. But what would that have to look like to ensure power on that level?