Since the launch of House of X and the Hickman era of X-Men, and certainly throughout my Krakin' Krakoa exploration of X-Comics, the possibility of Krakoa as an alternate reality is a popular and potentially exciting theory. The ambition and vision of Professor X, Magneto, Moira MacTaggert and mutantkind is grand enough that it begs the question whether all this change is really happening in Marvel's core Earth-616 timeline.
Today I'll answer:
Is the Krakoa Era an Alternate Reality?
Who are the Omega Level mutants most likely to play a role in a Hickman era alt universe?
If there is an alternate reality in play, what should it look like?
Potential spoilers for discussed comics may follow!
Related Reading Orders:
Support For Comic Book Herald:
Comic Book Herald is reader-supported. When you buy through links on our site, we may earn a qualifying affiliate commission.
Comic Book Herald's reading orders and guides are also made possible by reader support on Patreon, and generous reader donations.
Any size contribution will help keep CBH alive and full of new comics guides and content. Support CBH on Patreon for exclusive rewards, or Donate here! Thank you for reading!
All Comic Book Herald X-Men videos
It won't surprise me in the slightest if an alternate reality is in the works for a future state of the X-Men line, or even a future event. Truly, I look forward to it!
That said, I don't think what we're reading right now – House of X on into 2020's "Dawn of X" comics – is an alternate universe. My reasoning is more practical than narrative. If this is all a part of an alternate reality, it would imply the entire Marvel Universe is also locked within this reality. After all, we have already seen the Krakoa era referenced in non X-Men comics, such as Valkyrie or Black Cat (I'm cataloging all these significant references in the Dawn of X reading order, so let me know if you see something missing!). While that would be cool as all get out, I just don't think that level of linewide coordination is likely.
Let's take one example – Empyre. The upcoming (apparently now weekly!) Marvel event includes X-Men tie-ins, which means the series very much occur in the same universe. There's no denying it.
If Empyre occurs in the alternate reality of Krakoa era X-Men, that means two unlikely scenarios:
Somehow the comics "history" of this alt reality is identical to the past of the known Earth-616 and
2) The major Universe-wide event happenings of Empyre will be in a presumably tentative reality set to be changed at a future time!
I'm here for it if it happens, but that's a whole lot of coordination that would definitely shock me!
Otherwise, I can at least see the reasons people might think Hickman's X-Men is already an alternate reality. For starters, House of X is a callback to the 2005 Marvel event House of M
in which Scarlet Witch (at the urging of brother Quicksilver) created an alternate reality in which Magneto ruled the world, mutantkind was generally dominant, and Wanda tried to give literally everybody what they wanted (for example, Peter Parker is happily married to Gwen Stacy, and Uncle Ben's doing great). Likewise, Hickman makes considerable callbacks to Wanda's famous "No More Mutants," which led to the Decimation of mutants, and Wanda's newfound status as "The Great Pretender."
Similarly, there remains broad skepticism that the X-Men's behavior is aligned with the heroes we've known them to be in the Marvel Universe. I don't necessarily prescribe to this theory – as Cyclops says in House of X #1 "Did you think we were just going to take it?" – but an alternate reality would offer an easy out here, and allow for the "return" of the real X-Men by run's end (again, I highly doubt this outcome).
A mild alteration on this theme that I prefer would be the revelation that this Charles Xavier is actually one of the evil Charlie X's from the Greg Pak written X-Treme X-Men
during the Marvel NOW! Era, but again, I think it's more likely that Moira just, in her words, broke him.
So no, due to the integration of Krakoa into the broader Marvel Universe, and the fact that the skillful execution of the status quo shift simply fits in Marvel Comics, I don't think Krakoa is an alternate reality – not a hoax, not a dream! Again, mutantkind reacting in this specific way to decades of fear, hate, and abuse does not feel to me in any way unbelievable.
I do think an alternate reality is in the X-Men's future, though, and I also think we've already been given many clues about how it will take shape. That's what I'm interested in exploring for the remainder of this episode looking at Marvel's omega level reality warpers, and a handful of other players who could get us there.
Before digging into the players, it's worth taking a step back to reconsider what it even means to be an omega level mutant. Prior to the Hickman era of X-Men, "Omega Level" was tossed around somewhat liberally, and generally just taken to mean "really really good-looking" … no, really really powerful.
In House of X #1 Hickman writes an omega level mutant is "A mutant whose dominant power is deemed to register – or reach – an undefinable upper limit of that power's specific classification." The known list of omega level mutants is reduced to 14, and omega level mutants are defined as the greatest natural resource of Krakoa. For my money, keeping this list relatively tight is a great call. One thing that really stands out to me, though, is how many of these players can manipulate reality – it's a clean 28 and a half percent!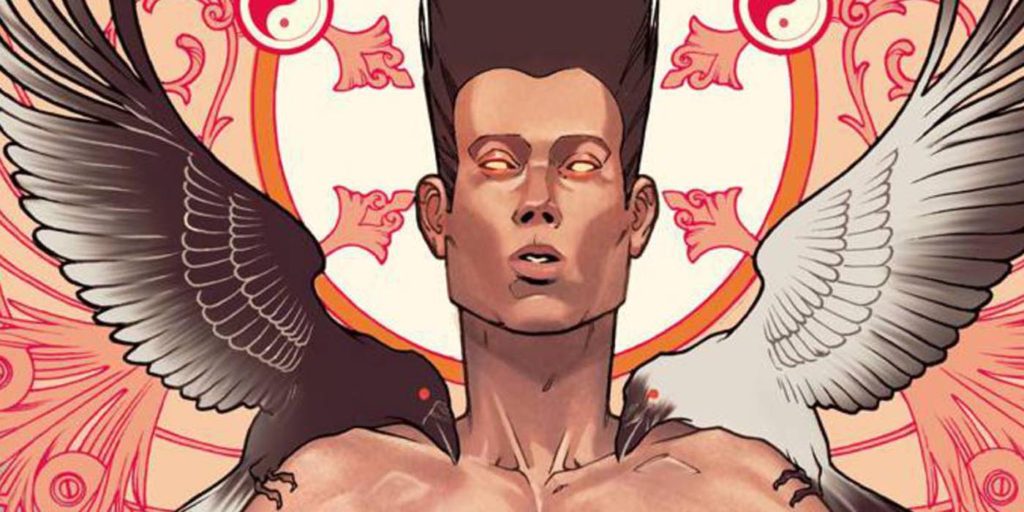 1) Legion (David Haller)
Omega Power: Power Manifestation
Realities Created:
Age of X
Age of Apocalypse
Arguments in Favor of a Major Role?
MIA, son of Professor X, Carey run influence
Not only is Legion's power a likely factor in any reality altering, but his connections to all these major players in the Hickman era of X-Men is hard to ignore. Aside from the obvious Professor X, Moira very much took care of Legion on Muir Island, and the personality that manifested the Age of X straight up took the form of Moira to make David feel safe. On the other hand, Legion is also responsible – well, while under the influence of the Shadow King – for killing Destiny, and there have been allusions to a shared psychic relationship between the characters!
2) Jamie Braddock
Omega Power: Reality Manipulation (Quantum)
Realities Created:
Nothing lasting enough to be given a name, but he's absolutely toyed with reality
Arguments in Favor of a Major Role?
Wild card, working with Apocalypse, he was taken to Muir Island for rehabilitation during 90's Excalibur, which means Moira's had her hands on him
Apocalypse didn't place Jamie on the throne of Otherworld by accident. I'm not sure it'll get directly referenced again, but the last time Jamie ruled Otherworld it was as a corrupted future version of himself known as The Goat, a sorcerer hellbent on straight up devouring the multiverse. Betsy had to kill Jamie that go around.
3) Proteus (Kevin MacTaggert)
Omega Power: Reality Manipulation (Psionic)
Realities Created:
Nothing by name, although he has reality hopping experience via his time spent on Exiles
Arguments in Favor of a Major Role?
Part of the 5, Moira's son, historically a loose cannon
4) Franklin Richards:
Omega Power: Reality Manipulation (Universal)
Realities Created:
Heroes Reborn, Post Onslaught
Uh, this one? Post Secret Wars
Arguments in Favor of a Major Role?
Hickman's Fantastic Four, mention in House of X #1, basically gets his own mini in X-Men/Fantastic Four, most powerful of the bunch
If anybody's the odds on favorite to create an alternate reality safe for mutants, it's Frankie ballgame.
I also can't avoid noticing there are 4 designated omega level reality warpers. All we need is one more and we'll have a new The Five, a group I like to refer to as "The Omegas" in what is clearly revealed now as my long con to pitch a Marvel book.
Seriously, though, in both Carey's Age of X and now House of X, there are groups known as "The 5" that keep the system functional. It's probably just a coincidence, but you read enough X-Men comics, and these things start to feel like absolutely planned necessities.
Other non-omega level mutants that have created some version of reality in the past (leaving out Scarlet Witch for the sake of consistency!) include:
Moira!
Realities:
9 Lives
Every implication is that when Moira dies, a lifeline ends, and that "reality" is no longer accessible to… anyone. But the actual specifics here are still a bit cloudy to me. I've been pitching my theory that the Xorn and Rasputin from Moira's 9th life are likely to reappear via Blackhole travel, which would quite literally punch a hole in the idea that there's no travel between Moira's lifelines.
Ultimately, the easiest alt-reality reset button is Moira turning off the console in the middle of a huge L and restarting the game with a shot at life 11, although again, per Destiny's warning to Moira, the 11th life isn't assured.
X-Man (Nate Grey)
Realities:
Age of X
Given the recency of Age of X I think there's approximately 0% chance Nate Grey returns and tries his hand at a new reality again, but we can't discount the fact that Age of X Nate may be involved. For starters, we don't know where he is, and as I discussed in the Hickman's X-Men time gap video, Age of X ends with Nate and Magneto discussing some very ominous plans for the future.
Jean / Phoenix / White Phoenix of the Crown!
One of my absolute favorite possibilities is the return of Jean Grey as the White Phoenix of the Crown, an idea from Grant Morrison and Marc Silvestri's concluding arc "Here Comes Tomorrow" in New X-Men #151 to #154. While the White Phoenix of the Crown isn't a reality warper persay, in New X-Men Jean is able to user her abilities to reach back and change the past to prevent a dystopic future.
I have little doubt there's a lot to come regarding the Phoenix, with Namor recently looking to weaponize the cosmic entity in the pages of Avengers, and Hickman teasing the Phoenix's power in discussions of galactic societies.
And finally other players who just seem like the sorts who might be involved in these kinds of shenanigans include
Xorn/Zorn
Nimrod
Perhaps most importantly, let's name the new Alternate Reality!
Age of X seems like the obvious choice given House of X/Powers of X, but of course, that's already taken! There are two naming conventions that I think would generate the legacy excitement Marvel wants – "House of _blank" and "Age of _blank_".
Here are the names I like.
Age of Sinister
The Moira Millenium
House of Richards
Days of Future X
Legion n' Juice
——————————————————————————————————-
Music for Best Comics Ever by Anthony Weis. Check out more music at anthonyweis.com.
To learn how you can support Best Comics Ever and receive more exclusive content from Comic Book Herald, check out the Patreon: https://www.patreon.com/comicbookherald
For the Comic Book Herald reading club through every year of Marvel Comics, check out mymarvelousyear.com
Podcast: Play in new window | Download