For my 32nd Birthday week, I decided to explore some of my favorite 32nd issues in comics, and that led me back to the Jonathan Hickman written Avengers #32. I wasn't planning on the next episode of Krakin' Krakoa centered around Hickman's Avengers, but this issue, and the "Infinite Avengers" storyline is particularly compelling in connection with Hickman's X-Men and the structure and approach to future timelines. Hickman's Marvel Universe, dating back to 2008, is uniquely interconnected, and it's useful to consider lessons from his previous work that will carry forward into X-Men.
Today I'll answer:
How an Avengers Future is both different and nearly identical to a Mutant Future
How time travel works in the Marvel Universe of writer Jonathan Hickman
Some theories about the way time travel will play a role in X-Men!
Podcast: Play in new window | Download
Spoilers for discussed comics may follow!
Support For Comic Book Herald:
Comic Book Herald is reader-supported. When you buy through links on our site, we may earn a qualifying affiliate commission.
Comic Book Herald's reading orders and guides are also made possible by reader support on Patreon, and generous reader donations.
Any size contribution will help keep CBH alive and full of new comics guides and content. Support CBH on Patreon for exclusive rewards, or Donate here! Thank you for reading!
Related Reading Orders:
Since this all started from my review of Avengers #32, you can check out the full review if you like! Otherwise I'll post here the parts of the script that I didn't include in the issue review.
Avengers #32 in particular also offers a very important glimpse into how Hickman views the nature of time in his Marvel Universe – Cap functions as a stand-in for a pretty common viewing on visions of the future. Cap sees Franklin thousands of years into the future and presumes that this means that future is an outcome that will happen (or at least that there will be a future).
Franklin (clearly banging his head against a wall) explains that Cap's understanding of time is, frankly, all wrong. Here's the full quote, which made approximately no sense to me in the moment, and still generally flies way over my head, but at least clearly connects to X-Men comics!
"Much like society is an organism composed of humans, and the universe is one composed of societies, space-time is an organism made up of universes. It exists and evolves just like we do – like any living thing does – in response to our environment."
"Space-time is an organism made up of universes" – this sci-fi theory comes to fruition in Hickman's exploration of Dominions and the types of galactic societies in Powers of X. In fact, the "Universal" types of societies explanation is basically the annotated guide to exactly what Franklin's trying to explain to Captain America in Avengers (he should have just handed him copies of Powers). Universal societies make up space-time, and in fact beginning with societal intelligence on the scale of a Titan, the intelligence has collapsed space-time into a singularity.
While a lot of this is a real head-scratcher, the big takeaway is that the X-Men and Avengers futures are playing by the same governing principles.
This reading on the nature of time also marks an advance – or at least a modification – on Hickman's own explanations via Nathaniel Richards in FF. Through Hickman's Fantastic Four, Nathaniel is careful to remind Valeria that certain universal constants are a given, even in fluid evolving space-time, and that some events are unavoidable – all they can do is change circumstances around the event.
If this holds true, it really makes me wonder what events in this Avengers future will hold true for the impending Mutant future, and how might the factions react to them differently.
The subsequent time jump connects heavily to Powers of X's futures as well. Right off the bat, the tower of the Worldcore Captain America visits in the most distant future also brings to mind the recurring tower in X-Men.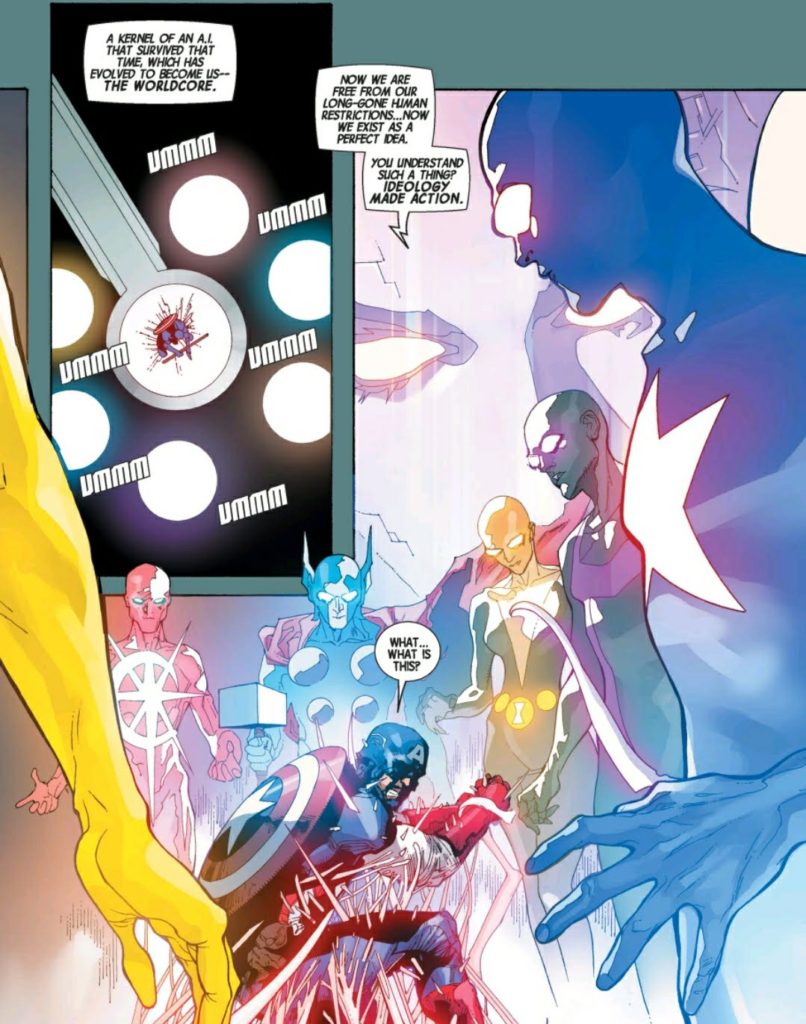 Likewise the evolved AI of this distant future is deeply similar to the Phalanx-ascending post-humans in Moira MacTaggert's 6th life. They voice what in many ways appears to be the deepest desire of the humans in X-Men: Year 1,000 "Now we are free from long gone human restrictions… now we exist as a perfect idea. You understand such a thing? Ideology made action." In two separate distant futures, humanity's quest for perfection results in a hivemind collective absorption into something akin to a broader intelligence.
Because we've only ever seen the human's ascend, a question this leaves me with is what is the mutant version of "ideology made action?" We've never really seen this because, as Moira famously puts it, "We always lose." Perhaps this is the secret that has Moira so scared of precognitive mutants like Destiny – her vision for mutant survival may mean the dissolution of everything that mutants evolved so wholly individually.
A few interesting developments come from the Worldcore's brief history shared with Cap. The first is Hickman's general obsession with various singularity. They grew from "the rotting husk of the Ultron singularity." Again in the worldcore's explanation of time-travel to the past: "Traveling to the past requires a super-massive singularity strong enough to bend space-time."
This brings to mind Xorn, Rasputin and Omega Sentinels black hole. I've theorized previously that we haven't seen the last of these Powers of X players, and I can't help but believe Hickman's own previous use of a super-massive singularity that can bend space-time is going to reemerge here to bring these characters back into our X-Men narrative.
I won't pretend to understand the science of singularities in earnest (I just read a few articles on scientific journal sites, and I think one of my eyes can see gravity now?), but if the end result is a means to travel across Moira's lifelines – again not time travel, not necessarily travel across the Marvel multiverse; this is something else! – I certainly buy in.
Arguably the coolest aspect of the Avengers Worldcore future, though is their war "fought throughout space and time."
"In order to achieve perfection we created protocols to reimagine our creation. A plan to correct future errors before they occurred." Doesn't this time travel approach to mutant survival sound like the sort of thing that might deeply appeal to Moira and Krakoa? We already know from House of X that Moira and Charles Xavier set up protocols to catch the potential build of a Nimrod, so why not protocols to predict and prevent "future errors" before they occur in the same way?
Likewise, Hickman has fun with the Marvel Universe in the final "infinity" future, corralling Iron Lad, Kang the Conqueror, and Immortus together as the Last Avengers. I'd really love to see the X-Men's version of this, and the time-travelers who could be involved.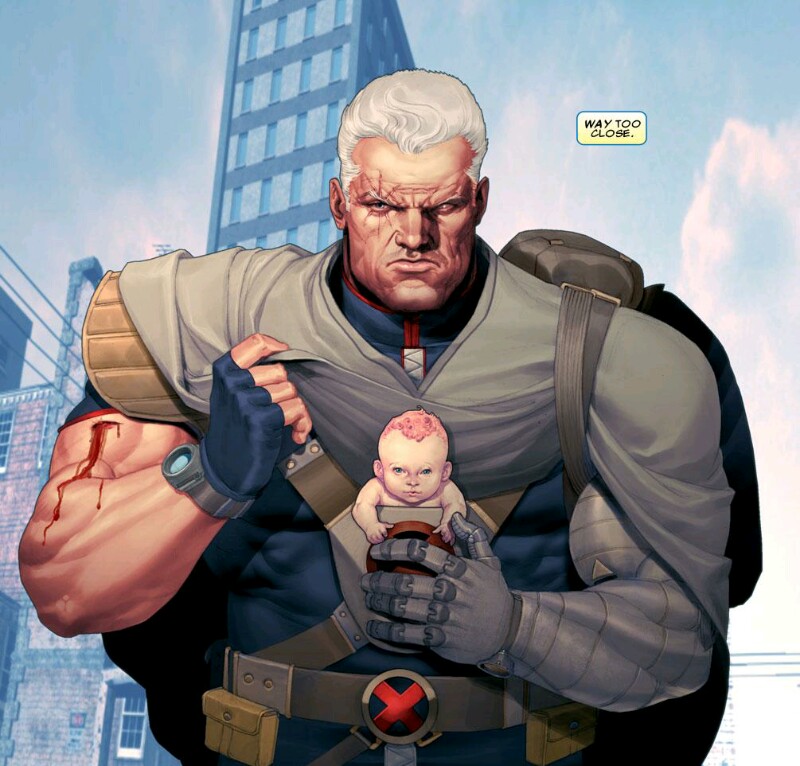 Time traveling X-Men (or adjacent characters) who could play a similar role include
Cable (he even has a house at the end of time!)
Bishop
Nimrod
Or even something as awesome as Venom: The End (Venom)
Plus, what is future Franklin's role in the growth of Krakoa? He's here waiting for Cap in the Avengers future, but surely he would now have a role in sustaining a future for mutantkind.
Big picture, I suspect the role of time travel and mutants with powers related to traversing space-time will play a substantial role in this story by the time all is said and done. I'm still generally unclear why Moira MacTaggert is quite so up in arms about precognitive mutants, but with minimal qualms about known time-travelers. If visions of the future worry her, why don't trips to the future?
Likewise, it's not like the X-Men (here's looking at you Beast and Age of Ultron Wolverine) have been particularly careful about messing with time travel and the timestream. If all that careless action is coming home to roost, it could also seemingly interfere with the Krakoan triumvirate's best laid plans.
One major question that remains for me:
Does Secret Wars and the "end of everything" signify the end of Hickman's Avengers futures, and the start of mutant futures? I still have a fair amount of questions about the build and aftermath of the 2015 event.
Next Time – What would you like to see covered? I have the following topics queued up for coverage:
The Mike Carey X-Men run and its influence on the Krakoa Era
Omega Level Mutants explored
Sinister Secrets Pt 2
X-Men and Limbo
——————————————————————————————————-
Music for Best Comics Ever by Anthony Weis. Check out more music at anthonyweis.com.
To learn how you can support Best Comics Ever and receive more exclusive content from Comic Book Herald, check out the Patreon: https://www.patreon.com/comicbookherald
For the Comic Book Herald reading club through every year of Marvel Comics, check out mymarvelousyear.com