Avengers #32 falls smack in the middle of perhaps the densest portion of the Jonathan Hickman written Avengers that ran from 2012 to 2015 before culminating in the best comic book event of all time, 2015's Secret Wars. It's a crucial juncture in the intersecting master plan of Hickman's New Avengers / Avengers dueling stories, and the kickoff to "Time Runs Out," when the blend between issues of New Avengers and Avengers wholly consumes the distinct differences in each series.
For more on why I'm reviewing my favorite 32nd issues of comic books, check out the intro review of Amazing Spider-Man #32!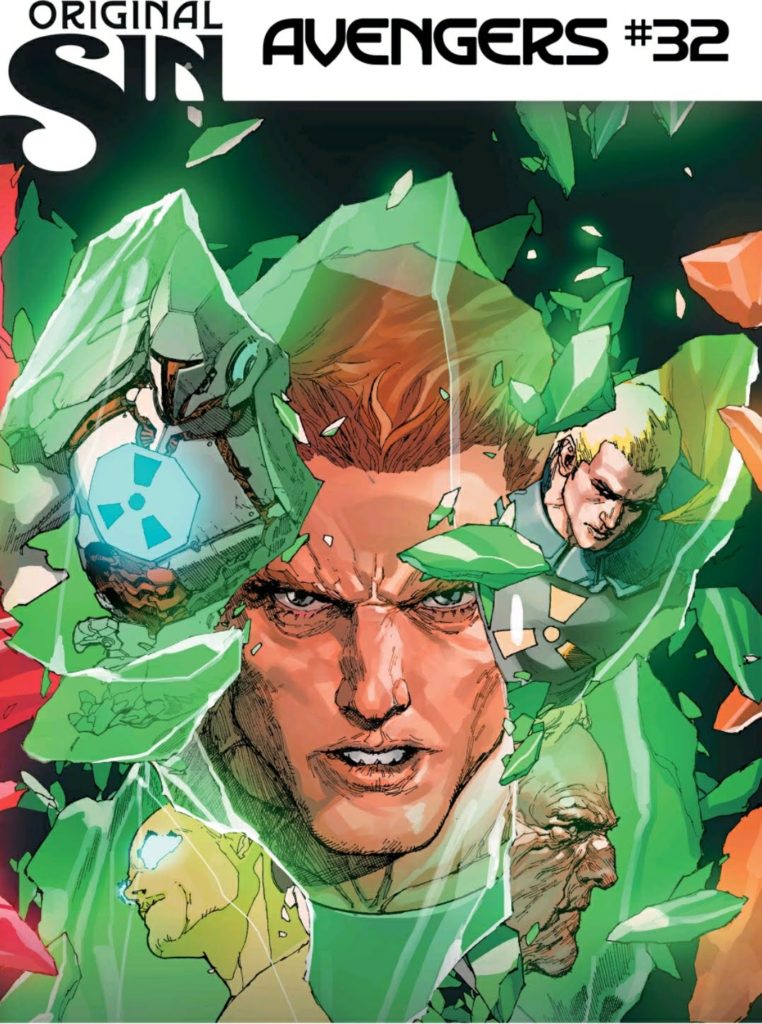 More excitingly, Avengers #32 (and the arc it's a part of) is flippin' weird, jam-packed with future-flung science fiction and a seminar on the nature of time. For readers already on the fence with Hickman's approach to writing the Avengers, I have to imagine this was a bridge too far, and even for a superfan like myself, I can fully admit "Infinite Avengers
"  is Hickman at his most trying. The sheer weight of the concepts, and professor of philosophy on cocaine tone, is far from flawlessly executed. There are certainly more questions than answers by the time all is done.
The set-up is that the fallout from Original Sin restores Captain America's memories of the events in New Avengers #1 to #3, in which he briefly worked with the Illuminati, used an Infinity Gauntlet to prevent a planetary incursion, shattered all the gems, and shortly had his memories wiped by Doctor Strange so the Illuminati could carry on without him. His rage at Tony Stark's role in the Illuminati, and betrayal of Cap behind the real purpose of building his "Avengers Machine," is intercepted by the reemergence of the time gem, which flings Cap and the Avengers further and further into the future with a mind of its own.
Hickman and Yu's Original Sin tie-ins also pull off the impressive feat of continuing the narrative progression of the run as intended, while thematically connecting to the BIG MARVEL EVENT. Original Sin is a mixed bag of an event written by Jason Aaron (pros: Punisher/Doctor Strange team-up, dusting off Grant Morrison Marvel Boy villains, sets up the incredible Jane Foster/Thor run — cons: Disappointing mystery, overly transparent attempt to reconcile Samuel Jackson as Nick Fury in the MCU), but Avengers doesn't really suffer in any meaningful way from "tying in."
Support For Comic Book Herald:
Comic Book Herald is reader-supported. When you buy through links on our site, we may earn a qualifying affiliate commission.
Comic Book Herald's reading orders and guides are also made possible by reader support on Patreon, and generous reader donations.
Any size contribution will help keep CBH alive and full of new comics guides and content. Support CBH on Patreon for exclusive rewards, or Donate here! Thank you for reading!
Avengers #32 picks up "Five Thousand Into the Future," after time jumps of 48 years and 422 years (technically, it's "Betrayal + 5,045 years"). It's the most calming jump into the future so far because Captain America, Black Widow and Starbrand are met by a friendly face, Franklin Richards. It's an excellent callback to developments to Hickman's own work in the pages of Fantastic Four
, with adult, bearded and ponytailed Franklin awaiting the Avengers and telling them "I can't die" (an idea that is nicely solidified in The History of the Marvel Universe
by Mark Waid and Javier Rodriguez).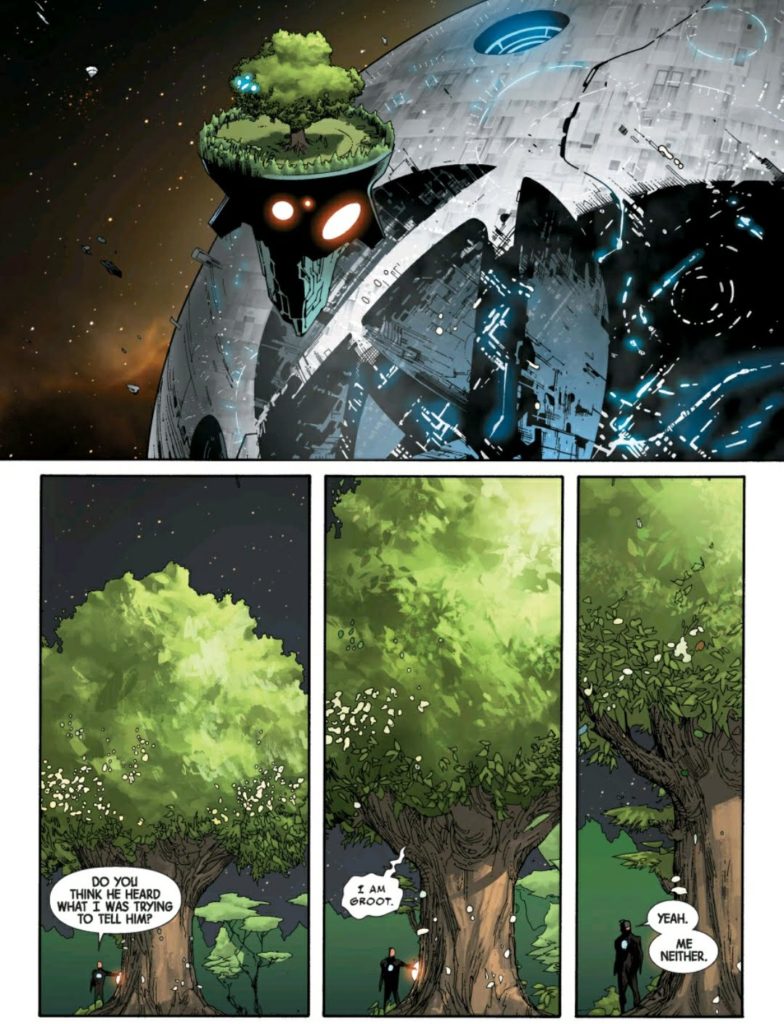 Franklin takes the Avengers on a journey into space on his Groot-Island-Ship (big time Krakoa vibes – But we'll get there!), sharing "humans as defined without the Earth," and the "lifeblood of the human-android fusion economy." He then offers an increasingly frustrated Captain America (as a very believable reader stand-in!) the opportunity for some "answers" at last.
For the most part, the answers revolve around the final outcome of a true "Avengers World" (literally a moving planetary defense system), set-up and explanation for the "Rogue Planet" in the pages of Avengers, and teases for Cap's role in the "Time Runs Out" build up to the inevitable end of everything in Secret Wars. In the moment they felt like tantalizing teases, and in retrospect it's interesting to consider just what the heck Franklin thought he was actually trying to accomplish. His clearest instruction is that Captain America should ignore Hawkeye's final advice to work in opposition to the Illuminati, with a resignation that Cap could never do that.
The dense nature of Avengers #32 and the "Infinite Avengers" arc is very re-readable, and now this portion of the Hickman Avengers is approximately 10 to the power of X times more fascinating in the wake of Hickman's more recent work in the House of X / Powers of X era of X-Men.
Certain details gain new resonance in the wake of Hickman's X-Men (augmented by the artistic contributions of X-Men collaborator Leinil Francis Yu), such as Franklin's serene garden home, the strange garden-pod-egg food Starbrand snacks on, and an overall "Is this future Krakoa" aesthetic ony undercut in the issue's final "Groot" reveal (although it's conceivable that Franklin simply found a way to bring Groot and Krakoa together). 
Big Boy Frankie espouses the virtues of a borderless human ideology, although knowing he's a mutant, it's odd (in retrospect, only) that he makes no mention of this. Mutantkind is – I like to assume deliberately – completely left out of the Avengers World alliance, which includes Inhumans and superguardians. As a result, I think it's reasonable to note Hickman's vision for the Avengers and the X-Men are parallel timestreams, if not incompatible, at least not intersecting.
This is the Avengers future, so the "machine" component of futures is based around Ultron instead of Sentinels, but the general framework is actually very similar to Powers of X. Much like X-Men Year 100, the "second" Avengers future is very much man vs machine, with Cap and company winding up on Planet Ultron.
Speaking of Ultron, that specific threat may well have been symbolically replaced by Nimrod in our Krakoa era timeline, but it's still a Marvel Universe threat to account for. Given the themes of mutant vs. man vs. machine throughout the X-Men's futures, it's an intriguing game to consider villains or concepts traditionally outside the scope of mutantkind that fit into the threat of exponentially dangerous AI and post-human advances that threaten mutant survival.
Avengers #32 in particular also offers a very important glimpse into how Hickman views the nature of time in his Marvel Universe – Cap functions as a stand-in for a pretty common viewing on visions of the future. Cap sees Franklin thousands of years into the future and presumes that  mean that future is an outcome that will happen (or at least that there will be a future). 
Franklin (clearly banging his head against a wall) explains that Cap's understanding of time is, frankly, all wrong. Here's the full quote, which made approximately no sense to me in the moment, and still generally flies way over my head, but at least clearly connects to X-Men comics!
Much like society is an organism composed of humans, and the universe is one composed of societies, space-time is an organism made up of universes. It exists and evolves just like we do – like any living thing does – in response to our environment.
Whether we're talking Secret Wars or Powers of X this is all quite critical: future's are not certain nor assured. In the broad meta interpretation this is also increasingly crucial for Marvel Comics. "Days of Future Past," Jason Aaron's King Thor, Moira's Powers of X, Cable and Bishop's futures, the future Gert led Avengers from Runaways… there's an endless stream of possible futures in the Marvel Comics timestream, and keeping track of outcomes is much easier to solve creatively when you allow for the fluctuations of evolving time.
So, no, none of Cap's "Ghosts of Avengers future" need to come to pass, but they certainly could. The flexibility of the great mystery is the critical ingredient, and it's sprinkled heavily throughout this story.