Since Powers of X #4, some of the more tantalizing mysteries and riddles in X-Men comics can be found in Mister Sinister's "Sinister Secrets" a gossip column found in the pages of various books.
Today I'll answer:
+ What's the meaning behind every Sinister riddle released so far in the Dawn of X?
+ What do the Sinister Secrets mean for X-Men comics in 2020?
+ Why Sinister Secrets has continued in the pages of Marauders and not the Hickman written X-Men.
Podcast: Play in new window | Download
Spoilers For Discussed Comics May Follow!
Support For Comic Book Herald:
Comic Book Herald is reader-supported. When you buy through links on our site, we may earn a qualifying affiliate commission.
Comic Book Herald's reading orders and guides are also made possible by reader support on Patreon, and generous reader donations.
Any size contribution will help keep CBH alive and full of new comics guides and content. Support CBH on Patreon for exclusive rewards, or Donate here! Thank you for reading!
https://youtu.be/i2hlSPJzSiU

Sinister Secret #1:
The most direct interpretation is to continue scanning X-Men comics for a Mister Sinister clone wearing red shoes.
Since that hasn't appeared yet (although we have recently seen Sinister coveting Exodus' epaullettes!), it's tempting to explore alternate meanings for the riddle. There's actually an astonishing range of symbolism for red shoes, from pop cultural connections to Dorothy in the Wizard of Oz, to feminist movements, to straight up Satanism (you know, to hide the blood drops from your sacrifices!).
The connection I like the most, though, is to Hans Christian Anderson's horrific fairy tale titled "The Red Shoes." In this story a young girl named Karen insists on her wearing her dopest red shoes everywhere – including (gasp!) to church – , and her vanity gets her cursed so that her red shoes never stop dancing. Even after she has her feet amputed by the local executioner. I told you it was horrific.
The moral is effectively "don't be vain," which is not high on Mister Sinister's list of fairy tale morals learned. So while the secret could be in reference to a Sinister clone, or even more exciting, an alternate reality Sinister, it could also just be a riddle telling us that Mister Sinister is impossibly vain, and that his ego will always drive him to "truly sinister" acts of betrayal. He'll always be plotting something in secret that may throw everything Moira, Magneto, and Professor X are planning out the window.
Sinister Secret #2
The thrill of cracking the second Sinister secret has gone, as "the flower that's the fullest," aka Jumbo Carnation – a Grant Morrison creation from New X-Men, began appearing in the pages of Marauders. Jumbo was famously murdered in New X-Men but has since been revived and is busy bonding with the likes of both Emma Frost and Callisto on Krakoa.
Sinister Secret #3:
The "deceased redheaded pretender" is clearly a reference to Madlyene Pryor, Sinister's clone of Jean Grey who went on to become the Goblin Queen during the X-Men event Inferno, circa 1989. Worth noting here that this is not the only reference to Inferno we'll be seeing throughout Sinister's secrets.
The most interesting tease is that Pryor – who we've already seen returned in the pages of Hellions #1 – left behind more than secrets. Possible secrets left behind by Maddy include:
Demons – from her reign as Goblin Queen, there may be demon sleeper agents Madylene Pryor left behind all around the world. This would support my theory that we're due for an impending Inferno 2.0 event from Marvel and the X-Men line.
Kids – Madylene is Cable's birth-mother, and given Scott Summer's world's worst father approach to her and baby Cable, it would not be surprising if there was a second child she'd kept secret from Scott and company.
Sinister Clones – During the Kieron Gillen run of Uncanny X-Men we see Sinister at times surrounded by clones of Madylene Pryor. While these clones appear less autonomous than the original, it's not impossible that the real Maddy has collected an army of clones as well.
Sinister Secret #4:
Sinister #4 is one of the trickiest to decipher, so I have two working theories, and I find both of them super exciting. For the first, I have to credit a really cool CBR theory (https://www.cbr.com/powers-x-sinister-10-secrets-explored/) that suggests this may have to do with Captain Marvel's role in Jonathan Hickman and Esad Ribic's 2015 Secret Wars.
In the aftermath of Secret Wars #4, Carol Danvers, Captain Marvel, one of only a handful of survivors from Earth-616, quite literally washes up on Bar Sinister, the Baron Sinister's domain in Emperor Goddoom's Battleworld.
Next we see Carol, she's wearing a Sinister diamond in the middle of her forehead, and scheming with the Baron about plans to betray Emperor Goddoom in the climactic final event battle.
Honestly, there's so much left to parse out here, from who's really in charge (Carol's straight punching Sinister in the face to get him where she wants him, but Sinister seems to like it!), to whether or not this is really Carol Danvers of Earth-616 or a clone (hence the red diamond). Plus there's some delicious wordplay to be had with "everyone's wrapped up in current events," signaling that a past event comic may be exactly what Sinister #4 is a reference to. If all of this means a Battleworld Bar Sinister Carol – a longtime X-Men ally – I'll be over the moon.
The other possibility is a reference to Kate Pryde, and her inability to use Krakoan gate technology throughout the Dawn of X. In a sense, Kate washes ashore in her tiny sail vessel in Marauders #1 due to necessity. Kate's struggles to use gates "for all mutants," makes me wonder if she could be a part of "all things Sinister," or in other words a clone, tempered genetics via Mister Sinister.
A couple reasons why this might be the case:
First off, Kate names her team the Marauders, a team-name previously only used by Sinister's murderers for hire. Likewise, "Sinister Secrets" number eleven through twenty have all been published in the Marauders comic book series, despite the absence of Sinister himself in any of these pages. Why would that be the case unless Sinister was playing a crucial narrative role behind the scenes?
Again, as far as we know  the artist formerly known as Kitty is the only known mutant who can't access Krakoa via gates, and it has since been revealed that she can't be revived via mutant resurrection protocols either. This could explain Sinister's caution not to embrace the revelry to his sinisters – there won't be anything for you to celebrate because his clones can't be revived.
Sinister Secrets Revealed #1:
In revealing where Sinister got his implanted mutant genes, he characteristically raises even more questions. Sinsiter's mutant gene is from John Proudstar, aka Thunderbird, who was introduced in 1975's Giant-Size X-Men #1 before promptly dying the next mission during Chris Claremont's start on Uncanny X-Men #94.
Apart from the mystery of why Sinister would select Thunderbird, there's also the mystery of why Thunderbird may or may not have been resurrected on Krakoa. Unlike basically Marvel character, John Proudstar has generally stayed dead (a temporary "Necrosha" or "Chaos War" event notwithstanding). His ghost-like appearance in the recent Giant-Size Nightcrawler also calls into question – just where the heck is John Proudstar?
Now, Sinister's ownership of Thunderbird's DNA implies a couple things:
1)Sinister was there at the start of the All-New All-Different X-Men lineup in some capacity, close enough in one of his many alter egos to get access to John Proudstar.
2)Or, John Proudstar did not die in the Uncanny X-Men 94/95 plane explosion (after all, Count Nefaria survived too), and Sinister may have found the body. This gives me serious X-Men the Animated Series "Morph" vibes, where Sinister found and manipulated a former X-Men character for his own nefarious ends. I realize this doesn't really jive with Necrosha or Chaos War, but that's just as far as we know!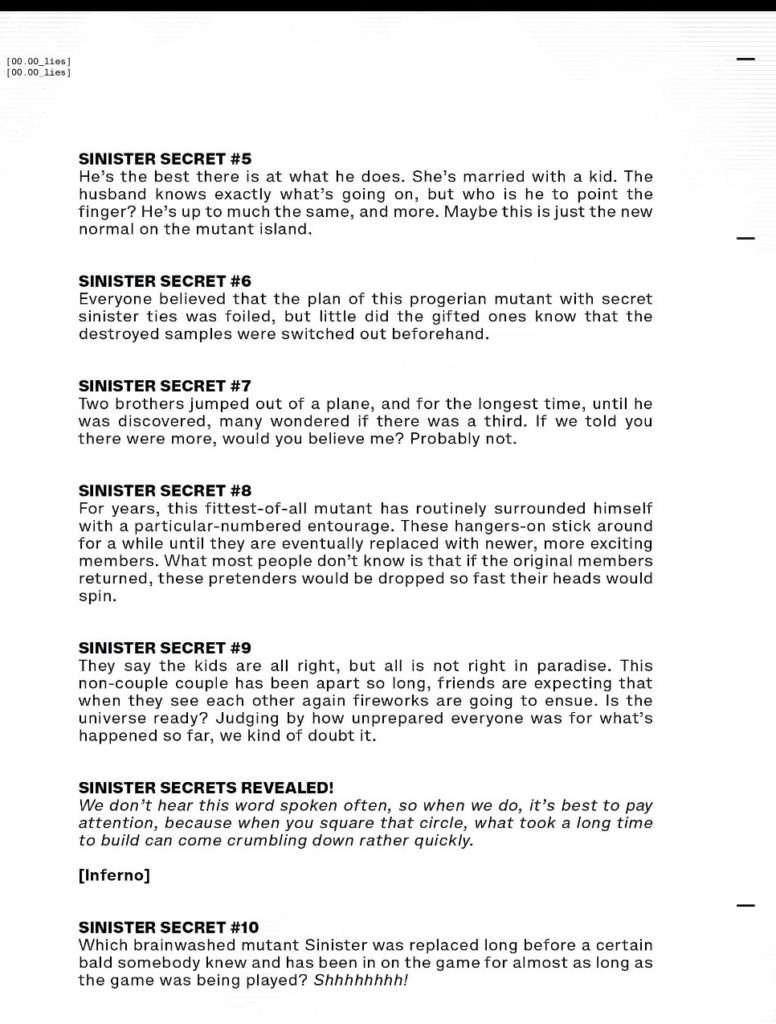 Sinister Secret #5:
On the surface, this is clearly a reference to Wolverine, Jean Grey, Scott Summers (and maybe Emma's) polyamorous relationship status, but there's one detail that muddies that waters: "She's married with a kid." Jean Grey and Scott definitely got married, but technically Jean didn't give birth to Nathan Summers, aka baby Cable. That said, Nathan's the son of Scott and her clone, and during the Adventures of Cyclops and Phoenix she certainly takes on the role of Cable's mom, so I'm willing to roll with it.
We've certainly seen plenty of indicators that the love lives of this longtime romantic competition are in a "new normal," from open door plans in the Summers house, to the way Wolverine interacts with Jean and Scott in the likes of Wolverine #1 and X-Men #7. In other news, I'd like a little bit of credit for making it this far into the secret without a cringe-inducing use of the phrase "thrupple."
Sinister Secrets #6:
Secret six is actually very clear, but only if you've read the short-lived Spider-Man and the X-Men.
The progerian mutant – progeria is a disease that causes rapid aging or the appearance thereof – is Ernst, one of Spider-Man's students at the Jean Grey School. During the series it turns out Ernst is a mole for Mister Sinister, collecting DNA samples of every student and teacher at the Jean Grey School, in order to get Sinister to help create a new body for No-Girl, aka Martha, aka Ernst's best friend since New X-Men. Although Spidey and the "special class" stop Sinister in that series, he reveals here that he maintained his DNA samples of the Jean Grey School students and staff.
Sinister Secrets #7:
I've already gone mildly overboard on the role of Vulcan in the X-Men's Krakoa era in another ep of Krakin' Krakoa, but I'll summarize two possible theories here, both of which revolve around the presence of multiple copies of Gabriel Summers:
The first is my initial theory that when Shi'ar Emperor D'ken aged baby Vulcan up to his teenage years, he kept copies of Vulcan's DNA and created clones. We know the Shi'ar have this tech, so not that hard to extrapolate.
The wilder, and more entertaining theory – which I've seen posited by several readers in the CBH Youtube channel comments – is that the Vulcan we see resurrected on Krakoa is not the same Vulcan that was left to die in the Fault during War of Kings, and remains very much alive! I don't know how Sinister of all people would know about Emperor Vulcan's true status (unless he's returned and they're working together!), but it would go a long way to explaining why Gabriel Summers is no longer acting like a psychopath murderer on Krakoa.
The other likely, frankly hilarious possibility is the long anticipated reveal of Adam X the Xtreme as another Summers brother. In addition to the most 90's character to ever 90s, Adam is a shi'ar/mutant hybrid, with a mysterious connection to the Summers family, long rumored to be the actual third Summers brother until Gabe entered the season in X-Men Deadly Genesis.
Sinister Secrets #8:
We've gotten plenty on this one throughout the Dawn of X, and I've covered a few Krakin' Krakoa's on the secret history of Apocalypse's first horsemen, and my theory that X of Swords will be heavily focused on these horsemen.
Long story short, Apocalypse's first, most powerful horsemen are trapped on Arakko, at his behest, keeping Earth safe in eternal war. He'd like to free them!
Sinister Secrets #9:
This one could certainly go a lot of directions, but I have one strong leading theory, and then several "well why nots?"
My leading guess is Sinister #9 refers to Warlock and Doug Ramsey. This would not have been my first guess in the aftermath of House of X / Powers of X, but especially in light of X-Men #7 and Giant-Size Nightcrawler #1, the clues are starting to pile up. First off, looking at the secret, the copy refers to "the kids," which would be most in line with these longtime New Mutants. Cypher and Warlock aren't a romantic couple (as far as we know) but they have been linked as both friends and Douglock, a more symbiotic relationship, making them a total non-couple couple.
Now, in regards to the fireworks we can expect, this remains mysterious, but what I find intriguing is the fact that Doug is clearly keeping Warlock's presence secret from the reset of the Krakoan nation. When Illyana sees Warlock in Giant-Size Nightcrawler, Doug makes her swear not to tell anybody. This has the potential to tie into the line "is the universe ready," as Warlock's presence as a technarch on Krakoa may lead to a war with either the Technarchy or Phalanx, alien races long tied to the character, and heavily utilized in Powers of X.
Other guesses that lose the « kids are all right » connections:
Jean/Phoenix
Professor X/Moira
Mystique/Destiny
I particularly like the possibility of a reference to Jean and the Phoenix Force given the promise of « fireworks » and concern for the universe!
Sinister Secrets Revealed #2:
Sinister's anticipation of an upcoming "Inferno" 2.0 is quite interesting, and we've already seen hints of connections to the original inferno popping up through the Dawn of X, and elsewhere in Marvel Comics.
For those newer to X-Men, "Inferno" was a massive crossover event in 1989 that impacted all the X-Men comics, as well as many across the Marvel Universe. There are a lot of threads within, but the main hook is a demonic invasion of New York City, with Madylene Pryor turning into the Goblin Queen, and Illyana Rasputin finally giving in to her darker Darkchylde persona.
So how are we moving towards Inferno 2.0?
As previously mentioned, the return of Madylene Pryor, the Goblin Queen, is an instant pull back towards Inferno.
Not for nothing, there's also Mephisto's "Hotel Inferno" planted right in the middle of Marvel's Las Vegas currently
And finally, Belasco, longtime ruler of Limbo (dimension of these demons) with bigtime connections to Illyana Rasputin, has recently been seen creeping around the pages of Marvel's Ghost Rider
Sinister Secrets #10:
When Charles Xavier and Magneto turn to Sinister for aid in Powers of X #4 (If memory serves, strongly against the advice of Moira MacTaggert), Charles uses his psychic abilities to make Sinister forget why he's working on creating genetic databases for them until Professor X deems it the right time. Sinister #10 tells us that the Sinister Charlie brainwashed is no longer running the show, and that Professor X and Magneto's planned control of the glamorous mad scientist has been lost.
This may also mean that the Sinister on Krakoa isn't even a mutant, or potentially that he's using DNA other than Thunderbird's (or some combination a la a Chimera). Either way, it locks in the already locked in eventuality that a Sinister betrayal is on the horizon.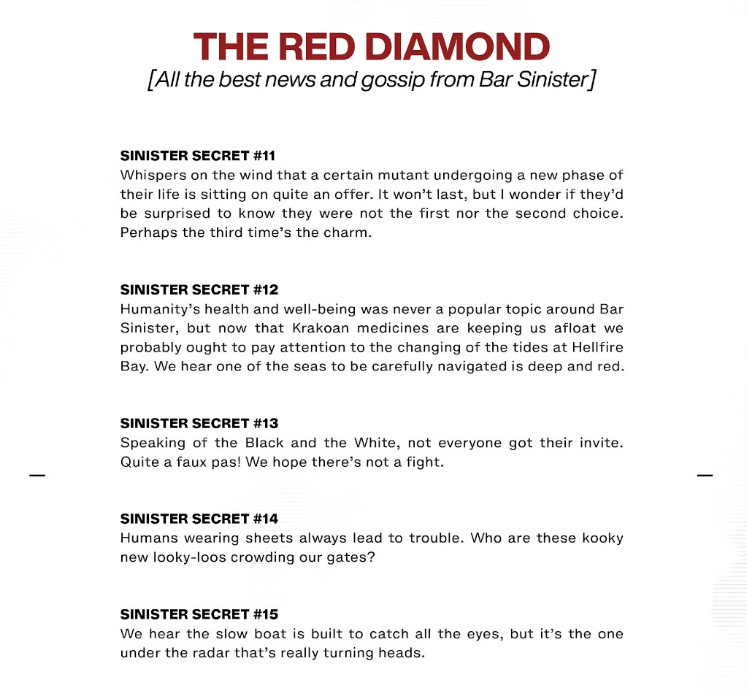 Sinister Secret #11: (Selections from Marauders #1)
From Marauders, we clearly know Kitty/Kate is offered and eventually accepts the position of the Hellfire Club's Red Queen. We also see Emma offer Storm the position but it's unclear who the alternate second choice may have been. We know Shaw was offering the position around until he was overpowered by Emma Frost's status.
While this might seem kind of irrelevant, now that Shaw has assassinated Kate, and The Five are unable to bring her back, Shaw's pick for leader of the Red may again be relevant. There were a ton of theories about who this might be before Kate was confirmed (including a whole Krakin' Krakoa by yours truly), but my favorite pick right now remains Selene, the vampiric mutant with Hellfire Club ties.
I'll also fixate on Sinister's use of "it won't last," which implies he either had knowledge of Shaw's plans to assassinate Kate, or he's running his own game here on Kate Pryde, and knows things like why Kate can't use the gates, or (apparently) undergo resurrection.
Sinister Secret #12:
Feels like foreshadowing for the eventual attack on Kate Pryde and Lockheed that has left Kate absent from Marauders (presumed dead) and Lockheed in recovery. I'd consider this "secret" pretty well resolved.
Sinister Secret #13:
Who has been left out of Hellfire club proceedings that would be the most pissed off? There are plenty of great options here, as well as some very unlikely ones (shouts to OG Hellfire Inner Circle dude Harry Leland), but I have two favorites.
1) Tying back to one I previously mentioned, Selene has a long, long history with the Hellfire Club. She's also the sort who would take great offense to not even being invited by Shaw and Emma.
2) The second is a longer shot, but that would be the inclusion of one Miss Sinister, believe it or not, a former Hellfire Culb inner circler herself! I have no idea what to make of Miss Sinister in this Krakoan era of Sinister Secrets, but her presence would certainly get my attention.
The final theory that inverts the use of "Black and White" to mean the character's costume instead of the Hellfire Club's inner circles could make a case for a return of Fantomax. These are pretty loose connections (it's the color scheme and the use of the French "faux pas") so I don't have a ton of faith in that.
Sinister Secret #14:
In addition to making us aware of Sinister's recent read of the absolutely incredible Superman Smashes the Klan, this secret uses the phrase "looky-loo" which means someone who keeps looking without buying (for example at a store window), or who keeps looking at something giving it unwanted attention.
My first thought, given the hate group connotations of "humans wearing sheets," is a group like the Purifiers, most commonly associated with General William Stryker, and viewing themselves in a holy war against mutants. It could also easily be in reference to new mutant-obsessed religions like those that have popped up in the pages of X-Force.
It also doesn't seem like a total accident that the allusions to KKK occur in a series that had the literal Hate-Monger show up, so I could see this having something to do with Hominus Verendi as well.
Sinister Secret #15:
Initially I thought the use of "turning heads" could mean snapping necks, which brings to mind X-Force, but I'm not sure what they have to do with boats.
Instead, I expect this secret is a reference to Yellow Jacket's miniature submarine inside Pyro that he used to make his way to Krakoa, until the mutants jettisoned him in Marauders #9.
That said, the Marauders vessel isn't the only one in use by the Hellfire Club, as we've seen ships belonging to Christian Frost and Shinobi Shaw. The secret could still refer to one of the Hellfire Club's own ships.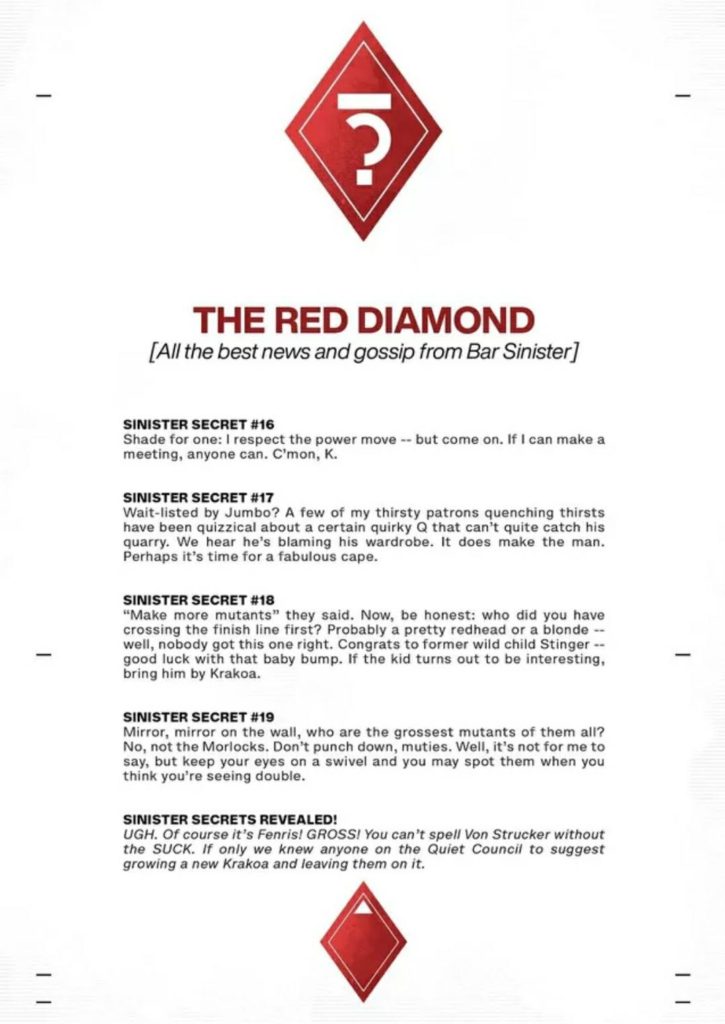 Sinister Secret #16: (Selection as seen in Marauders #8)
This is an odd one of the surface because it appears to just be Mister Sinister calling out Kate for missing a meeting (you know because she was busy drowning).
If you buy into my theory that there's a reason "Sinister Secrets" has moved to the pages of Marauders, though, this ties back to the theory that Sinister is way more involved in Kate's status than we've seen, and he's really digging in here. Of course he respects the power move – he made one years ago when he replaced Kate with a clone, or in some way altered her DNA using the Jean Grey School samples he stole (with Ernst's help!).
Sinister Secret #17:
A "Certain quirky Q" sounds like Quentin Quire, and this sounds like Quentin's trying to impress a girl on Krakoa and needs an outfit from Jumbo Carnation to make it happen (or so he believes).
I can't say who Quentin is after (he's historically had a relationship with the Stepford Cuckoos but there's a lot of baggage between them there), but I do like bringing him and Jumbo back into a plot thread. Back in Grant Morrison's time on New X-Men, it's Jumbo's death following a hate crime that inspires Quentin to rebel and "Riot at Xavier's."
Sinister Secret #18:
I thought maybe this was a play-on-words, but nope, Stinger is actually a direct reference to a deep-cut in mutantdom, one Wendy Sherman, debuting as part of Apocalypse's short-lived Alliance of Evil in 80's X-Factor. During the Utopia era of X-Men Stinger and Bobby Drake became friends, so it's not impossible that the mom-to-be will play a role in Marauders moving forward.
Sinister Secret #19 + Sinister Secret Revealed #3:
Immediately revealed as Fenris, and of course, Sinister's right! Fenris SUUUUUCCKKKKS. In Mauraders #8, Shinobi Shaw brings the Von Strucker twins into the fold as his black knights, and we're all poorer for it.
In short, Andrea and Andreas Von Strucker are the twins of Baron Von Strucker, and like their dad they're Nazi supremacists. Their mutant abilities – implanted by Dr. Arnim Zola – activate when they're in contact with one another, so if you start getting Cersi / Jaime vibes, there's a reason. In their first appearance, Andrea shoots Storm in the head, so let's just say the Von Struckers are a controversial add to the Krakoan population.
On a final note, as fun as it is to dissect all these Sinister Secrets, it's also a reminder that almost no one on Krakoa is as plugged into mutantkind's day to day as Mister Sinister. On one hand, yes, I take for granted that Sinister Secrets are a convenient plot device to deliver all these riddles in one place, but practically speaking, it also means Sinister has eyes and ears absolutely everywhere.
Plus, having no done the extensive research, I have to consider that Mister Sinister is one of the least trustworthy voices on Krakoa, and that his secrets might mean nothing at all, or be entirely fabricated! After all, it's a gossip column, and believing everything you read there is a recipe for letdown.
Nonetheless, some secrets have already paid dividends, and I expect more will in the future!