The highly anticipated follow-up to Tom King and Mitch Gerads all-time great Mister Miracle arrives today with Strange Adventures #1, a 12 issue DC Black Label limited series bringing in artist Evan "Doc" Shaner on an Adam Strange story. It's without question one of the most anticipated comics of 2020.
Today I'll answer:
+ Who is Adam Strange?
+ Why are King, Gerads, and Shaner following Mister Miracle with this character?
+ What is Strange Adventures doing that sets itself apart from standard superhero comics?
Support For Comic Book Herald:
Comic Book Herald is reader-supported. When you buy through links on our site, we may earn a qualifying affiliate commission.
Comic Book Herald's reading orders and guides are also made possible by reader support on Patreon, and generous reader donations.
Any size contribution will help keep CBH alive and full of new comics guides and content. Support CBH on Patreon for exclusive rewards, or Donate here! Thank you for reading!
Podcast: Play in new window | Download
Strange Adventures
#1 introduces readers to Adam Strange, man of two worlds, Earth-born hero of Rann, and his alien wife Alanna. To convey the dichotomy of Adam Strange's duel lives – the costumed adventurer defending the near utopian Rann, and the archaeologist and now published memoirist of Earth – Evan Shaner and Mitch Gerads split art duties, sometimes on the same page.
It's a fascinating, generally effective split workload, with Shaner's clean pencils evoking superhero action in its purest distilled form – indeed, it's Shaner who frequently designs DC's Golden Age omnibus covers for his ability to evoke that feeling of timeless hero mythology – and Mitch Gerads working the grime, grit, and general uncertainty of present day Earth.
Dating back to his 1958 creation by Julius Schwartz and Murphy Anderson – essential assists from Gardner Fox and Mike Sekowsky – the premise of Adam Strange is that he travels 25 trillion miles between Earth and Space using Rann's Zeta Beam technology. The Zeta – or teleportation – beam becomes integrated with Adam Strange's being, and for much of his history has a limited, fairly unpredictable holding time, meaning Strange will often "fade" back to Earth at inopportune times.
Throughout the Silver Age these stories can be found in titles like DC Showcase, Mystery in Space, and later reprints in Strange Adventures!
To get back to Rann, in the Alpha Centauri star system, Adam Strange has to calculate where and when the next Zeta Beams will arrive, creating plenty of recurring tension every time he misses a beam or something goes awry. In addition the practical tension of the hero stranded on his home planet, this is also generally the device used to manufacture romantic tension, as Adam's love is "lost in space."
On Rann, Adam Strange is turned into the planet's champion – effectively their one man police force or army – and also falls in love with Alanna. During Alan Moore and Rick Veitch's work on Swamp Thing, it's revealed that Adam and Alanna will be having a baby, who will go on to be known as Aleea.
For my money, if you're looking for good Adam Strange comics to read alongside Strange Adventures, I'd first point you to the aforementioned two part Swamp Thing
story written by Moore, in issues #57 and #58.
For entries in what would be considered the current DC Rebirth canon – after a fashion – I like Death of Hawkman (which I maintain is actually an Adam Strange story) and Strange's supporting role in the Grant Morrison and Liam Sharpe The Green Lantern #6
There's also an Adam Strange reading order in the show notes if you want the whole guide on CBH!
Tom King has been one of my favorite comic book writers since 2016, with truly memorable works like Marvel's Vision, Vertigo's Sheriff of Babylon, and of course, DC's Mister Miracle, which I currently have ranked as my 6th favorite comic book of all time.
Universal adoration for King's work definitely soured following the conclusion of Mister Miracle
, though, with both his Batman run and especially Heroes in Crisis disappointing and outright enraging fans.
Honestly, this puts Strange Adventures in the position of reclaiming King's status as one of the best writers in comics, working with Shaner and Gerads towards a narrative of returning to form.
In Strange Adventures #1, Adam and Alanna are on Earth – seemingly for good – and Adam Strange is promoting his memoir, "Strange Adventures." Adam's generally hailed as a hero, until an extremely angry fan shows up at a book signing and tells Adam he knows what Adam did to the Pykkts, the "invading" alien race we see Adam fighting in the Shaner drawn flashbacks. Although it also raises the question why anyone on Earth would know about Adam Strange's exploits 25 trillion miles through space.
The incident leads to a public quest for clearing his name following the same angry fan's murder by an alien weapon.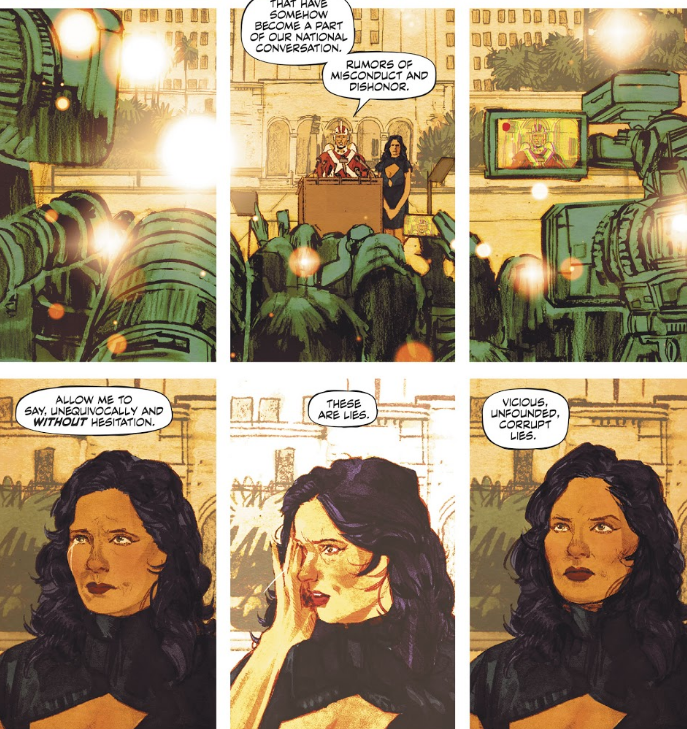 There's a particularly interesting moment during Adam Strange's press conference where Gerads turns his lens on Alanna as she wipes away a tear. Gerads colors the middle panel with the caption "These are lies" as if a flash is going off, which for me brought to mind the panels in Mister Miracle when the background would fizz out like a broken TV reception. The fact that Alanna's face hardens in the next panel, with the caption "Vicious, Unfounded, Corrupt Lies," suggests an intentional clue that Alanna is hiding something as well.
This is not all that hard to believe given her place of wealth on the near Utopian Rann – the idea that a race like the Pykkts might have been subjugated or wiped out would very much fall in line with so much of historic colonialism. Directly connecting Alanna and Adam to this reality is a pointed statement.
Adam Strange first turns to Batman to help clear his name, although ultimately Batman turns him down. Again, here I'd point to the way Gerads draws Strange when he's declaring his innocence to Batman – half his face is a thumbprint of smudged black, and the other half neatly defined and glowing in the pale moonlight. While the "Man of Two Worlds" metaphor may seem ham-fisted at times – alright kids try to get this: he's both good and bad! – I enjoy these smaller details incorporating the theme into the visuals.
Instead of Batman, Mister Terrific shows up to investigate Adam, and I'm definitely happy to see Michael Holt taking some time away from The Terrifics for this story.
The most intriguing part of this reveal, though, is the structural choice to include an Adam Strange origins quote from DC creative legend, Carmine Infantino.
What does this quote mean? My major takeaway is the idea that Alanna, Sardath, and the Rannians Adam Strange meets literally "float above the ground" on Rann, and could easily be floating above other sentient lifeforms down in the lower layers of Ranagar's cities. So if you layers of wealth, or privilege, Rann becomes a pretty easy metaphor for income inequality, colonialism, racial subjugation… you name it. I expect the Pykkts will play the stand-in for all of this, although I'll admit, that all feels a bit obvious.
On the macro level, it certainly appears that the Strange Adventures team is interested in exploring the complexity and contradictions of peace-keeping and freedom fighting. War heroes are absolute monsters to opposing forces, and you see that pretty neatly encapsulated in the Strange Adventures issue cover.
It's certainly not the first time Adam Strange's moral compass has been tested, or tilted towards darkness. Flashing back again to the Alan Moore / Rick Veitch Swamp Thing issues, Strange is deliberately responsible for the death of a Thanagarian warrior. In the context of the issue, it's easy to rationalize the killing – The Thanagarians assaulted Swamp Thing out of nowhere, and would have killed both him and Adam Strange for intervening. Nonetheless, Adam Strange is no stranger to the taking of sentient lives.
To his mind, these actions are justifiable due to the circumstances, and the need to protect Rann, but what I'm sure we'll continue to see in Strange Adventures is that this is all a matter of perspective.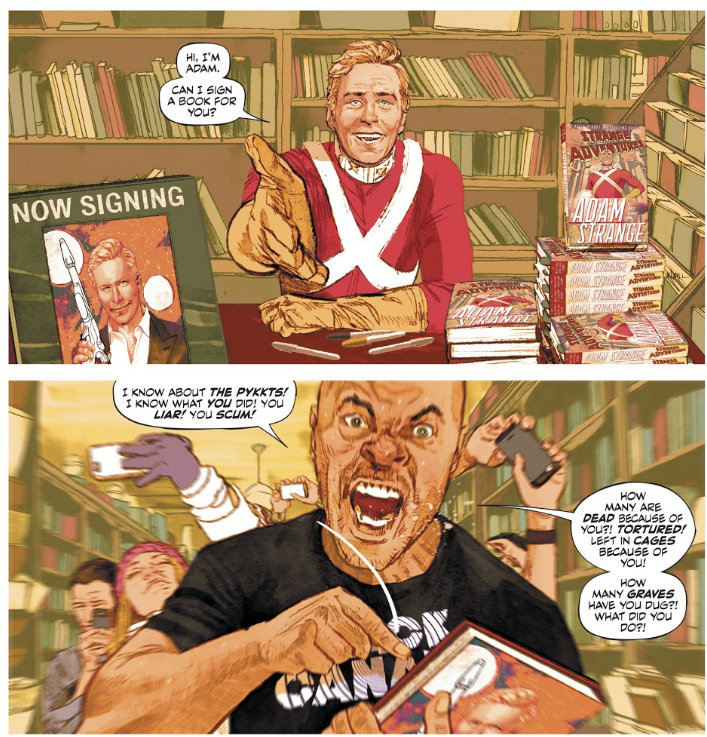 There's a potentially very controversial angle to the murder mystery here as it relates to King's own background. At this point, King famously worked in the CIA, and obviously built a lot of his work – particularly Sheriff of Babylon  – around trauma and experiences from that fairly unique vantage point.
King was accused of falsifying his CIA work for press, and it's not too hard to draw a parallel between that experience and Adam Strange being accosted by a raging Black Canary fan at a book signing (a book signing meant to celebrate how "great" Adam Strange is!). Likewise, Alanna reads more like a press manager or agent throughout Strange Adventures #1, and as I mentioned, the camera lingers intentionally on here in crucial moments dissecting the nature of truth. This is where conjecture starts to get weirdly personal, but I can't help but remember King tweeting about his wife's own righteous indignation at the unfounded claims that Tom King was never in the CIA.
If  – and this is a huge if – that experience and those feelings manifested in a murder mystery with Alanna as a prime suspect, I think that would be a huge mistake for the goals of Strange Adventures and frankly for King's reputation. I think King, Gerads, and Shaner are smarter than that, but again, that's also benefit of the doubt I granted towards Heroes in Crisis which was as dour and grimy as all the Identity Crisis comparisons suggested it could be.
Notably, Strange Adventures hasn't yet used the all black "Darkseid Is" recurring panel motif of Mister Miracle (this was also used stylistically in Sheriff of Babylon), but there is King's patented use of repetition. For starters, we see "Hi, I'm Adam. Can I sign a book for you" on repeat, as well as several background shots of an Alanna, Adam, Aleea family photo splattered with blood.
This particular image, and the mysterious absence of Aleea, is easily the biggest question for me coming out of Strange Adventures #1, and the one I'm looking for the series to lean into the most. If Mister Miracle was about Scott and Barda becoming parents, then I look for Strange Adventures to focus on the actual lived-in parenting of a young child, and all the fears, and worry and challenges that come with that.