I love looking for the next great "All you can eat" digital comics library, but until recently I've overlooked Amazon's Kindle Unlimited as an option.

This is largely because I assumed Kindle Unlimited was all about highfalutin literature and very few examples of sequential art (trust me, I've focus group'd and this sounds better than picture books).
While this is partially true (Kindle Unlimited is better for non-comics) there is a substantial comic book library that comes with the service. And with a 30 day free trial at your fingertips, Kindle Unlimited becomes increasingly tempting for comics readers.
Comic Books On Kindle Unlimited
When you add a comic or trade through Kindle Unlimited it will show up as downloaded in your Kindle Books. The only limitation on the amount of comics is the storage capability of your Kindle device.
Simply put, comics on my Kindle Fire look great. The reading interface isn't quite Comixology, but the user experience is virtually the same, with high resolution comics and intuitive scrolling and zooming options.
Support For Comic Book Herald:
Comic Book Herald is reader-supported. When you buy through links on our site, we may earn a qualifying affiliate commission.
Comic Book Herald's reading orders and guides are also made possible by reader support on Patreon, and generous reader donations.
Any size contribution will help keep CBH alive and full of new comics guides and content. Support CBH on Patreon for exclusive rewards, or Donate here! Thank you for reading!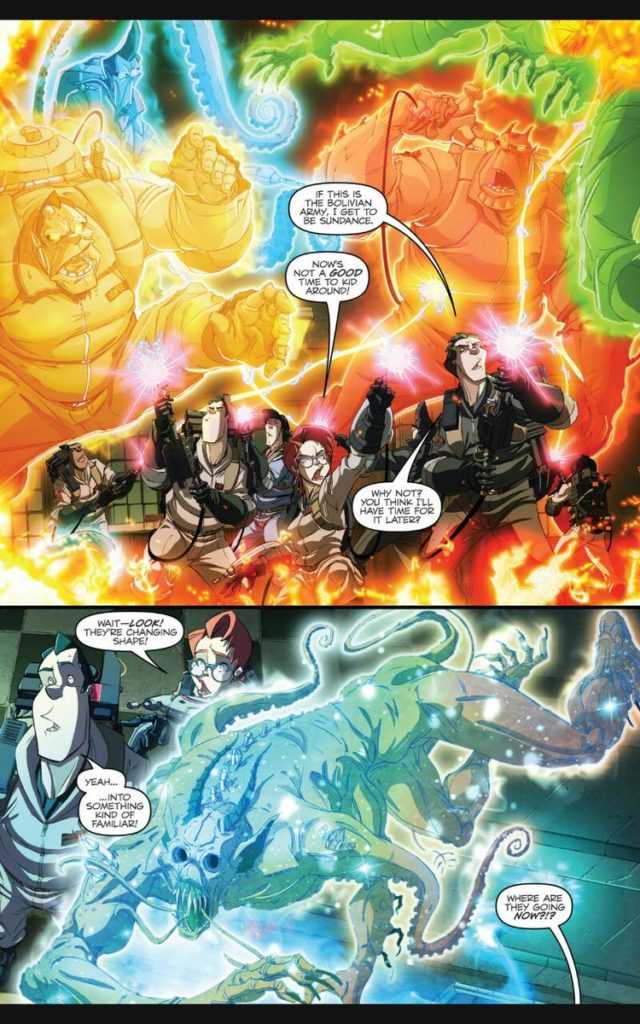 Kindle Unlimited has a FREE 30 day trial, followed by a $9.99 a month price tag.
To see what comics and books are available through Kindle Unlimited, you can just go to the Kindle Bookstore and select the "Kindle Unlimited" category. Finding the available comics was particularly easy for me because my "Recommended" and "Inspired by your Browsing History" has been absolutely littered with comics since I started Comic Book Herald (as if I'd have it any other way.)
One of the true perks of Kindle Unlimited is when scrolling through Archie and Valiant books runs its course, suddenly I'm staring at recommendations to re-read George Orwell's 1984 or Kurt Vonnegut's God Bless You, Mr. Rosewater, which is really always a good idea.
This leads to one of Kindle Unlimited's major non-comics benefits, which is the thousands of books that come with Audible narration. Obviously this doesn't translate to the visual medium of comics, but if you commute or exercise to audiobooks, there's a lot of value here.
So Is Kindle Unlimited Worth It?
My biggest criticism of Kindle Unlimited as it stands is inherent to all you can eat platforms, and actually very similar to Marvel Unlimited or Comixology Unlimited: It's a huge challenge to find exactly what's available in the library and what to read next!
Amazon does a reasonable job labeling books with "Kindle Unlimited" but scrolling through potential reads looking for this label is like looking for a needle in a haystack.
Much like Comixology Unlimited, Kindle Unlimited is, well, limited to the first volume of many collected comics. As far as I can tell, most of the comics included in Kindle Unlimited are included in Comixology Unlimited, but the reverse is not necessarily true (especially for Image books).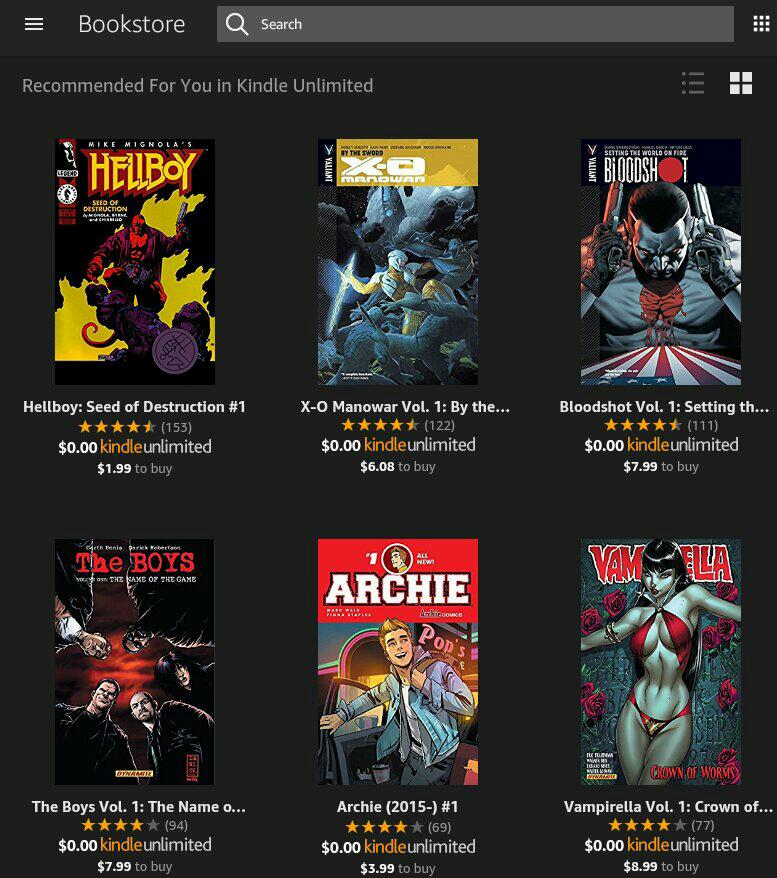 In general, I wouldn't recommend Kindle Unlimited purely for comic book binge reading. As I've covered in detail, I prefer the libraries of Marvel Unlimited and Hoopla Digital by a wide margin. Same goes for the Amazon subsidiary Comixology Unlimited, which is clearly a better bargain with more comics for only $5.99 a month.
Amazon has recently (May 2017) provided a nicer point of differentiation between Comixology Unlimited and Kindle Unlimited, with different Marvel Comics offerings between each service.
Naturally, comics are more of an afterthought for Kindle Unlimited. That said, this side of your local library I don't know of any better method for exploring "superhero" novels. That plus thousands of books without pictures (*shudders uncontrollably*) would have been the coolest thing pre-comics English major me ever saw.
My recommendation? Combine the Kindle Unlimited and Comixlogy Unlimited free trials to get yourself 60 days in a row of comic book bingeing. Just make sure to do the Kindle trial first so you don't double up on any of the books also in the CU library.
Join Amazon Kindle Unlimited 30-Day Free Trial
!
Comics in the Kindle Unlimited library (as of May 2017) include:
Valiant Universe volume ones (and some volume twos!), including Bloodshot, X-O Manowar, and Harbinger
New Riverdale Archie Books (Archie Vol. 1) and Archier Horror (Chilling Adventures of Sabrina and Afterlife with Archie)
Hip Hop Family Tree Vol. 1 (one of my top 50 favorite comics of all time!)
Scott Pilgrim's Precious Little Life Vol. 1 (one of my top 20 favorite comics of all time!)
Hellboy: Seed of Destruction
Garth Ennis and Darick Robertson's The Boys Vol. 1
Vampirella Vol. 1
IDW Star Trek (2011 to 2016) Vol. 1
IDW Transformers: Robots in Disguise Vol. 1
IDW Ghostbusters
Adventure Time Vol. 1
The following Marvel Comics!*
Astonishing X-Men Vol. 1: Gifted

Spider-Man Vol. 1: Brand New Day

New Avengers Vol. 1: Breakout

Deadpool Vol. 1: Secret Invasion

Star Wars Vol. 1: Skywalker Strikes

Thor by J. Michael Straczynski Vol. 1

Captain America: Winter Soldier Vol. 1

Hawkeye Vol. 1: My Life As A Weapon

Patsy Walker, A.K.A. Hellcat! Vol. 1: Hooked On A Feline

Ms. Marvel Vol. 1: No Normal

Guardians of the Galaxy Vol. 1: Cosmic Avengers

Amazing Spider-Man Vol. 1: The Parker Luck

Immortal Iron Fist Vol. 1: The Last Iron Fist Story

Jessica Jones: Alias Vol. 1

Star Wars: Darth Vader Vol. 1: Vader

Black Panther: Who Is The Black Panther?

Daredevil by Mark Waid Vol. 1

Captain Marvel Vol. 1: Higher, Further, Faster, More

Legendary Star-Lord Vol. 1: Face It, I Rule

The Punisher Vol. 1: Black and White
*Marvel Comics list via i09 exclusive announcement