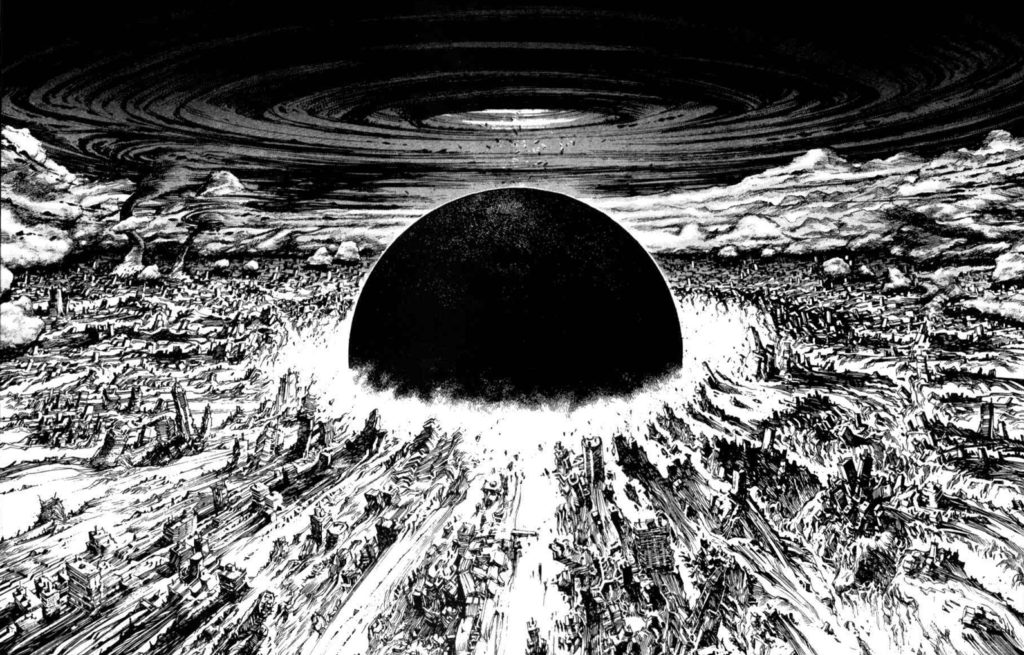 In March of 1933, poet Paul Valéry came to the defense of his own work by saying "Aux yeux de ces amateurs d'inquiétude et de perfection, un ouvrage n'est jamais achevé — mot qui pour eux n'a aucun sens — mais abandonné."
Meaning "In the eyes of those who anxiously seek perfection, a work is never truly completed—a word that for them has no sense—but abandoned."  The phrase was repeated only months later by a different French publication who distilled it down to only the parts in bold.
In 1962 the quote jumped the pond, this time used by play director Alan Schneider, who altered the wording to fit his situation. Gore Vidal was the next one to change it. Then WH Auden. This goes on and on, the phrase being picked up, dusted off, tweaked, and finally abandoned for another artist or critic to find.
But what if a work was never put down at all? What if the author kept it for themselves, changed it themselves, refined it. What if the creative process never stopped?
This is what Katsuhiro Otomo sought to find out. Because his first 10 manga all occupy the same world, telling the same story. And with a few French subtitles thrown in for good measure.
Support For Comic Book Herald:
Comic Book Herald is reader-supported. When you buy through links on our site, we may earn a qualifying affiliate commission.
Comic Book Herald's reading orders and guides are also made possible by reader support on Patreon, and generous reader donations.
Any size contribution will help keep CBH alive and full of new comics guides and content. Support CBH on Patreon for exclusive rewards, or Donate here! Thank you for reading!
Otomo, born April 14, 1954, has worn an inspiring number of awards including being the fourth manga artist ever inducted into the Eisner Award Hall of Fame, Officier of the French Ordre des Arts et des Lettres, the Purple Medal of Honor from the Japanese government, the Winsor McCay Award, and the first anime artist to receive the Grand Prix de la ville d'Angoulême.
Tropes in Otomo's Work
Rebellion
Otomo grew up during the violent riots caused by the Zengakuren student anarchist movement. They seem to have deeply impacted him, as most of his best-known works feature either young, anti-government freedom fighters violently protesting or else children killing authority figures.
During the 1960s, some believed that the Earth would enter some form of mass spiritual awakening. A time where people would, by various ill-defined means, learn to control people, objects, perhaps the entire universe with their minds. Soon enough, there were television psychics like Uri Geller, who would go on talk shows and allege to bend spoons or read other people's thoughts with their minds. Otomo just takes these ideas further. Much, much further.
Super Computers, Genetic Technology, and the Cyberpunk World
The Cyberpunk genre could almost be seen as the computer revolution's response to psychic phenomena. Except that there actually was an explosion in global computing power. Unfortunately, it came right alongside a global recession, massive inflation in multiple currencies, rampant unemployment, and a rise in crime.
Naturally, creators like Otomo, William Gibson, K.W. Jeter and countless more tried to make sense of how computer power and class warfare seemed to be inexorably intertwined. How advancements in technology like artificial intelligence, rapid urbanization, and genetic manipulation seemed further destined to benefit only the most powerful at the expense of everyone else.
Bōsōzoku Street Gangs
Bōsōzoku started as motorcycle gangs in the 1950s. By the 1980s, they'd evolved into a sort of youth culture marked by customized bikes, flamboyant helmets, and signature jackets that looked like something between Kamakazi flight gear and London punk jackets. More than the just rebellion of Cyberpunk, the Bōsōzoku show up again and again as the foolhardy, fatalistic side of youth culture.
Western Media of the 1970s
Katsuhiro Otomo has been open how he drew inspiration from Western cinema (particularly Bonnie & Clyde, Easy Rider, and 2001) as well as bands like the Velvet Underground. These mostly feed in the mood of his work (although there are numerous references to Kubrick throughout.) But the most important influence out of the west has got to be European comics.
Otomo's Tokyo shares the same city planner as Ezquerra and McMahon's Mega-City 1. You can see Dave Gibbons' signature wastelands in destroyed and forsaken dead spaces in Akira. But above all, you can see the influence of Metal Hurlant Moebius. Otomo returns to works like the Long Tomorrow again and again, reinterpreting them through the lens of his own childhood, the techno-primitive details of Moebius blending seamlessly with Japanese classics like Tetsuwan Atom (Astro-Boy in the West) and Tetsujin 28-go (Gigantor).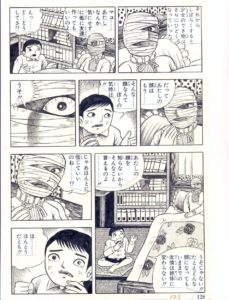 Fireball
Manga could be comfortably divided into two periods: Pre- and Post-Fireball.
Before this book launched, Mangas were created mostly on the cheap and designed to maximize output. Meaning, each page had to be executed quickly, with most artists apparently turning out up to a dozen pages a day.
To achieve that goal, the art tended to be simplified almost geometric shapes, austere on details, and flat on stagings and framing of scenes. More cartooning than illustration (not that there's anything wrong with either!)
Then comes Otomo's Fireball, and everything changes. 
Spoiler-free. Most product listings contain spoilers, though.
Illustrations
The first thing we notice is the artwork. At the time, mangas were turned out fast by artists two overworked to focus on the details
Otomo's artwork wears its influences like a patched and studded punk jacket. The story opens with a robotic hand holding a sphere — half MC Escher, half Hajime Sorayama. Then it spills out into a city scene that could almost be out of 2000AD. It's the first time I can think of a manga page feeling crowded.
Naturally, there are some concessions to time, particularly in Otomo's use of blank backgrounds in certain frames, and he hasn't quite mastered action sequences yet. But those things feel so minor in comparison to what else he's achieved.
Story
This was Otomo's first longer work which he'd both written and drawn. Yet we can already see here all of the subjects that would define so much of his career.
Fireball follows two unnamed brothers: one a freedom fighter, the other a cop. The freedom fighter and his group become aware of a secret military program called "ATOM," which we learn is a networked AI that's controlling the government. ATOM is keyed to a human director ("Mama") in a really early example human/non-corporeal AI relationship. 
The police officer brother exhibits some extremely latent psychic abilities, but nothing more powerful than causing a pen to levitate. The ATOM Project (a reference to the classic Mighty Atom / Astroboy mangas) learns of this, kidnaps him, and experiments on his body in an attempt to merge the AI with his human form. This scene is straight out of AKIRA, from the way the operating rooms are "shot" right down to canopic jars that hold his removed tissue.
Only two chapters were ever completed, so we don't know where else this book would have gone. But to me, it makes sense why Otomo left it unfinished. The story and art are incredible, but the pacing seems rushed. Without spoiling anything, the end of the second book is so explosive that feels like the story climaxes right there.
Otomo created a number of short stories in between his first two serialized pieces. We're going to focus on two of them
Highway Star
Named for the song by Deep Purple, this short story might be Otomo's first foray into writing about Bōsōzoku culture.
While searching for gasoline for his car, a man in a "FIREBALL" jacket meets a young woman. The man steals it from an empty car. Later, both take part in dangerous highway races to earn some yen.
Otomo's framing and pacing make another big step forward here as we begin to see his fluid "camera work" when capturing vehicles in motion.
Ashita No Yakusoku (Promise of Tomorrow)
Two children are involved with the brutal murder of a man. A police investigation is called for, and the two inspectors. I can't really write any further details about the story without spoiling it. However, I can say that Otomo changes his approach to psychics here, giving the power to the very young and using that immaturity to ramp up the violence. Also, he starts experimenting more with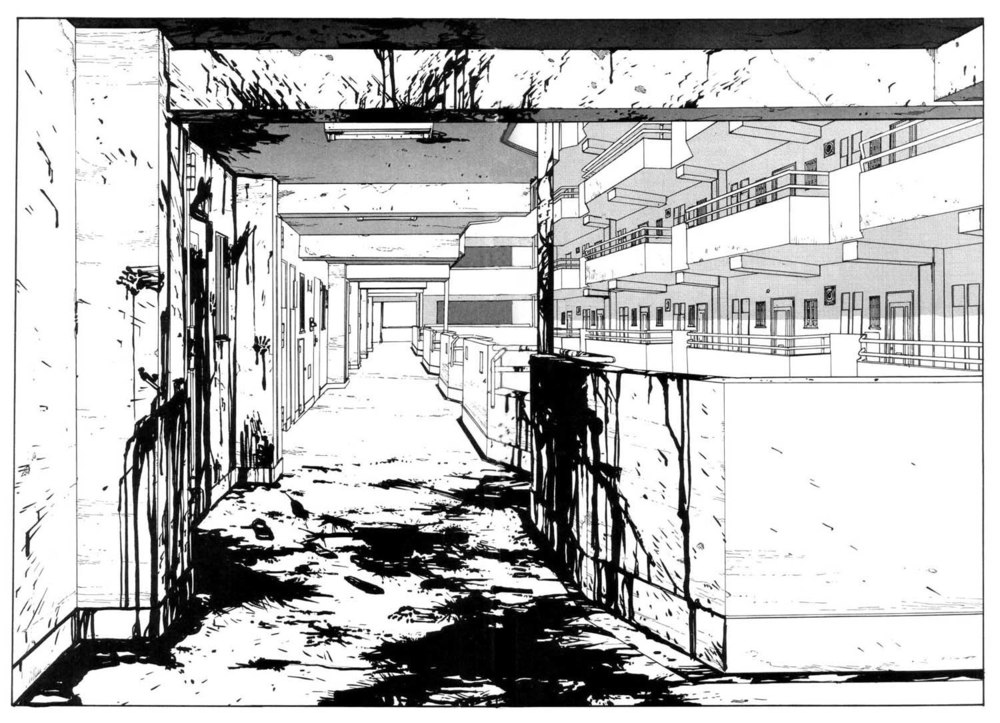 Spoiler-free. Most product listings contain spoilers, though.
Illustrations
Otomo popularized an artistic style called "Gemma," a term of art used in Japanese animation. The idea is for an artist to draw a highly detailed illustration of the beginning of a transition, then another to mark the end of it. This was a fairly radical approach, as many comics and manga focused on the mid-point of a transition. The blurry arc of a punch, or the ghostly trail of a figure swooping.
Gemma is why Otomo's work feels so clear, fluid, and tense. By giving each and every action a defined start and stop (and not just a series of midpoints), his work becomes more alive. And it allows Omoto to take something visually confusing like psychic battles and render them in truly amazing ways.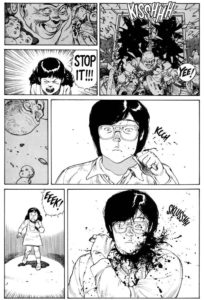 Story
Domu is a mystery in the way that all stories of the supernatural are mysteries. The story opens on an enormous apartment block, the exterior of which is like something out of 2001AD. We quickly learn that there has been a rash of suicides and odd deaths in the complex. Nothing that could be considered "murder," but the number is so high that the police are called to investigate regardless.
All of this has a strong feeling of "class struggle," which feels right up Otomo's alley. Additionally, it adds a lot of important uncertainty to the story. We spend a long time wondering who will save these people. Obvious potential heroes walk in, and either come running back out or else take their own lives. Then, into this, walks a family and their little girl, Etsuko. 
Etsuko is a powerful psychic, clearly patterned after the girls in Ashita No Yakusoku. She's going to be the one to solve this story.
The way Otomo edits this book is nothing short of amazing. The tower feels like the Overlook Hotel from The Shining. The pacing of the action is incredible starting with deaths that are off-screen or happen subtly in the background, then ramp up in severity as Etsuku begins her campaign. 
This is really the magic of gemma which allows now for more dramatic lighting, greater tension, clever reaction shot insets, and absolutely gallons of gore.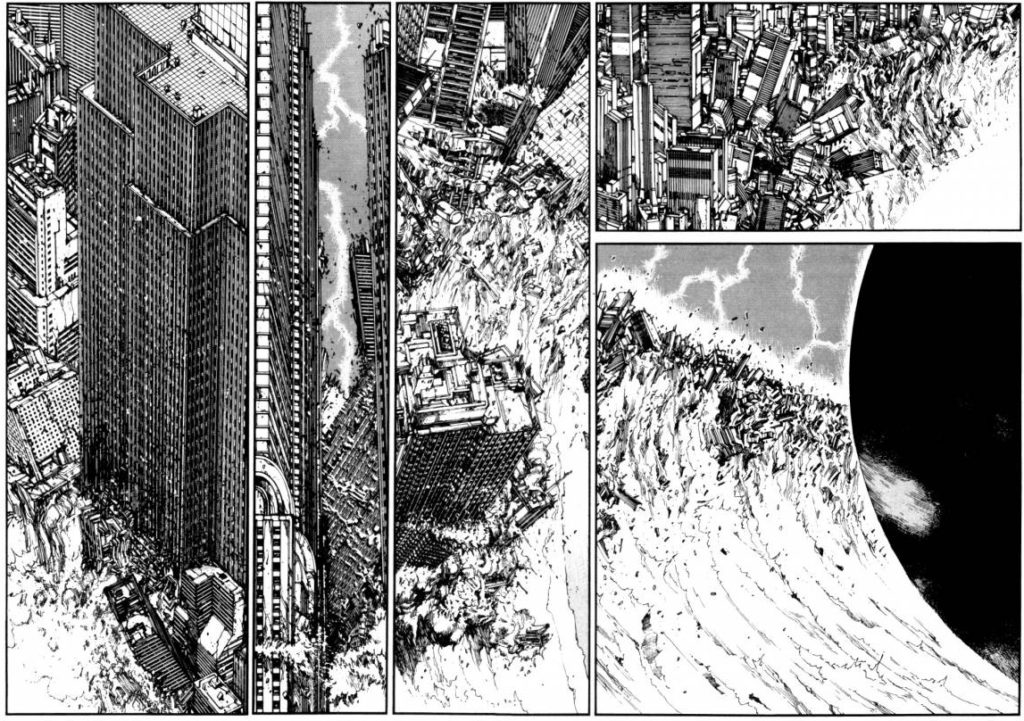 This is where everything comes together. A cyberpunk world filled with freedom fighters, street gangs, psychic children, and influences from western works and manga classics.
It's also a masterclass in telling a wild story that people can follow. 
Spoilers ahead for this 30-year old classic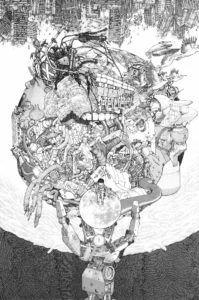 Illustrations
This is where Otomo pulls together everything he's been doing these past 14 years. The opening pages from the book are a loving homage to Moebius, right down to the color scheme. 
Thanks to gemma, his motorcycles feel fluid and just on the brink of losing control. You can feel every crash, every hit, every pill swallowed or operation performed.
There is gorgeous detail in seemingly every panel. Everything feels able to stretch and distort, almost like a throwback to the very first page of Fireball, with the robot hand and the curved lines of the Escher ball (right). Certainly, the procedures and medical experimentation feel born from there. Meanwhile, the special effects learned their tricks from Domu.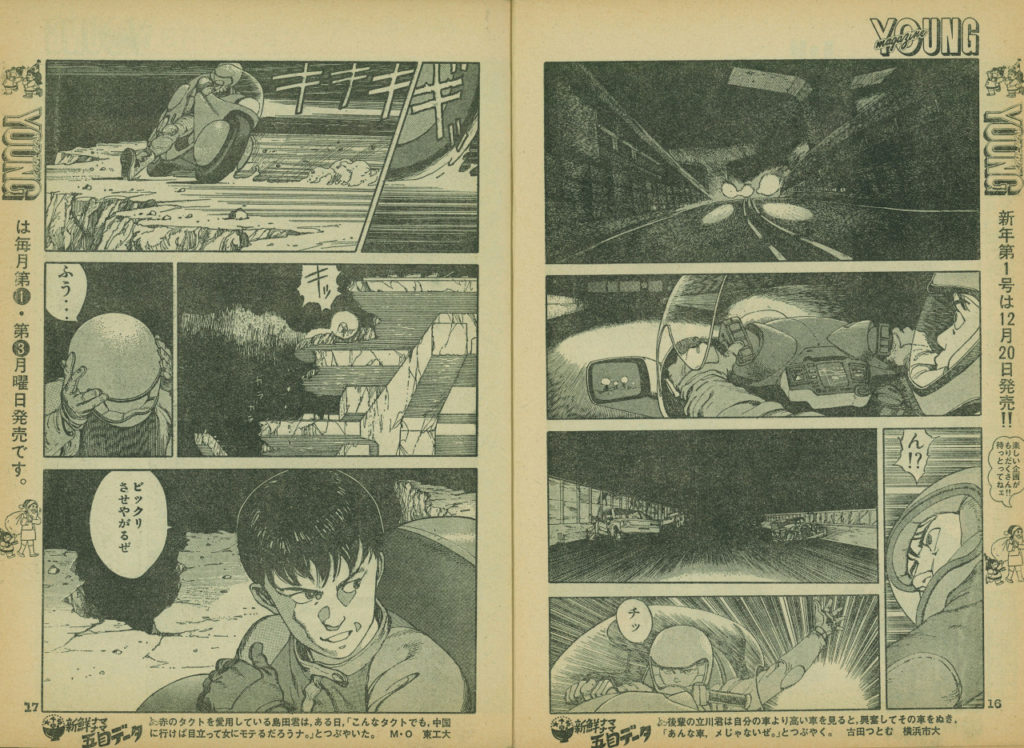 Story
The easiest way to start telling you this story is just to recap the anime. 
Similarities to Anime
At 12.6.1192 at 2:17 PM, WWIII began with the destruction of Tokyo. A black hemisphere caused by the being Akira. Now, in 2019, Neo-Tokyo stands in its place. This is our setting.
There are young men, Kaneda and Tetsu, who are members in a Bōsōzoku biker gang. There's a sort of brotherly rivalry between the two which forms the primary conflict of the story. Tetsu meets a psychic child on the road, causing Tetsuo to crash his bike. He's taken to a government hospital where doctors discovered he too has psychic powers and may be part of the government's top-secret Akira Project.
Kaneda falls for Kei, a young anti-government freedom fighter. Together, they become the two protagonists of the story. Meanwhile, Tetsuo, still bitter over his rivalry with Kaneda, becomes the super-powered antagonist. Add in drug use, body horror, and a gigantic baby made from cancer-like human growth and you get the idea.
What's Unique to the Manga
However, the manga is a rather different story. In the book, Akira is more of a character and is the primary focus of the story. It's explained that his psychic powers represent the full power of human kind's genetic potential. Something that had been locked inside of us, but somehow manifested fully for him.
Tetsuo, too, feels like more of a character and not just a vessel for Akira's power. He takes over the rival street gang in a bid to defeat Kaneda. He gathers followers to worship him. Tetsuo feels alternately more sympathetic and more deranged.
There are no clear lines in the manga, reinforcing the feeling of youthful desperation and aimless rage. 
Otomo's Legacy
It's not a stretch to say that Katsuhiro Otomo is one of the most important figures in media today. From the clear connections between Domu and Stranger Things, to the fact that Akira has inspired everyone from the Wachowski sisters to Kanye West. And while Akira is not the end of his journey, it does mark the end of this obsession. Like a psychic barrage, Akira has left everything changed and corrupted since. And while Katsuhiro Otomo has found success since then, making everything from animations to interactive art exhibitions, nothing will ever detract from this 14-year undertaking.