No.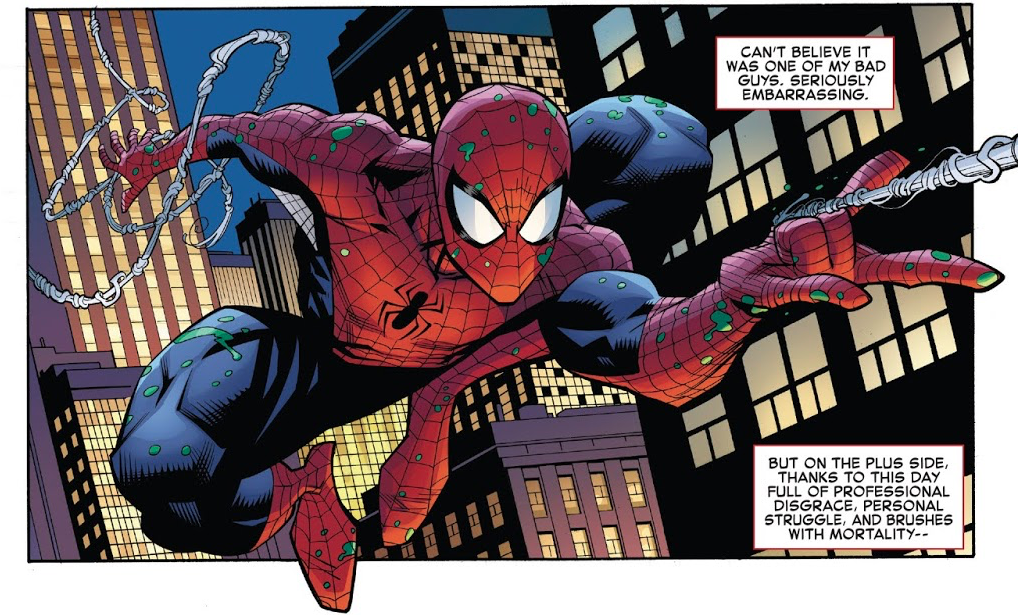 Though, in its defense, the main Amazing Spider-Man title hasn't been consistently good since Peter Parker was possessed by the ghost of Doctor Octopus (though, even then, that run was hobbled by Dan Slott's inclination towards mediocrity and continuity fetishism); and it hasn't been consistently great since the '90s. There are many reasons for this, from an inexplicable notion that Spider-Man is a character who has to function like a teenager (I blame John Byrne) to the far more understandable (if still depressing) notion that Peter Parker must be a straight white guy who suffers for our sins (I blame Sam Rami).
* Spoilers for the run to date follow *
Related:
Best Peter Parker, Spider-Man comics
Support For Comic Book Herald:
Comic Book Herald is reader-supported. When you buy through links on our site, we may earn a qualifying affiliate commission.
Comic Book Herald's reading orders and guides are also made possible by reader support on Patreon, and generous reader donations.
Any size contribution will help keep CBH alive and full of new comics guides and content. Support CBH on Patreon for exclusive rewards, or Donate here! Thank you for reading!
But these are things the character has been dealing with for decades. Things for a writer who was willing to challenge the status quo, to reinvent the character from the ground up and pull something interesting out of it. Unfortunately, we got Nick Spencer, a man who, upon coming up with the truly brilliant idea of "Captain America was secretly a Nazi," proceeded to defang the idea as much as possible so as not to piss off the people who were going to hate the premise regardless of what he did (and, as many will tell you, failed miserably). Instead, Spencer tells a parable about how the best way to combat the rising fascism in America is by waiting for the right white guy (and specifically a white guy) to bring everything back to normal.
For his Spider-Man
, meanwhile, Spencer opts to spend half of his time doing slightly dumber covers of previous eras. Specifically, the JM DeMatteis era. In some regards, this is akin to Scott Snyder's approach to Batman and the Justice League, in which he took comics written by Grant Morrison and made the ideas within more typical of a summer blockbuster. But where these two approaches differ comes at the fundamental ambition of their respective writers. Snyder, for good and for ill, has a desire to be the DC Comics writer. To leave his mark on the whole of the universe that has a lasting impact. This can range from well-regarded texts such as his and Greg Capullo's Batman run to panned works like Superman: Unchained.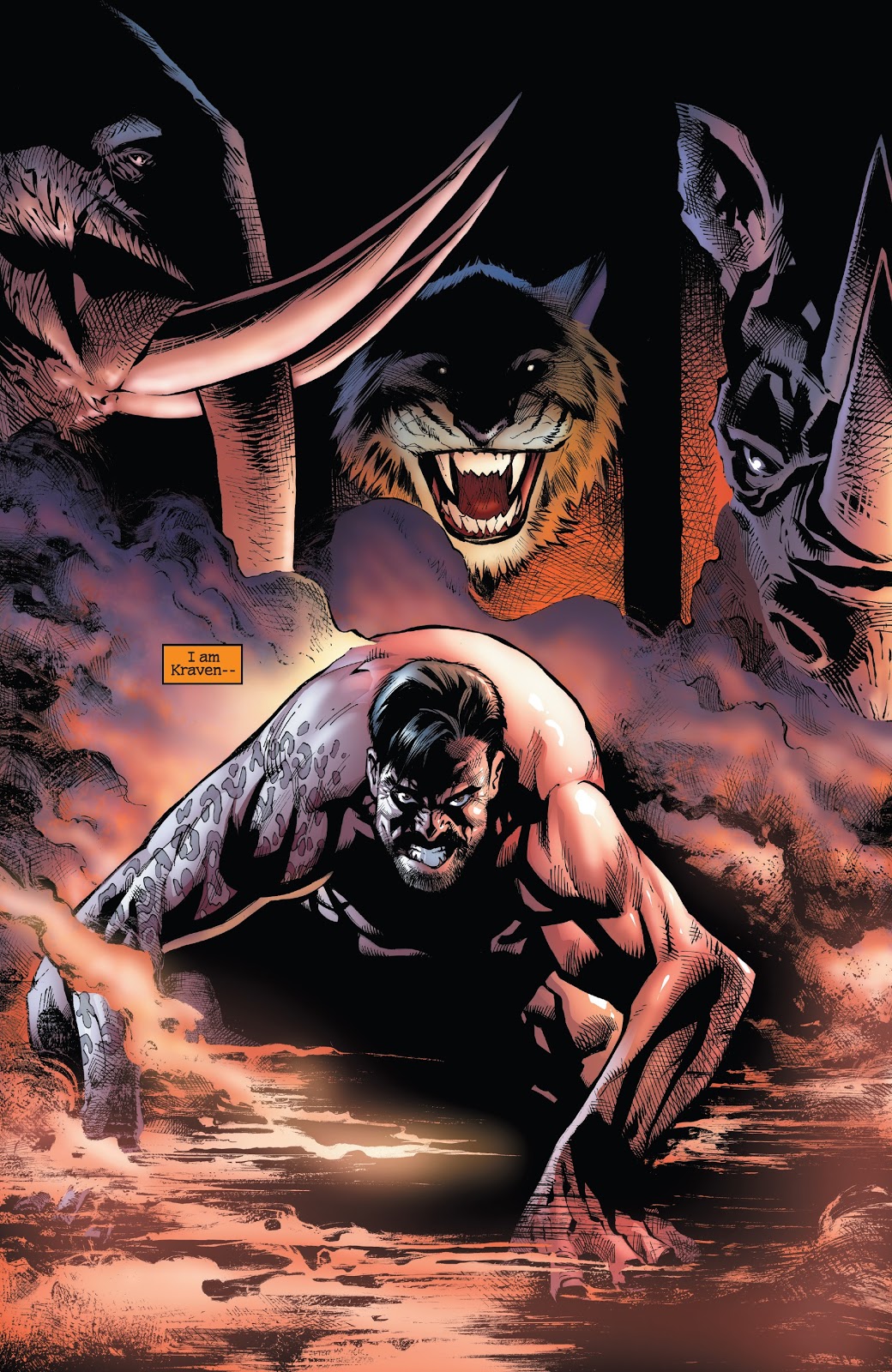 Conversely, Spencer's approach to the stories of JM DeMatteis has been to take the surface idea of the story (Kraven the Hunter wants to die, Harry Osborn is a baddie, Peter Parker loves Mary Jane) and basically do nothing with it. Sure, there are some ideas of note but these ideas are never fleshed out to the best of their ability. For example, near the beginning of the comic, a supporting character from the Slott era, Carlie Cooper, introduces Mary Jane Watson to a support group for supporting characters in superhero comics. Certainly, the idea of mental health within comics has become one of note (and one befitting the themes and ideas of JM DeMatteis' work with Spider-Man), but the idea itself is only explored within a single issue of the run. Indeed, it's a subplot within said issue while the rest of it is spent setting up a Spider-Man/Black Cat team up against the Thieves Guild, a ninja group Marvel Wiki tells me isn't the Hand.
For all his controversy, Nick Spencer has never been a writer to go out and do something that could truly piss people off. Again, the fundamental reason for the Captain America run failing was his desire to make Hydra less like a Nazi organization by repeatedly telling people that the Nazi side of Hydra was just a splinter group. Even in his best work, The Superior Foes of Spider-Man, Spencer never aims for more than pretty good, often lifted up by his artistic collaborator, Steve Lieber.
In some regards, the central character of The Superior Foes of Spider-Man, Boomerang (who crosses through all of Spencer's Marvel work), is an apt metaphor for Spencer as a whole. Boomerang is an "average joe" swept up into other people's stories who has the opportunity for doing great things. However, every chance he gets, he ultimately squanders his potential in favor of doing the quick, easy thing. And yet, despite it all, he finds a way to fail upwards like so many a mediocre white guy before him. From D-List supervillain to Hero of New York to Peter Parker's roommate and friend. His screwups never last long and rarely hurt him much. At most, he just has to put his twitter on private and he gets to work with Ryan Ottley in his first post-Invincible
work.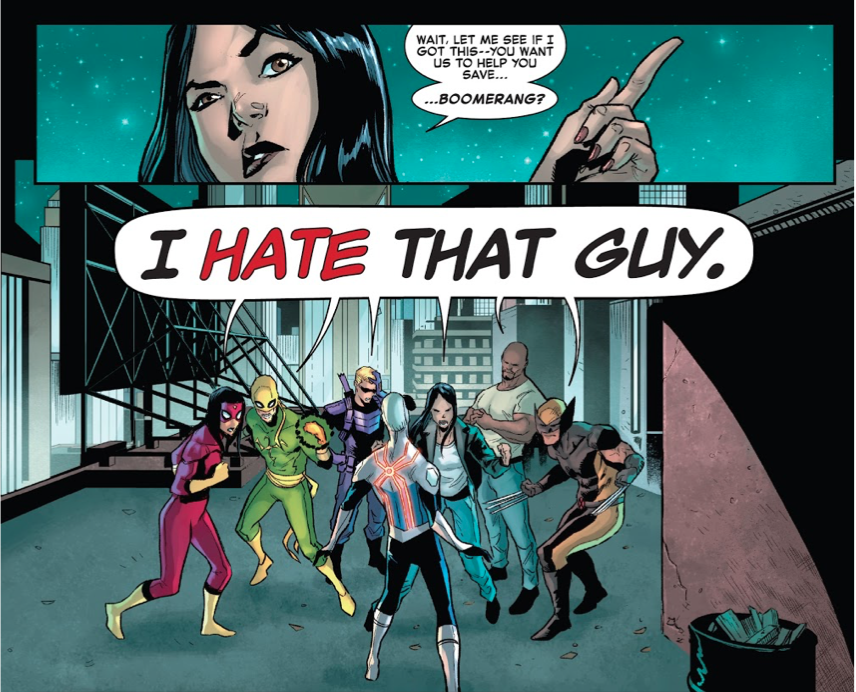 But perhaps the fundamental worst thing about this run is how much it feels like it's setting up for other things. Even the big moments that should, in theory, pay things off, ultimately come off like more set up for future events. The reveal of the run's main baddie, Kindred, being Harry Osborn, for example, doesn't have the punch it should because the reveal issue comes directly after the reader is told that Harry is Kindred. So the framing of the issue as a big reveal feels, at best, perfunctory and, at worst, utterly pointless. Like we're still not at the punchline. (That he ultimately turns out not to be Harry is another in a long line of Spencer refusing to give the reader the goods.)
Which makes the run's repeated gestures towards undoing "One More Day
"… concerning. There is certainly a kind of Spider-Man fan who wants that story to be undone. A kind who sees the existence of the Devil within Spider-Man as incompatible. Who sees the main flaw of "One More Day" being Spider-Man making a deal with the devil and not the fact that it's a poorly written comic that has no idea what it's doing even as it marches forward to the corporately mandated decision to undo the Spider-Man Marriage in a way that's shockingly a thematically apt full stop conclusion to the entire history of Spider-Man.
I could go in-depth on the implications of that, I really could. But Nick Spencer's Spider-Man doesn't deserve that. It does the bare minimum of what a superhero comic could do and does it poorly. It doesn't speak to any trends within the medium that something along the lines of, say, Dan Slott's Fantastic Four speaks louder and more interestingly. Hell, for all his flaws, Slott can at least engage a reader (especially when Christos Gage is writing) and has some ambition (even if said ambition is "I want to write Spider-Man and the Fantastic Four forever"). It's just an extended filler run setting up the next creative team.
There are many potential candidates for that future team. It could be Donny Cates writing Peter Parker as a fundamentally decent, if completely barmy, magician with Geoff Shaw. Al Ewing, alongside Gabriel Hernández Walta, would approach the character with an admittedly flawed vision of him being akin to Charlie Brown. Or Steve Orlando could get to go wild and make Spider-Man the disaster bi we all want him to be with someone only three people have heard of. Whatever may come next, it will certainly be better and more interesting than Nick Spencer's take on the character.
In ten years' time, when everything is owned by Amazon and Superhero comics have moved to a graphic novel/digital format, Nick Spencer's Spider-Man will not be looked back upon fondly. It will not be looked back upon at all. It's just another crap comic that didn't have the decency to be interesting. Dime a dozen, really.