To many, Superheroes are a monolithic force for good: infallible, incorruptible, and invincible. But what happens when these heroes fail? And what does it take for them to recover, and rebuild? In 2008, writer Matt Fraction and artist Salvador Larroca began a 4-year tenure on The Invincible Iron Man
, with the aim of restoring Tony Stark to his former glory as a shining vision of tomorrow. But to shape this new chapter for the character, Fraction had to confront Iron Man's troubled past, and tear down his complicated legacy to forge something better in its place.
Unfortunately, Fraction's run is often overshadowed by the characterization shown in Marvel Studios' Iron Man and the subsequent entries in the Marvel Cinematic Universe. But in spite of this, Fraction's run has endured over the years on the strength of its deep, critical look at the character of Tony Stark, his numerous flaws, and his desire to move beyond them in the pursuit of a brighter future. Digging deep into Stark's strengths, weaknesses, and insatiable curiosity, Matt Fraction's run brings an entirely new outlook to the character, and superheroes at large: In the end, the best heroes aren't invincible; they're resilient.
*SPOILERS AHEAD*

Let Me Tell You About My Nightmares
By the time Fraction's tenure began, the character of Iron Man had undergone a series of fundamental changes, making a post-human transformation in Extremis
and slowly wading back into the military-industrial complex in his time as Director of SHIELD. To longtime readers these changes felt like a regression, but to Fraction, they were the perfect opportunity to confront the darker elements of the character's past and rebuild Iron Man stronger than ever.
"This is really the start of a long reckoning for Tony Stark," states Fraction.

"I'm talking a reckoning that will see Stark's entire legacy being reexamined, about Tony taking a long hard look at who he is, how he got there, and what he needs to do to survive — both literally and figuratively — into the 21st century."
This reinvention begins in "The Five Nightmares," where, building on the techno-paranoia surrounding the recent release of the Iphone, Fraction puts Stark face to face with the nightmarish future he helped create through new antagonist Ezekiel Stane. As the son of the long-dead Iron Monger, Stane doesn't just want to kill Stark; he wants to make his name synonymous with death and terror, supplying everyone from wealthy nation-states to independent terror cells with weapons made from black-market Iron Man tech. While Stark made the Iron Man to atone for his past actions, Stane's inversion of the hero forces Stark to come to terms with his own flaws and failures, both recent and inherent.
Support For Comic Book Herald:
Comic Book Herald is reader-supported. When you buy through links on our site, we may earn a qualifying affiliate commission.
Comic Book Herald's reading orders and guides are also made possible by reader support on Patreon, and generous reader donations.
Any size contribution will help keep CBH alive and full of new comics guides and content. Support CBH on Patreon for exclusive rewards, or Donate here! Thank you for reading!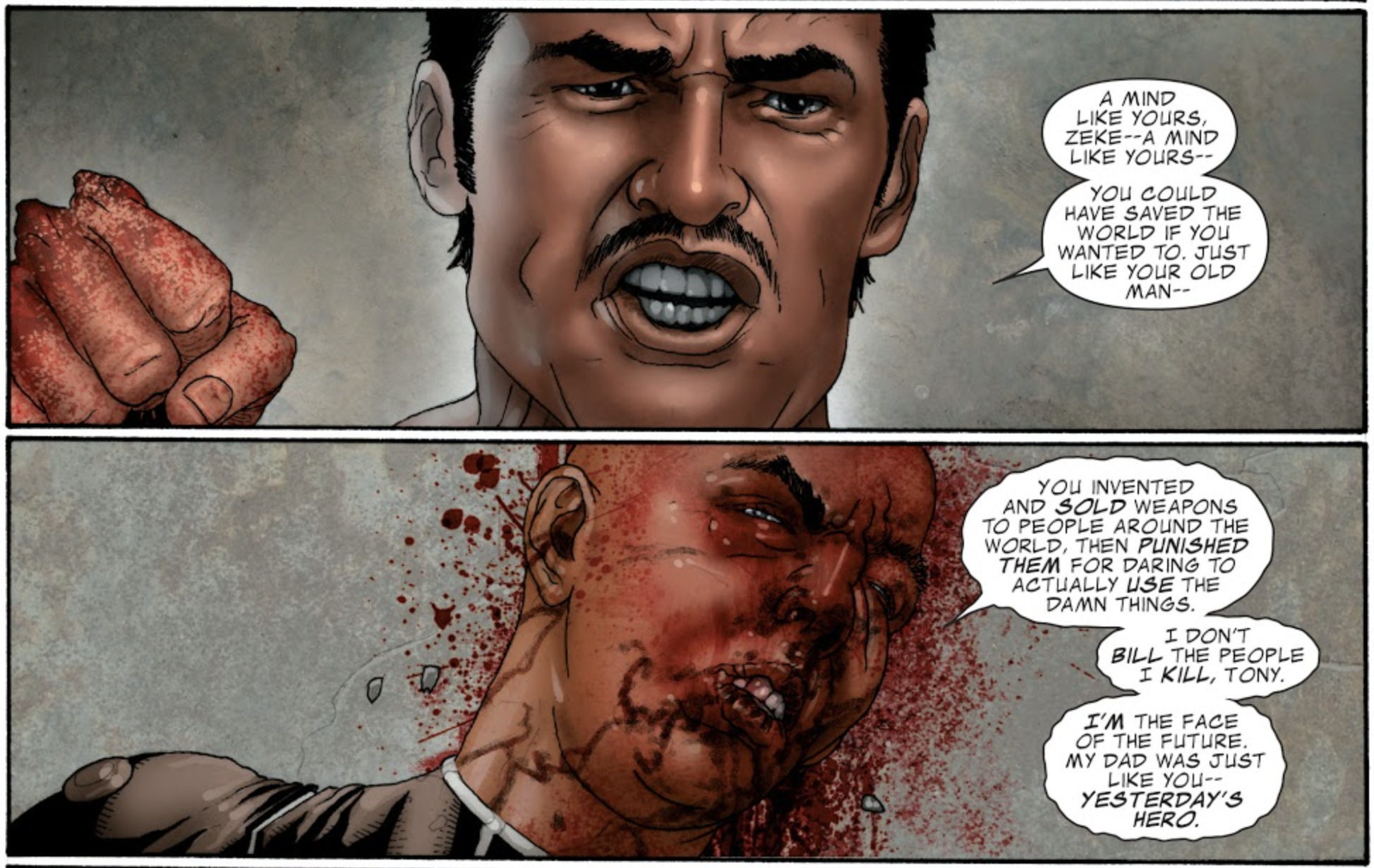 Past stories like 1987's Armor Wars
dealt with the proliferation of Stark's technology while keeping him in the status quo. However, through Stane's campaign of terror, Fraction catalyzes a major change in Iron Man, having him finally take accountability for his actions and attack the problem at its source. Triggering a kill switch in his technology across the globe, Stark is able to thwart Stane's endgame at the cost of his inventions, his company, and his fortune. This shift to a more grounded angle is a welcome change, but Fraction also hints at bigger, more fundamental changes to come. Stark's ordeal is just beginning.
Stark: Disassembled
Using the fallout of Stark's battle with Stane, and his failure to act during the recent Secret Invasion event, Fraction continues Stark's fall from grace by ousting him from SHIELD and replacing him with the villainous Norman Osborn. Building on the events of Civil War, the arc focuses on Osborn's hunt for Stark's master database of registered superheroes. There's just one problem. It's all in Stark's head.



By tying the database directly to Iron Man and his guilt for the pain he's caused, Fraction's mission for the book finally comes into focus. As Stark deletes his own mind to erase the data, Fraction takes the hero back through his own history, ending in his return to the Afghan cave where he first became Iron Man. By the end of this second origin story, Fraction's deconstruction of the character is complete: The old Tony Stark is gone, and someone new is being built in his place.
As his friends attempt to restore him through a mix of technology and magic, Stark goes on a walkabout through his own mind, where he encounters visions of the weapons he helped create along with the many lives he's helped destroy. This harrowing journey brings Stark face to face with his deepest fears, giving him the courage to accept his past crimes, and finally outgrow his family's legacy.
Given a second chance at life, Stark emerges more determined than ever to change himself, and the world, for the better. But whether or not he can truly break away from his darker impulses is the question Fraction leaves for the second half of the run.
Stark: Resilient
With the dawn of Marvel's "Heroic Age," Fraction took his opportunity to rebuild Iron Man from the ground up. Once a genius without equal, Stark is forced to confront his failures and limitations, and realize for the first time…he doesn't have to go it alone.
Determined to make the most of his second chance, Stark throws everything he has into reinventing himself. But instead of taking on the world's problems on his own, Fraction charts Stark's growth through his connections with others. At the heart of this is Stark's evolving relationship with longtime confidant and partner, Pepper Potts. Critically injured during Stane's attack, Pepper is eventually given her own suit of armor, and becomes a hopeful emblem of the Iron Man's future.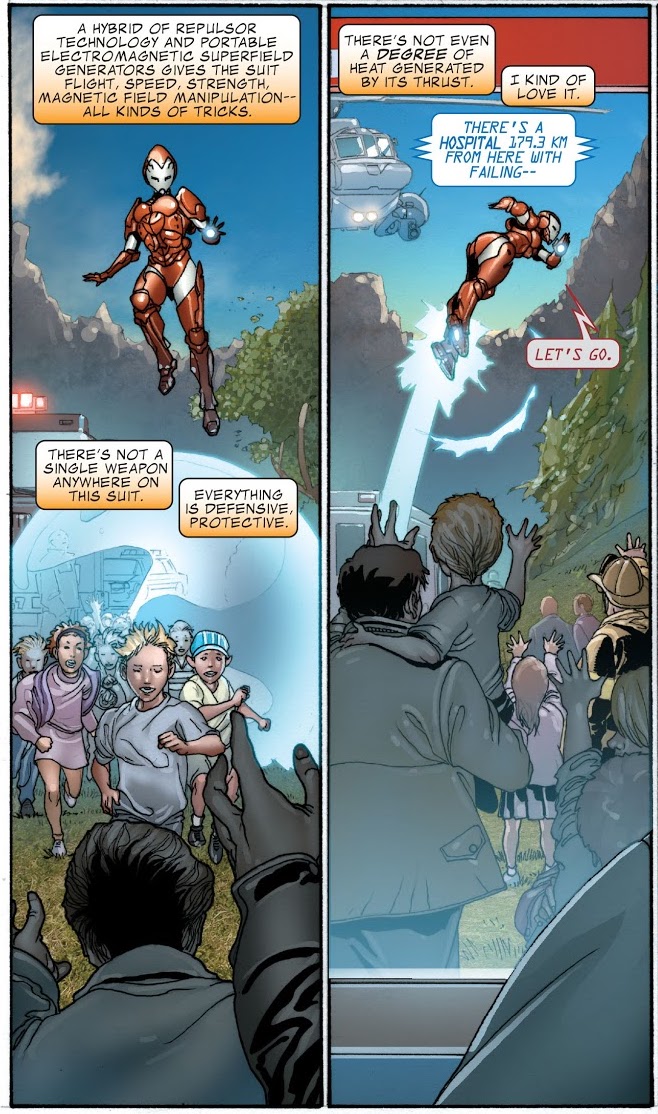 Together, the two partners found Resilient, a new company dedicated to Stark's bright vision of the future, and free of his ties to the weapons industry. Building further on Stark's growth, Fraction staffs Resilient with new and returning characters to challenge and support the newly-humanized hero. Through these newfound connections, Stark is finally able to grow beyond the insulated, armored role he's built around himself, in spite of the unrelenting personal crises he has over the course of the book. While Iron Man is dealt a number of traumatizing defeats, Fraction's deepest look into the character's transformation comes through his tie-in with the crossover Fear Itself. During the book's events, Stark suffers a relapse after decades of sobriety. But while his last battle with alcoholism nearly destroyed him, Stark's reliance on his friends is ultimately able to carry him through Fear Itself, proving both a metaphorical and literal crucible for the character.



Bringing Iron Man into the Heroic Age, Fraction was able to take the character into uncharted territory, tearing Stark out of the status quo and giving him a clean slate to rebuild, free of the guilt and failures of the past. But with the armored avenger more determined than ever to grow beyond his past mistakes, Fraction unleashes one final test for the hero, with the fate of the future hanging in the balance.
The Future
Most of Fraction's run is spent re-inventing both Tony Stark and The Iron Man, but a single question hangs over the writer's 4-year tenure on the title: Can this change last? Will Stark truly forge himself and the world into something better? Or will his past mistakes end up dooming the world he's fought so hard to save?
At the series' midpoint, the special "issue #500," the story flashes forward to a dystopian future, shaped by the weapons of war Stark helped create. Initially framed as a self-contained story, hints of this possible future begin to surface, and while Stark continues to push towards the future, the ghosts of the past continue to haunt him. Iron Man's oldest foe, the Mandarin, has returned from the dead and assembled a cabal of the hero's deadliest enemies, each determined to tear down Iron Man for good.
As the knowledge of Stark's relapse becomes public, the military steps in, declaring him unfit to pilot the Iron Man. Meanwhile, villains target Resilient from inside and out, forcing Stark to abandon the company to save his new friends. Each attack leaves the hero more and more shaken, until Fraction gives one last haunting reveal: The Mandarin has been puppeteering Stark's life since he returned, slowly pushing him to build the nightmarish weapons seen in the future. As the story marches towards the devastation of issue 500, Fraction cleverly calls back to Iron Man's origin, with one major change. Instead of triumphing through his own genius and technology, Stark relies on his connections, fighting alongside Resilient, his fellow superheroes, and even some of his former rogues. While Fraction's epilogue for his series is a bittersweet finale, it's still an incredible note to end on: Stark may never fully escape his past, but as long as he can keep moving forward, one step at a time…maybe that's enough.
Let Me Tell You About My Dreams
Across 4 years and 60 issues, Fraction and Larroca made it their mission to elevate both the character and concept of Iron Man. Starting his time on the character through a tie-in comic for the 2008 film, Fraction quickly began adding his own voice to Tony Stark, peeling back the veneer of the rugged, ultra-capitalist hero to reveal a man, who while incredibly flawed, never stops pushing himself to be better. While Fraction's run even managed to influence the character's later MCU outings, namely through his dependence on his alter ego, it's the series' more intimate themes of accountability and self-improvement that give it a voice of its own. Said Fraction:
"I wanted to mine as much pathos, carnage and drama out of the character's circumstances and situations as I could…To get a shot at writing someone so great and so flawed is a dream come true."
The book's story of personal growth and healing is juxtaposed against its massive scope, brought to life through Larroca's art. While earlier issues have a kind of formless, airbrushed look about them, Larroca's style evolves over the title, incorporating crisp, detailed linework augmented by digital paints and textures. This gives the book's visuals an uncanny feel, and heightens the contrast between the increasingly alien technology of The Iron Man, and the vulnerable hero underneath.
In a medium defined by never-ending serialized stories, Invincible Iron Man feels like the perfect culmination of its character's arc. Building his story around Stark's failures along with his desire to outgrow them, Fraction is able to breathe new life into the human element of Iron Man, and celebrate just what makes the character so enduring. Stark may never find the peace he wants, but his willingness to try again and again to be better is what makes Iron Man truly resilient.
Sources:
https://www.thefix.com/content/fraction?page=all
https://www.cbr.com/fraction-bids-farewell-to-the-invincible-iron-man/
https://www.cbr.com/commentary-track-invincible-iron-man-1-with-matt-fraction