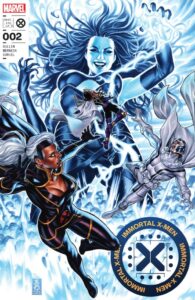 Spoilers for Immortal X-Men Follow!
So, obviously Sinister, despite the shocking Immortal X-Men #1 reveal of his Moira clone farm, did not foresee Selene's devastating attack against Krakoa for not being voted onto the Quiet Council. I guess from a certain angle, it was surprising since this petty, knee-jerk response not only guaranteed her forfeiture of all such future bids for power but possibly made her persona non grata, as well—either through non-resurrection or by being sent to the Pit after she returns to life. Then again, this ancient mother is 17,000 years old, so this whole Krakoan era will likely prove less than a blip in her lifespan. Still, she was getting a lot of love from fans lately, and while maybe we mayflies don't rate much to her, you would think she might've enjoyed a brief period of adoration from young mutant nationalists. Of course, when framed that way, she still might!
After all, fervent nationalists have an astonishing capacity for the sort of glaring cognitive dissonance that induces debilitating migraines and panic attacks among rational beings. Still, what did Selene hope to gain from the Coven Akkaba? Tasty life-energy treats to eat? Aren't there much more powerful magic wielders she could've allied with to continue proving her point against Krakoa? (Ah, well, she probably wouldn't appreciate the potential competition!)
(And speaking of rabid nationalists suffering cognitive dissonance—the Coven clearly thought well of welcoming in the immortality-drunk "Moon Goddess," as if such an "alliance" could have a happy end for their grossly inferior ranks that must've smelled like juicy life-energy steaks in robes.)
For now, I love that Gillen bucked whatever expectation there was that Selene would be a shoo-in. Instead, he turned to a character he really helped define over a decade ago*: the once and future(?) mutant messiah Hope Summers. This issue, mutantkind's redheaded Jesus assassinates the ancient pagan mother goddess, making erstwhile historical Crusader Exodus a very happy boy indeed. (*See Generation Hope
#1-12.)
Support For Comic Book Herald:
Comic Book Herald is reader-supported. When you buy through links on our site, we may earn a qualifying affiliate commission.
Comic Book Herald's reading orders and guides are also made possible by reader support on Patreon, and generous reader donations.
Any size contribution will help keep CBH alive and full of new comics guides and content. Support CBH on Patreon for exclusive rewards, or Donate here! Thank you for reading!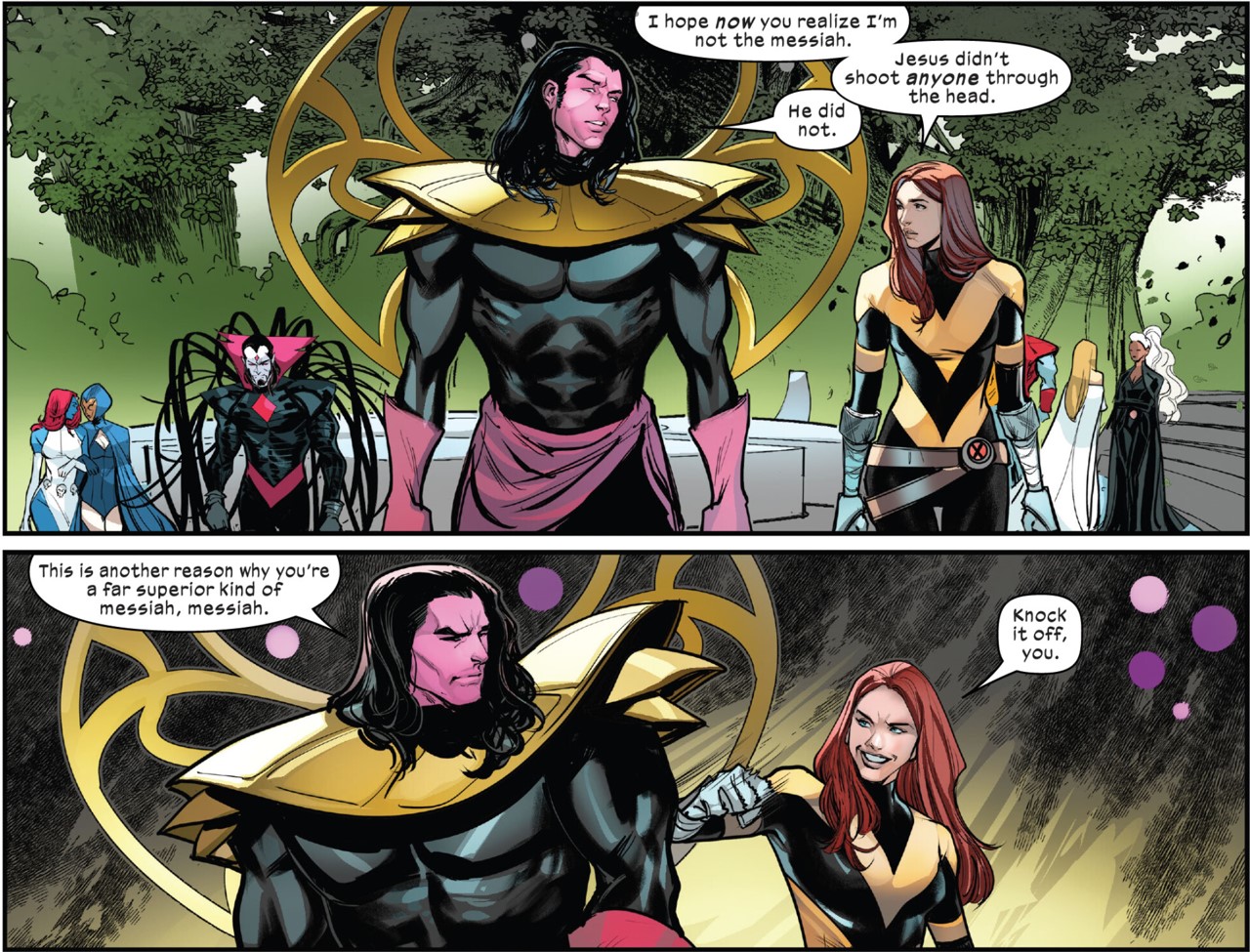 [excellent art throughout from Lucas Werneck and colorist David Curiel; letters by Clayton Cowles]
Selene certainly made her point that Krakoa is woefully unprepared to deal with magic-based threats, but she didn't exactly win the argument she instigated. Indeed, Hope used Magik, albeit her mutant power, to help take out the Black Priestess of the Moon. But she also had the benefit of teamwork, most especially from Destiny.
Of course, Hope's theme, put into stark contrast with Selene's glamorous pettiness, is just smart teamwork and communalist solidarity in synergy with one another—the smart mutant's populist (not just for the likes of Exodus).
At the start here, Hope reflects on who she is, really, someone who hasn't gotten to flex for a long minute now. Gillen wants us to know she's still a force in the field, not a Krakoan asset to be handled as a wallflower. Somehow, maybe not surprisingly, she comes across as not just a teen raised by Cable, but a combo of him and his own parents, especially reminiscent of Jean's own harder edges. And this humble-brag confidence is justified from her perspective, as she could very well be a force of unity from the ground up.
Unfortunately for that seemingly straightforward, hopeful dream of solidarity, the new councilmember being closely courted by Destiny and Exodus is sure to create friction and even division with those mutant heroes with whom Hope has previously allied with: The ancients are courting the young. Those in the middle may find themselves outmaneuvered.
Clearly an unintended side-effect of Selene warping a patch of Krakoa not only linked to another reality but also composed of sorcerously crystallized Externals bones, Destiny's convulsions will carry us into issue #3, as readers try to galaxy-brain how her excruciating fit might be linked to Sinister's dying agony at the start of Immortal X-Men #1.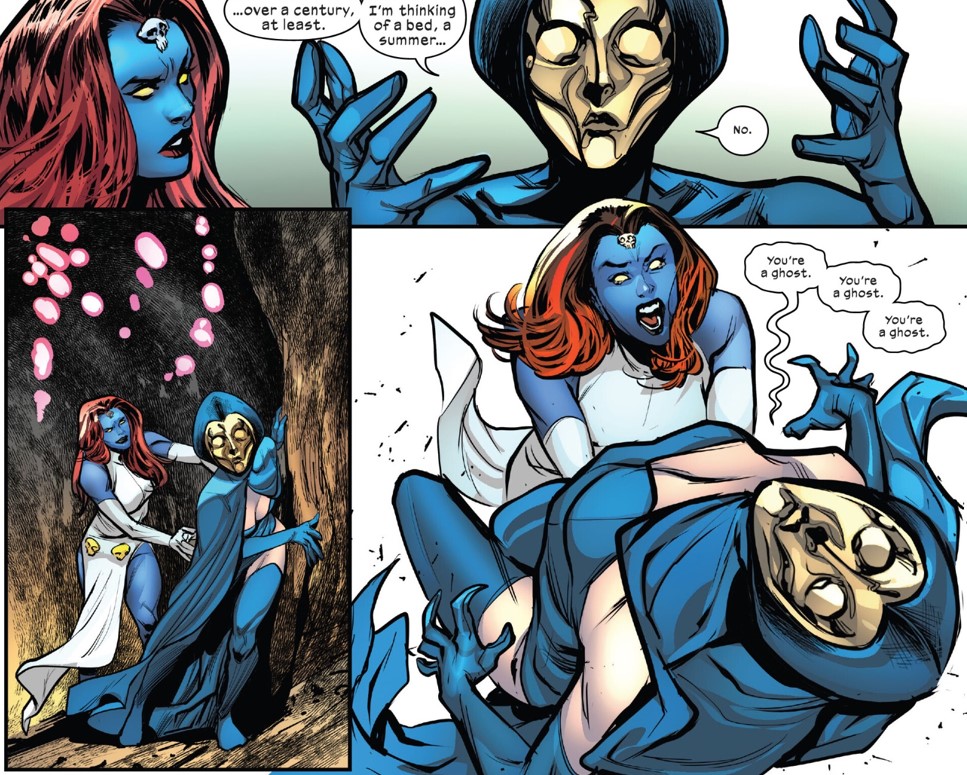 I think Gillen is already seeding Sinister's downfall here, in something of an excruciatingly lethal time loop, or similar. That would be something. It already feels like a visceral punishment he's slowly building toward. Just gives me shivers, it does—whispering backward through time, "You're a ghost. You're a ghost. You're a ghost."
Last issue's spotlight character was Sinister; this time, it was Hope; and the next four will be, respectively, Destiny, Emma, Exodus and Shaw—with these last two in the thick of Judgment Day.
Note that Storm and Magneto on the cover and inside: This clearly takes place before Ewing's opening arc for X-Men: Red. (And isn't it strange that they're on the cover but not Hope?)
Let's acknowledge, too, that Gillen's Sinister continues to delight—and evolve. Each issue could continue to see Gillen reveal a new facet to Sinister's character. This time, we have something like savage Sinister, though he'll always be himself, his own scarily perfected IP: Sinister all the way down, and yet a chameleon, a chimera, a kaleidoscope of possibility, a dark gene wizard.
"Open the gene closet!"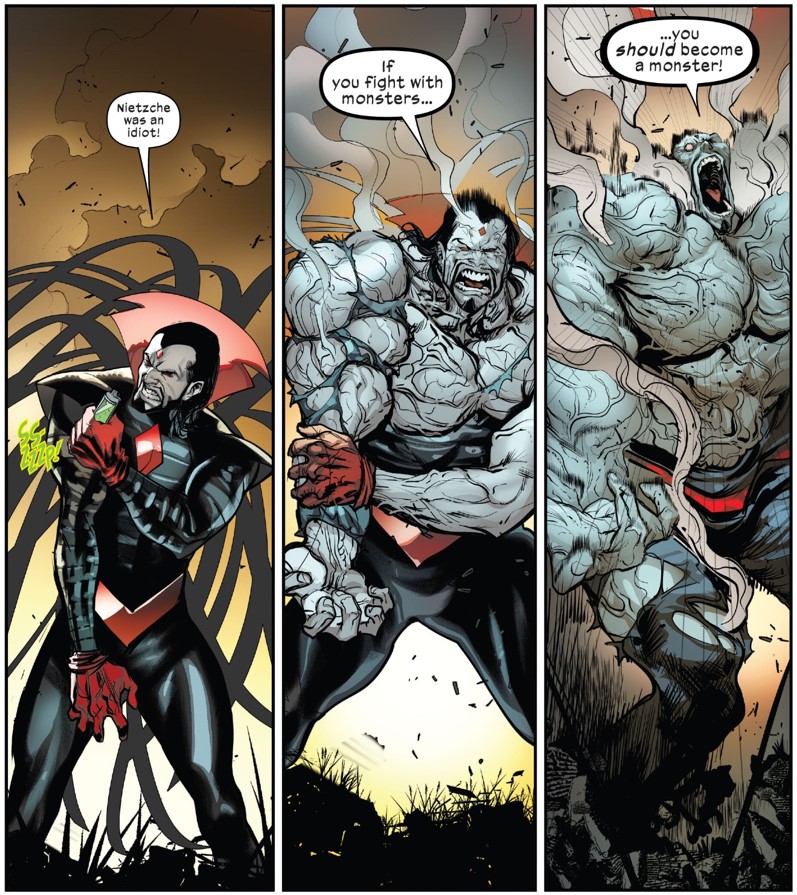 And what a delight to see Sinister's pets again, especially the Cyclops-visored, Sinister-diamonded kitty.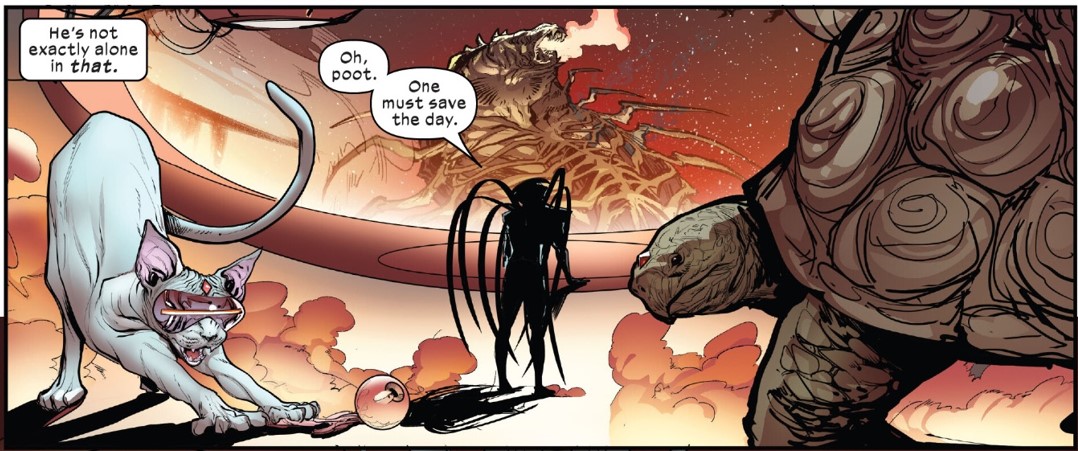 Also, the Cyclops data page on Kaiju protocols calls back to Duggan's X-Men #1, with the X-Mech. Again, more evidence here of Gillen delighting in mixing and matching big sf/fantasy tropes to great effect throughout this title and Eternals, while also filling out his corner of the MU with a richly lived-in feel, as if there's no end to story potential at every turn.
As just one example, a small detail appearing on a casual read to be no more than what's on the page could evoke, on a closer look, greater curiosity—or even distress: It's unsettling to wonder if a mysterium bullet through Selene's brain could also have unforeseen reality effects not unlike the Gateway Kaiju. It might not, but it could. This isn't the narrative principle of Chekhov's gun; it's simply the good sense of not skimping on the facets of worldbuilding, whether they're new creations or previous elements adapted to novel use.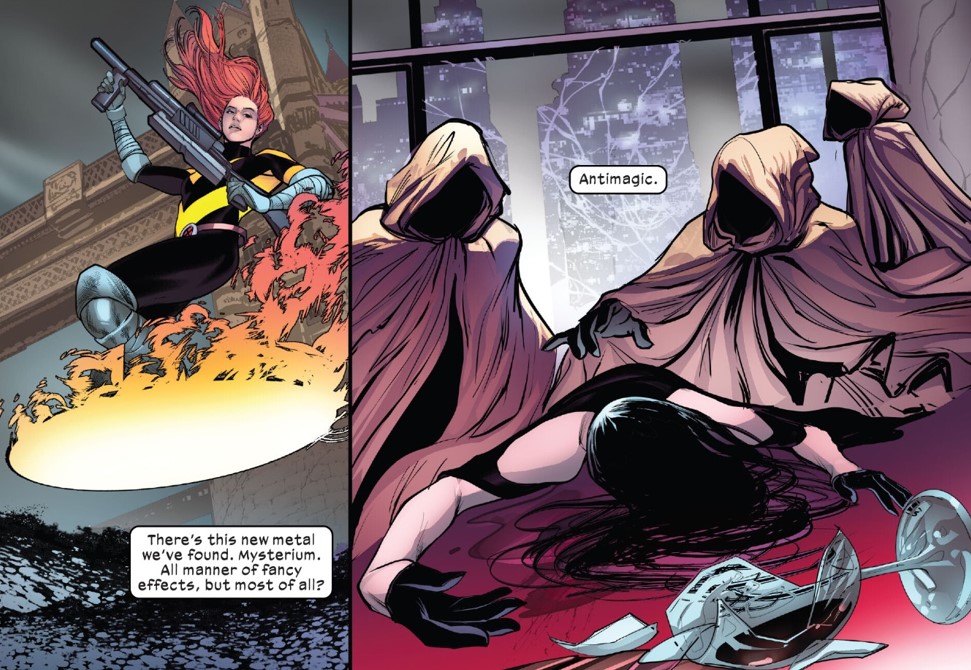 However Gillen's current Marvel work plays out, every moment is embarrassingly rich with possibility. Hopefully, Marvel has an inkling of how lucky they are to have Gillen on board.