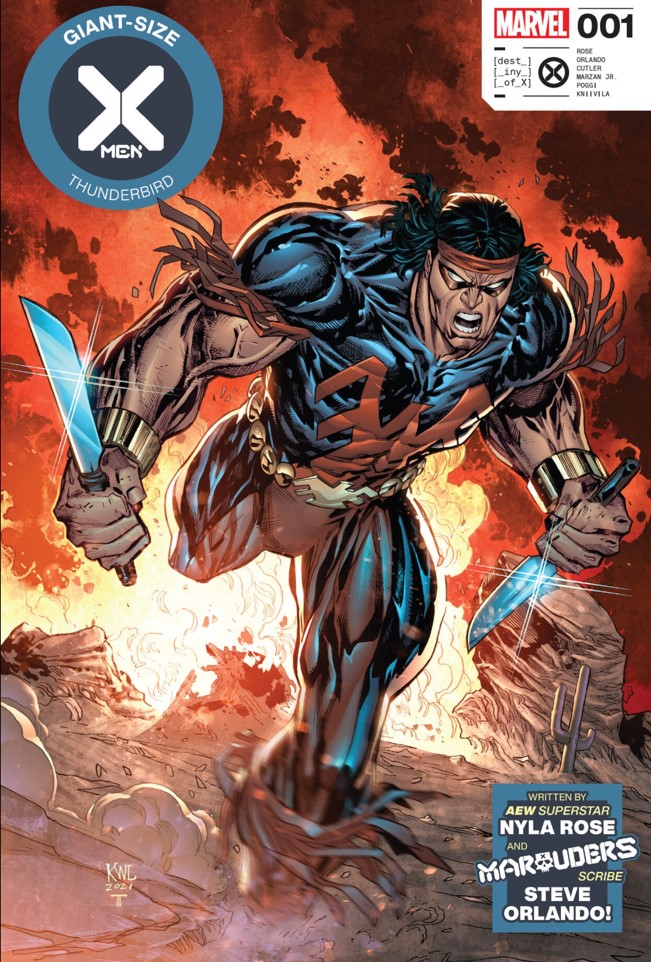 [cover by Ken Lashley and Juan Fernandez]
In the action-packed but deeply thoughtful Giant-Size X-Men: Thunderbird one-shot creators Nyla Rose* and David Cutler (both indigenous and, in Rose's case, Africa-American), with Steve Orlando (Marauders, Midnighter), prove that John Proudstar can go home again—and even if life there is never less than tough and uncertain, when you have good people who have your back, there's no better place to belong to. But Thunderbird is also beginning to realize that he can as proudly identify as mutant as he does Apache, though while he'll relish protecting both with his fists and his attitude, he has no interest in being Krakoan. Even still, we see here no resentment or regret directed toward his younger brother James (Warpath) for sticking with Krakoa and those who raised him from adolescence following John's death in 1975's X-Men #95, in a scene that's still shocking for its frenzied fatalism. (For James' reaction to his brother's demise, see Claremont's backup story in Classic X-Men #3.)
However, there's no reason to doubt that Thunderbird could continue directing his unspent rage at Cable, over in X-Men: Red, though I do vastly prefer his characterization in this one-shot. And while redefining who John Proudstar is precisely by going back to his roots, it makes perfect sense that Giant-Size X-Men: Thunderbird echoes in its title his giant-size debut in his Apache homeland in Giant-Size X-Men #1.
Notably, with the Proudstar home of Camp Verde destroyed decades ago in publication time (see below), we're now introduced to a different Apache reservation where John knows his grandmother to be. Gozhoo is Apache for, roughly, "harmony," and is a core philosophy for the Apache's way of life.
The elder Proudstar is on his own journey, and this story lays down the gauntlet that readers should care where his story goes next, after only three appearances in life (pre-Krakoa) and over 30 posthumous ones—across nearly 50 years of publication. And this spotlight story convinced me. But one of the great things about this new era is that when any fan's beloved mutants are missing from the page on a given month or even for many months, we're invited to imagine that they're not sitting on the metaphorical bench, that they've got lives, whether of adventure or of leisure, or both. So, in the event of an unimaginable blunder, like Marvel not giving us more Thunderbird solo adventures, this issue will leave us with the strong sense that John Proudstar will go on being himself, his best self, whatever happens with Krakoa.
Support For Comic Book Herald:
Comic Book Herald is reader-supported. When you buy through links on our site, we may earn a qualifying affiliate commission.
Comic Book Herald's reading orders and guides are also made possible by reader support on Patreon, and generous reader donations.
Any size contribution will help keep CBH alive and full of new comics guides and content. Support CBH on Patreon for exclusive rewards, or Donate here! Thank you for reading!
But hey! They also let us know he'll pop up next in X-Men: Red #3 😉. And while for John's story, I'd most like to see Rose and Orlando continue the narrative and nuanced characterization started here, Thunderbird did make quite an impression in X-Men: Red's first issue from Al Ewing and Stefano Caselli, and in Ewing's hands, his character will doubtless develop there as well, with care, subtlety, and nuance—but also righteous and maybe overly pompous fury, fitting with what Len Wein and Chris Claremont established long ago, a legacy that we'll see modern creators work with and tweak, to subvert and hopefully ultimately undo the original racist typecasting.
Now, to be sure, John Proudstar is still mostly thinking with his fists, even as he beats up corrupt racist cops, here in Giant-Size…Thunderbird. We can just assume that, probably with tempering help from grandmother Lozen, he'll prove a bit more tempered this time around (and it's doubtful that he would want to be fatalistic in the current X-Force style because it's clear he would definitely not want to waste time resurrecting on Krakoa or depending on the island society and its resources).
While the costume Thunderbird wears on the cover is recognizably iconic, the new outfit Cutler introduces inside is, in my opinion, better—smart, fresh, and fitting. (One of the issue's two data pages is John's note addressed to Jumbo Carnation detailing what he wants his new look to be, which is fun and informative.)
Regardless, the last page, of John running with bison, clearly echoes his bison-wrastling Giant-Size debut, but now he's a friend to animals, not a bully—lol.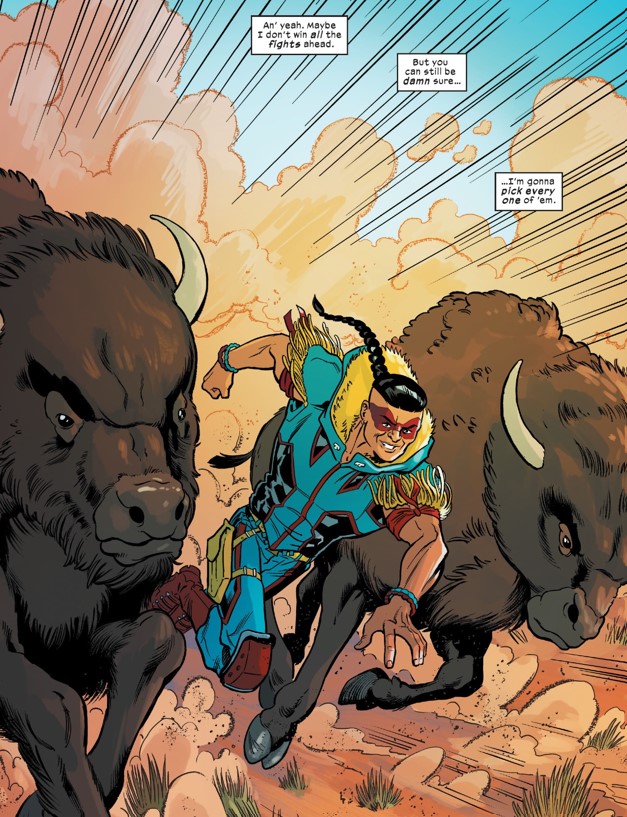 [The one-shot's impressive coloring is provided by rising talent and Canadian indie illustrator Irma Kniivila]
*Readers may also know Nyla Rose as the first openly transgender pro wrestler in the US. She also starred in the Canadian tv show The Switch.
An Obscure but Fitting Villain
The antimutant think tank Heritage Initiative debuted in 2017's X-Men: Gold #1 by Marc Guggenheim and had several further appearances, but the Guggenheim era—well.
Anyway, the Initiative had no connection to Edwin Martynec until this one-shot. But while the casual reader might recall the former, extremely few will even have an inkling of where the latter comes from and how he and the Proudstars seem to know each other all too well.
And yet Martynec is indeed a perfect fit for an ultimate Proudstar nemesis. Debuting in the original X-Force with issue #-1 (published between issues #67-68) in 1997, the lycanthrope next appeared in issues #72-75, and that's it. But hey, this is the still beloved cult classic John Francis Moore X-Force run, (issues #-1 and #63-100 and two annuals, with gorgeous Adam Pollina art for the first half and mostly Jim Cheung afterward). Undoubtedly, this villain has returned thanks to Orlando's penchant for the deepest pulls out of all but forgotten continuity.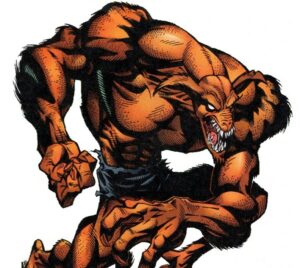 [X-Force #72 art by Adam Pollina, Mark Morales, Marie Javins]
But all you need for context here is X-Force #-1, easier to remember as one of those '90s "flashback" issues than if it were some other random-numbered issue. These one-shots were typically minor retcons and just lost tales from the early history or prehistory of whatever title. Early in Moore's run, the new author was already giving Warpath more of a spotlight, so it was natural he would do a Proudstar origin story—which actually proved a setup for the first short story arc at the start of the much-loved X-Force Road Trip era. This early stopover dealt with James learning the truth about the massacre of his people…
The Proudstar boys were born on Apache land in Camp Verde, Arizona, and the elder Proudstar, John, grew up ashamed of his people (with Len Wein drawing on both racist stereotypes and real-world tragedy). We don't see James or any other background material in Giant-Size X-Men #1, but in X-Force #-1, we find that creators are still explaining the early onset of mutant powers via parental exposure to nuclear radiation, and here it's their mother who had been exposed to fallout from local US army weapons testing (which does touch on the reality of the government's use and abuse of marginalized Southwest lands and peoples).
In John's early adulthood, a white doctor showed up, one Edwin Martynec, who diagnosed his mother with terminal cancer, but the Proudstar brothers and local journalist Michael Whitecloud didn't trust this guy and discovered not only that their mother's diagnosis was completely false (she was perfectly healthy)—Martynec's true purpose was—exploitative genetic research. He would falsely diagnose locals in order to subject them to his novel radiation "treatments." Blowing up his own research facility, and thus all evidence, the mad-scientist wolfman fled in the confusion. (He'd been a real wolf in sheep's clothing, in a lab coat.)
This story also reveals where John was inspired to take the name and symbolism of the Thunderbird, seeing it as, impossibly, formed of lightning in the night sky, following his heroic rescue of a fellow marine. He had found his totem animal.
(And as a delightful easter egg, an early photo taken of the young brothers in X-Force #-1 reappeared recently in Vita Ayala's New Mutants #19, where we see that James has held onto it ever since. So now, with Giant-Size X-Men: Thunderbird, we have another picture for the scrapbook—as the Proudstar boys reunite with the grandmother that the younger orphan had believed dead all these years. This issue is the debut of grandmother Lozen Proudstar.)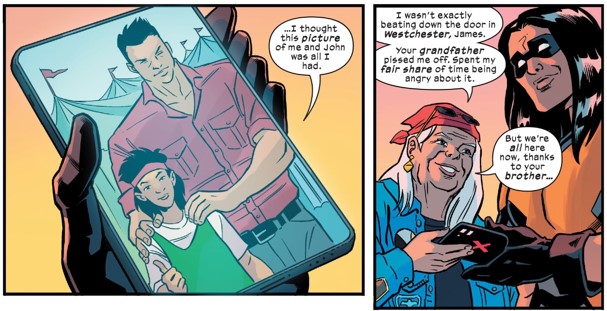 Martynec's story continues in X-Force #72-75, where it's revealed that the genocidal Camp Verde massacre that occurred off-panel way back around New Mutants #99, prompting ex-Hellion James Proudstar's return to publication after a three-year absence, had in fact been masterminded by—Stryfe?! (Who had funded Martynec and his operations).
(In the original New Mutants issue, however, the implication was that in retaliation for James leaving Hellions, the Hellfire Club had perpetrated the Camp Verde massacre. Thankfully, this was only ever implied, because had it become canon the Hellfire Club's comparatively innocent status as posh villains just hanging out in Victoriana and bondage getups committing the occasional lurid, comic-bookish murder would have been done for.)
Once Thunderbird, James Proudstar became Warpath in New Mutants #99 and joined the teen team that would soon become X-Force. It simply took many years for someone to be interested enough in him to explore his tragic backstory—but now, in the 2020s, we have a much greater opportunity for something more, much more in-depth and nuanced, compelling and inspiring, much less lurid and more restorative.
Because justice is what we want to see in superhero comics, right?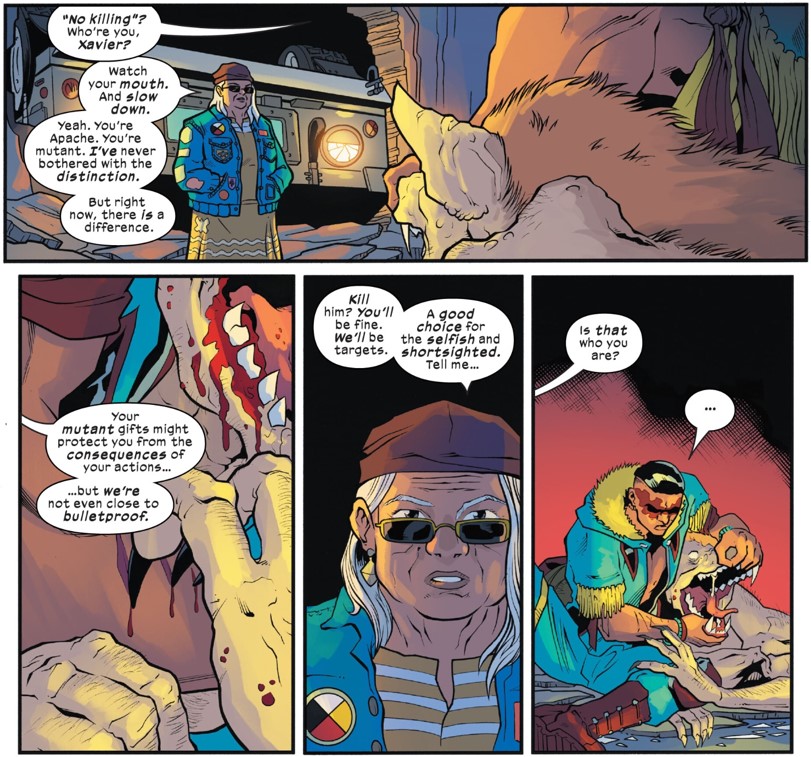 And Grandmother Lozen is clearly the mentor John needs in his life, not the usual Quiet Council suspects.
We Need More Books Like This
Giant-Size X-Men: Thunderbird is, simply put, a lot of fun, and it's a great (i.e., effectively suspenseful and ultimately satisfying) homecoming for John Proudstar, who had heretofore been famous for being dead much too early—and having an awesome younger brother. And even better, the story is so very relevant. Marvel could be commended if this weren't all so embarrassingly long overdue and still much too rare, indigenous superhero stories. I mean, really, it's always seemed like a no-brainer! Okay, but yes, it's actually pitifully unsurprising; we're talking about the Big 2 based out of a region of the States that is largely unaware of the continued existence of indigenous Americans. Shocking, right?
There are so many real stories that are nowhere near being part of our society's story about itself, presumably because they're inconvenient to our narrative of whitewashed progress. There's a giant hole or (whited-out) blank space in our media narratives, and while we obviously need to see more native peoples from all regions, walks of life, and backgrounds, a range as complex as that of any other people, not only to confirm that yes, they still exist!—but to represent them as fully as anyone else. Yet even now in our media, with just a thin wedge of the entertainment and news pie "reserved" for the other/nonwhite category (i.e., "special interest"), sanitized and/or sensationalized versions of white life still command zombified attention.
Where, for instance, would I find a story like my great-grandmother's? A Choctaw woman, she was forced at age 13 to marry a white man ten years her senior with the promise that this would keep her family from being forcibly removed from Mississippi to reservation land in Oklahoma. Though all I ever saw of her was apparently the single photograph of her, a solitary portrait on the "special" occasion of her wedding day, I know that this was not an uncommon practice, the use of grossly unequal marriage as a tool of genocide. And yet, how do these countless stories from not at all long ago remain so unknown?
No story can compensate for the countless indigenous lives and cultures that white settlers annihilated in so short a span. What worlds were lost, what futures, what hope for a better world than the "great game" of European nations, which has permanently shattered by now any prospect of world peace, ultimately realizing little more than the persistent specter of an all too imaginable apocalypse. Isn't it long past time then that someone like John Proudstar be the consequence? No longer picking fights at random, he's back to pick the fight that was brought down on his people generations ago. So, let's be here not just to cheer on Thunderbird in his world but all those who fight, in myriad ways, in our own reality, against the banal forces of white apathy and cruelty.
With committed stewardship and the right creative talent, Thunderbird's future adventures could be as captivating for a new generation of readers as Kamala Khan's have been. These are the heroes who will be of much greater interest to comic fans not even yet born (I know that's hard to swallow when we all live much longer these days and, unlike our grandparents, expect to keep consuming more of our favorite cartoons and comic books indefinitely—oh, first world problems! 😉).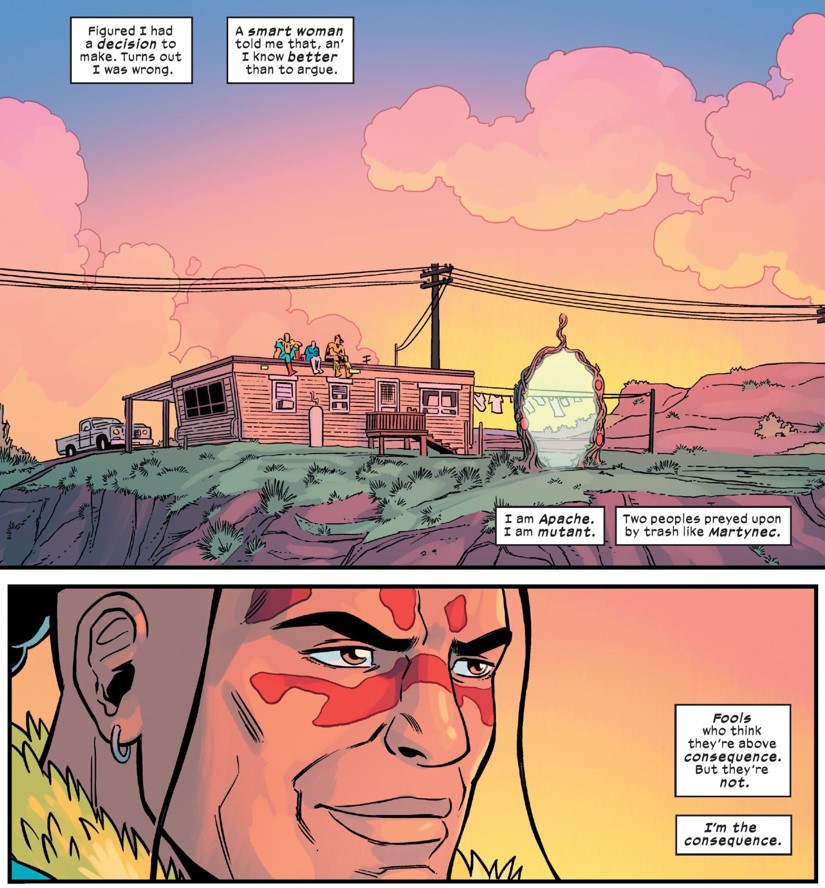 Miscellany
A. Despite John saying he was "the first mutant to die for Xavier," Ed Brubaker's Deadly Genesis retcon instead shows the previously unknown mutants Petra and Sway killed earlier, by Krakoa. Regardless, Thunderbird certainly wouldn't have known that then and may not even now.
B. This issue's other data page, Martynec's email (now representing Heritage Initiative's interest) to Orchis, mentions in passing his experimentation on the mutant Revelation, who is virtually totally unknown, Orlando's deepest cut this issue, drawn from the 1999 miniseries Wolverine/Punisher Revelation, which I've never heard of! Somehow digitized by Orchis, Revelation's mutant power is indeed a death aura—an air that kills, one might say. Having debuted and then died in this miniseries, she probably hasn't resurrected on Krakoa, so how Orchis acquired her remains is a mystery.
C. More relevantly, perhaps, Martynec's email is directed to a "fellow Judas"—and to some keen-eyed fans, this isn't just any Judas; looking back two pages earlier to the mostly unseen figure Martynec is speaking to remotely, by the figure's forearms festooned in bracelets, we can indeed verify that this is Judas Traveller.
Judas who?! This is an obscure Spidey foe, an illusionist but also—a mutant?! Well, to be fair, he doesn't consider himself to be anything other than a godlike immortal, more akin to the cosmic Beyonder. However, Judas uses his relatively modest psionic powers (illusion-casting, low-level mindreading, and memory-editing) to appear much more powerful than he really is. Debuting in 1994's Web of Spider-Man #117, near the start of Spidey's notorious three-year "Clone Saga," Judas Traveller (his real name, apparently) enjoyed a dozen appearances during that infamous (really not so bad) debacle and has since never reappeared, until now in Giant-Size…Thunderbird, as a highly placed member of Orchis.
So, yeah, this isn't a random pull. But hey, we know Orlando is a big '90s Spidey fan!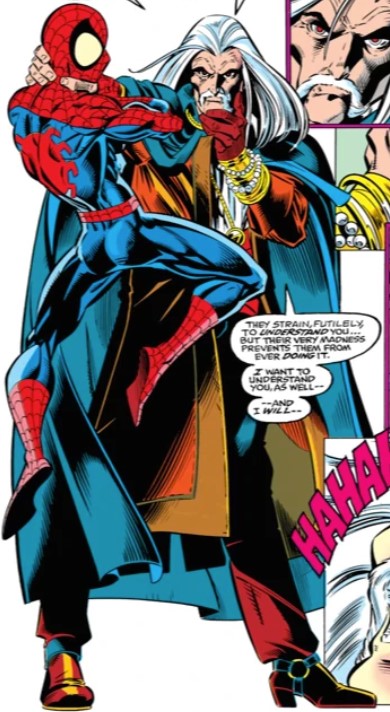 [Amazing Spider-Man #394 art by Mark Bagley, Larry Malstedt, Bob Sharen]
Criminal psychologist Judas Traveller's psionic powers first emerged during a sudden nervous breakdown, and in his fragile mental state, delusions of grandeur swallowed whole what remained of his sanity. Now, he was as a god, and the world must know. Well, that's what we find out a couple years after his debut, but while he starts out as a mysterious stranger harassing our favorite luckless Spidey, it later turned out he had unwittingly been one of Norman Osborn's cat's paws and ultimately ended up in the villain's hands, contained in a pod, unseen since that time.
Could this mean Osborn is a card-carrying member of the Orchis death cult, too?!??!!