Avengers #672 opens with extremely effective and intriguing framing. From top to bottom, the page – written by Mark Waid and rendered by Jesus Diaz – presents Peter Parker, Spider-Man, delivering a flash-like vibrating warning. As your eye-line tries to uncover the infinitely overlaid message, Peter transitions panel by panel into Miles Morales, the Champions' Spider-Man.
The open is effective both as an attention-getter, and as a thematic representation of the state of Marvel's Avengers. The current state Avengers are defined by change, frequently with young counterparts occupying a similar (or same) title as a member of the Champions.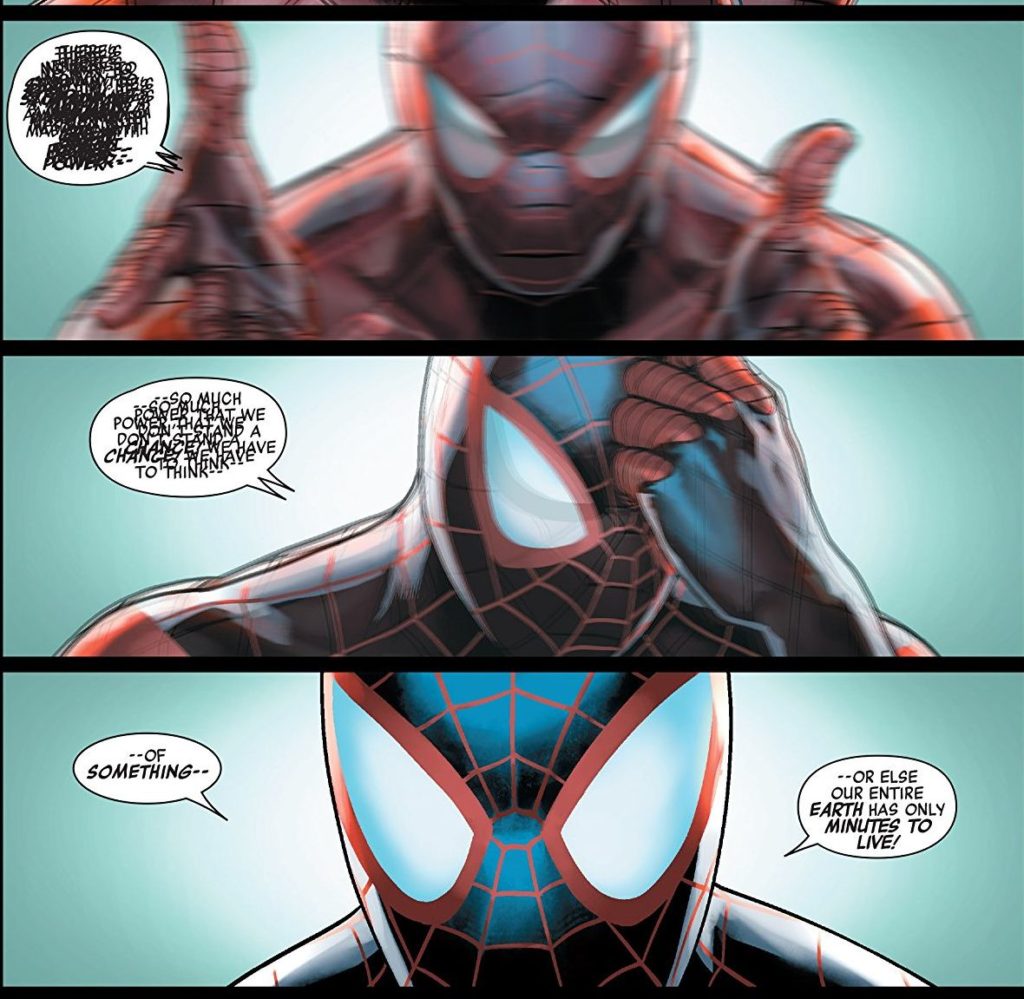 Few pages in Marvel comics lay out this state of overlapping heroism as clearly as Avengers #672 page 1. This is a Marvel Universe with two Spider-Men – can the comic support them both?
Unfortunately this interesting set-up isn't supported very much throughout the pages of Avengers #672, the first Marvel Legacy era Avengers issue, and the start of the "Worlds Collide" crossover with The Champions. Waid and Diaz bring all the players together, setting the stage for a potential Counter-Earth invasion (i.e. worlds literally collide).
One of the biggest hangups with Mark Waid's Avengers run – now spanning XX issues and two years – is the stakes are egregiously high, but the emotional repercussions are almost non-existent. Throughout Avengers #672, Marvel's flagship hero team is literally just throwing heroes at a meteor in the sky, and I'm hard pressed to feel much of anything as it happens. The lone relationship with any weight is between Vision and his daughter, Viz, although that's largely because all the groundwork was laid in Tom King and Gabriel Walla-Hernandez's Vision.
Support For Comic Book Herald:
Comic Book Herald is reader-supported. When you buy through links on our site, we may earn a qualifying affiliate commission.
Comic Book Herald's reading orders and guides are also made possible by reader support on Patreon, and generous reader donations.
Any size contribution will help keep CBH alive and full of new comics guides and content. Support CBH on Patreon for exclusive rewards, or Donate here! Thank you for reading!
The true letdown of Avengers #672 is that, as it stands, the issue restores the legacy of the Avengers in numbering only. Not even talking about the players involved, Avengers simply carries over the continuity of All-New All-Different Marvel with a "legacy" banner smashed along the cover. Again, aside from carrying on the ongoing numerals of a series that launched in 1963, there's nothing about this Avengers comic that feels like an ode to the team's deep history. It's one issue, so this may change with time, but I expected more attempts to draw readers in from the book that should be Marvel's flagship.
Bizarrely, we also have Avengers launching with a crossover, which pits Avengers/Champions and X-Men Blue/X-Men Gold as Marvel Legacy titles immediately forcing new readers to purchase multiple comics series to get a full story. This suggests Marvel has learned very little from fan event/crossover fatigue, and are still (to a degree, understandably) focused on the almighty dollar.
At the end of the day, the reason I'm particularly frustrated with the banality of Avengers is that Marvel is extremely reliant on a strong Avengers comic as a throughline through the shared universe. It was only five years ago that Jonathan Hickman (and various artists) delivered an Avengers/New Avengers combo that set the stage for an epic Secret Wars and stands as my favorite Avengers run of all time.
Marvel Legacy offered the opportunity for Avengers to reclaim that power, and Avengers #672 is a missed attempt, plain and simple.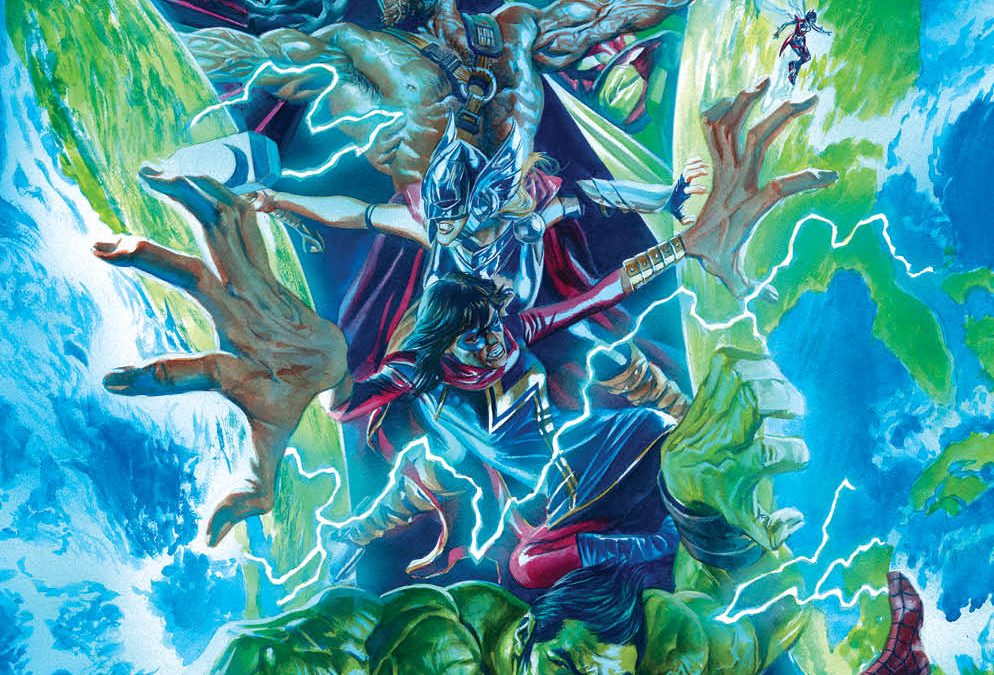 THE AVENGERS LINEUP & ESSENTIAL READS
Amazing Spider-Man (Peter Parker)
Peter Parker, the Spectacular Spider-Man, has been a part of the ANAD Avengers since launch, after a short stint ditching the Uncanny Avengers because they let Deadpool on the team.
Falcon (Sam Wilson)
Sam Wilson was this Avengers units Captain America until… well, until right now. In Marvel Legacy #1 we see Sam still in his Captain America garb joining a fight with Thor and Ironheart. Presumably this is all explained in Falcon #1.
Thor (Jane Foster)
The Avengers Thor is the Goddess of Thunder, Jane Foster.
Vision
Vision has likely had the most interesting All-New All-Different era of any Avenger, with an incredible solo series, and a surprising amount of Waid's Avengers running through him. Again, here at the start of Marvel Legacy, Vision is the emotional core of the story, in his relationship with his daughter, Viz.
Hercules
Herc's an Avenger again too, and gloriously may team up again with Amadeus Cho (aka The Champions' Totally Awesome Hulk). This is a major win for everyone involved, and the most exciting aspect of this crossover.
Wasp (Nadia Van Dyne)
The Unbreakable Kimmy Wasp is the Avengers' youngest member, and her entrance into the Marvel Universe can be explained in the pages of Waid's run on the title.
Essential Reading:
Avengers by Mark Waid