Jason Aaron has been writing Thor since 2012's Thor: God of Thunder, now with a legacy that covers close to 75 issues.
I wrote recently that Brian Michael Bendis has built a deceptively lengthy Iron Man run over this same time period, but apart from Dan Slott's stranglehold on Amazing Spider-Man, Aaron's ties to Thor are one of the longest running arcs in Marvel Comics.
As a writer, Aaron has built a catalog that extends well beyond Asgard, with his Vertigo series Scalped
, and creator owned series like Southern Bastards
among fan favorites. Due to this body of work, it's unlikely that Aaron's own legacy becomes inextricably tied to Thor the way, say, Walt Simonson's has, but it's not for lack of trying. Alongside otherworldly art from Esad Ribic and Russell Dauterman, Thor has been one of Marvel's most consistent staples since Marvel NOW!.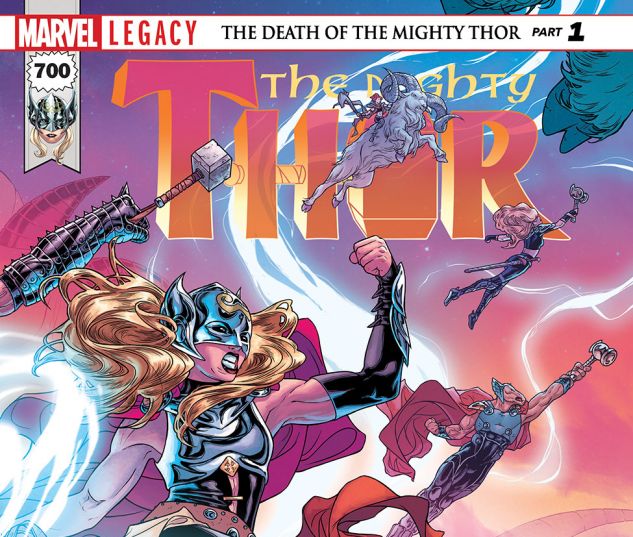 The Jason Aaron Thor Run To Date:
Thor: God of Thunder
#1 to #25
Original Sin – Not a Thor story persay, but major ramifications that carry through.
Support For Comic Book Herald:
Comic Book Herald is reader-supported. When you buy through links on our site, we may earn a qualifying affiliate commission.
Comic Book Herald's reading orders and guides are also made possible by reader support on Patreon, and generous reader donations.
Any size contribution will help keep CBH alive and full of new comics guides and content. Support CBH on Patreon for exclusive rewards, or Donate here! Thank you for reading!
Original Sin: Thor & Loki
– The 10th Realm #1 to #5
Thor
#1 to #8, Annual #1
Battleworld: Thors
#1 to #5
Mighty Thor
#1 to #11
Unworthy Thor
#1 to #5
Mighty Thor
#12 to #25, #700
Thor #700 serves as the continuation of Aaron's "War of Realms," a saga that has beginnings as far back as the third arc of Thor: God of Thunder.
I've been questioning the approach of Marvel Legacy in a number of these write-ups, wondering aloud whether Legacy should serve as a hand-holding entrance for new or lapsed readers, or if the initiative should simply lean in to the continuity and lore it claims to revere. The best approaches – Amazing Spider-Man #789, Jessica Jones #13 – have very much continued in the moment (this is FAR from a reboot) while calling back to a legacy of story long-time readers will understand.
Thor #700 tries a blended strategy, with a Walt Simonson Thor pin-up kicking off the proceedings, which is always a win. Much like Aaron's work on Legacy Mighty Thor is equal parts spectacle and teaser trailer.
The present day action of the issue isn't a new starting point for the series so much as the escalation of the long running "War of Realms." Jane-Thor is stuck on Earth for most of the issue fighting She-Hulk – in an extremely strange use of her time that seems hellbent on comparing to Thor vs. Hulk brouhahas of the past? – and War Thor (aka Volstagg the Voluminous) is trying to overcome his hammer addiction.
Inevitably War Thor fails – its hard to pass on anything that sounds as awesome as "wielder of a Mjolnir from a dead universe" – scanning the ruins of fallen Asgard only to uncover the issue's big reveal, the return of Mangog.
I'll be honest, Mangog leaves me colder than Bobby Drake in a Chicago winter, but I'm invested enough in the long ride to get here to see what Malekith's scheming next.
And that's the final conclusion I come to with Thor #700 – as a reader who has invested time and enjoyed much of Aaron's run to date, of course issue #700 is a sensible stepping stone for me. If you're trying to draw in new or lapsed readers with the Legacy initiative, though, this is a tough place to start the ride. The simple reality is the full story goes back to Thor: God of Thunder
(HIGHLY recommended reading).
Either way, Aaron's run is going to be held up as an important period in Thor's history, and depending on who you ask, may already be the second best continued series in the character's legacy.