You've arrived here if you're ready for a re-read of the Hickman era of X-Men (which began in July 2019 and is not even close to being over) or you're curious what all the hullabaloo is about. If the latter is true for you, you will certainly get something out of this first in a perhaps interminable series of essays. Enjoy! However, before going further, I strongly recommend that you read ahead, at least to the end of the two six-issue limited series—House of X and Powers of X

—that kicked off Hickman's X-Men coup. Read those twelve issues before returning here for the re-read.
After this opening essay, spoilers will abound, but I will keep them restrained, revealing nothing further than six issues ahead. So, the initial installments that cover both limited series, HOX and POX, will assume that you've read that complexly interwoven 12-issue story.
Related: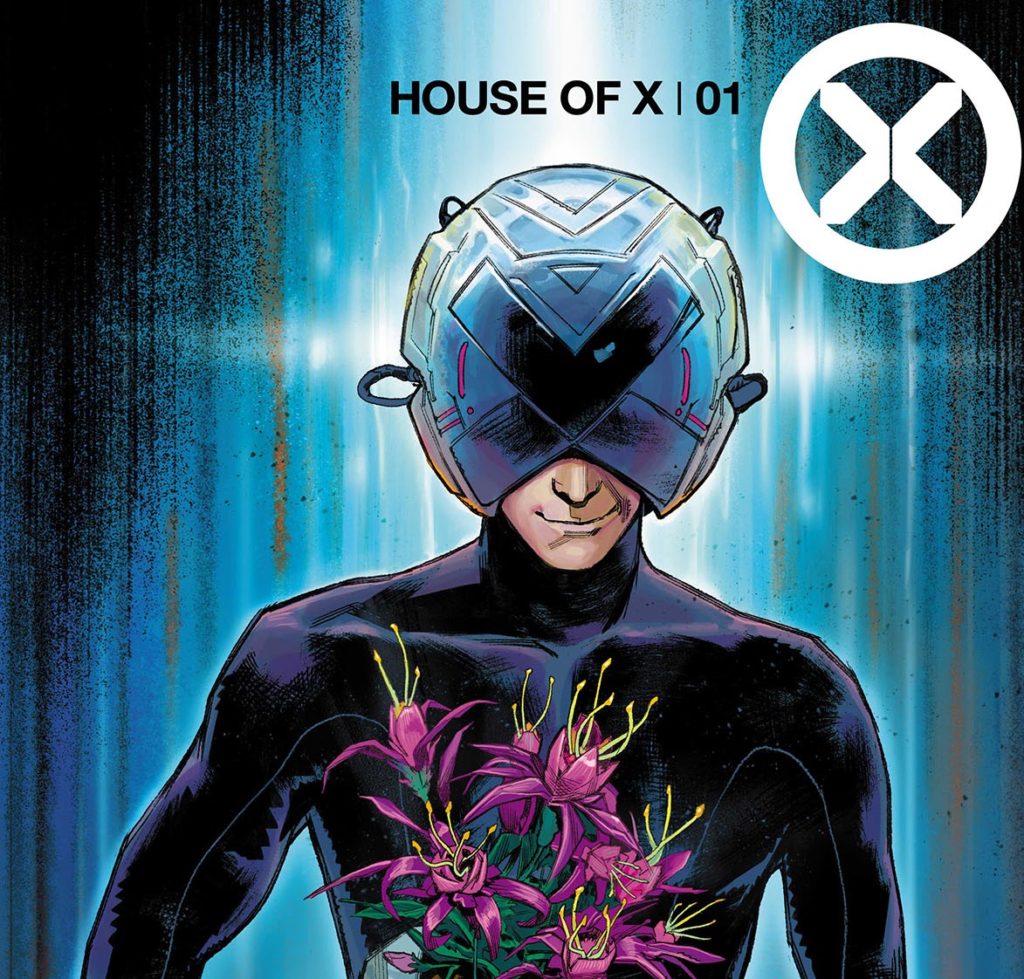 If you've already read the limited series and beyond, then, by all means, welcome! I would still recommend reading this introductory essay, wherein much is revealed, or teased, just by focusing on the cover of House of X #1. This opening piece rounds things out by taking new readers, or those who haven't read the start of Hickman's run in some months, up to the title page of the first issue.
Support For Comic Book Herald:
Comic Book Herald is reader-supported. When you buy through links on our site, we may earn a qualifying affiliate commission.
Comic Book Herald's reading orders and guides are also made possible by reader support on Patreon, and generous reader donations.
Any size contribution will help keep CBH alive and full of new comics guides and content. Support CBH on Patreon for exclusive rewards, or Donate here! Thank you for reading!
Even for an attentive reader, the non-linearity of the storytelling of HOX/POX can be confusing. So, think of the way Hickman is presenting this story as a mosaic—not unlike the cover of HOX 2, where a number of alternate timelines become central to threading together the rich tapestry of X-Men history.
For anyone who had followed the X-Men comics franchise over the past several years before July 2019, Jonathan Hickman's House of X and Powers of X, both starting that month, would plunge fans into a bracing, cold-water shock. The return of Hickman to Marvel for his takeover of the mutant franchise was a rare instance of the final product justifying the massive hype, building up to the start of the limited series and the dizzying issue-by-issue revelations of its closely guarded secrets that have radically rewritten the history of mutantkind in the Marvel universe.
The two six-issue limited series are closely interwoven as a single but very complex narrative and need to be read in the following order: HOX 1; POX 1; HOX 2; POX 2-3; HOX 3-4; POX 4; HOX 5; POX 5; HOX 6; POX 6.
Thereafter, Dawn of X, Hickman's second phase, opened with five ongoing team titles, as well as another, relatively tangential limited series. These will each be discussed in six-issue segments after we've thoroughly looked into HOX/POX, the essential framing sequence for this new X-Men era.
It is also very important to understand that Hickman's takeover of everything X-related in 2019 was not a reboot, though it is a clear if extremely abrupt break from the tendency toward disarray, aimlessness, and terrible editorial decisions that have plagued X-Men comics for at least the past decade
Following Dave Buesing of Comic Book Herald, I make the case that HOX/POX is not targeted at new readers. Its ideal audience is longtime X-fans, especially lapsed ones. That said, with an orderly bit of targeted, manageable context, those who want to dive into reading X comics with these 2019 limited series and go on into Dawn of X from there, should be wholeheartedly welcomed. It's safe to assume that neither Marvel nor Hickman wanted to provide too much, explicitly, in terms of specific touchstones for this "fresh start" to the franchise. They wanted fans to be surprised and to puzzle things out themselves. And newcomers could always find those die-hards who just couldn't stop dorking out about how the pieces of the puzzle fit—a sure sign of success for this major event.
So, without further ado, let's dork out.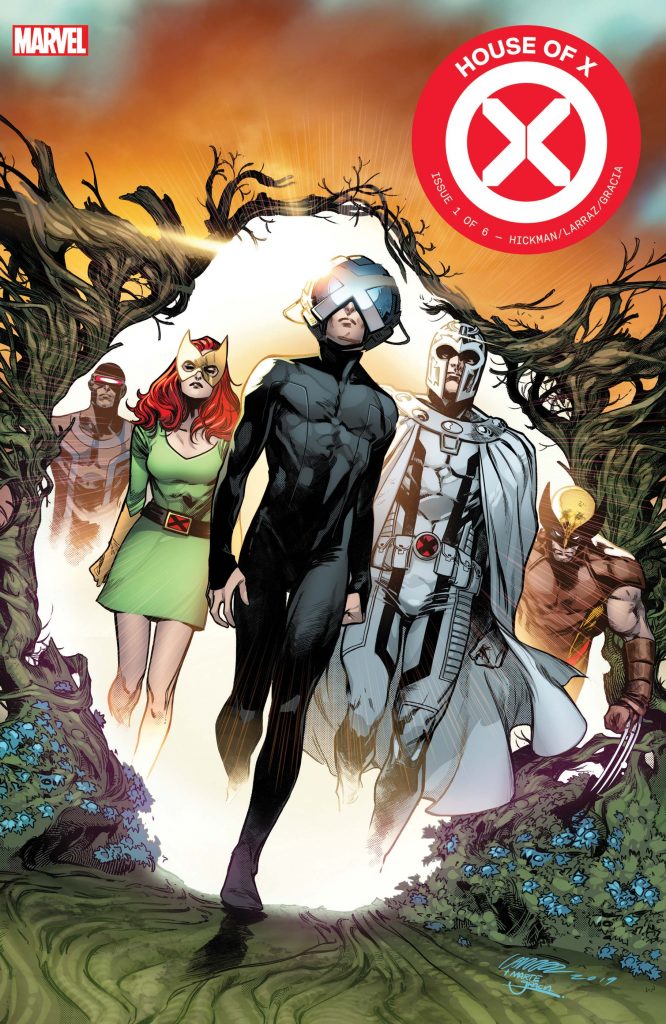 House of X #1 – Annotated Cover
The first blow-out surprise in store for us with HOX 1 is the cover, drawn by the top-tier Pepe Larraz (also penciler of the entire limited series—not always a guarantee even for major titles). This cover by itself is packed with portent, so let's make a list of the five mysteries or teases it presents us with, starting with the least revelatory:
1. Five classic characters boldly stride through a strange portal framed by organic woody growth. Mysterious—but clearly echoing the cover of the first real X-Men classic, Giant-Size X-Men #1 of 1975, which introduced Wolverine, Storm, Colossus, Nightcrawler, and (briefly) Warpath as the new X-Men.
The image's timing follows, as we find out in that issue, the disappearance of the original team while scouting out the living island Krakoa (and, according to Xavier, nonhuman mutant) that swallowed them up (except for Cyclops, who escaped). The new team is gathered to train (very quickly) and then go rescue the old.
2. All five mutants on the HOX1 cover are X-Men veterans, leaders, and teachers. All but Magneto were (ambiguously) dead until 2018-2019, when over the course of a year each returned in separate titles (Jean Grey in Matthew Rosenberg's Phoenix Resurrection
#1-5; Logan in Charles Soule's overly plotted Return of Wolverine
event; Scott at the end of Ed Brisson's Extermination
five-issue event; and Xavier in Soule's Astonishing X-Men
#1-6, the best story of the lot). It's not too surprising to see them all here, but it is very satisfying: the core X-Men are back, and in a way that they always should have been.
Here, we might assume that Xavier is going to be working with Magneto in a way that has never quite worked out. (And who knows, beyond HOX/POX—maybe it won't! This isn't a spoiler; I genuinely don't know.)
3. Now, Jean Grey is wearing a very unusual costume—one that she hasn't worn l (with one notable exception) since she and her teammates were rescued from Krakoa in that 1975 Giant-Size!
While Jean Grey "died" in 1976 and did not return until 1986, she was replaced in the pages of X-Men #101 by a pretender who had everyone fooled until Jean's "reawakening" ten years later (not in terms of internal chronology but in terms of our own real world time, of Marvel publishing history!). The cosmic Phoenix Force had taken her place and would return to wearing that OG costume for just one issue, in Uncanny X-Men #137, in 1980, wherein the alien imperial Shi'ar forces pass sentence on and execute/assassinate whom they believe to be Jean Grey as possessed by the Phoenix. (I know the history of superhero comics can get confusing, but just know that it will turn out that this was not the real Jean)
That final, brief costume change was meant to be a moment of repentance and a nostalgic return to innocence for "Jean," who had become (as the Phoenix) a terrifyingly powerful and deadly godlike entity. So, the end of the legendary Dark Phoenix Saga
is Hickman's touchstone for Jean's appearance on the cover of HOX 1. Longtime fans who understood this right away would've immediately asked themselves: Is the Phoenix back?
4. Magneto is wearing a white costume. Does that mean that he's still on the side of the angels? Magneto's status as a hero has been fairly ambiguous as far back as the late '80s. But with him striding forth into this new era alongside other major players, should we now expect that he'll be playing a more cooperative, team-player role? No doubt, he'll still be a senior leader, but with all these veteran X-Men returned to the fold, diplomatic power-sharing will surely be part of the drama to come.
5. And that brings us to the greatest and central mystery on the cover of HOX 1: Someone who is apparently Charles Xavier, to some degree at least, wearing a portable Cerebro helmet, and trimly buff in all-black spandex. Say what?! When Xavier was murdered (manslaughtered?) by a Phoenix-possessed Cyclops back in the 2012 Avengers vs. X-Men event, he had the full use of his legs, so no surprise there. But he was still an older man who may have been fit, but certainly did not go around regularly in tights. He was the venerable public face of mutantkind (although no longer venerated by mutants themselves).
In writer Charles Soule's 2017-2018 Astonishing X-Men run, it was revealed that Xavier's astral form (or spirit, if you prefer) had been trapped on the astral plane since his death at the end of AvX.
Xavier's torment and the location of his essence in the astral plane and in the clutches of the astral entity, the Shadow King, are revealed in Astonishing X-Men #1-5, when Psylocke is attacked in its attempt to inhabit her body and break the stalemate with Xavier. But Xavier's old pupil manages to turn the tables on the Shadow King and come to Xavier's assistance, along with a handful of X-Men she rallies together.
One of them, Fantomex offered his own body for Xavier's astral form to inhabit while, in exchange, Fantomex's consciousness was transferred to the astral plane. In a final battle led by Xavier and Psylocke, the Shadow King was then supposedly annihilated. However, this new version of Xavier did not go by Xavier in Astonishing X-Men. Instead, he insisted on being called "X." We don't know in what other ways he might differ from the Xavier the world had previously known. After ASTONX 12 and the series annual, both released in mid-2018, we don't see him again until HOX 1, a full year later.
In the Astonishing X-Men Annual, we find X crashing a dinner party consisting of his original pupils—except Cyclops, still "dead" at the time—whom he proceeds to manipulate, amiably enough, into a mission against a mind-controlling menace in a small town. By the end, it's clear that he's erased the team's memory of what seems to have been the better part of a week—including the recollection of meeting their old Prof. So far, then, the return of Xavier has been presented not as an exercise in nostalgia, but rather as a pretty bitter pill, one that will certainly entail unforeseen side-effects. His presence is not comforting. He's edgy, all angles, and his statements are terse bordering on cryptic—not engaging or consoling or even schoolmasterly, as in the days of old.
Okay, then. That sums up the still rather mysterious status quo for Xavier stepping into HOX 1. But with the cover to Hickman's opening chapter in the X-verse, we have another question: What's that on Xavier's head? Clearly, this contraption recalls the mutant-detection technology known since its 1964 debut as Cerebro, but that device was not wireless and its use usually necessitated a specially designed chamber. Now, it appears to be wireless and perfectly mobile—if it is what it seems. Perhaps it's something different? Something more …?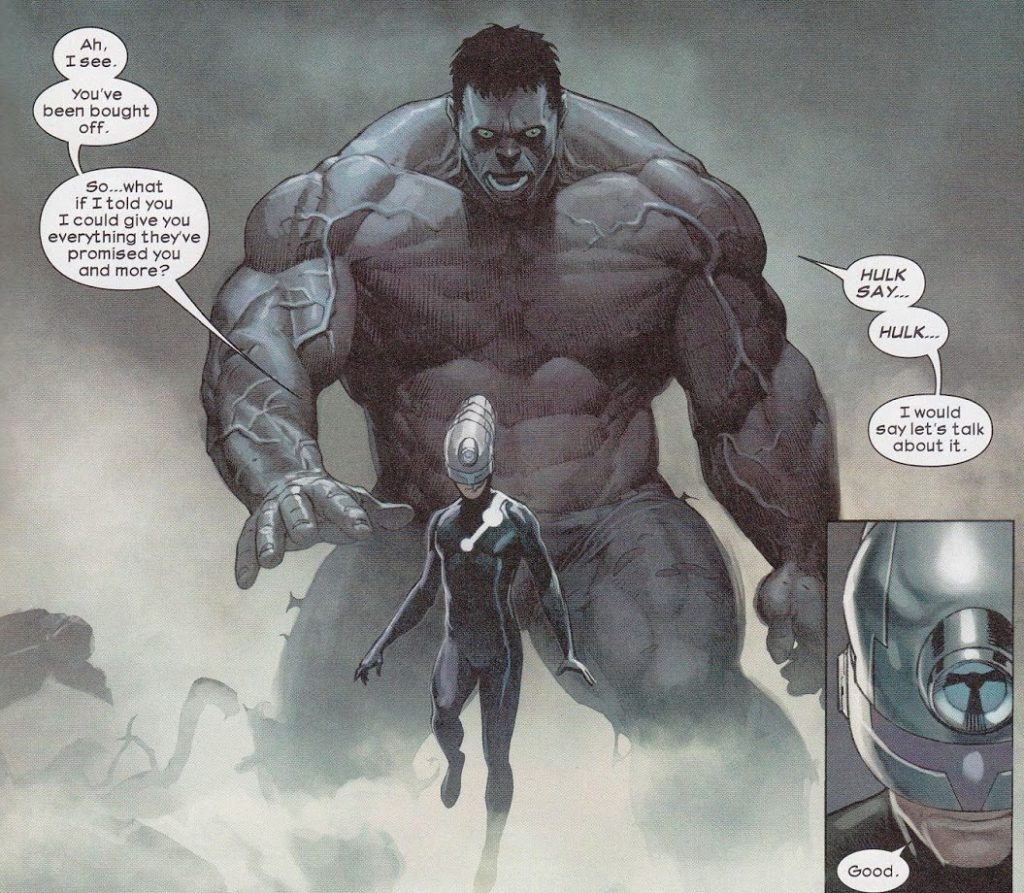 But there's always more with Hickman: this new version of Xavier bears a very striking resemblance to another Hickman creation, the Maker, an alternate-earth Reed Richards and a thoroughly corrupted evil genius. The Maker was able to escape his own dying earth and now resides in our own, concocting nefarious plans in the shadows. He's known for wearing black spandex and a strange helmet not dissimilar to the one Xavier's wearing on the cover of HOX 1. In his own world, this alternate Reed Richards emerged as the Maker with a secretive group of followers called the Children of Tomorrow, which very much recalls the idea of Marvel's mutants generally, who have been known as the Children of the Atom.
I don't think we're meant to suspect that Xavier is directly associated with the Maker. But comics are full of internal allusions and echoes. The setup around the Maker, his Children, and their Dome will certainly resonate, to some degree, with Hickman's X-Men work moving forward.
To conclude our in-depth discussion of the cover of HOX 1: If the image here of Xavier evokes that of the Maker, is this new version of the supposedly kindly old Professor a good guy? After all, even if you don't know who the Maker is, the central character here is wearing black and his features are hidden beneath a weird helmet, while Magneto is all in white. Clearly, something here is unsettling.
And what an elegantly designed cover! Not only is it rich with mystery and portent, but, aided by Pepe Larraz's elegant artwork, the deeper context at play is laid out along this horizontal axis presenting mutantdom's most important mutants striding forth out of an eldritch portal, with the central mystery, the man called X, depicted front and center. This cover doesn't just promise the start of a comic book story, but the beginning of a science fantasy epic.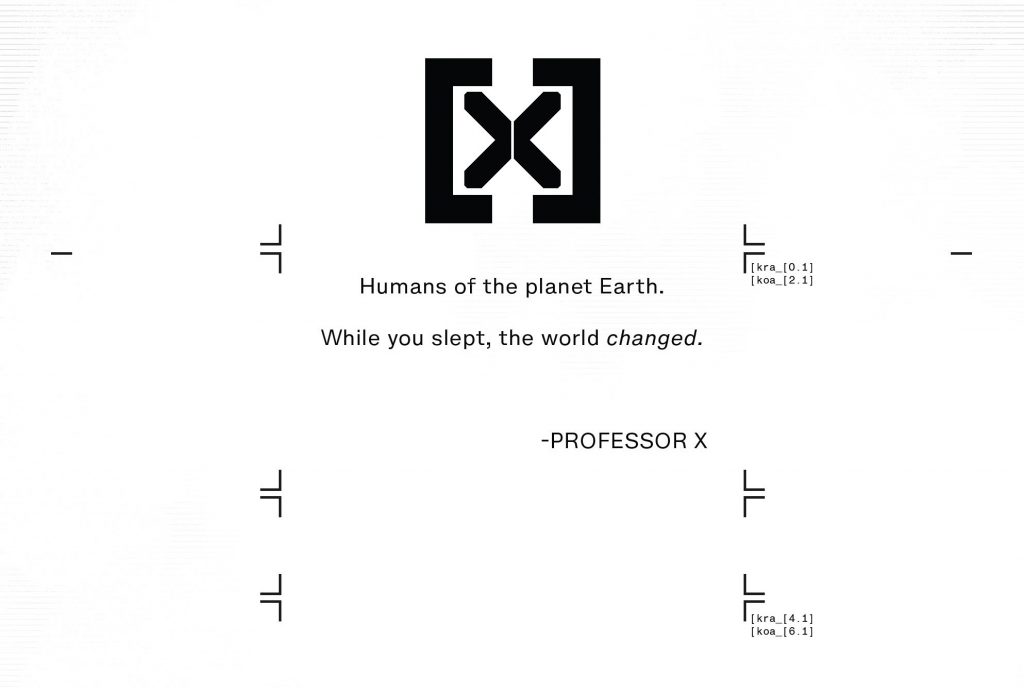 House of X #1 – The Introduction
So, at last! Are you ready to start the damn story already? Me, too! Let's turn the page …
Oops. We're on page 1 and still no comic book action?! Instead, we have this epigraph from Xavier: "Humans of the planet Earth. While you slept, the world changed."
Now, we all know Professor Charles Xavier once had a dream of harmony between human and mutant. But this epigraph implies that Xavier's perspective has changed somewhat. Perhaps while humanity slept,Xavier was wakeful and dreamless—dream-haunted no more—and very likely an agent of that "change" that he invokes.
What change? Turn the page.
Mutatis mutandis. The X-Men as a team and as a comic have never been altered so radically as what we'll find here in the pages of HOX/POX. And yet Hickman will show us that his version of the team and of mutantdom itself is most truly, most inevitably, what they were always meant to become.
Page 2: Naked X-Men are being hatched from glistening pods nestled in the roots of a huge leafless tree whose vaulting canopy is composed of a thicket of root-like branchings so dense that it creates a circular wall where it descends to meet the equally organic-looking floor of a vast chamber hazed with a low-lying mist. It's kind of like a dome. It might be underground. Those might be shafts of sunlight finding their way through gaps in the branches far overhead. It might be above ground but sealed off from the outside world.
Expect notions of inside and outside to become complicated.
The helmeted man in black whom we assume to be Xavier walks among the newly hatched. The first he touches is his old right-hand pupil, Scott Summers—given the obvious clue of the red spark of light leaping briefly from his right eye … What?! That's impossible!
Why impossible? Cyclops has always had trouble controlling his eye beams. Without his ruby quartz visor or eyeglasses, Scott's going to start blasting everything in sight. He won't even be able to shut his eyes at that point; he'll need someone to get his ruby quartz right away. But here, he's harmless, still groggy from birth, maybe weak. None of them are able to gain their feet yet. Everything about this scene is unusual.
But the resurrectionist certainly speaks like the old Charles Xavier when he says, with a knowing smile, "To me, my X-Men." But does that mean this is the old Xavier? That smile doesn't feel innocent at all.
So it begins. Chapter 1: "The House That Xavier Built." On the title page we also encounter what seems to be an alien script above a very large "X." (Hickman is no stranger to creating strange languages, which, notoriously, was a central feature of his run on the Avengers several years ago.) Mutatis mutandis, welcome to the X-Men; hope you survive the experience.
Next: We will begin our re-read of House of X and Powers of X, followed by the Dawn of X titles. Spoilers will abound.
Keeping with the rule of being allowed spoilers no further than six issues ahead at a time, we will still be discussing events six issues ahead in each of the Dawn of X titles that follow on HOX/POX, beginning with X-Men #1. So, as we open with that issue, spoilers can be expected for 24 further issues (yes, 24, because the opening narrative thread of New Mutants rounds out with NM 7).