VI. Memorializing Human Villainy (the HOX4 data page)
At last! We return to the HOX 4 data page, which, relative to the series' other data pages, comes across as the least objective piece of interstitial documentation in the series—although not because the tallies of mutant dead and who's responsible are wrong.
Related:
Previously: More in the Hickman X-Men Re-Read!
Support For Comic Book Herald:
Comic Book Herald is reader-supported. When you buy through links on our site, we may earn a qualifying affiliate commission.
Comic Book Herald's reading orders and guides are also made possible by reader support on Patreon, and generous reader donations.
Any size contribution will help keep CBH alive and full of new comics guides and content. Support CBH on Patreon for exclusive rewards, or Donate here! Thank you for reading!
At a superficial first glance, it does seem to fit right in, a mere technical accounting of human atrocities visited upon mutantkind. However, the header is far from matter-of-fact: "Look at What They've Done" would come across as inflammatory propaganda if this were a widely distributed poster/flyer/digital post. We'll return to a deeper reading of this language below, but it clearly sets up an us/them ethnic dichotomy.
Let's start with a look back at that image from 2008's X-Force title—each (reanimated) human seated at Bastion's table is identified along with their organizational affiliation and a tally of mutant deaths for which they were responsible. Note that the numbers have stayed exactly the same since 2008.
Quite recently during that decade-plus gap, there was M-Pox, which killed many mutants—slowly and painfully—and yet the responsible party, the Inhumans, aren't on this list—more on this below.
In X-Force vol3 #3, we find that Bastion had reanimated a number of human supremacists—and reanimation is more apt than resurrection, as there was something distinctly zombie-like about these figures brought back to a kind of pseudo-life via the techno-organic virus harvested from the Technarch Magus.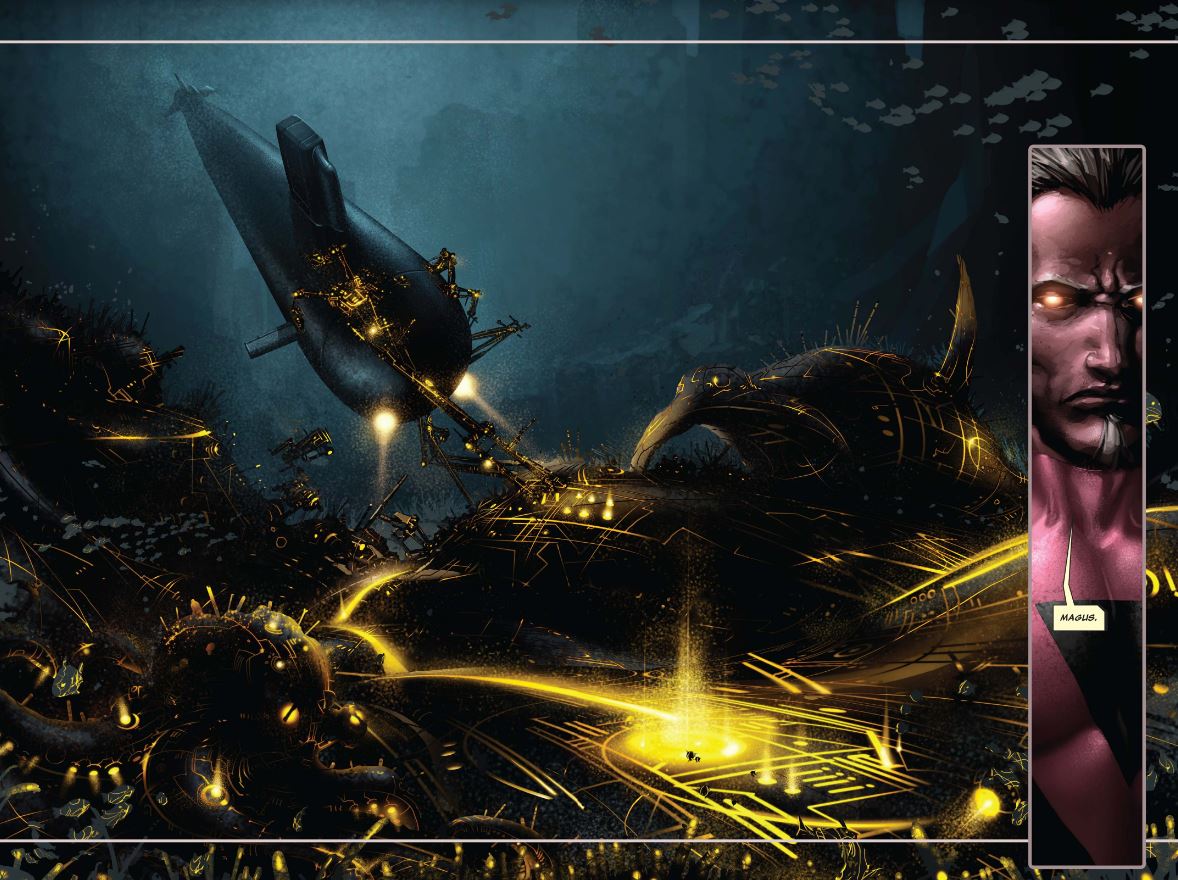 [X-Force vol3 #2]
To avoid repetition, just know that almost* all the figures shown in the double-splash page from X-Force vol3 #3 died at different times before their reanimation. They were all killed again by the end of that series or the concurrent Second Coming event. (But what's death mean nowadays? 😉)
*The exceptions are Donald Pierce and the Leper Queen—though the latter's always had a death wish!
A. Editorializing Atrocities: Shaping the Us/Them Narrative for Krakoans (and fans as well?)
Of course, Wanda Maximoff is the notable new addition on HOX 4's list—named for the first time here as the "Pretender." Which begs the question: Why slot her in with these other despicables? And why now?
Surprisingly, Mister Clean and his Church of Humanity are also new additions. It's not clear why they weren't included in the earlier X-Force series, though they'd appeared a mere four times, in the early 2000s, so maybe they just didn't rate for Bastion. Still, we're reminded here that they killed more than Lang did! (But Lang's Sentinel arsenal and later transformation were a much larger threat.)
Despite the HOX 4 list's new additions, both issues share two notable absences. But first let's recall that while Wanda turned out to be a human who believed herself a mutant (as did everyone else—and it'd be best, really, if Marvel made up its mind and revealed she always had been one after all, now that its fight with Fox over movie rights is over!), she's still a metahuman, a product of science, as are Inhumans… Also, the Trasks are certainly responsible for the Genoshan genocide, as well as every mutant killed by Sentinels, but Cassandra Nova is more culpable, and she's not human at all—she's Xavier's incorporeal double.
So the absence here of Apocalypse's Dark Riders is puzzling. They were all Inhumans altered and suped-up by Apocalypse (appearing first in X-Factor #65, 1991).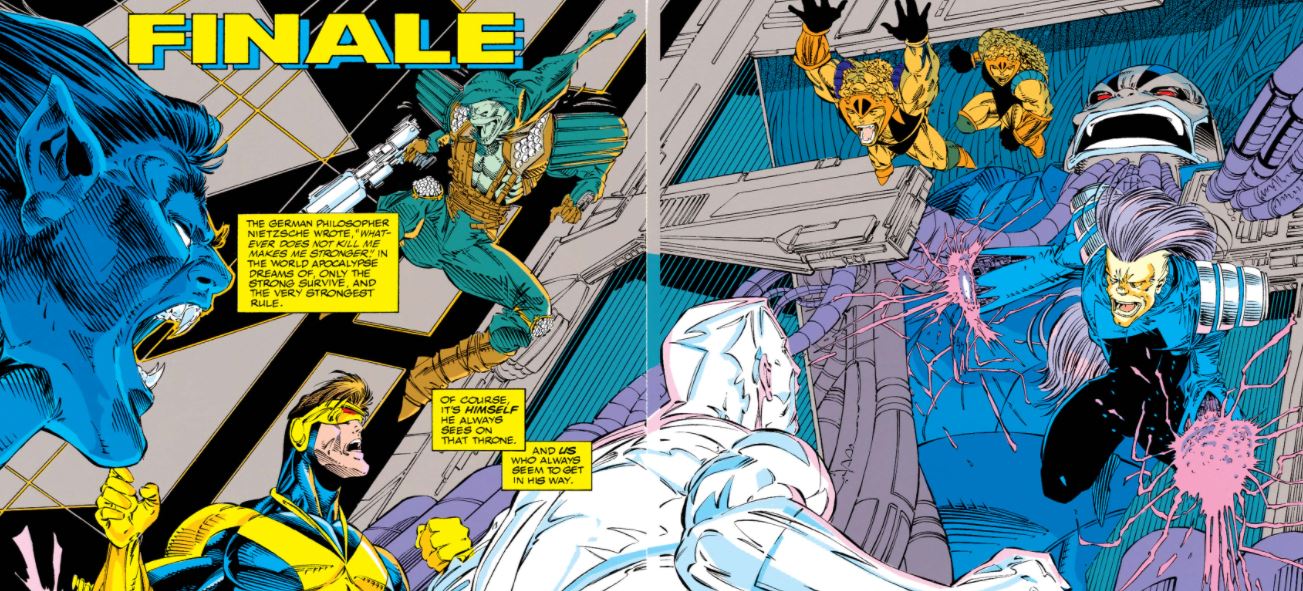 [X-Factor #68 by Simonson and Portacio; Apocalypse enthroned in the Inhuman city of Attilan after having transformed dozens of Inhumans into his minions.]
And where are the Inhumans themselves? If the Decimation is listed, why not the M-Pox disease wrought by the Inhumans' Terrigenesis spreading across Earth's atmosphere? Are the Inhuman Royals Black Bolt and Medusa not at all to be held to account while Wanda is equated with committed human supremacists and terrorists?
Well, duh: After 2017's Inhumans vs. X-Men, the Inhumans left planet Earth:
It's simply no longer politically expedient to rehash a species-wide tragedy when the responsible parties aren't even a potential threat against which the Krakoan nation could define itself. Again, the HOX 4 list is at its core political propaganda—not a sober account of small factions of human extremists.
You could argue it works as an introduction of these villains to new readers, but it's not. It's an us/them list, and introducing audiences to Wanda Maximoff simply as the Pretender with no explanation works against the notion that it's anything else.
For readers who haven't read Avengers Disassembled and House of M from the early 2000s—much less Wanda's understandably troubled career throughout the previous twenty years—the ease with which she might be regarded as evil or even just bigoted might very well be just the kind of trap Hickman wouldn't mind new fans falling into—after all, it's what someone on the QC wants young Krakoans to believe too—fervently.
[House of M #7 by Brian Michael Bendis, Olivier Coipel, 2005—
The delusional reality Wanda created starting to destabilize under her emotional duress]
B. The Pretender Problem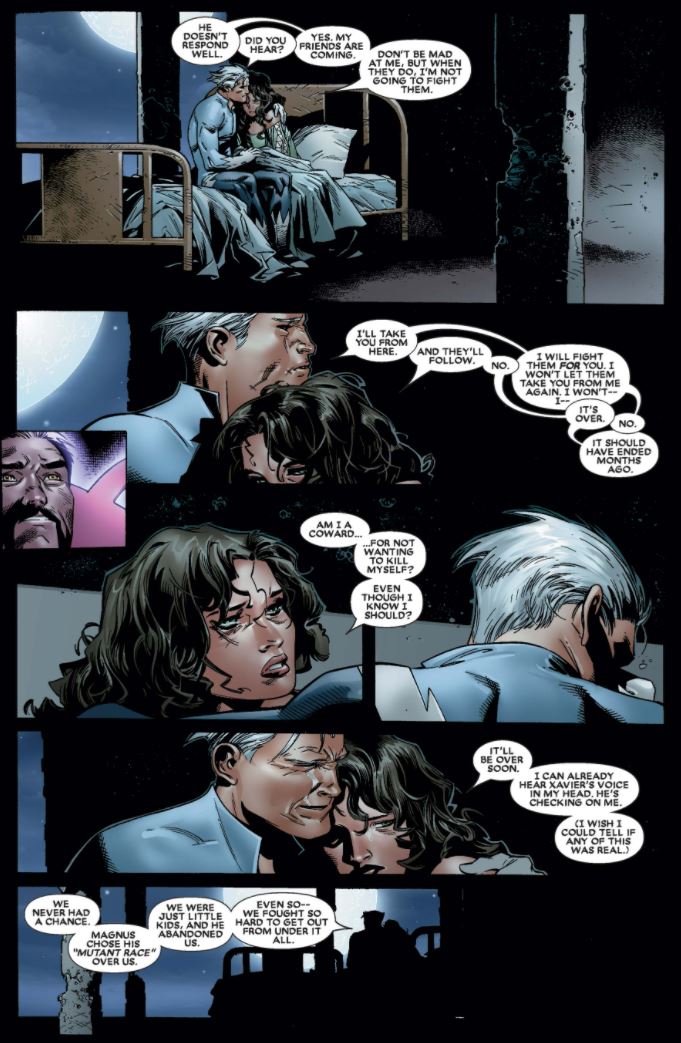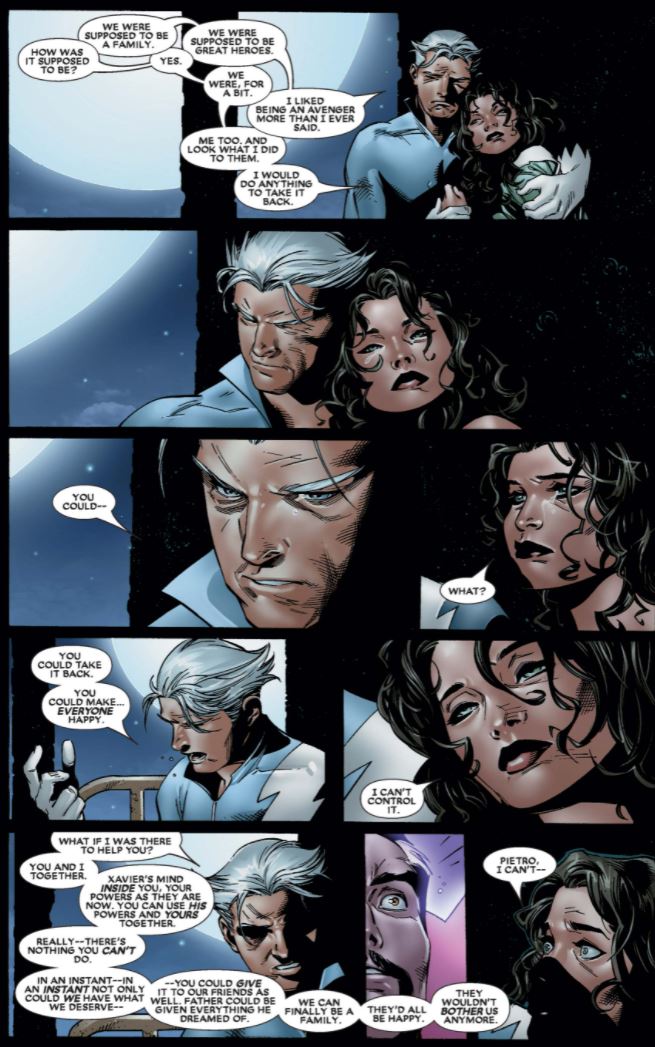 [HOM 7: Pietro fearful of the end coming, desperate to still rescue Wanda, and so convincing her to restore the old reality before the new one tears itself apart. And he blames their individual predicament, as a family, on their father's preoccupation with the abstraction of a militated mutantkind. His sister will, of course, latch onto this.]
In the House of M reality, Wanda uttered her curse right after she resurrected her brother Quicksilver who'd just been killed by their presumed father Magneto upon discovering that Pietro had manipulated Wanda into creating that alternate world ruled by supremacist mutants in the first place. Already she'd been suffering severe mental health issues for a long time, at least since she discovered her babies weren't real, merely magic (mixed up with Mephisto business).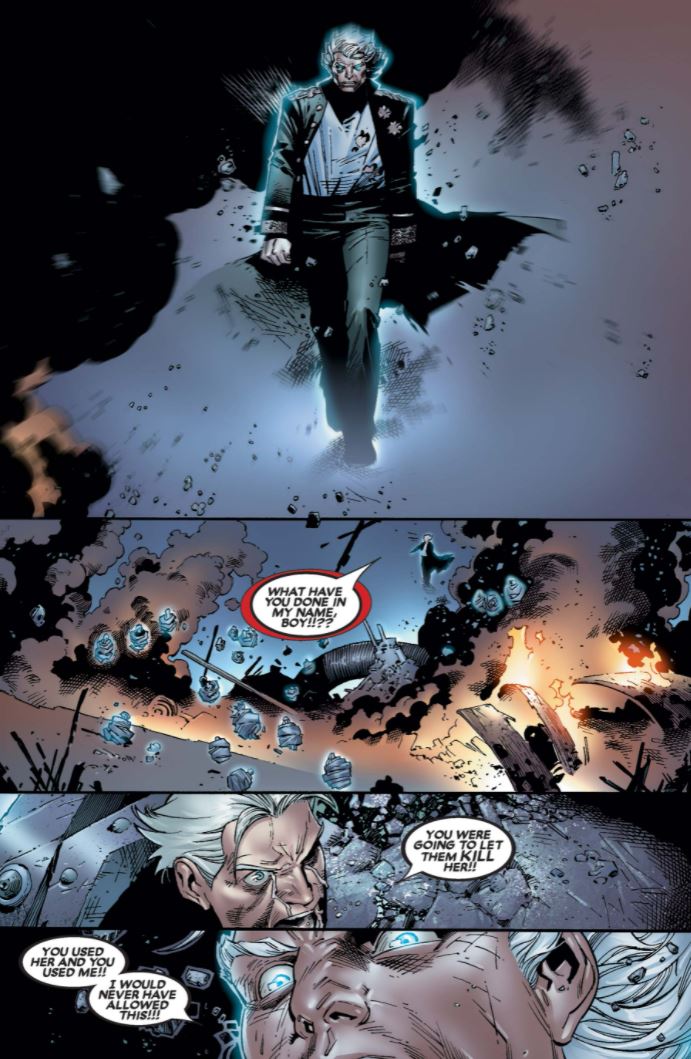 [HOM 7: Upon discovering Pietro's role in all this, Magneto kills his own son. This breaks Wanda. She sees her father's murder of her brother as an extreme symptom of Magneto's lack of any real love for his own family, preferring the notion of a mutantkind under his ideological shaping—that power.
[If you read the damn story, you'll see Wanda's curse was inevitable, and Bendis did a masterful job with the story. What Marvel did with it afterward is another issue.
After this, Wanda is in a kind of amnesiac fugue state for years.]
Pietro's ultimate motivation had been to save his sister from being killed by the Avengers for being a threat to reality itself. So, he convinced Wanda to create this new reality, but she would never have done that if he'd framed it as in her own self-interest. He had to convince her it was both in the interest of mutantkind and of her father's rightful place as its leader and savior, as the world's ruler.
It was only Rick Remender's depiction of Wanda in the 2010s that showed her spouting bigoted insults, after Marvel had decided—in their dispute with Fox over movie rights—to erase her status as a mutant. Meanwhile, no other writer repeated that carelessly irreverent writer's damaging characterization.
Readers shouldn't fall into the obvious trap of clumping Wanda with hateful human supremacists. Distorting her persona into that of the great "Pretender" is pure state propaganda from the Quiet Council. But surely not Magneto himself? It might be worth thinking about who might have an interest in shaping and pursuing a moral crusade from on high…
Before now, the average mutant was not seen in monthly comics even really caring about Wanda Maximoff. So, how realistic was that? And is that the fault of Marvel? I don't know. But I'm fairly certain Hickman isn't asking us to investigate this line of thinking any further than: Why this moment in time?
Why is naming Wanda "Pretender" and placing her firmly among the cultish human supremacists happening now?
All I can guess, for now, is that every great nation needs a great enemy—of course. Hopefully, at some point, the average Krakoan begins to wonder about this.
But I'm also sure Hickman knows what Chekhov's gun is: You don't present a loaded weapon in act one, even if it's just a backdrop, and not fire it before the tale is done.
Now, look back at all the Krakoans we've seen in HOX/POX and think about which ones are themselves cultish, inclined to fervency and zealotry. Because to put Wanda on this list of human cults of supremacy and name her "Pretender" reveals a divisively tribalistic outlook; it sounds like it's coming from someone prepared for a crusade.
The us/them dichotomy between the average mutant and human bigots has long been established. But what's new with this list is that a line has now been drawn that has Wanda on one side and Apocalypse and Mr. Sinister on the other—where everyone else we're supposed to be rooting for is standing too.
This will not end well.
C. Genocidally-Inclined Mutant-Killers Not on the List
[X-Men v2 #16 by Fabian Nicieza, Andy Kubert; Apocalypse's Inhuman minions enact the inevitable outcome of his Social Darwinist ideology—the children are strong, and the parent has grown weak; easy pickings.]
Returning to the Dark Riders now!—We find that these terrorists molded by Apocalypse to commit murder in the name of Apocalypse's no-holds-barred Social Darwinism turned on their erstwhile master in 1992's X-Cutioner's Song event and immediately went freelance as search-and-destroy mutant hunters. But two of the Apocalypse-altered Inhumans were deemed by their teammates to be too weak to deserve continued existence. Still, if not working for Apocalypse while terrorizing mutants as Social Darwinists, shouldn't they be on this list??? (Granted, it's muddied by several later members being mutants and led by Cable's villainous son Tyler Dayspring—but the Inhuman mercenaries had already slain many mutants.)
The other notable absence from the HOX 4 list is the Mr. Sinister—presumably nonmutant at the time—who ordered his Marauders (themselves all mutants) to carry out the Mutant Massacre, aka the genocide of the Morlocks.
Again, read critically, this list clearly turns out to be a piece of political propaganda directing outrage away from any unsavories (Sinister; Apocalypse) at the top of the Krakoan state apparatus. (And we're not even touching on the murderous villainy of Exodus, Mystique, and Shaw, who have killed and brutally maimed other mutants in cold blood, without an ounce of remorse ever shown.)
VII. Anti-Mutant Human Supremacists: "the List"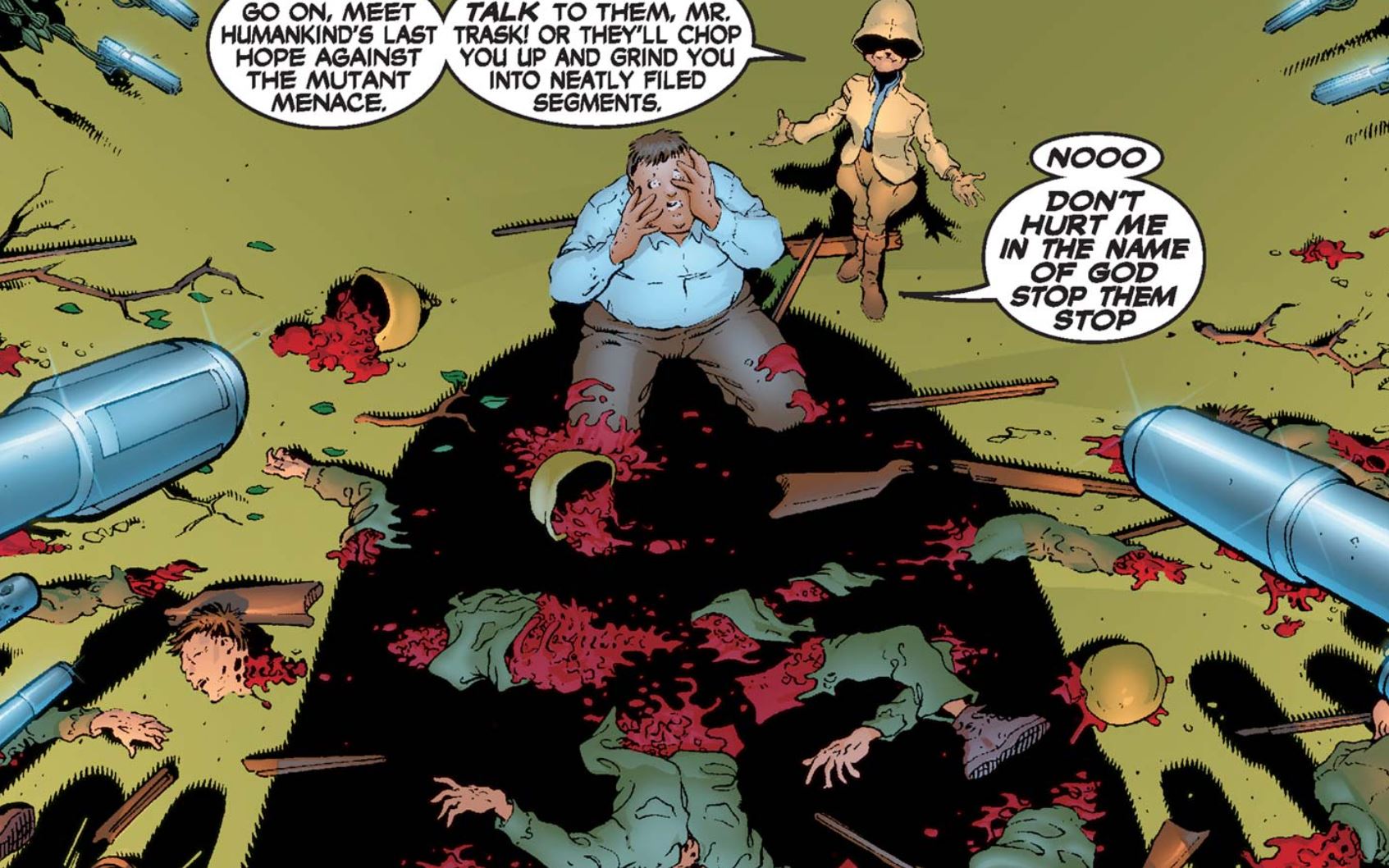 [New X-Men #114 by Morrison and Quitely; Trask's last blubbering descendent]
For clarity's sake, we'll proceed chronologically. Because the original Sentinels from X-Men #14-16 (1965) didn't actually kill anyone, I'm not going to delve much into their inventor Bolivar Trask—who in any case sacrificed himself to destroy his ultimate invention, the Master Mold, in issue #16. Trask's brother Simon became a minor but hateful headache for mutants during the late 2000s, while his two children were mutants (one dead, the other in the far future hanging out with the Askani). His nephew was merely an idiot nobody used by Cassandra Nova so that his Trask DNA could activate the mothballed Master Mold, after which she took over full control and launched the attack on Genosha, killing over 16 million.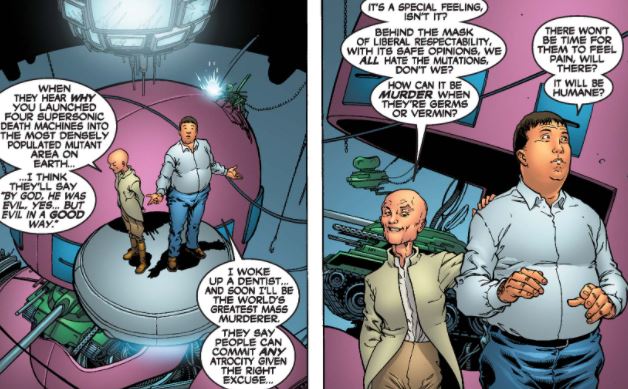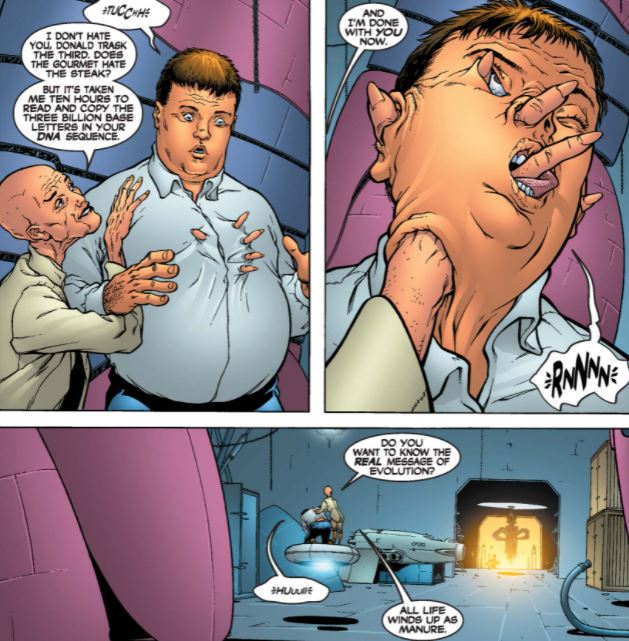 [NX #115]
Having discussed the Mummudrai and the Master Mold before, we're going to skip discussing them here.
A. Project Armageddon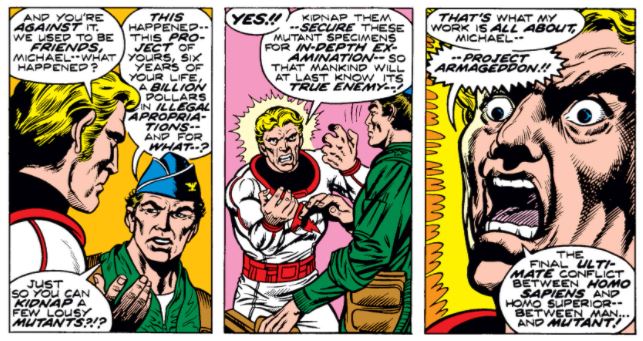 [X-Men #96 by Claremont and Cockrum]
Stephen Lang first appeared in X-Men #96 (1975) and was only seemingly killed* a mere four issues later. His very debut saw the likelihood of the US government shutting down his Project Armageddon. Back then mutants just weren't perceived as that much of a threat. Remember, the original X-Men had already faded into obscurity at that point, and Xavier's new recruits were basically unknown quantities (never mind that they'd just saved the world and military's butts in defeating Nefaria's takeover of NORAD in Colorado!).
However, as touched on above and in the section below, a Classic X-Men retcon showed that Lang had already secured secret funding from the human supremacist who was currently running the Hellfire Club. In that brief story, Shaw's lover, the mutant Lourdes Chantal, was the one mutant shown being killed by Lang's Sentinels. In fact, Chantal's death is the only confirmed death at the hands of a Lang Sentinel.
*Lang turned out to have been merely in a vegetative state, but much later, in Uncanny X-Men #312 (1994), is shown with his mind "restored" by the Phalanx, which he's been thoroughly merged with, to orchestrate their antimutant activities on Earth. He apparently dies toward the end of 1994's Phalanx Covenant event.
While Lang would again be reanimated, now by Bastion, that time-displaced Sentinel hybridized with Trask's Master Mold shouldn't need Lang's expertise in reverse engineering old-school Sentinels—but maybe it was more about having a figurehead whom a few people would recall as an antimutant crusader? Sure.
B. The Hellfire Crucible
One of Lang's prominent financiers and ideological supporters back in the day was Hellfire White King Ned Buckman, an American aristocrat. His single appearance is in the classic backup in Classic X-Men #7 (1987), a retcon story showing how Sebastian and Emma originally took control of the Club's Inner Circle in a violent coup doubling as self-defense (months before their publication debut in X-Men #129, 1980).
At the time, Sebastian had been recruited to the Inner Circle due to his self-made industrial empire, but later, it turned out that both his uncle and father had been Hellfire members, and his grandfather had achieved access to a seat at the exclusive table of the Club's secret inner workings. For Ned Buckman, appearing only once in that Classic X-Men retcon, Shaw's family connections to the Club didn't matter. Ultimately, he was drawn in so that he could be killed after the X-Men were done in by Lang's Sentinels. Apparently, Shaw was the first Inner Circle member who was a mutant, and the organization thereafter becomes a haven for elite, self-interested mutants—except for one member at that time…
C. Donald Pierce and the Reavers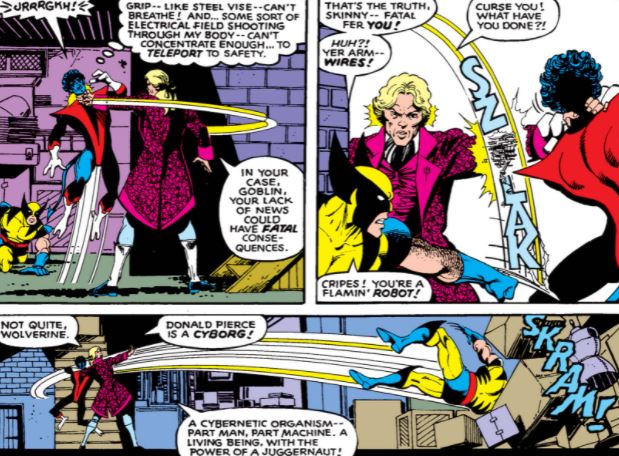 [X-Men #132 by Claremont and Byrne]
Donald Pierce debuted in X-Men #129 (1979), and he apparently got a pass from Shaw for introducing him into the Inner Circle in the first place. He was already a cyborg, but it's never been revealed how or why. After the Club was defeated by the X-Men soon after, he went missing for an entire decade, until reappearing as leader of the Reavers in UX #247-248 (1989), where he named the ragtag collection of fellow sadistic cyborgs. Earlier, in UX #229 (1988), the Reavers' three core mercenaries (Bonebreaker, Pretty Boy, Skullbuster) had been introduced. In the group's official introduction a year later, they now also included a trio of thugs who had once worked Hellfire security during Pierce's time there (now all cyborgs) and Lady Deathstrike (a fascinating character we don't have space for here).
[UX #251 by Claremont and Silvestri; Pierce introducing his minions]
The three Hellfire goons are a pathetic but prevalent part of Wolverine's rogues gallery after they attacked Wolverine infiltrating the Club in X-Men #133. Near death, they were rescued and enhanced by Pierce who turned them into cyborgs. They'll attack mutants at their leader's behest, but it's Logan whom they hate above all else.
[X-Men #133]
It's worth noting that one of mutantkind's two deadliest terror groups*, the Upstarts, seemingly slew Pierce and his Reavers** in UX #281 (1991) (before massacring Emma's Hellions students). (*The other group here would be the Marauders if considered as a mutant organization. **Lady Deathstrike and another Reaver cyborg, Cylla, escaped these temporary cyborg "deaths.")
Indeed, the original Reavers all returned in Chris Claremont's X-Treme X-Men Annual 2001. Much later, in Remender's Uncanny X-Force #5.1 (2011), they return only to get killed again but it's clear that they're now able to upload their minds into new bodies. Huh! Sounds familiar. In fact, they've already returned, in Matthew Rosenberg's Astonishing X-Men vol4 #13-17 (2018) where it was revealed they were working for the Pentagon in exchange for body "refits" and freedom from federal incarceration.
Still, the Reavers' mutant body count as recorded in X-Force vol3 #3 (2008) is the same in HOX 4. And while readers have seen them kill X-Men-adjacent mutants in battle, I'm not clear on where the number of 348 mutants killed comes from. They're definitely twisted and evil, but with the exception of Pierce himself, it's not clear that they're really supremacists. They're mostly just gnarly-looking ghouls, striking villains for our visual medium, à la Mad Max. They certainly have a complex history worth exploring.
Regarding Pierce and the Club, we've seen him return at least twice since—in the Young X-Men (2008/09) and Gerry Duggan's Uncanny Avengers vol3 #5 (2016)—but his status among the other members remains ambiguous—although Shaw did punch his robot head to smithereens back in Uncanny X-Men #454 (2005) by Claremont, where the cyborg attempted a hostile takeover of Shaw's new Hellfire. The question for now then might be not that there are other iterations of the Hellfire Club—although that remains a possibility; rather, the mystery is what erstwhile Club affiliates are going to do about Krakoa's new trading company.
At the very least, there's the most recent incarnation of an antimutant Hellfire Club, a group of sadistic kids, all children of wealth and sociopathic disdain, introduced in 2011's (meh) Schism event by Jason Aaron. Might Pierce and his Reavers connect with those four little terrors? (Surely, they or CEO Kade Kilgore should've had a mention on the HOX 4 list—even if only as footnotes! I wonder where they are…)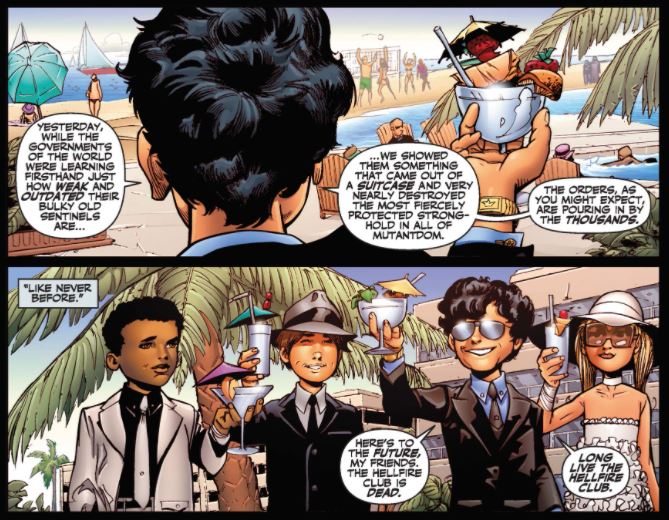 [X-Men: Schism #5; art by Adam Kubert]
Now we'll move more quickly down the rest of the list of mutantkind's human foes, at least per HOX 4, especially since they don't seem to be immediate threats to Krakoa or Krakoans generally.
But first, the best thing about this list is that it makes us think of the following four groups together, and if we simply look at them historically, it's obvious that each one of them is perfectly a product of their time—or the unacknowledged shadows cast by these changing eras in American cultural history. (While I don't have space to go into these fascinating aspects here, much could be written and discussed elsewhere…)
D. Stryker's Purifiers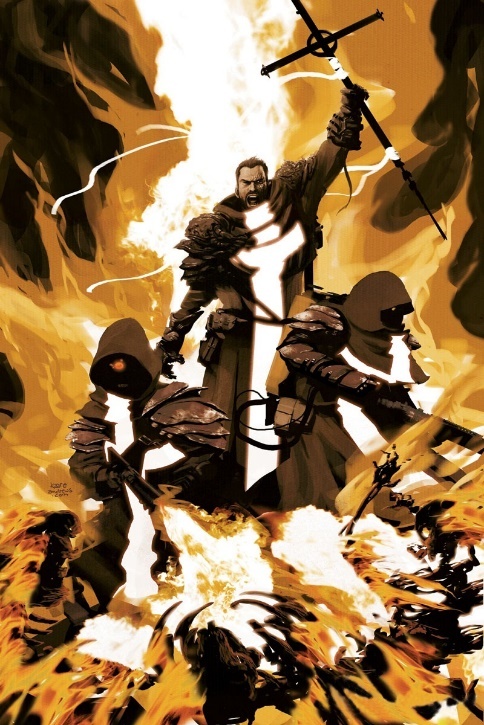 [X-Men: Messiah Complex #1 alt cover by Kaare Andrews]
Reverend Stryker and his Purifiers debuted in "God Loves, Man Kills" (Marvel Graphic Novel #5, 1982) as mutantdom's first religiously oriented antagonist. We discussed his single biggest crime when delving into Elixir's background: the killing of dozens of depowered students from Xavier's, which was shortly followed by Elixir himself, a young teen, slaying him in revenge. Soon thereafter, Bastion reanimated him.
In 2017/18's Weapon X series, he was brought back as director of Weapon X's newest incarnation, and later, it's revealed that he'd been reborn (as a robot) after a pact with Kurt's dad Azazel, in Hell. Weird.
(Billed as a 21st century edgelord version of the Purifiers, the Church of Humanity is a supremacist outfit that framed its murderous intentions using religious dogma more extreme than their forerunners—although they proved significantly less durable and deadly).
E. Cameron Hodge and the Right
First appearing in X-Factor #1, Hodge was the team's Chief Financial Officer and a college friend of Angel. Remember that X-Factor debuted as mutant hunters for hire, while secretly they were the O5 X-Men who were really meant to be rescuing their kidnap victims. Does that make sense? No!
So they blamed that atrocious business model on Hodge! And subsequent writer Louise Simonson transformed him into quite the villain—implicitly lovesick for his college buddy whom he couldn't deal with turning out a mutant (dating the wonderful and much better businessperson Candy Southern).
The Right is a paramilitary organization originally funded by Hodge skimming off the top of the budget for X-Factor, Inc., which came directly from Angel's family wealth and business.
[X-Factor #21 by Louise and Walt Simonson]
After Hodge was first defeated, he struck a deal with the demon N'astirh: mutant babies in exchange for immortality. Ick. But Inferno is amazing. Archangel beheaded his old friend, but immortal now, Hodge returned as a creepy bespectacled head on a monstrous robot body—autocratically ruled apartheid Genosha (before Magneto took it over) because—why not! Surviving another horrific battle, Hodge later joined up with the Phalanx—which he took to even more than the villainous Lang!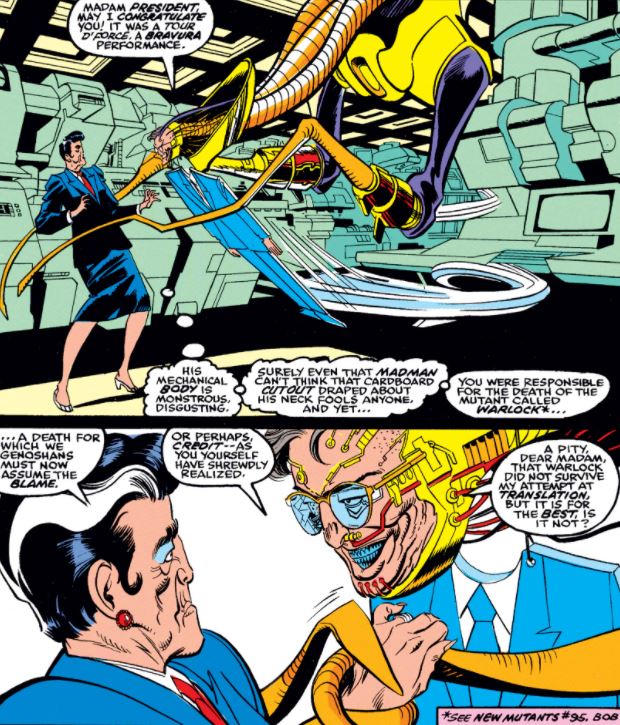 [X-Factor #60, X-Tinction Agenda Pt3, by Simonson and Bogdanove]
I don't imagine Bastion had to do much to reanimate this posthuman disaster.
F. The Friends of Humanity and the Sapien League
These two groups are similar to the deadlier Purifiers in that their rank and file are "grassroots" recruits, but they're much more insidious for dressing up their hatred to appeal more broadly to Americans—by way of engineering a moral panic (America's real favorite sport!) about mutants.
A long-running '90s enemy, the Friends billed themselves as a mainstream political movement, of course with dark-money funding. However, their leader's assassination in X-Factor #130 (1997) did effectively dissolve the organization.
Their founder and leader was Graydon Creed, the human son of—surprise!—Sabretooth and, um, Mystique. His mother sure made an odd choice there, but I guess she felt she was cleaning up her mistake when she assassinated her son in the aforementioned X-Factor #130!
[X-Men Unlimited #4 by Scott Lobdell and Richard Bennett, 1994—
Graydon Creed and Forge in a semi-articulate growl-fest]
Near the end of Greg Pak's recent Weapon X (mentioned above), Sabretooth rescued his son from Hell. (This was before Victor's moral compass re-reversed post-Axis.)
A deadly foe of Peter Milligan's 2006 X-Men run, the Sapien League feels like it could've only emerged from a post-9/11 America in moral decline and riven by open racism, widespread disenfranchisement, and viral ignorance. After five issues, however, they disappeared until Bastion's revival.
The Leper Queen emerged out of its loose ranks as a leader—probably because of her striking appearance and haunting story, which she twisted out of her own trauma into a justification of hatred and murder. And her personal grievance felt very human, too much so of course: Her infant daughter burnt down the house, killing all in the family; therefore, mutants must die, the more painfully the better.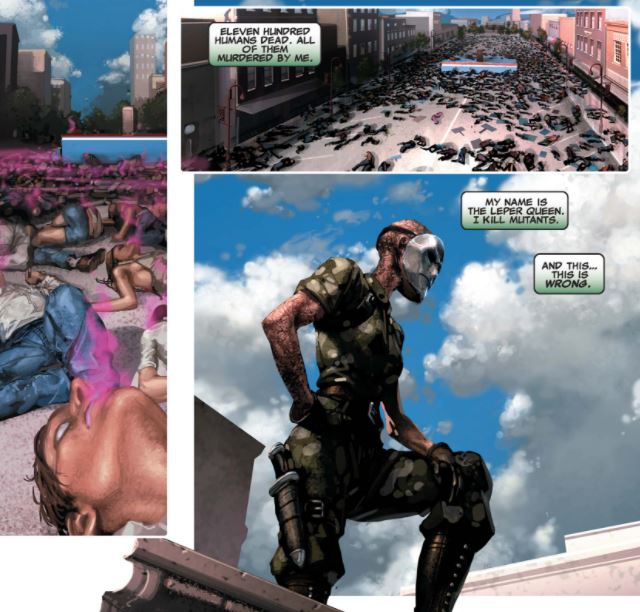 [X-Force vol3 #12—the Leper Queen ruminates on her work of turning a captive mutant into an unwilling "suicide-bomber"]
Next time: We're moving on to POX 5, whose Year 10 material—basically a series of invitations to Krakoa from Xavier—takes place before HOX 5, where the nation is formally established. And the Year One scene presents a mystery of chronological placement that remains mysterious…