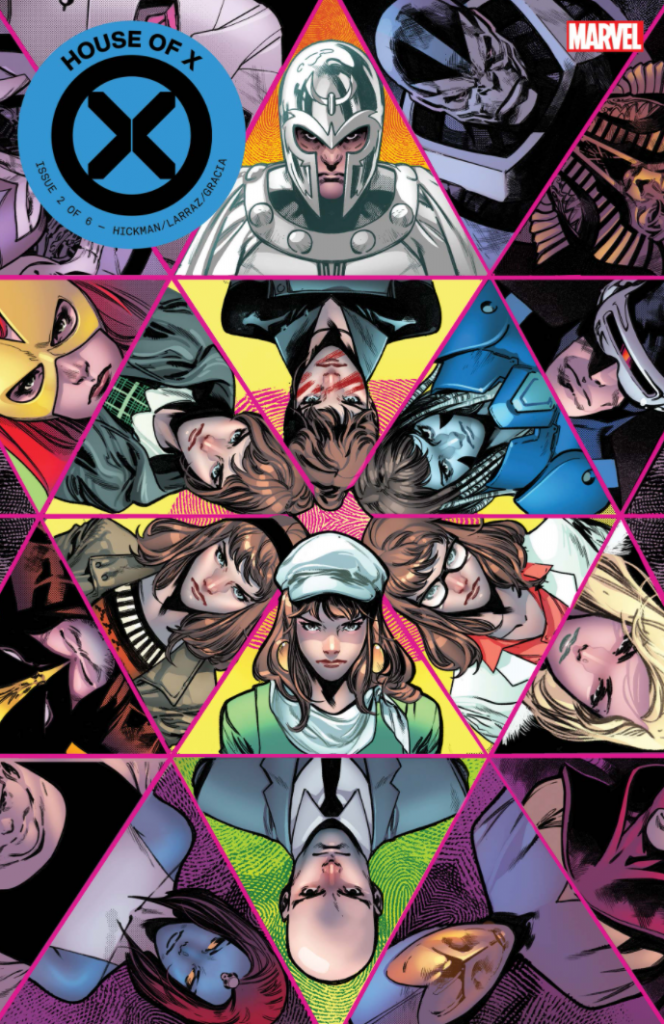 I. The Cover Story of House of X #2: The Uncanny Life of Moira X
Six Moiras on the cover, forming a hexagram, patterns like fingerprints in the background, each portrait opposite someone else's—with two more triangular portraits fitted into the corners. It's as if we're looking end-on at a prismatic crystal, each facet featuring a grim-faced icon.
Seeing this cover for the first time, the reader would be struck by mystery—primarily: Moira as Apocalypse?!
Related:
Support For Comic Book Herald:
Comic Book Herald is reader-supported. When you buy through links on our site, we may earn a qualifying affiliate commission.
Comic Book Herald's reading orders and guides are also made possible by reader support on Patreon, and generous reader donations.
Any size contribution will help keep CBH alive and full of new comics guides and content. Support CBH on Patreon for exclusive rewards, or Donate here! Thank you for reading!
Previously: More in the Hickman X-Men Re-Read!
Now that we understand what we're looking at, let's go clockwise around the hexagram, from the top: face streaked with paint, Moira VII (when she's an assassin of the Trasks); Moira IX (wife of Apocalypse); Moira IV (obviously very ordinary compared with the previous, but this is what she's wearing when assassinated by Destiny); Moira X (attired as she is when first approaching Xavier in this current 616 life); Moira II/III/IV (the college-age Moira we see in the early lives); and last, a Moira unlike anything we see in HOX/POX, wearing what might be a Scottish school dress—perhaps indicative of a time well lost in her deep past.
Not unlike Jean reaching back to both the Silver Age and her last stand as the Phoenix for her current look?
Magneto is opposite Moira VII—both hunters of genocidal criminals; and Scott, who himself was once merged with Apocalypse, faces Moira IX, Mother Akkaba—named after Apocalypse's birthplace (Aqaba). Further, each of these figures is or has been a portrait of extremism.
All notably different in tone from the more innocuous paired portraits of Moira X and Xavier—though theirs is a pairing fraught with history—and now the revelation that Moira has always been the real force behind Xavier. So, yes, Xavier has returned and appears to be the alpha to Magneto's omega, but he's not really in charge any longer. There's the risk that the ancient Moira ultimately makes Xavier not much more than another prop in her long-con shell game.
I'm not sure what else to make of the cover; there might be no greater meaning to the layout other than depicting the complexity of the history and interrelationships amongst these characters.
But it got me thinking: maybe Destiny is lawful neutral to Mystique's chaotic neutral? The figures flanking Magneto—Nimrod and Apocalypse—are certainly more extreme or "evil" than Mystique and Destiny.
Regardless, Pepe's beautiful cover got me thinking about how each of these characters might line up on classic good/evil/neutral alignments. Fun, dorky—probably a waste of time?
Having Blob and Pyro on the cover is interesting, given their tertiary importance; they seem to be here because their bosses are (although I'd never heard until this issue that Destiny might be Pyro's mother!). Also, is that Pharaonic mask opposite Apocalypse perhaps his son Famine (though his design is different) or just reflective of his Ancient Egyptian origin? The Year 100 three-headed Sentinel, like Blob and Pyro, is paired with its master, perhaps its progenitor.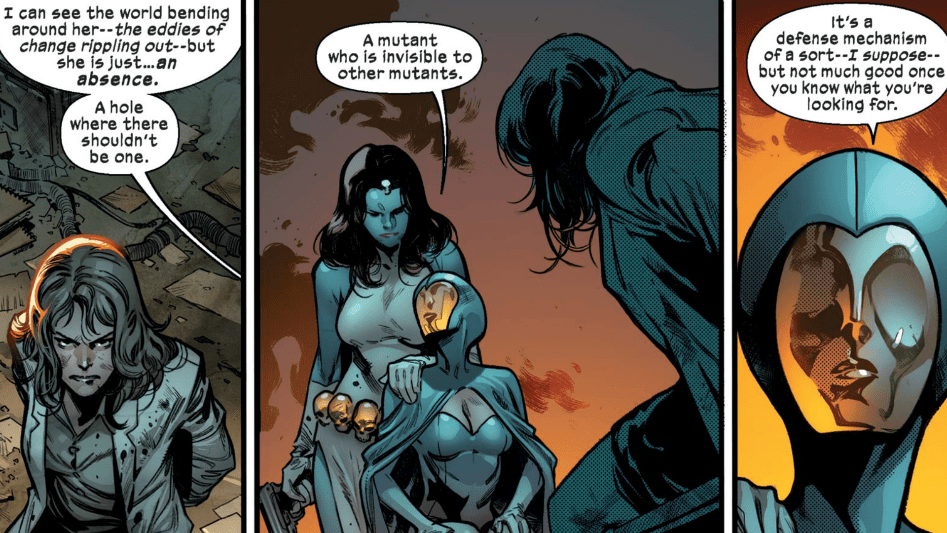 Most importantly, this cover is telling us something profound: Moira is central to everything—in a sense, she is the axis around which everything is (re)arranged in each of her subsequent lives; in each life, the world turns on her decisions. And as we spiral up through time reading her brief, "uncanny" biography, we realize that she has "always been here," at the center of not just worlds but realities. X marks the spot. An enigma—a black hole in Destiny's words—a cipher throughout the X-Men's history, Moira is also their linchpin. But Moira X, presumably, has reached her last world.
Whatever Moira's reiterative realities, each beginning in the 20th century, mean for the rest of the multiverse, that hasn't been revealed yet. But I can't imagine the architect of Secret Wars isn't going to address this, ultimately.
II. Apocalypse's Epigraph
Apocalypse, too, is eternal—or at least older than any other mutant, except Selene. Even Moira's mind is only 1500 years old! Is it too brain-breaking for now to ask if her power makes her more uniquely eternal? (Maybe being eternal in any traditional sense isn't even that important, given Selene's relatively minor role.)
Regardless, the epigraph is classic Apocalypse.
Out of context, though, this quote makes old En Sabah Nur sound much more kind, even benevolent, than how he's been depicted before now. During HOX/POX, the change in his status quo remains muted, unexplored. The heretofore secret depth of his character will be explored in the Dawn of X.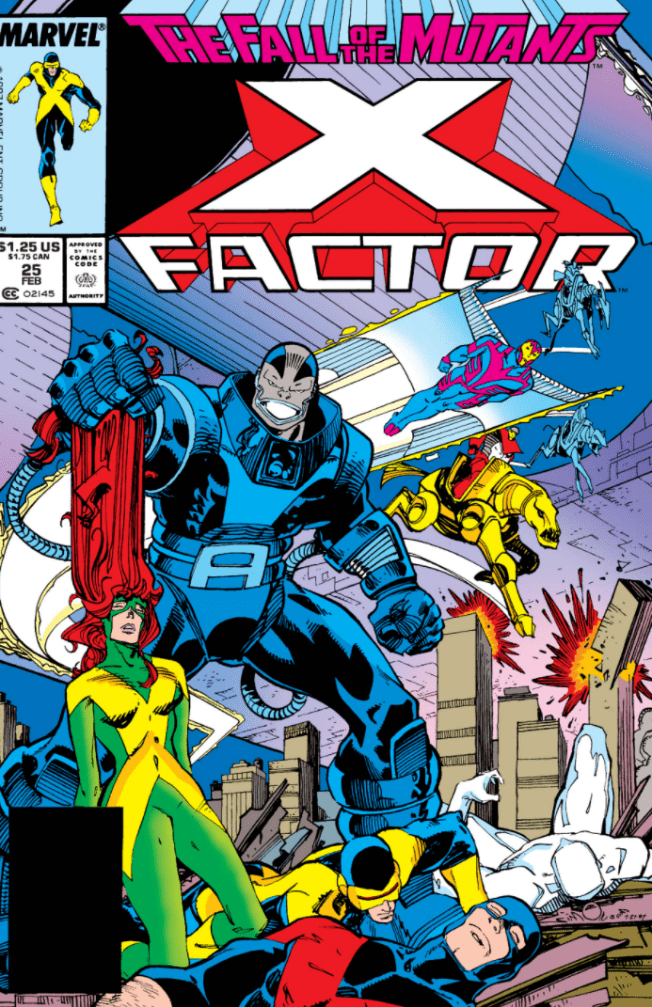 Until now, his raison d'être has been to forge mutantkind into a ruthless competition of survival of the fittest because that's how he sees his genetic kin: purely as tools of power, with himself always at the top of the pile of course. His use of "fitness" resonates with Social Darwinism, not actual biological natural selection, where reproductive success doesn't come down to physical might—it's about fitting into an ecological milieu with the greatest degree of resourcefulness for adapting to a specific niche therein. The question of being fit is applied by biologists to heritable attributes, not individual creatures.
Apocalypse has been a Social Darwinist since his first appearance 35 years ago.
So, Apocalypse's ideology is, oddly, resonant with the genocidal fascism that drove much of the carnage of the 19th and 20th centuries. That's odd because he's from a marginalized, persecuted people. His argument, though, is that since Homo superior is superior, they should take over—similar to Silver Age Magneto. Unlike the Jewish Holocaust survivor, however, Apocalypse never cared to protect his people against humans. Echoing his creator Louise Simonson, if the Hulk decided to take out Colossus, then the Hulk is deserving; Apocalypse would not lift a finger to help his fellow mutant against "the strongest one there is." (Indeed, Apocalypse once turned the Hulk into his Horseman War to battle against the Celestials—though it was little Franklin Richards who ended that particular threat; see Heroes Reborn, 1996-1997.)
The critical wrinkle, though, is that millennia ago in his youth, En Sabah Nur encountered alien technology left behind on Earth by the space gods the Celestials. Over the ensuing centuries, he would absorb this tech into his physiology to become more powerful—frightening, indeed, considering his original mutant powers already included matter manipulation and immortality! He was always meant to be at the top of the pile. But this early revelation of mighty cosmic powers shaped Apocalypse's views on Social Darwinism: One day those godlike aliens would return and possibly end sentient hominid life on Earth—if they found it "unworthy." So, Apocalypse actu
ally wants to protect all humanity against such threats, but if that means Homo sapiens sapiens needs to be replaced by another kind of hominid, so be it.
And yet, from what we see in HOX/POX, he never throws in with the Church of Ascendancy, which proves by Year 1000 to have been the nascence of the posthuman Homo novissima—that sees itself as worthy to be subsumed by the mightiest entities in the universe, the techno-organic Phalanx. Most likely, Apocalypse would have known that the posthumans had set themselves up for extinction; his own people would never have been so stupid, or weak.
The character of Apocalypse has certainly evolved and gained nuance over the past 35 years. Significantly, in 2010's S.H.I.E.L.D. series, Hickman revealed him to be a cofounder of the Brotherhood of the Shield way back in 2620BCE. Now, as a Krakoan, perhaps Apocalypse will prove useful to mutantkind as a race, as it faces otherworldly threats. The implication of HOX/POX is that the three divergent ideologies of Xavier, Magneto, and Apocalypse are set to converge.
III. Moira's Many Lives
While Apocalypse plays a big role in Moira's ninth life, that is the story of Powers of X 1-3; here the focus is the revelation of her many lives, her now ancient mind repeatedly crossing the threshold of death and rebirth. Before diving in, don't forget that we never see anything of her sixth life in this chapter; in fact, throughout HOX/POX, we see her only once in that lifetime, in POX 6, Year 1000. Upon meeting Moira for the first time Destiny says she became aware of Moira's existence as "an absence. A hole where there shouldn't be one." As readers, we might feel that way about the lack of any insight at all about Moira's sixth life. Our grappling with Moira's many lives bends around this lacuna like a black hole—and the revelation in POX 6 that Year 1000 is in fact the end of her sixth life only deepens the mystery. Whatever happened during that millennium of her life changed everything for her, and thus the world, going forward.
In a sense, the future itself is a black hole, and we're helpless and blind as it drags us toward its maw.
For Xavier's foot soldiers, there have been many times when they've realized their helplessness, when discovering that their dear leader has manipulated them. What will they think when they find out the truth about Moira—Xavier and Magneto's secret—and how many times they've already been annihilated?
If you managed not to have Moira's secret spoiled before reading House of X #2, the history of her first life is very confusing at first—it seems she never even left Scotland! Turn the page, however, and we begin to get the mindboggling story, all very clearly presented.
Which is so important. How often have classic comics—like, say, the Avengers' "Celestial Madonna" arc—had wildly original ideas that when executed come across as an incoherent mess, due to rushed and overstuffed storytelling? Even Hickman's Avengers run fell victim to that relentless monthly publishing schedule. But after the first two years of Hickman on the X-Men, it seems clear that Marvel has given him and his cocreators the time and space they need to unfurl their tapestry.
A. Compare/Contrast: Moira and Harry August
Now, having read Hickman's most obvious outside inspiration for Moira X, The First Fifteen Lives of Harry August by Claire North, I know that matching that narrative's scope—truly a byzantine tapestry—will require a great deal of space and time in the comics medium. Melding that ambition to the X properties is both the obvious way to pull it off and the boldest—a huge capital investment that immediately paid off. (Thankfully, the whole thing got going before 2020!)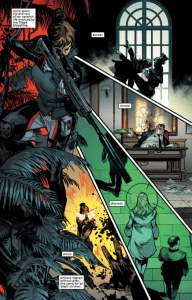 But let's stay on the Claire North novel before going further. It's interesting that North's "Ouroborans" don't recall their past lives until they're around four or five. Moira, however, remembers all in the womb—presumably as soon as her brain begins developing? That's some scary baby brains! Unlike Harry August, she has parents who are supportive of their prodigy (not that they understand what she is). Harry was born in northern England in 1918, orphaned by aristocrats—an insufferably snobbish and bankrupt family—and raised by a working-class couple, who have only known quiet rural servitude and suffering. Each life, Harry has to begin by getting out of this domestic, postwar hell. His push to achieve more after his first life came from a deep inner horror; his second life ended in early childhood with his suicide at an insane asylum. Both he and Moira, though, are determined to understand their curse. And for both, "Familiarity breeds contempt" (HOX 2, page 7). Once they both take off, they never look back—except for a few moments scattered throughout Harry's lives that do the work of humanizing an inhuman immortal.
Following the HOX/POX revelations, Moira hasn't yet had those moments that would re-humanize her.
Significantly—at least to this reader—the quest to understand the enigma of their innate curse seems to take each protagonist further from understanding themselves simply as people, in terms of their personalities, family history, and psychological patterns. This is actually a central concern of Harry August, but so far, it's not at all a theme for Moira. But what do those mortal concerns matter when you're a lonely immortal with bigger cosmic questions hanging over you? Whereas Harry's lives become wholly weaponized over time, there are still fraught moments of connection with others, both mortal and Ouroboran; by Life Seven, Moira seems to be purely a weapon for survival.
B. Moira's First Major Pivot: Getting Knocked Off by Destiny (with a deeper analysis next time)
Naturally, Moira early on begins to wonder if there are others like her "ruining" the world, as she puts it (p7). But there are no other "Ouroborans," only other mutants. Like Harry, Moira suffers self-loathing, but that feeling reaches its nadir relatively early, with Life Three. After she meets and is assassinated by Destiny, that feeling vanishes. The masked woman's oracular warnings spur Moira in a wholly new direction.
Incidentally (or not?), Moira is Greek for "destiny" … (We'll explore this scene further next time.)
It's hugely significant, though unstated, that without encountering Moira, Xavier inevitably reveals his mutant nature on television before the X-Men even exist.
So now, the history of the X-Men inarguably begins with Destiny assassinating Moira.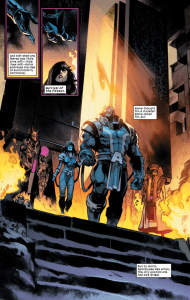 C. Mapping Moira's Many Lives
Life One: a long life lived as a content, ordinary human.
Life Two: not her shortest life, but it ends in a freak accident unrelated to her burgeoning life mission; perhaps a revelation to her that she's going to need to become more cautious in the pursuit of her goals.
Life Three: the doomed quest to end her personal curse; this is the only full scene we have this issue (while the second is abridged from POX 1 and 2).
Life Four: adaptive, urgent, outward reaching—with love for Xavier; paralleling Life Ten, up until it ends—"Days of Future Past"-style—in apocalyptic failure.
Life Five: aggressive and much more urgent, but still with love—ending also in failure.
Life Six: a black-hole mystery—a thousand years of observation? It ends in failure but also a kind of victory: far future knowledge.
Life Seven: a short, sharp shock; assassin Moira is a lone weapon, loveless, ultimately a wasted effort—Should she already have known that the rise of murderous machine intelligence was always inevitable?
Life Eight: Magneto was right; Moira joins him, isolating themselves in his island of power; calculating, she pushes him into becoming a kind of ultimate Silver Age Magneto—a mad power fantasy doomed to fail.
Life Nine: Why not go further down the vein of radical aggression to its ultimate conclusion? Apocalypse.
In POX 3, we realize the "A" on her waist is for Akkaba, her new given name. Given her trajectory till then, she seems to have become heartless, though Apocalypse has named her for his homeland—which would seem like an act of (twisted) love? By Life Nine, she's become inhuman even to most mutants (those "fools" as she calls them in Life Eight, page 21). Desperately working out the last of her solutions, she's still done in by the machines.
Wouldn't it be awesome to have an Apocalypse War miniseries, though?!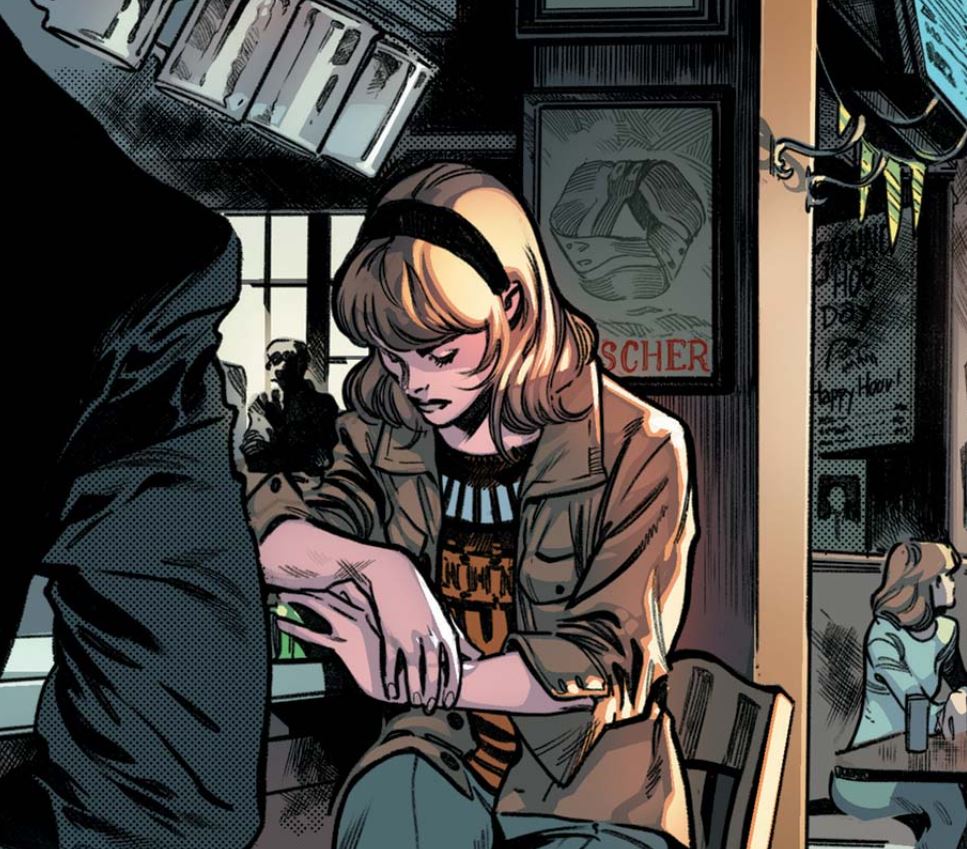 A few Easter eggs too: The Groundhog Day happy hour sign on the back wall of the pub on pages 7, 9, and 15; on page 9, we see that it's pinned up next to an Escher poster, a choice perhaps reflective of Moira III feeling the curse of being stuck on an existential Möbius strip.
In Life Seven, we see Magneto's Isle, or Island M, first seen with its Lovecraftian architecture in UX 147 (1981) and important venue for the next several years.
In Life Nine, we see the Temple of the Horsemen, which can also be seen in Marvel Comics #1000, published two weeks after HOX 2. Here, Moira awakens Apocalypse decades earlier than he wakes up in Earth-616, early on in X-Factor. Also, if the Four Horsemen seen here are the same as those we see later in Krakoa's flashback in POX 4, where they're trapped in another realm with Arakko, then how did they return in Moira's ninth life? Again, we need a miniseries called Apocalypse War!
Regardless, by chapter's end, we understand what the revelation was in POX 1. We'll see the aftermath in POX 2, where Moira remains a singularity amidst the dyad of Xavier and Magneto.
D. Charting Moira's Lifetimes from Shortest to Longest, pages 28-30
Moira's earliest death is at Magneto's side, followed by her assassination—two deaths arguably resulting from her a high exposure to violent risk without adequate security or preparation (unwittingly in Life Three). Next, she dies at 44 twice, first in a freak crash and then in the Sentinel attack on Xavier's secret utopia, Faraway (Life Five). Her previous strategy of assimilation and superheroism gave her and mutantkind greater longevity by 11 years—but with the same inevitable end.
Killed six years earlier than in Life Five, Moira VII was at least prepared for a lonely fatalistic life mission.
The Apocalypse War saw her through much longer, and despite the inevitable violent end, it was a success leading to greater successes in Life X.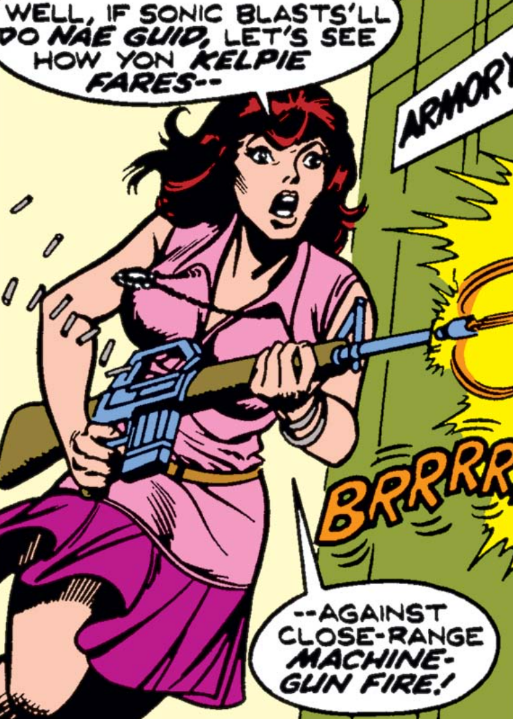 Lives Seven and Nine also show us that she really knew how to handle a machine gun well before UX 96.
Obviously, Life One saw her through just fine, without a greater awareness of mutantkind. Still, it's curious that there's no mention in that life of a mutant-machine war, which would certainly have been inevitable even without her playing a part in it? Wouldn't Sentinels have taken over by then?
Is there something crucial about her active role that brings on the Sentinels? That's a bleak question.
For now, we still don't know how she survived 1000 years in Life Six (beyond sharing blood with Logan).
Next time: We'll explore both the scene between Destiny and Moira (the two destinies?!) and the first half of POX 2.