If you've been watching our deep-dive videos on YouTube, then you know that I have a serious problem. No, not my crippling inability to remember names or my hatred of electric razors. I'm talking about something much more serious:
Frames.
My walls are covered in frames. Comics, art prints, LPs, if it can survive under glass, I've got it hanging in here. Which is why I'm the perfect person to help you with your interior decorating needs. Because not only do I know how to arrange stuff on a wall, but I've run out of space on mine and now need to use yours.
The Budget Solution:
8.5×11 "Document" Frames
What are these?
Frames normally used to frame a diploma, award, letter, etc.
Where can I buy these?
Amazon, Walmart, craft stores, office supply stores… pretty much everywhere, really. If budget is a real concern, you can often find them cheap at various dollar/discount stores.
Support For Comic Book Herald:
Comic Book Herald is reader-supported. When you buy through links on our site, we may earn a qualifying affiliate commission.
Comic Book Herald's reading orders and guides are also made possible by reader support on Patreon, and generous reader donations.
Any size contribution will help keep CBH alive and full of new comics guides and content. Support CBH on Patreon for exclusive rewards, or Donate here! Thank you for reading!
How do I do this?
Buying
Find a sturdy frame –

If you can, test the frame before buying it. Jostle it, lightly try to separate it at the corners, etc. Oh, and make sure it has doesn't feel like wet tissue paper.

Buy unmatted frames –

Mattes are great for flat photos of art; 100% useless for something as thick as a comic. Plus mattes cost more.

Don't crush your comics –

Most of these frames are meant to take only a single sheet of paper, not a 24-page comic. Forcing a comic into such a frame could damage the comic, the frame, or both. So look for a frame that has

both

:

Turn-out metal tabs on the backer (the part you remove to put in the photo or comics), rather than the frame itself

Two sets of tracts in the frame, allowing for more room between glass and backer

Start with just one frame –

Trust me, the guy that's had to try to return frames before. It's not good.
Preparing Comics and Backer
Bag your comics –

Use an archival bag, unless you want to replace it every year or two.

Apply tape-loops to the back of the bag
Lay the backer on a flat surface
Affix the bag to the inside of the backer –

as centered as you can
Frame Assembly
Apply the hanging bracket now –

If your frame uses a bracket, center it and apply it now.

Lay the frame down over the comic and backer –

if your applied a bracket last step, make sure that bracket is at the top of the comic.
Hold frame and backer between thumb and fingers, then carefully turn over.

Imagine you were trying to turn a sandwich over without getting mustard everywhere.

Twist brads –

Use the second or furthest track on the frame.

String it

– If your frame uses a wire or string to hang, apply that now (making sure to put them closer to the top of the comic than the bottom.
Recommended Hacks
Use a staple gun to add an extra staple to each of the four joints on the back. This a point of catastrophic failure. Do this before you mount and frame.

If this hangs with brackets or brads, make sure you center them properly on the frame.
Downsides
Quality control –

Discount frames tend to have lots of problems. Instead of glass, many use cheap plastic that doesn't give a perfectly clear view of your comic and will likely discolor over time. They may also fall apart (see: staple gun), sending your comic plummeting to the floor.

Hard to match –

The cheap frame you buy today from Store X will likely look different than the "same" frame bought next month. Again, this is because they're made on the cheap

Comics need to be bagged –

Which means replacing bags from time to time to keep comics healthy. (We all do this, right?)

Comics can't truly be centered –

First because 8.5×11 framing a 6.615×10.125 comic means there's a lot more room on the sides than top and bottom.
The Upgrade:
Specialty Solutions
Collect2Display
For the right collector, these are some spectacular frames. 
Right-sized

– These are actually purpose-built to house comics. No crushing of issues, no ugly centering problems.

Sturdy

– Particularly compared to the budget option

Toploading

– easier to assemble;

way

easier to swap out comics

Visually interesting –

I confess, I don't normally like colorful frames as I think it detracts from the art. But these look great, and the idea of making a subtle choice (like matching frame color to the issue logo color) appeals to my inner designer.

Small business –

I'd much rather give my money to a person than a mass-production conglomerate.
ComicMounts 
If you're the kind that "slabs" your comics in (getting a comic professionally graded and encased in an un-openable hard plastic shell from CGC, PGX, or CBCS), then this solution is for you. These mounts provide a good amount of distance off the wall, which looks great. Plus they let you slide your slabs in and out, meaning you can have a rotating gallery! That said, they won't work for non-slabbed issues, so this may not work for everyone.
Right-Sized –

Looks great without crushing your babies.

Easy matting –

These have an ingenious matting solution that keeps your comics perfectly centered.

Pricy –

High-quality frames will run you over $20 each.

Dicey-Quality –

These things are mass-produced, so there's going to be some defects. Buyer beware.
The Ultimate:
Home Gallery
So you've decided to go wild on this. Good for you! By elevating your comics, you not only make them look good, but you'll feel even better about them. The pride of a good collection is a very real thing.
So use these simple steps to make your library look like The Smithsonian (or at least like a real library).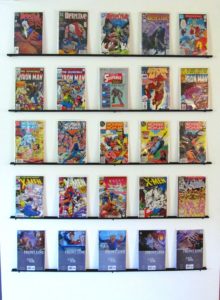 This solution lets you pick up your comics, handle them, and swap them out at will. Not only that, you can integrate figures, busts, or other aspects of your collection this way! Use high-quality bags and boards or slabbed issues for the best results. And make sure to pick out a model with a bit of a lip or gutter at the end so that your comics don't take a tumble.
Gallery lights aka Picture Lights
Hang one of these above your shelves. It's dramatic, it's classy, and it means you don't have to rely on sunlight or bright room lights that bleach your collection. Just remember to hang it in such a way that it's both centered over where you'll position the comic and so it's low enough that the top of the comic will rest over the mounting base, concealing it.
Frames?
If you want to be truly fancy, you can frame your comics and set them on the shelves. However, I would suggest using a minimalist frame in that case, and only doing this to issues you know you won't handle much.
Further Reading
If you found this useful, check out How to Store, Expand, and Show Off Your Comic Collection for more ideas on how to show off your collection.
Wanna show off your solutions now? Drop links in the comics and I'll put them in!