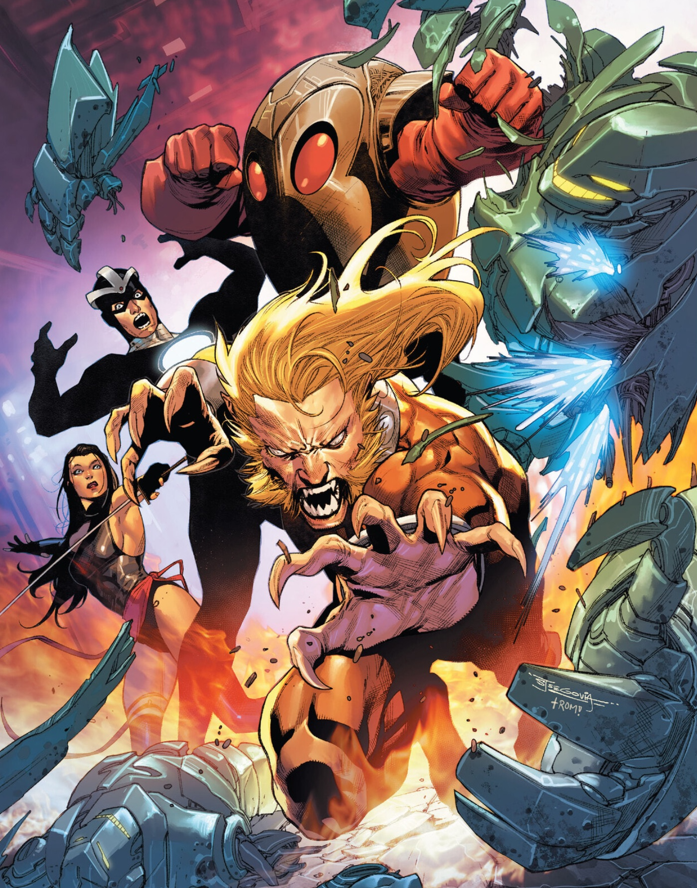 Collecting Hellions #7-12, the second trade volume of this instant cult classic is out now, released August 4. Hellions
has been one of the most consistent among the current X line, in terms of its narrative focus, art, and overall quality from issue to issue. The brilliantly dark humor of Zeb Wells is as ever shot through with moments of tragic poignancy, but his writing continues to evolve with every issue—and the brooding artistry of Stephen Segovia has proven the most perfect vehicle yet for Zeb's signature combination of comedy and horror. Segovia's style is somewhat reminiscent of Leinil Francis Yu's, but the young Filipino artist excels with his ability to convey such a broad range of facial expressions, emotive body language, kinetic action, and slapstick. This seamless melding of seriousness and levity takes a particular genius to achieve, which, again, makes the pairing of these two unique talents a perfect storm.
It's chaos and order: No other current ongoing X-title is so neatly structured with perfectly sized narratives—from one to three issues in length. At the same time, there's not another that's more spontaneous and delightfully surprising than Hellions. Zeb Wells is a tightrope master. It seems like he knows his flair for surrealism and impromptu comedy needs discrete narrative constraints to come off most successfully; certainly, no other writer could write this book as well. Even the team dynamic is more efficiently portrayed than what we find elsewhere. And how impressive is it that these oddball misfits have grown together so naturally across much fewer pages than most other books would take to establish a new team? Clearly, Sinister's outfit of reluctant minions will not last in the long run, at least in this current form. But perhaps that planned obsolescence is, paradoxically, integral to their success! When a daring writer has permission to draw up a roster of eccentrics who don't belong anywhere else in this age of long-established super-teams, it might be that the more corporate concern of creating a universally pleasing property gets defenestrated. So, why not give license to Mr. Sinister Zeb to take these mutant miscreants on a journey into mystery, madness, murder, and mayhem?!
As Sinister says of the team's mission to take back Nanny's ship from the Right, "a tidy little heist" ends up in each case a chaotic romp, completely uproarious. But with Sinister's unbalanced sense of reality, he doesn't really seem to mind. Maybe he has grown more attached to this band of misfits than he'd ever admit with any sincerity. But while glimmers of sentimentality might be a byproduct of the way this series moves and shakes, the fuel this crazy train runs on is pure chaos magic.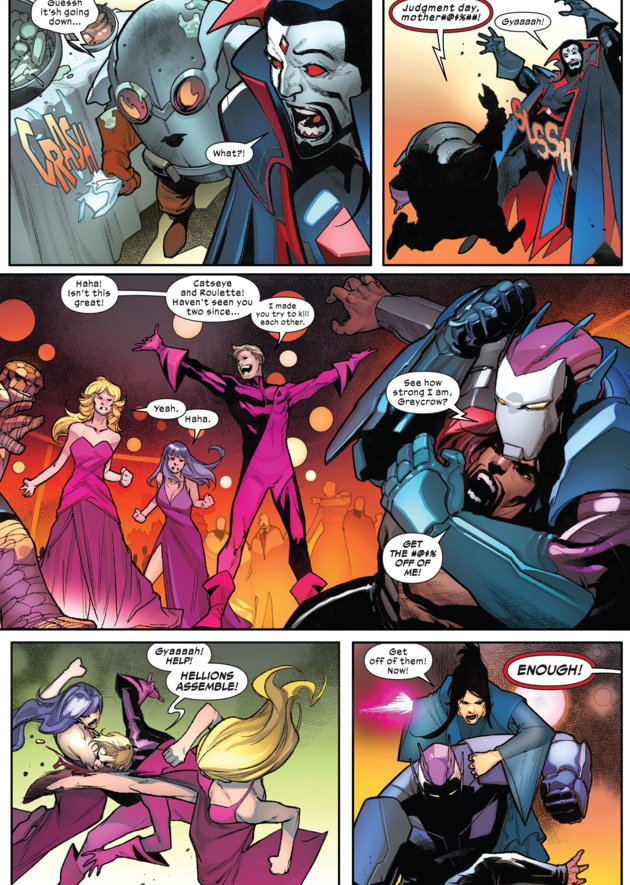 Furthermore, Hellions is the ongoing title that's engaged the most with HOX/POX
thematically, at least with strong hints: Wells' Hesiod Protocols fit right in with Moira's well-earned paranoia over the inevitability of the runaway evolution of machine intelligence and with Sinister being a central figure of both series, expect his future hobby as chimera-engineer to hit sooner than later. And the ban on resurrecting clones, the most flimsily articulated of the QC's three or four flimsy prohibitions, is Havok's persistent fixation—given his infatuation with Maddie Pryor. Then, with the hints across the line of a coming "inferno," Sinister's erstwhile redheaded puppet is the figure who comes immediately to mind for longtime readers. (And of course, Greycrow is a clone of a clone of a clone, ad nauseum, like all the original Marauders, except Gambit I guess.)
Indeed with this second six-issue stretch, we're seeing more classic Claremont-and-Simonson-era antagonists in whom no other current X-scribe seems nearly as interested (with the notable exception of Vita Ayala recasting the Shadow King in a new light over in New Mutants). Yet for my money, Zeb and guest artist Carmen Carnero introduced the most interesting baddies of the Krakoa era in the X of Swords
issues #5-6—Tarn the Uncaring and his twisted puppets the Locus Vile, of Arakko. (It's surprising that even some fans doubted the relevance of these issues! This fright-fest of foes is already back as of issue #13!) But in #7-12, the enemies are pure vintage: Cameron Hodge and the Right; Mastermind; Arcade. Starting with Maddie for the first arc, our hapless antiheroes have been hit with these blasts from the past in a linear regression. It's been a magical mystery tour into the classics! Yet readers should expect by now that it's all been relevant every step of the way. (Still, it's no accident that with the exception of Havok our series "protagonists" individually debuted between 1986 and 1989—sort of in the special case of Psylocke. But isn't nostalgia fun and not merely gratuitous when well-adapted to the present moment?)
Support For Comic Book Herald:
Comic Book Herald is reader-supported. When you buy through links on our site, we may earn a qualifying affiliate commission.
Comic Book Herald's reading orders and guides are also made possible by reader support on Patreon, and generous reader donations.
Any size contribution will help keep CBH alive and full of new comics guides and content. Support CBH on Patreon for exclusive rewards, or Donate here! Thank you for reading!
Maddie or Maddie matters will certainly wreak (ahem) havoc across the line; so too will Nanny's new secret and Sinister's expanded cloning facilities courtesy Arcade shake Krakoa's dicey paradise to its foundations. At the very least more "chiclets" will fly!
Speaking of breaking teeth, let's kamikaze Sinister's precious aircraft against the villainous ramparts and dive into the weeds of Hellions #7-12, starting with "Whetstone."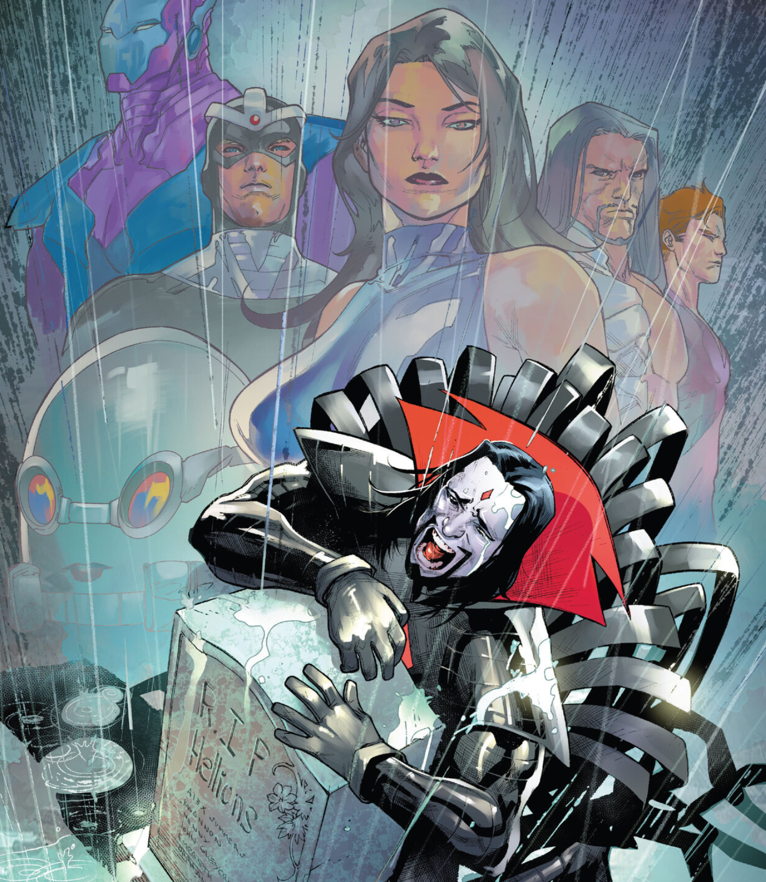 The Quiet Council entertains only when Sinister is fretting upon the stage, as every council member knows. But doesn't his prevaricating peacock shuffling beggar their belief? Of course it does! As with much else, however, Zeb isn't going to spell it out clearly, not yet anyway. The discerning reader will already know that at least some of the councilmembers must be keeping a close eye on at least some of Sinister's doings—although how and perhaps through what spy or spies remain a tantalizing mystery. After all, at least some of the Hellions themselves are eager to kamikaze the whole operation—whether that means just Sinister or Krakoa itself, who can say! How delightful!
And who doesn't want to see more mutants get killed in Arakko? With Nanny, Peter, and Wild Child coming back "more themselves," imagine the same "whetstone" applied to the Wolverines or even Storm. Sinister's chimeras certainly wouldn't stand a chance (not that we've seen these creatures quite yet). Parallels and contrasts between these two types of genetically engineered mutants must be waiting in the wings.
Another narrative aspect that's remained delightfully vague is Peter's mutant power set. Prior to Hellions, Orphan-Maker and Nanny appeared (always together) less than 20 times since their debut in 1988, and never before the issues under review here did anyone intimate that the activation of his X-gene could be apocalyptic (or at least without his containment suit). But how does Xavier know? Mind-reading Nanny? And if Sinister knew, it must've been a risk he was willing to take for his vanity suicide mission! Or maybe Xavier has access to Sinister's mind? (In any case, you'd think a professional like Nanny would've been better prepared.) Xavier not specifying why Peter can't be activated only adds to the anticipation. Previously, we saw an undead Marauder breach his containment and get sprayed with some kind of dark acid, but should Nanny be artificially repressing his mutation, his potential destructiveness must be far more dire. Theories among fans include the possibility that he might generate a world-ending plague or a radiation event. For now, ignorance whets the appetite.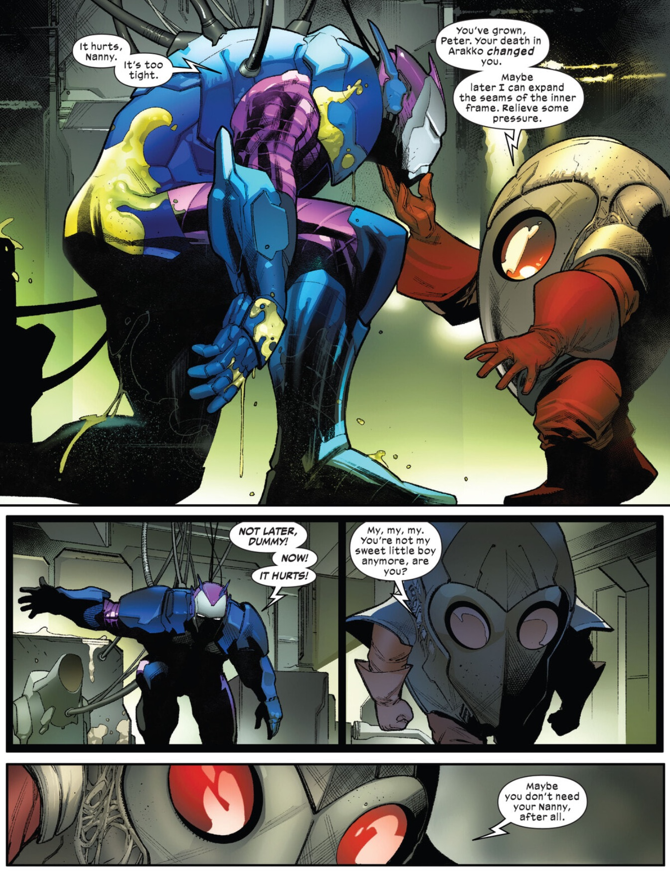 Ripe with undefined portent as well is Havok's single-page exchange with Emma, indirectly calling back to his dark alliance with her after his brother's death from M-Pox several years ago. Is Alex Emma's mole? She certainly isn't treating him like an asset, but who knows. He'd never know if she was plundering him, and with her strategic christening and grand opening of the Moira MacTaggart Memorial Hospital in Marauders #18, it's clear the White Queen has a hand she's not showing anyone yet.
(In Hellions #13, there's an X-Factor communique perhaps to Xavier suggesting Emma is obstructing an investigation into Sinister's machinations during X of Swords—which for me only helps clinch my suspicion that she's secretly keeping tabs on Sinister.)
What else? Sinister's snark and sass continue to delight. Wells has set a very high bar for Sinister writers following in his footsteps. The big brotherly vibes from Greycrow toward Wild Child are endearing—yes! This former Marauder is becoming a real good-guy heartthrob! Or at least his surprisingly sincere attempt to become a better person is truly heartwarming. Meanwhile, Nanny is creepier than ever, post-resurrection. Overall, the team's snarkiness toward Sinister himself has gone from private muttering to open hostility. What's unsurprising to those who read the Fallen Angels mini is Psylocke's defense of their dear leader, but her stand against her vengeance-minded teammates is a nasty surprise to them. This is the first real schism within the squad.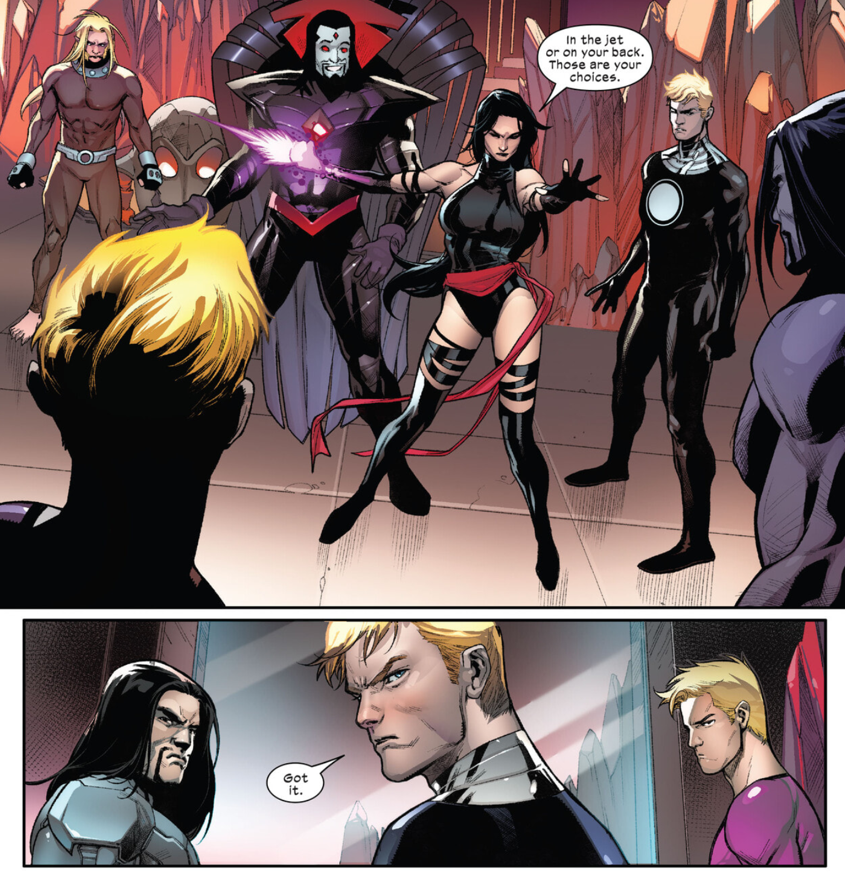 Again, it's all chaos and order. Psylocke is keeping this team together through martial discipline and honor, while Sinister barely cares to hide his unhinged deceit. It's as if his privilege as a ruling member of Krakoa has increasingly allowed his already loose self-discipline to slip at an accelerating pace. It's impossible that this has gone unnoticed. Still, with each issue it's a real surprise the Hellions haven't autodestructed—yet.
Yet Wells continues to be additive in his storytelling à la Hickman: Most readers wouldn't have cared if Fallen Angels was never again referenced. But Zeb not only picks out that failed series' very few aspects that were even vaguely interesting he makes the premise of that awful story at least make sense in retrospect. Never did Fallen Angels scribe Bryan Hill clarify how Sinister aided Kwannon in her quest against Apoth nor what hold he had over her. Not once in that series is there any mention that he has her daughter, but Zeb's retcon or perhaps clarification in Hellions #7 finally makes it clear: "Like all who used Overclock, [Kwannon's daughter's] mind was downloaded to Apoth." That's not what Hill's story was, not even close. At the end, Psylocke inexplicably handed the Overclock drug device over to Sinister, with no hint anywhere that it contained anything so precious. Now, though, the leash Sinister has on this indomitable warrior requires no more explanation.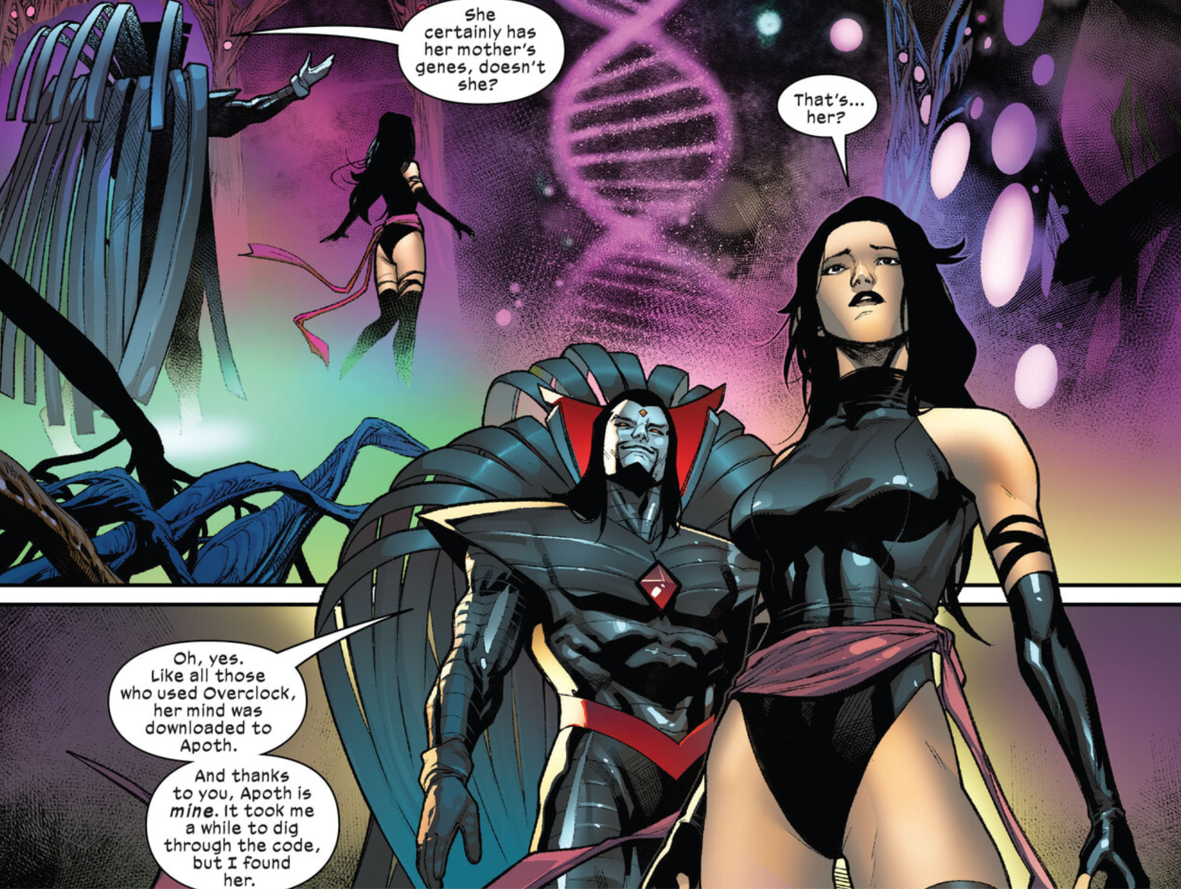 Issue #8, "The Grinning Neonate," sees—to everyone's shock and awe—Empath save the day! And merely by way of simple deduction following the failure of his powers against Hodge. In fact, in this issue, the team really starts to bond, against all expectations. Nanny and Wild Child become a dynamic powerhouse duo; Havok compliments Greycrow's prowess; Greycrow gives respect to Empath's "smart talkin'" and offers up the gift of a mercy-killing to the dying youth (unnecessary as it turns out); and above all, out of respect for his unspoken aspiration to redeem himself, Psylocke turns Greycrow away from destroying the Hodgemind, taking that burden on herself. And she does see ending an artificial intelligence as murder—perhaps unlike her "betters."
Tragically, the emergent bonhomie between mutant and machine, that is, Havok and a robot who is ready to "purge Hodgemind and differentiate from humanity"—this last just like mutantkind's goal—is shattered. Traumatized throughout his life, Alex is retraumatized all over again, as he is in every Hellions story so far. This is surely another serious crack in Alex's rocky relationship with Krakoa's ruling class.

Still, you really have to wonder what he'll make of Nanny's new baby.
Next issue, with Peter finally though painfully "contained" in his suit courtesy whatever tech Nanny needed from her "cradle" ship, it's become quite clear that the three who died in Arakko—each in different ways rather childlike—have returned not just more emphatically themselves, but as if undergoing adolescence or some kind of hardening growing pains. They've all become more aggressive. One is a new mother again, one is no longer sub, and one is more than ready to break away from mommy—hopefully without ending the world!
The "Funny Games" arc—aptly named after the cult classic psychothriller from director Michael Haneke—opens with a marvelous tete-a-tete between Sinister and Mastermind Jason Wyngarde, two fops in a pod. Have these two narcissists ever been on the page together? Leave it to Zeb to be the first to pull it off and smashingly. It's even more hilarious that in retrospect Sinister should've expected something like the poison Wyngarde serves up. The "benign betrayal" turns out to be just that—a ruse.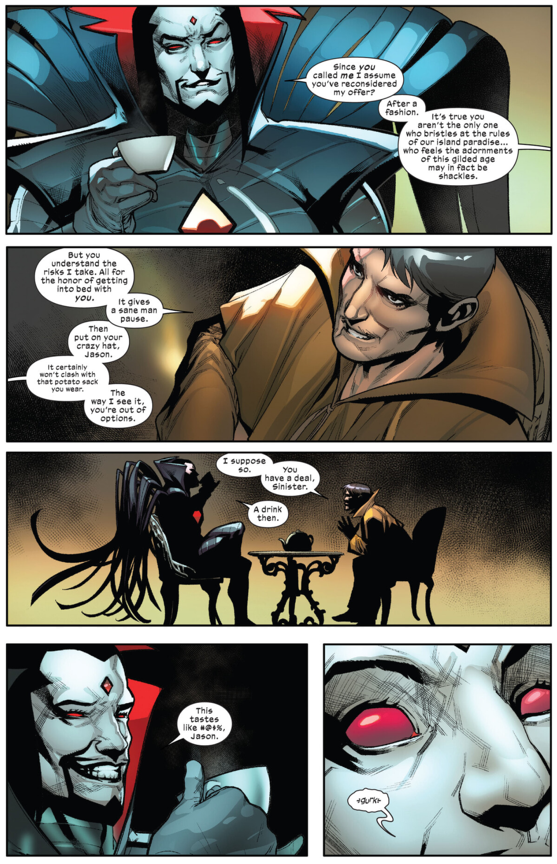 There's an all too brief downtime scene in the gym, which we really don't have enough of these days. Scenes like this, whether in the classic Danger Room or with the Avengers in their exercise room, help establish team dynamics off the battlefield. (There's actually much less posturing in these settings than in some current comics taken up with empty speechifying—ahem, Aaron's Avengers.) Another such moment can be seen briefly in Vita's New Mutants, where the youth try out different power circuits while sparring.
The team's reaction to Sinister's "abduction" is priceless, but again in retrospect—the joke's on them! Sadly, Sage falls victim to Mastermind's shenanigans too. Sage's sappy and clearly mendacious "progress report" on the Hellions reads as totally out of character, but we don't realize until the story's end how this happened. Once more, this is Wells respecting his readers to do much of the interpretive work for themselves rather than spelling everything out in every issue. (This is something even smart critics can forget is a good thing; keeping the bigger picture in mind is essential even as we tend to read too many current titles piecemeal.)
Despite his well-established skeeziness, seeing Mastermind in action is a mind-bending delight. Telepathy might be more powerful than illusion-casting in many respects, but there's much more of a vicarious thrill for readers in experiencing the potentially bottomless deceit of Mastermind's illusions. And in this new era when death is merely a brief inconvenience, there's even a moment here where we might think the team has truly plummeted to their deaths.
On the outside, however, looking at twitching bodies in a bare, dark room, Arcade isn't amused. The twist in Arcade's M.O. here is that he now wants Sinister to make clones for his Murderworld games—more fun indeed than mere robots killing his victims in a giant pinball machine. And his defense against Mastermind (and his own employees!) is hilariously and frightfully airtight. Once the Hellions arrive, Mastermind's use is in keeping them preoccupied with dreams turned to deadly nightmare. Of course, the maestro of murder doesn't know he's being played the whole time.
But why should the Hellions be there at all? If Sinister's whereabouts were unknown why would Arcade allow Mastermind to escort the team to his base of operations? Arguably, Wyngarde might've argued that the much more powerful X-Factor might've come for them instead, which would've been the case if not for his manipulation of Sage. But at best that's a delaying tactic. Well, that's fine; after all, we're talking Arcade—what else does he have? His goal's always been trapping metahumans in funhouse death traps and, following his inevitable failures, staying several steps ahead of his pursuers. Ultimately, Sinister explains why he wanted them there: "We needed witneshes!" he declares, missing a handful of his chiclets. "I will be beyond shushpishion." (Yeah, that won't last.)
In the meantime, his sadism gets to feast on the Hellions' deeply personal nightmares.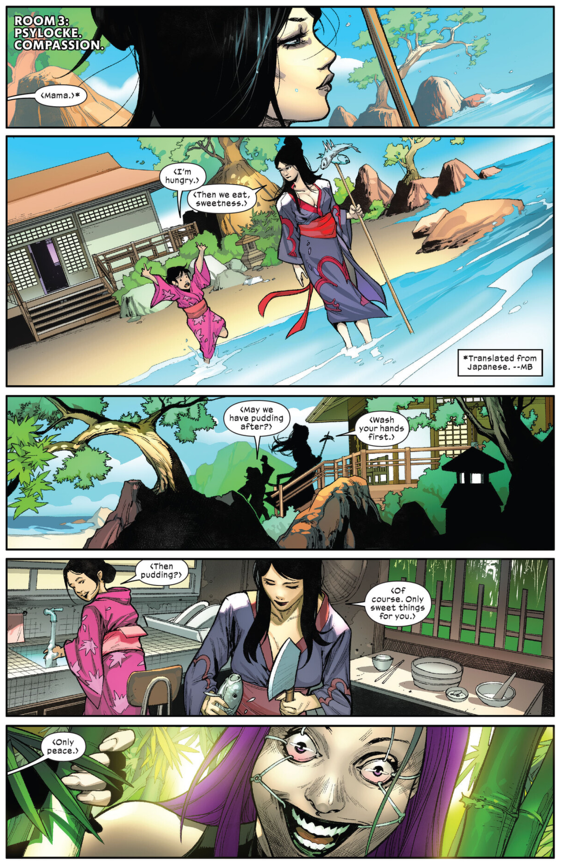 What's fascinating in this arc is that each of these dream states is drawn from and gets at the very heart of each Hellion's already established history. Kwannon might or mightn't have had this moment we see of her with her daughter, but it does get at her background and her desire—before twisting toward nightmare with Betsy Braddock's face appearing as it did during her first Mojoverse abduction and (eye) surgery. Greycrow was revealed in the early 2000s Weapon X to be a WWII vet who murdered several fellow soldiers. Then we see that Empath has always been a horrible little turd. Wild Child fantasizes about dominating Creed, his longtime tormentor, who also nearly beat ex to death when Kyle and Aurora were still together. (Here dream Logan's reaction is hilarious: "Oh, hell no! It's Wild Child. The Big Dog!") Nanny finds herself mother to all mutant children, apt considering her past with Orphan-Maker.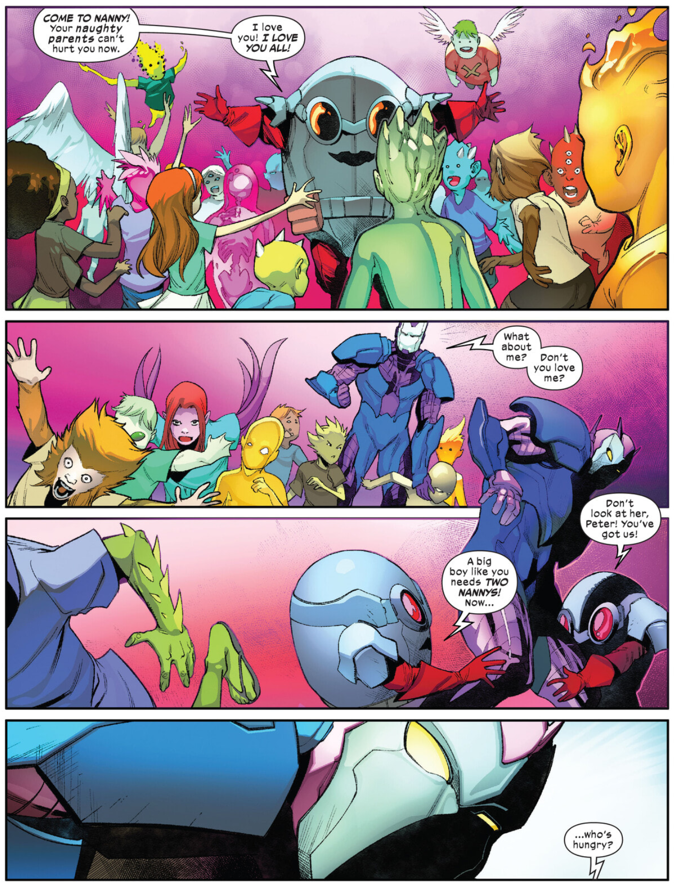 Before she was Nanny, she was a cyberneticist for the Right, who tried to sabotage the organization after discovering her employers were antimutant bigots. Instead, she was caught and sealed by her foes into a suit of her own creation. She soon escaped but had been deeply traumatized and unbalanced. Her new mission was to take mutant babies from their human parents and raise them in her own supremacist fashion.
Thereafter, she rescued a young boy from Sinister's wicked ministrations and created for him a battle suit—not considered "containment" at the time. Nanny named him Orphan-Maker, and together in her aircraft they stalked the night skies, visiting murder upon the human parents of mutant children. Nanny's belief continues to be that because humans are ill-equipped to deal with rearing mutants, these surprise offspring, often unwanted, need to be taken and protected whatever the cost. She used her limited telepathy to manage her wards, whom she collectively dubbed her "Lost Boys and Girls"—alluding to the Lost Boys of Neverland in Peter Pan.
Thus, she named her first and favorite child Peter.
Now, after Arakko, it makes sense that Peter wants more of a different kind of attention, even though he doesn't yet know what that might really mean, much less what shape it could take. For his entire life, Nanny has been his cradle, so that's still the shape his desire takes. Yeah—eek!
And then we see that Alex's dream is a love life with Maddie before she turned into the Goblin Queen…
Most powerful to me, though, is Greycrow's dream of "absolution." It's never before been intimated that he had such deep regrets over his WWII days, that he really wanted to be seen as a good soldier. The story from Frank Tieri's Weapon X was awful and did nothing to explain his motivations for murder. And here we also see a link between John's war trauma and his lack of camaraderie with his fellow Marauders, which came from being so deeply wounded in the past: "I didn't even know them…" In WWII, he was executed, and his self-resurrection was presumably the first revelation of his mutant powers. (It's safe to assume he couldn't come back on his own from Sinister disintegrating him in Hellions #6.)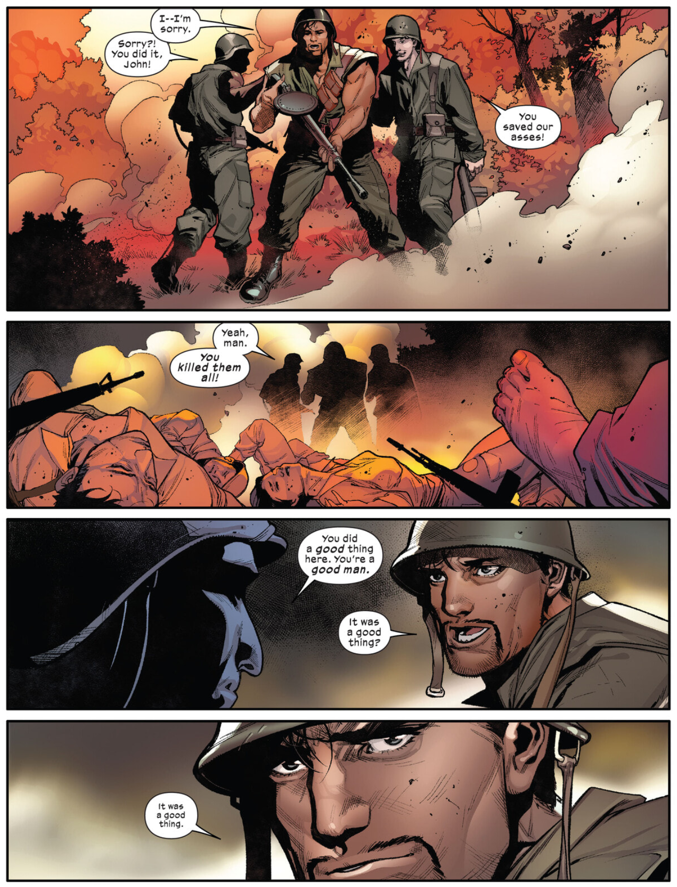 It's equally striking that the Hellions' individual nightmares are also integral to their deepest desires—because none of them is doing well. So, yes, Alex wants the humiliation Maddie gives him. Each is stuck between extremes, their fears and desires cross-wired, which is what makes them indelibly hellions.
For all that Arcade's an entitled twit, he understands this about his victims. "Let's play." Funny Games indeed.
From his epigraphs throughout this series, Nightcrawler gets this too, albeit in a more compassionate light. (And it's funny that there's nary a Kurt to be seen in this series, except on the QC and notably when philosophically drunk at the Gala. Yet his aphorisms here are weightier and chewier than anything he's said in the Krakoan book of morality, Way of X—which excels in other ways.)
Most poignantly in the issue #11 wrap-up is John reaching back out to Kwannon, who in her dream state has become old with murder and revenge. They've both forgotten where they truly are and who else is there with them, each isolated in their private traumas.
The indomitable warrior's answer? "Keep pushing until something breaks." That breakage will be Mastermind's mind. Well, almost. Certainly, Psylocke's breakout and triumphant entrance is a joy to see, but the last laugh is regrettably on her.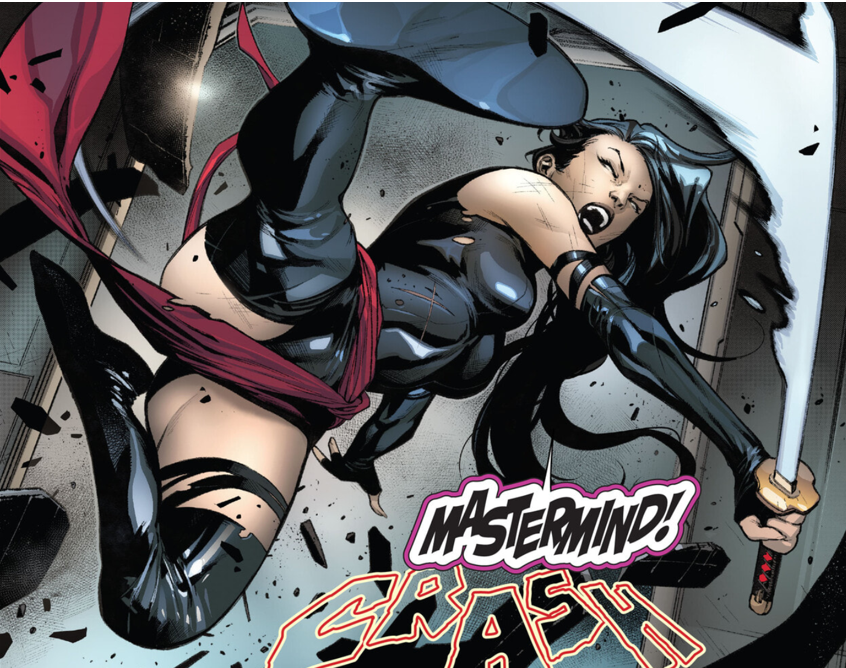 We're indeed in dark territory by the end: Mastermind hasn't just enthralled Arcade to Sinister's plans; everyone on the team but Kwannon has their minds twisted into thinking they "nailed it" on their own. Here, Sinister tells an increasingly enraged Psylocke, "You'd do well to go with the flow!"
She's clearly reaching her breaking point. Hopefully, Zeb and Segovia have at least another year on this title to bring it all crashing home.
Issue #12 should be read as a downtime chapter packed with wonderful character moments, nearly all to the detriment of any Hellion grasping at maturity. The men or boys, including Sinister and Peter, come off looking not so great, to the endearing comedic effect readers have come to expect—except Greycrow, who really seems to be becoming worthy of Kwannon's affection.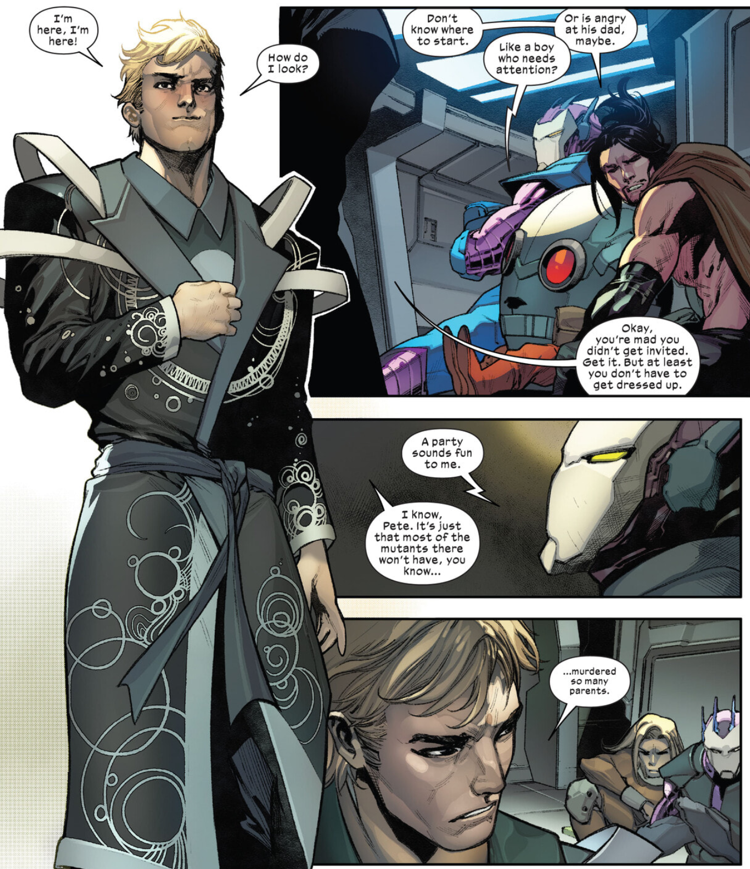 But there's a moment in the dark dreamscape of issue #11 where a ghastly version of Betsy likens Kwannon to a mother figure for Greycrow, which would then make out all the team's male members to be dependent on one of three strong-willed women—Psylocke, Nanny, or Madelyne. In Greycrow's case, maybe it was just a flash of anxiety?
Like all great writers, Zeb knows what he's doing here, though this would seem to suggest that Greycrow isn't ready for a more intimate relationship with Kwannon. After all, they've never been so individuated before now, and they need time to grow into themselves more. (Perhaps a death in Arakko would help speed things along 😉.)

Most surprising in the Gala "Gatecrashing" issue—Zeb's brilliant "f—you" to the fancy diplo event his team of horrors was mostly prohibited from—was Kyle trying to get between his ex and her current beau, Daken, who makes a lot more sense now as Aurora's love interest given her past with Wild Child as well as Sasquatch—a chance to try again with a much more suave and stable "savage" type.
(Greycrow encouraging Kyle to "go get her" was probably him at his least thoughtful since offing Empath early on, but he makes up for it quick as can be.)
The best moment, though—after Empath getting whupped by erstwhile classmates Catseye and Roulette? Nanny rushing Sinister with a broken champagne glass: "Judgment day, motherX@$%##!"
Bring it, Zeb. Bring it.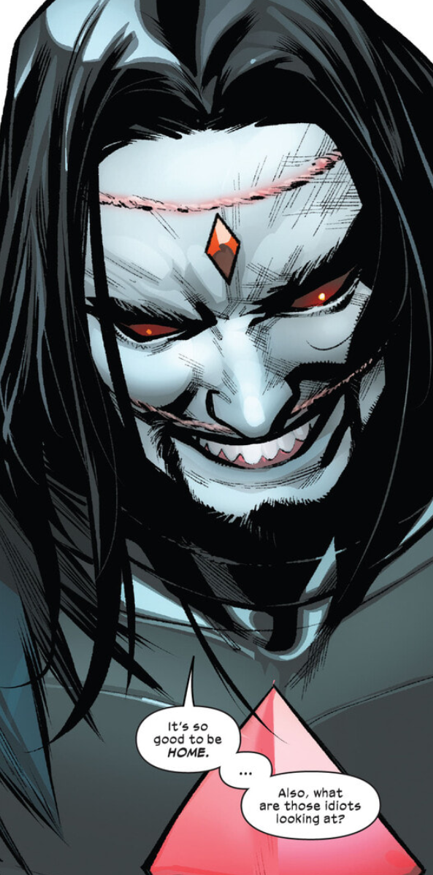 Bring what? "Also, what are those idiots looking at?" I believe, Mr. Sinister, whichever one of you survives, that's your future. Right? As in Moira's ninth life, a whole planet for your breeding pits…
What a cliffhanger for the next three-issue arc!
Expect this book, or at least a few of its delightfully realized characters, to be central to Krakoa's endgame.