I had impossibly high expectations for Guardians of the Galaxy. Honestly, I don't remember ever expecting a movie from Marvel Studios to be so good. With Captain America, Thor, and Iron Man I generally just hope the movie is great, and then I'm thrilled when it exceeds expectations (see: Iron Man 3, Captain America 2: The Winter Soldier), and not altogether depressed when it flounders (see: Iron Man 2). With Guardians, though? I just knew it would be great. This is a surefire way to assure you leave a movie theater disappointed, but amazingly Guardians actually exceeded my high expectations. Even with surprising characterization changes, and a wasted Thanos appearance, Guardians of the Galaxy is the funniest Marvel movie of all, and in my top three favorites.
Part of the reason I expected so much from Guardians of the Galaxy was the choice of James Gunn as the writer/director. As anyone who has seen Super can attest, Gunn's the auteur who can blend humor and heart at a whackjob pace that has to leave even Joss Whedon impressed. It's a testament to Marvel's ability to get the right talent in the right place for the right movie, and Gunn delivers a Guardians of the Galaxy on the scale of Star Wars and Indiana Jones while maintaining his quick wit and hilarity. Amazingly, Gunn makes it look easy! A grand space epic involving Ronan the Accuser, an infinity stone, and Thanos the Mad Titan does not necessarily scream high comedy. And yet, the theater was in stitches for 75% of the film.
The other reason I knew Guardians would be a knock-out is simple: Anyone who's read modern Marvel Cosmic comics knows the Guardians of the Galaxy are awesome! This team has been an all-time great team-up since 2008 when Dan Abnett and Andy Lanning combed the wreckage of Annihilation: Conquest (and the brilliance of Keith Giffen), and salvaged the most interesting super team this side of the Thunderbolts. People like to mock the Guardians of the Galaxy as Marvel's desperate attempt to boost D-team garbage to big league status (Neal Adams does exactly that on Kevin Smith's Fatman on Batman podcast), but that's always seemed a little shortsighted based on the recent comic book history. It also overlooks the fact that in 2007, many people would have associated Tony Stark with a member of the Wu-Tang Clan, and Captain America with a horrible 1990's movie. Sometimes it's more about restoring quality to a character and setting than it is that character's pre-established notoriety.
What About Guardians of the Galaxy Is So Great?
So now that we actually have the movie, what really works and what falls flat? Essentially all core characterization is brilliant, and even on paper the plot itself looks fantastic. Peter Quill, aka Star-Lord, must bring together a crew of criminals and killers to keep an Infinity Stone out of the hands of Ronan the Accuser and Thanos. The movie that follows is high on action, humor, and heart. Above anything, I would celebrate Guardians of the Galaxy's pacing and willingness to let the movie breathe.
The scene that stands out as evidence here is when Quill, Drax the Destroyer, Gamora, Groot, and Rocket Raccoon sit in a circle trying to determine whether they should go after a nearly all-powerful Ronan and steal the infinity gem. The rapid fire wit and laughs come bursting off the screen, but rather than play the scene for a quick laugh and a cutaway to a racing starship, Gunn lets the scene build steam and laughs for longer than you'd ever expect. I expected a joke and a cutaway on five different occasions and still we stayed locked on the team, camera centered on a nearly motionless crew giving the audience all they could handle simply by interacting. It's a glorious bit of filmmaking, and part of the reason Guardians of the Galaxy is such a great movie.
Support For Comic Book Herald:
Comic Book Herald is reader-supported. When you buy through links on our site, we may earn a qualifying affiliate commission.
Comic Book Herald's reading orders and guides are also made possible by reader support on Patreon, and generous reader donations.
Any size contribution will help keep CBH alive and full of new comics guides and content. Support CBH on Patreon for exclusive rewards, or Donate here! Thank you for reading!
It also highlights the crucial element that separate Marvel movies from their DC brethren: fun (Well, that and careful planning, talented fans of the characters running the show, and a sense of fan service… but we'll stick to 'fun' for now). Guardians of the Galaxy is just over two hours of non-stop fun, laughs, and occasional chills/tears. DC is black and white stoic pictures of Wonder Woman taking the world on her shoulders, and Batman doing the Arrested Development Snoopy depression walk.
To be fair, this approach worked brilliantly in Christopher Nolan's Batman trilogy, and dark grit has produced almost every comic on top of the collective all-time greats list. Watchmen, The Dark Knight Returns, Daredevil: Born Again… not everything has to be a barrell of laughs to be considered enjoyable. But when super serious isn't absolutely brilliant, it often feels dry and cumbersome. My single biggest criticism of Sam Raimi's Spider-Man films is that Peter Parker lacked any semblance of wit and joy. Read those early Stan Lee and Steve Ditko / John Romita Spidey comics. He's cracking a joke every third panel, and occasionally remarking how much damn fun he's having just web-slinging through the city. Unbridled joy is contagious, so it's little wonder that Peter Quill's epic dancing in Guardians (which is bountiful) is so comical and joyously infectious.
Where Does Guardians of the Galaxy Rank Against Marvel Movies?
There's little use denying that Marvel Studios is on an incredible hot streak. The part I find particularly fascinating is that the movies are actually getting better as Marvel progresses. Was this the best Marvel movie? I'm not ready to dethrone Avengers, but here's the order as I have it currently:
The Avengers
Iron Man 3
Guardians of the Galaxy
Iron Man
Captain America 2: The Winter Soldier
Thor
Thor: The Dark World
Captain America: The First Avenger
The Incredible Hulk
Iron Man 2
I need to rewatch both Iron Man 3 and Guardians of the Galaxy to determine if those rankings hold (Same goes for Captain America 2 – I probably differ most from the average list on that ranking). One fascinating element of the rankings, though, is how it highlights that Marvel Studios are getting better over time. Rather than fade out into the superhero fatigue everyone is so keen on predicting, Marvel movies are actually improving over time. This is hugely thrilling and holds so much promise for the future of Dr. Strange, Ant-Man, etc.
The element that suggests an even longer shelf life for Marvel Studios, and puts some support behind their preposterous ten year plan, is that these movies are getting less and less similar. There's individuality to the franchises now. Guardians of the Galaxy is a space opera. Dr. Strange will be supernatural horror. Ant-Man will be more of a heist movie. And Odin willing, Captain Marvel featuring Carol Danvers will actually have a lead female protagonist, which is apparently (see also: sadly) the most unique film of all.
Guardians of the Galaxy Character Rundown – How Did the Movie Do?

Star-Lord
CBH Score: 5 out of 5
Everything about Chris Pratt as Peter Quill was pitch perfect. He's funny, rebellious, stubborn, and at the end of the day, reluctantly the greatest hero in the galaxy. Pratt and Gunn should get all the accolades in comic book fandom for their portrayal of Quill here. It's a masterpiece. Think of Ryan Reynolds as Green Lantern, and then imagine the complete opposite of that, and you have the achievement here with Quill. I don't think anybody ever would have guessed Star-Lord would a more celebrated earth-born space adventurer than Hal Jordan, but here we are.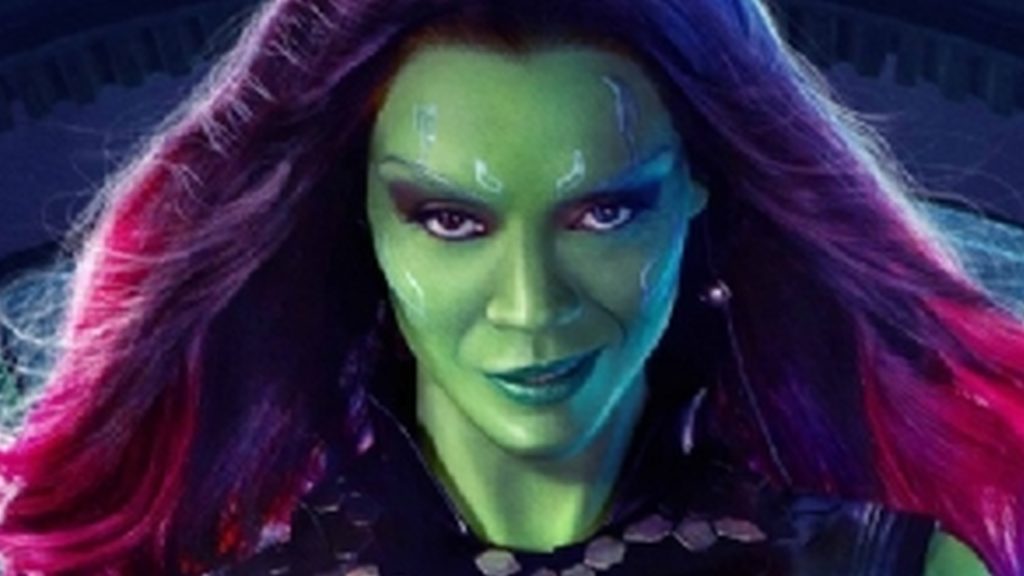 Gamora
CBH Score: 3.5 out of 5
I enjoyed Zoe Saldana's portrayal of Gamora, but I couldn't help but feel the writing watered down "The Deadliest Woman in the Galaxy" just a bit too much. For starters, Gamora isn't wooed by a man; she takes what she wants. Also, if 5 prisoners in the Kyln tried to prison-shank Gamora in an unceremonious execution, they would lose all their limbs before they even concocted the plan. That scene bugged me – helpless Gamora taken hostage by random thugs? No chance. And now that I'm getting started, Gamora's speech about protecting innocent lives was delivered way too desperate and pleading for my liking. Not nearly tough enough.
Again, though, these are smaller qualms, and I get why Guardians needed a "relatable" female presence and love interest for Quill. Those are familiar elements that keep the plot driving in a movie of entirely new characters. Fair enough. For the most part, Gamora is a fierce warrior, and she defies Quill's "pelvic sorcery" with a knife to the throat, which is both adorable and spot-on. I'm hoping in Guardians 2 we get more Gamora being as deadly as her reputation.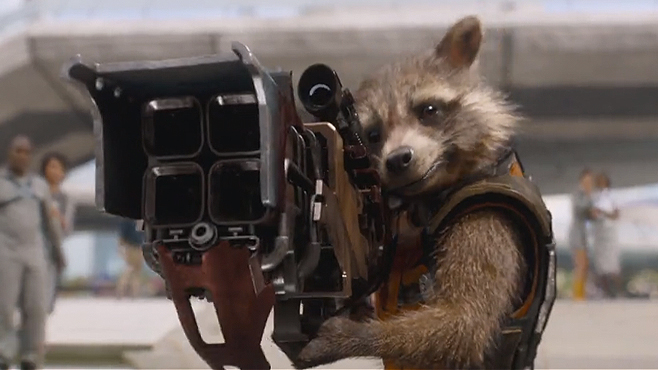 Rocket Raccoon
CBH Score: 5 out of 5
Rocket is not an easy character to get right. He's a strategic genius, constantly quipping during battle, and he loves enormous guns. Handled incorrectly, Rocket could have been incredibly abrasive, overly cynical, and just plain weird on the movie screen.
Instead, every scene with Rocket was absolutely electrifying, and Bradley Cooper's voice-acting was incredible. The previews had me mildly considered, but there's little doubt that Cooper completely becomes Rocket and crushes the performance.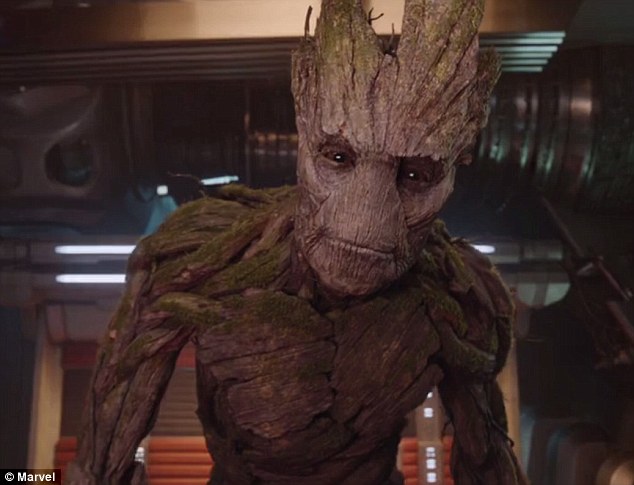 Groot
CBH Score: 5 out of 5
We are Groot.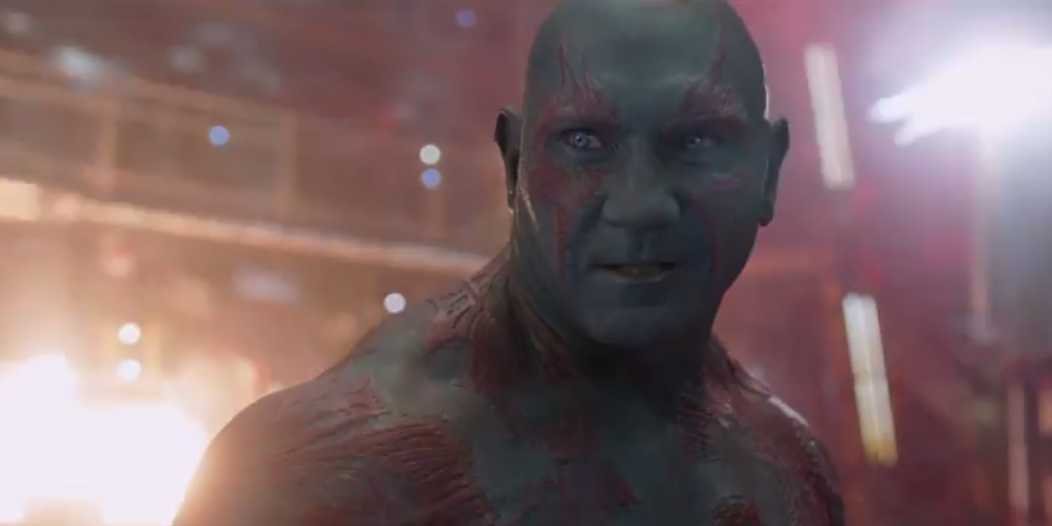 Drax the Destroyer
CBH Score: 4.5 out of 5
The first 5 minutes of Drax are perhaps the most nerve wracking of any individual character performance. They don't seem great. First there's a huge character change, redefining who Drax is to make the character more palatable for a new audience. And then there's Bautista, delivering aggressively wooden lines like he's still playing heel on Monday Night Raw. I couldn't believe it. "Oh no. They're going to ruin this movie with a terrible Bautista performance as Drax! Why couldn't they have hired a real actor?!"
And then everything changed. Guardian's converted Drax into a "walking thesaurus" who delivered the most unintentionally hilarious one-liners of the movie. He also perfectly captured Drax's insatiable warrior rage, bull-headedly racing towards his lone goal of killing Ronan the Accuser, and eventually Thanos. The use of Drax in this movie might be the single most important creative decision of the entire film.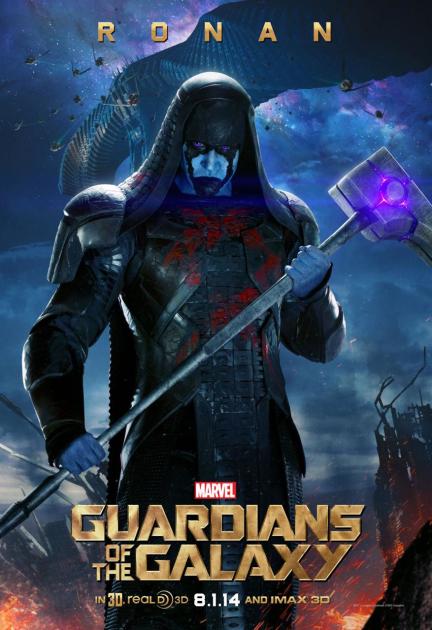 Ronan the Accuser
CBH Score: 1.5 out of 5
Ronan got a raw deal. There's really no way around it. Rather than portray the relatively nuanced judge, jury and executioner upholding Kree values, Ronan was transformed into a disappointingly stock Big Bad. By my count he didn't even get to utter a single "You have been judged!" which is a little mind-blowing. It's a testament to the strength of the core Guardians team that this completely unmemorable Ronan didn't drag the movie down. Between Malekith and Ronan, we're getting some weak stock villains from otherwise good movies… something to watch for on the Marvel front.
There's also the whole thing where Ronan isn't really a villain in the comics, and he's entirely unusable now in the MCU. Also, who the hell were Ronan's minions? They sure as heck weren't Kree. Moloids maybe? But, hey, you gotta stay positive!
Nebula
CBH Score: Sure out of 5
Amy Pond got to play a robotic daughter of Thanos. And unlike Infinity Gauntlet she wasn't just a mindless zombie serving eternal damnation at the hands of Thanos. So I guess that was fine?
Thanos
CBH Score: 2.5 out of 5
Oh boy. Oh BOY. This one could be a problem.
Apart from turning Thanos into the god-like version of Flava Flav (y'all know what I'm talking about boyyyyyyyyy), I did not enjoy our 2 minutes with Thanos. His few lines came close to the brilliance and diabolical scheming of the Mad Titan, but I was not feeling it. Are people going to walk out of Guardians of the Galaxy thinking "Thanos is the COOLEST!" I highly doubt it, and that's a miss.
On the other hand, he's using cosmic villains to collect infinity gems for him, which is classic Thanos. He also floats in a boss chair and they completely nailed his evil smile. It was a short spurt, so I'm holding out hope that Thanos comes through in the end.
The Entire Nova Corps
CBH Score: 3.0 out of 5
There was a whole lot of talk of Xandarian culture, but almost nothing about the Nova Force, Richard Rider, or really anything that sets up more from the Novas in the Marvel Cinematic Universe. They basically netted out as the SHIELD of Xandar… which isn't entirely off, but on the other hand, they're a police force for the entire galaxy. Again, I realize there are time constraints on all this, but we didn't get a heck of a lot of understanding about the Nova Corps.
The Entire Kree Civilization
CBH Score: 0.0 out of 5
Essentially all we established is that they're occasionally blue, and fairly wimpy about treaties. This was actually a horrible representation of the Kree, one of the proudest and best established races in the galaxy. Seems odd to under utilize the Kree, too, as they could have major ramifications on everything from Agents of SHIELD to the potential Inhumans movie.
The Collector
CBH Score: 4.0 out of 5
I'm a big fan of Benecio Del Toro's creepy representation of The Collector. Dude's basically a slave master with an interest in rare species, and that guy should not really be a ball of fun. I wish his collection had been a little more fan-friendly (maybe it was and I just need to watch the DVD in slow motion?) but there were a handful of exceptions…
Cosmo
CBH Score: 1.0 out of 5
Great Cosmo the telepathic dog reference, but no speaking! Boz Moi!
Howard the Duck
CBH Score: 3.0 out of 5
And now we come to the big post-credits reveal. Howard the Duck. I have neither the time nor the energy to encompass all of my thoughts on the potential inclusion of Howard the Duck in the Marvel Cinematic Universe. I love the Steve Gerber comics, and I love the concept of Howard, but I also saw the 1986 George Lucas movie and there are some things you can't unsee. That said, it did leave us with the single greatest moment in Marvel Cinematic history:
 Guardians of the Galaxy
CBH Score: 4.5 out of 5
So what do you think? Was Guardians of the Galaxy a quality entry in the Marvel Cinematic Universe or a total bust? Where does it rank among the Marvel movies? Do what feels right to you in the comments.