Dark Horse began publishing the Predator comics in 1989 with the story now generally referred to as Concrete Jungle, not long after debuting its Aliens line the year prior. Rather than focusing on an ongoing, the publisher pushed short appearances in the Dark Horse Presents anthology while offering up a number of limited series and one-shots over the years.
Foregoing the larger world building that the Aliens franchise has explored in novels and comics to focus on repeating the format that makes the Predator movies so great, it's easy to forget about the early Predator comics in comparison to the Aliens and AVP series. Aliens offers more character and plot development while AVP has even more epic fights, which leaves some of these stories in the dust. On the other hand, the original outings with the Predators did offer massive amounts of bloodshed and a revolving series of backdrops and characters, which means that Predator Omnibus still has a lot to offer for fans of the films.
Collects: Predator (1989) #1-4, Predator 2 (1991) #1-2, Predator: Big Game (1991) #1-4, Predator: Cold War (1991) #1-4, Predator: The Bloody Sands of Time (1992) #1-2, Predator: Bad Blood (1993) #1-4, Predator: Invaders from the Fourth Dimension (1994) #1, Predator: Dark River (1996) #1-4, Predator: Strange Roux (1996) #1, Predator: Kindred (1996) #1-4; material from Dark Horse Presents (1986) #46, #119; Dark Horse Comics (1992) #1-2, #4-7, #10-14, #16-18, #20-21; A Decade of Dark Horse (1996) #1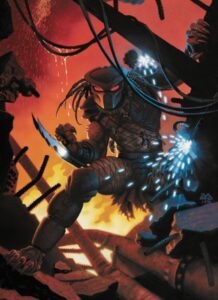 The Gritty, Gritty Eighties, So Full of Crime
Concrete Jungle, Cold War, and Dark River are all written by Mark Verheiden, who penned many of the early Aliens books as well as ultimately becoming a TV writer on shows like Smallville, Constantine, and Supergirl, among others. Much of the overtly political commentary of the Aliens books is muted in the Predator stories, but the distrust of the government and a general malaise around the state of humanity infiltrates these stories to the core.
Concrete Jungle begins with a husband snapping and murdering his wife with a shotgun, noting that he didn't mind her watching the shopping channel for hours but ultimately lost it when she changed the channel to something even more annoying. Detective Rasche narrates much of the first story, which revolves in no small part around his partner John Schaefer, the brother of Dutch (Arnold Schwarzenegger's character in the first film, who has apparently gone missing after breaking out from a hospital not long after his encounter with the Predator). Save a handful of references, the films don't play much of a role in the comics, though the comics do generally follow the format of the film: overwhelmed humans panic and die en masse before one man rises up to fight the Predator to the death, barely escaping with his life.
Support For Comic Book Herald:
Comic Book Herald is reader-supported. When you buy through links on our site, we may earn a qualifying affiliate commission.
Comic Book Herald's reading orders and guides are also made possible by reader support on Patreon, and generous reader donations.
Any size contribution will help keep CBH alive and full of new comics guides and content. Support CBH on Patreon for exclusive rewards, or Donate here! Thank you for reading!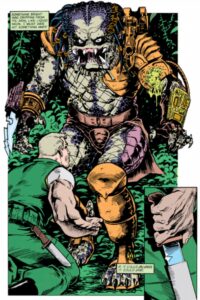 We Love You, John Schaefer
Schaefer is full of hilarious one-liners that are enjoyable in no small part because of how dated and over-the-top they are. The shady government sends John up against a Predator believing he will certainly lose. When he beats the odds and survives, an angry military commander yells, "Do you have any idea what this means?" and John remarks, "Yeah. It's Miller Time." He is the archetype of the "shoot first and ask questions later" protagonist that was so big in the late eighties and early nineties, and comics would soon be chock full of tough guys remarkably similar to our Detective Schaefer.
Schaefer goes up against the Predators multiple times, and the fights are a whole lot of fun, but they are also wildly violent. Epic, grisly, teeth-clenching battles are the defining feature, and indeed every one of these stories features gushing blood, cracking bones, disembowelment, or at the very least a beheading or two. Major ten-to-fifteen page brawls are the norm, pushing the franchise even further into the realm of horror than the already hyper-violent films could.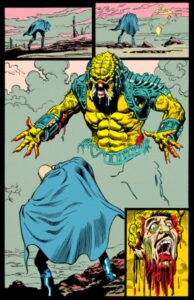 A War That Is Cold
The Cold War miniseries sounds fairly political at first glance, but it is apparently mostly called that because there are Russians in it and because it is a war that is quite literally very cold, due to it taking place in Siberia. The war in question is against the Predators, and sees Schaefer teaming up with a Lt. Ligachev, who is searching for any survivors left from her crew after a particularly bloody Predator attack. Schaefer sums Ligachev up as "Tough chick. Asks good questions," which is the nicest thing he says about any other person throughout his appearances.
Government officials repeatedly promise information on Dutch to urge John to cooperate with them, but his loyal partner Rasche follows him into Siberia as Ligachev and Schaefer climb aboard a Predator ship and blow it to smithereens. Much the same format is repeated in Dark River, though the scenery is a jungle, and his new female cohort is a much more street-smart guide named Lopez. While the last story indicated that Predators have a sense of nobility, this story introduces a rogue Predator that kills for pleasure.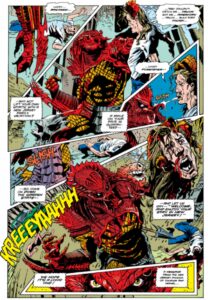 Good Blood, Bad Blood, Big Blood
The Predator series more or less strayed away from strong overarching plotlines, which doesn't always make for memorable storytelling but does free writers up to jump around from place to place. In Bloody Sands of Time, a man seeks to defend his client, who has been charged with committing a brutal atrocity. Ultimately, it becomes clear that a Predator is responsible, but it also leads to the realization that various Predators have been involved in several wars over the years. Meanwhile, Invaders From The Fourth Dimension is a fun, retro tale that serves as a love letter not just to the Predator franchise but to the horror genre overall. Kindred is a surprise sleeper hit that revolves around a small ensemble of strangers, including a family man, a serial killer, and a cop as they react to a series of new killings by a Predator. Spending time building and resolving the character arcs makes it a standout in the omnibus.
One creator that seems to fully click with the unmitigated carnage and the violence-based humor of the series is Evan Dorkin, who works as an artist on Big Game, then a writer on Bad Blood. Big Game follows Enoch Nakai, who feels torn between his Navajo and white identities. Constantly referred to by racist slurs and demeaning stereotypes, Nakai survives multiple encounters with the Predators, ultimately killing one. Dorkin's penciling works great on this story, but he truly shines as a writer in his collaboration with Derek Thompson in Bad Blood, which opens on a lengthy discussion of serial killers as a clearly unhinged Predator flees imprisonment or death at the hands of the more restrained, nobler Predator society. When this Predator lands on Earth, a handful of ex-CIA operatives are stuck in an unbelievably chaotic battle between Predators.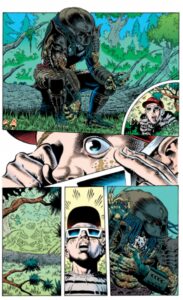 This omnibus may not have much in the way of deep revelations or social commentary, but what it does bring to the table is a series of entertaining locations and characters put into wild and bloody fights with Predators. Sometimes an action movie is just an action movie, and that's okay. More often than not, the humans lose. Taking the opportunity to push the envelope when it comes to the sheer wanton attacks of the Predators and highlighting humanity's inability to rally effectively, these stories succeed by letting loose and allowing themselves to bask in the carnage it brings.