The late 90's were difficult times to be writing the X-Men.  In Wizard #90, Steve Seagle gave vent to his frustrations:
Previously: Gambit after the Age of Apocalypse!
"Joe (Kelly) and I, along with (editor) Mark Powers, proceeded to produce two detailed, yearlong plans for the two X-books which were filled with interesting stories, sweeping long-range character arcs, shorter stories, one summer "big event" crossover, and enough marketing spikes to make any retailer happy without irritating the fans.  I was led to believe this plan had been accepted, and proceeded to start laying in the threads of those stories in the issues I was writing.  Then all four tires blew out from under our wagonload of good stuff."
These were the days when Marvel was in serious financial difficulty, and editorial control became prescriptive to what can only be described as an insane degree.  Steve Seagle had planned to leave Gambit out in the cold for at least a year – he tended to dislike the character, as he didn't feel he was a genuine 'Southern States' guy – but these were among the plans he was forced to change.
The climactic events of Uncanny X-Men #350 were quickly rewritten; we learned that Rogue had been influenced by Gambit's own self-loathing when she left him in Antarctica, and she kept heading back to see if she could find him.  The Cajun charmer himself returned in Uncanny X-Men #361, even gracing the cover!  That being said, the line "Because you demanded it" should really have read, "Because the editors demanded it…" The issue was pretty lacklustre.
Support For Comic Book Herald:
Comic Book Herald is reader-supported. When you buy through links on our site, we may earn a qualifying affiliate commission.
Comic Book Herald's reading orders and guides are also made possible by reader support on Patreon, and generous reader donations.
Any size contribution will help keep CBH alive and full of new comics guides and content. Support CBH on Patreon for exclusive rewards, or Donate here! Thank you for reading!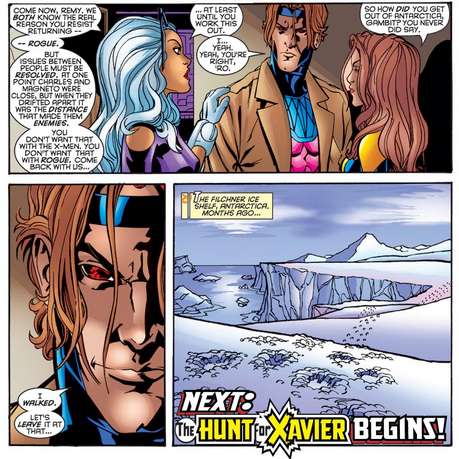 Gambit's survival wouldn't be explained until 1999's Gambit Annual, where Gambit agreed to perform one mission for the villainous New Sun.
And so Gambit returned to grace the pages of Uncanny X-Men once again, in an era where the two series – Uncanny and Adjectiveless X-Men – soon began to cross over a lot once again.  Setting the pattern, it was in X-Men #81 that Gambit really dealt with the 'X-family' he'd betrayed.  In a rather sweet development, he proved extremely protective of Marrow, who was the girl he'd rescued from the Marauders all those years ago.
As well as acting as part of the core X-team over the next few months, Gambit gained his first ongoing series.  This was a rather strange beast, with a number of whimsical one-shots exploring Remy's proficiency as a thief (the strangest to me being #11, where Gambit helps Sabretooth deal with an adamantium addiction!).  The issues spun into the events of the day, including Apocalypse: The Twelve and Maximum Security, but otherwise Gambit had three major plot developments:
It turned out Gambit was more important to the Thieves' Guild than he'd suspected, and he wound up leading (for a time) the combined Thieves and Assassins.  This was a nice about-turn to the guy who'd been exiled, and was fairly well-handled.
In a time-travel storyline, Gambit visited the past and encountered Sinister.  He returned to the present day energised, with the revelation that he'd been forced to have his powers limited once before.  This was broadly hinted as being the debt he owed Sinister, the reason he was forced to help gather the Marauders.
Finally, Gambit struggled against the mysterious New Sun, who – in the 2000 Gambit Annual – was revealed to be an alternate-reality version of Gambit himself!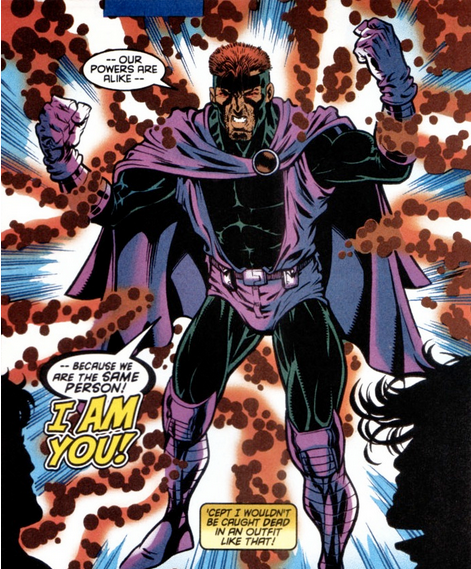 Chris Claremont returned to the pages of Uncanny X-Men from #381, and at the same time Marvel put their entire books through a six-month time-jump.  Claremont immediately settled on Gambit as part of his X-team, and attempted to set a globe-trotting element to the mag – the first story being set in Venice.  In typical Claremont fashion, within a single issue he was pitting the X-Men against psychic manipulation, and fleshing out Gambit's backstory ever-so-slightly more.  Gambit, a victim of his worst fears and doubts, experienced the massacre of the Marauders again – and there's a tantalising line that mentions he even had lover among the Morlocks.  But the Cajun resists: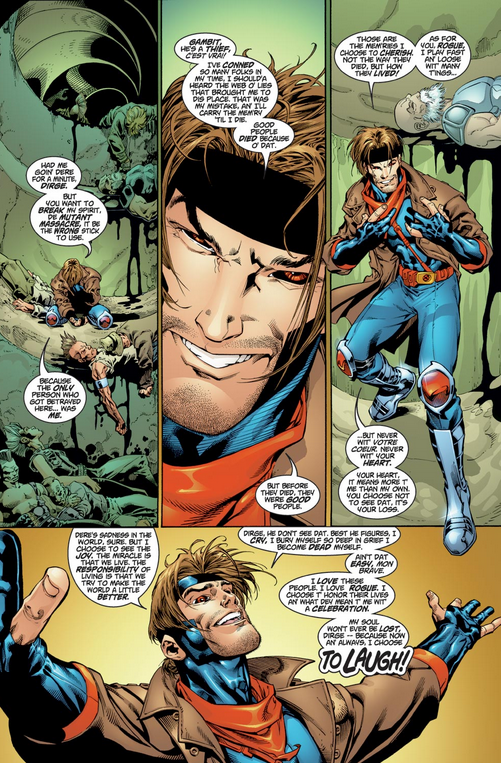 The issue ended with Gambit taking charge of an X-team, a leader among the X-Men for the first time – and trusted in spite of his past.  Events spun out, with the two X-teams colliding, and in #385 Claremont re-ignited the romance with Rogue.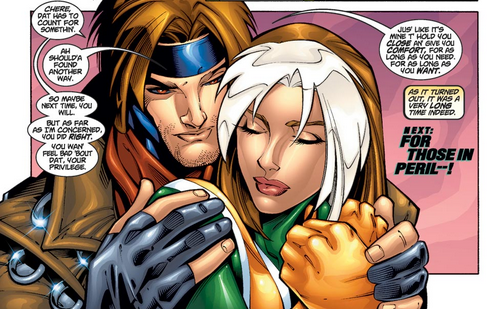 Gambit appeared in both Uncanny and Adjectiveless once again for a few issues (specifically X-Men #104-109), until Rogue led a team away from the Mansion.  She didn't want Gambit close, in case her out-of-control powers inadvertently hurt him.  The Cajun then appeared in a Gambit and Bishop miniseries, introducing the celestial anti-Phoenix-Force Bete Noir.
The Cajun left the Mansion, returning to his thieving lifestyle, but soon wound up involved with Rogue's team anyway – with a constant presence in X-Treme X-Men, with Gambit collecting gemstones of power.  In X-Treme X-Men #16, Rogue was willing to give her life to save Gambit; Gambit almost died in the aftermath.  The two were left powerless, and pursued a normal romance, away from the X-Men.  They still considered themselves X-Men, though, as proven in the X-Treme X-Men X-Pose and #35 onwards.  Gambit's powers were finally restored in #46.
Gambit returned to the pages of X-Men, as part of Chuck Austen's controversial and unpopular X-team.  He was blinded in #160, and was left highly dependent on Rogue; this blindness led to changes in his abilities, with Gambit perceiving the spirit-world in the Rogue series (where he was a frequent guest-star) and proving able to catch glimpses of past and present through his playing cards in X-Men #163.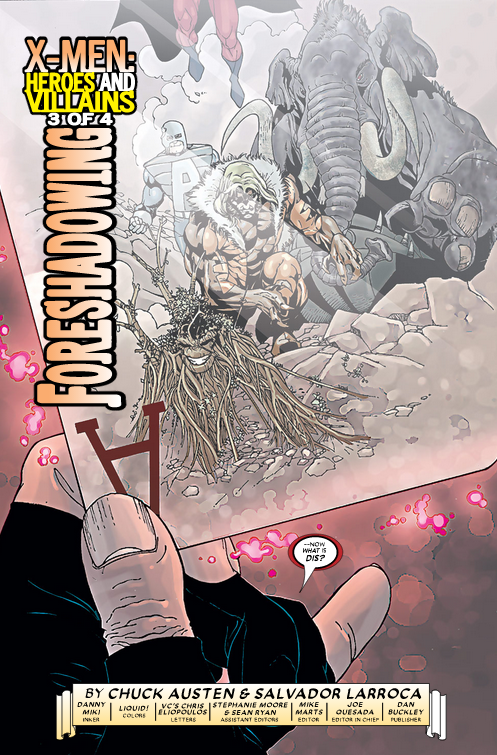 Again, editorial intervention led to Gambit being restored to normal by Sage in X-Men #165, in time for Austen to be replaced as writer by Peter Milligan.  Milligan started out with the Golgotha plotline, in which Gambit wound up fighting shadows and the relationship between Gambit and Rogue grew increasingly strained; this culminated in X-Men #171-174.  Rogue and Gambit turned to Emma Frost for advice, while Mystique made a weird attempt at seducing Gambit.
The years had been kind to Gambit.  Cast aside in Uncanny X-Men #350, he had somehow found his way back to the X-Men, becoming a trusted team member.  And it's at this point that I'm closing this section – because we're now in 2005, and the mutant world was about to change forever.  For Gambit, as much as for anyone else…