Once upon a time, Daredevil was essentially a proxy of Spider-Man. He was a wisecracking acrobat who used his superior reflexes and his radar to beat up bad guys. Instead of being red and blue, Daredevil was just red. Instead of having web shooters, he had a billy club he swung around on. As a guest star on a Spider book, he was great. But as a solo hero, he was dying on the vine.
Daredevil was the kind of book you tossed to green talent under the belief that they couldn't possibly make it worse. They gave it to Miller, and he did much better than that.
Frank Miller tore Daredevil down to the studs and rebuilt it, focusing on the points of difference between him and Spider-Man instead of their similarities. Murdock's law background made his character possessed by justice, as did his catholicism. His martial arts abilities got played up and expanded into a world all by themselves filled with ninjas and magic (exotic things in the early 80s). Not only did these aspects add to the story, but Miller's love of Japanese culture became a new, identifiable part of Daredevil's look with shadow-puppet silhouettes, balletic movements, and manga-inspired panel progressions.
The results were immediate.
But it was the Film Noir sensibility that really captured people. Noir transformed Daredevil's New York into a whole new city. One completely different from the one Spider-Man knew. In this shadow city, criminality was rampant. Murdock could see through his job that corruption was pervasive. There were sex and death for sale everywhere. And through it all came the familiar, streamlined cadence of Mikey Spillane. And, in Elektra, the romance of Bogart and Bacall.
Support For Comic Book Herald:
Comic Book Herald is reader-supported. When you buy through links on our site, we may earn a qualifying affiliate commission.
Comic Book Herald's reading orders and guides are also made possible by reader support on Patreon, and generous reader donations.
Any size contribution will help keep CBH alive and full of new comics guides and content. Support CBH on Patreon for exclusive rewards, or Donate here! Thank you for reading!
This book changed how every comic has been made since. After successfully tearing down and rebuilding the Daredevil title, Miller decided to go after the man himself. This uncompromising story begins by taking Kingpin—who was at the time every bit as bad off as pre-Miller Daredevil—and elevated the villain to Top 10 status. A criminal genius and master tactician who had set his sights on Daredevil.
And when long-missing love interest Karen Page comes back into the picture as a strung-out heroin addict and callgirl, Kingpin seizes his opportunity. Now, armed with Murdock's secret identity, Kingpin begins subtly and systematically ripping Matt Murdock's life down. Practically speaking, Kingpin is just Miller's own editorial desire, but the character manages to still feel unique, compelling, and dangerous.
By the end, Matt Murdock is gone. His job gone, his friends no betrayers, his faith lost. Even though Matt Murdock wins in the end, he loses. There is only Daredevil left, a damaged man who is now truly without fear.
Daredevil did the impossible under Miller: he turned this aimless title into Marvel's hot book of the decade. So successful in fact that it spawned a critically acclaimed spin-off with Eletrka.
Miller's genius move was in repeating his success on Daredevil step for step. Elektra Natchios was never just Matt Murdock's love interest, but her solo stories pushed her into a character completely independent from Daredevil. Miller focused on her connection to the Hand in order to really push the magical nature of her life. Murdock became reason, while Natchios became superstition. The looks of the books then progressively followed suit until Miller's fateful partnership with legendary artist Bill Sienkiewicz.
(Miller published Ronin in between Daredevil and Elektra, which seems important as its cyberpunk samurai fiction feels like the inspiration for the psychedelic trip to come.)
The resulting two books—Daredevil: Love & War and its companion Elektra Assassin—are stunningly beautiful tours through fractured minds, secret forces, and unreality. But I think the thing that's most notable here is that Frank Miller, the solo artist wunderkind behind parent book Daredevil, did not have any problem with Sienkiewicz outshining him on Elektra. This was very near the height of Frank's power in the industry and this partnership could have gone a very different way. But according to interviews, Bill says that Frank was an incredible collaborator, pushing him to better heights.
We'll see that sort of generous spirit on other Miller greats. And it says so much about who Frank Miller was at this point in time.

Famously, Wolverine made his first full appearance in Hulk #181 (1974) before eventually joining the X-Men in Wein & Cockrum's Giant-Size X-Men #1 (1975.) Both of these books were huge hits and cemented Wolverine as a fan favorite. Yet I'm fairly certain that there are no good "Wolverine stories" before Claremont and Miller joined forces in 82. (Ed Note: I can think of at least one!)
The book leans way into Frank's wheelhouse, taking Wolverine to Japan and having him mix it up with ninjas.
Yukio is the breakout star here, proving herself to be every bit the action hero. She's very clearly informed by Miller's Elektra in that both women have ninja training, come from dangerous families, and ultimately die. But thanks to Claremont's stellar writing, Yukio remains her own character distinct from Ms. Natchios. By contrast, Mariko, the new love interest, feels just a little bit underwhelming. This could be due to Wolverine's rosy memories of Yukio, though.
This look back at pre-A list Wolverine is truly fascinating. He's not the unstoppable, unkillable murder machine that comes later from popularity and power creep. This Wolverine could potentially be killed. Which makes it all the more interesting as Claremont brings in more and more of Wolverine's struggle between his love for two women; his former wife and his current paramour. In a surprising display of emotional maturity, Wolverine spends the whole story working through his feeling of not deserving Mariko in order to come to the conclusion that though it may hurt, he must try again. Claremont and Miller's Logan is a very different man than we're used to seeing in the "banana costume."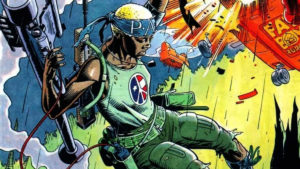 It's easy to pigeon-hole Miller with Daredevil and Batman. To paint him as a noir-obsessed, violence junky with a penchant for bad politics. In fact, it's really easy to pigeon-hole him that way; he'll even help you do it.
But, amazingly, there's another side to the guy. One that's socially progressive, compassionate, and—dare I say—funny?
Martha Washington is a young, African American girl growing up in Chicago's Cabrini-Green housing projects. The tragedy of the tale is deepened as Martha's father is killed during a protest over the living conditions in the projects. Conditions that are then cemented by president-elect Erwin Rexall, who is hellbound and determined to turn America into a dystopia.
That said, Washington is an interesting hero for Miller. She's not merely clever, but genuinely smart with a gift for computer programming. Which leads to the next point: she's not a flat stereotype. For once, Miller makes a fully three-dimensional female character who is capable, sympathetic, and if not morally good than certainly on the side of right. Even more amazingly, the world he's given her is an honest-to-god satire. I'm not kidding, the story doesn't just play at being smart commentary, but actually is. Funny, too (though this is helped greatly by Dave Gibbon's artwork and it's sly detail.)
All told, the Martha Washington series includes a second mini-series and 5 one-shots. Which is maybe the biggest tragedy of the series, but they're not very good.
The other mini-series, Martha Washington Goes to War, is a complete mess. In fact, it reads as though Miller and Gibbons completely missed what made the first book work, as what they've provided is a complete about-face. To start with, both creators have gone on record to say that War was part inspiration from and part tribute to Ayn Rand's Atlas Shrugged. That story of naked force driving objectivism is in polar opposite to Liberty's state goals of compassion and awareness. Furthermore, objectivism does not generate its own humor. This becomes painfully obvious as War scrambles to find a joke that actually works, creating only flat, bitter whining instead.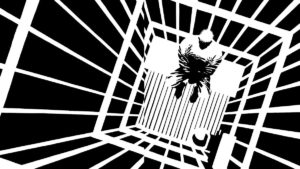 Miller's neo-noir masterpiece has not aged well. It's hyper-masculine stories filled with one-dimensional gender stereotypes and boilerplate pulp stories still manage to be fun at times. But it's flattening of people into murderers, whores, or both isn't quite as breathtaking as it was two decades ago.
But the series is still an illustration marvel. Miller's movement, compositions, and character designs are superb as ever. But his use of closure and conceal/reveal techniques is astounding. These books are still likely the best example you can find for this technique.
Each arc is fairly independent of one another, but generally, the first 4 books progress in ascending artistic quality from the rough The Hard Goodbye to the sublime That Yellow Bastard. Sadly, the final two books in the series (Family Values and Hell & Back) fall well behind expectations.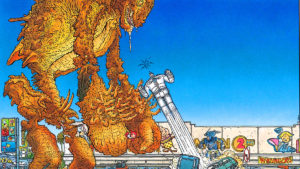 This charming little two-parter feels like a bigger, longer Calvin & Hobbes strip. It's Calvin's daydreams of Spaceman spiff, snowmen, and dinosaurs scaled to kaiju proportions.
Geoff Darrow's work is as spectacular as always, and maybe the biggest selling point to the book. The man skips no corners, drawing every scale, every rivet, every tongue of flame.
This is not to say that Miller's contributions go unappreciated. His story is a delightful juxtaposition. The plot is simple enough: a monster escapes from a lab and can only be stopped by a useless, self-doubting robot child and an enormous, monotone mecha. But Frank maintains his ridiculously over-wrought voice, which is absolutely pitch-perfect here.
The two create a story that's a fantastic blend of 50s Americana and 60s Japanese media. Really, there's not much more to say other than "you should read it."
Spiritual Precursor
Miller and Darrow's first collaboration that I'm aware of was actually 1990's Hard Boiled. But where Big Guy and Rusty could be seen as a child's imagination as fueled by nostalgia, Hard Boiled would be a teenager's daydream of a cyberpunk future. There's humor in both, Japanese and American influences in both, and a wild time in both… it's just that one is age-restricted.

The Strange Saga of Miller's Batman
History
The Dark Knight Returns is on every "Top Batman Stories Ever" list. I agree with that, but for very different reasons.
In the mid-80s, DC's brass wanted Frank Miller bad. He'd taken Wolverine and Daredevil from a generous c-tier and transformed them into money-printing machines for Marvel. And that kind of talent gets poached. So, when Daredevil began to wind down, DC threw their doors wide open to the creator, promising him anything.
The legend goes that Miller wanted Superman. He loved the character so greatly it was his only choice. So, DC thinks about putting the hottest writer going on their biggest icon. Then they took a look at Daredevil's world of death, heroin-addicted call-girls, and complete depression and said "okay, anything except Superman."
The story goes that Dark Knight Returns was born as a stealth Superman book, born out of the ashes of Frank's failed pitch and his bitterness over it. And looking at the book, it's a compelling theory.
Analysis
Because this is a dark, perhaps cynical reinvention of Batman's character. Bruce is older, disillusioned, and unfulfilled in a futuristic Gotham that no longer wants him. Even with grey hair and a beaten body, he's itching for that role again. An addict, returning to his vice to escape a painful reality. And when Batman does put on the cowl again, he returns to the streets not as a "crime fighter," but as a paramilitary force with its own armored division. The only thing separating Frank Miller's Batman from fascism is a Hugo Boss suit.
Then, in the third act, Superman shows up. Misguided now, but still noble and caring. And rather than hashing it out like adults, Batman acts like a child and goes toe-to-toe with his friend.
In the end, this is less a "stealth Superman" book and more a bitter satire on pop culture, politics, and the comics industry itself.
This isn't the prequel to the Dark Knight Returns; it's the sequel to Daredevil: Born Again.
Year One opens with a man who lost everything long ago. A man already broken and reformed into an instrument of justice. And Wayne, like Murdock before him, isn't going to get a happy ending here. Even if he wins, he's already lost so much.
This approach to the character of Batman was simultaneously directly in line with the character's early pulp roots and a dramatic reinvention. Bruce Wayne, charming playboy billionaire, had been replaced by a single-minded soldier. The book's old daring-do tone was similarly replaced by the simple, unalloyed growl of a man hollowed out by tragedy.
But the similarities to old Marvel work don't end there. Jim Gordon's re-invention as an ex-military man turned cop. There's something in the way Miller writes the character that feels reminiscent of Claremont's depiction of Wolverine (above). Jim feels like an animal that has been backed into a corner only to reveal how unrelentingly deadly it is.
David Mazzucchelli's art is perfect for the story. A mix of gothic horror and part world moving towards a colorless, black or white certainty.
This book went beyond redefining Batman but instead virtually replaced the title with a brand new book. And it's from this new outlook that every creator since has drawn inspiration for their stories (Batman or otherwise).
DC started their All-Star line with the best of intentions, with Morrison and Quitely's Superman as a perfect little miracle. Whereas Miller and Lee just made… The Goddamn Batman.
The writing is inexplicable, like Miller's trademark "tough guy" hero had become the sad, middle-aged drunk gone pathetic attempting to prove he's still got it. Lee, for his part, isn't much better. Lee's work is anatomically sound, his linework clean, his faces clear. But it's all so inanimate. It feels like Hush leftovers mixed with the awkward sexiness of 90s X-Men.
The two creators would later claim that the book was always intended to be a comedy. But that's the kind of thing people say when they want to be on the same side as the people laughing.
Miller sorta lost his mind after 9/11. His books waved between mediocre lampoon, unfulfilling escapism, and incoherent soapboxing. There was also a pronounced decline in Miller's illustrations during this period. Gone were the confidence and elegance of Sin City and Daredevil; in its place, the grotesques of The Dark Knight Returns.
The Dark Knight Strikes Again, has the identifiable qualities of a satire and even manages a few good character moments for second and third-string JLA members. But between the unfocused writing and the "first draft, last draft" artwork, it's primarily just a confusing book. That book caught a lot of backlash but also did quite well in sales, leading to DC's next solution: Less Frank Miller content, more Frank Miller credits. The second two come with writing help from Brian Azzarello (perhaps the closest thing to a contemporary Frank Miller) and several artists. Sadly, the results continue to downward trend leading us to imagine that either a bunch of Eisner award winners couldn't interpret Frank's grand vision, or else Frank Miller no longer had one at this time. After looking at Miller's solo book, Holy Terror, I have to imagine it's the latter.
Ever since Dark Knight Returns, Miller has depicted Superman as the powerful, well-meaning sheep who is all too eager to surrender his will to the US Government. It's his objectivist fetish and we all just have to accept that.
Miller stated this book is meant to tie into the Batman: Year One / Dark Knight Returns universe, but there's nothing to indicate that. There's no specific time period to link it. Tonally it's a mess. And thematically it's completely galling. Why on Earth would Kal El join the military special forces? Why would he ever use a gun? And wouldn't his Kryptonian physiology demoralize the entire detachment? Don't even get me started on the dialog.
By all accounts, Miller has tried to get his personal life back in order, and that's obvious from the pitch for this title. Carrie Kelley, the Robin from TDKR, is back. There are new female protagonists to help her. Miller's post-9/11 Islamaphobia appears to have been replaced with a renewed love of Japan. These things seem promising on their face.
But it's early days yet.