Who said athletes can't be superheroes?
For many, sports and comic books didn't exist on the same plane; they were on different dimensions to be exact. But for some odd reason, real-life super athletes did appear in our comic books. From famous wrestlers like Robert "Sgt. Slaughter" Remus to baseball shortstop Calvin Edward "Cal" Ripken Jr., they showed us that athletes can also uphold the principles of justice and freedom for all mankind.
Now, here are some of the athletes that graced the pages of our beloved comic books.
Muhammad Ali
Considered as one of the greatest boxers in history, Muhammad Ali came face-to-face with one of comic's greatest heroes, Superman. Penned by Dennis O'Neil and Neal Adams, the Superman vs. Muhammad Ali arc became an instant cult classic. Despite the fact that Ali lost his heavyweight title to Leon Sphinx during its release in 1978, it was still well-received by fans. However, Betfair's Dan Fitch listed it as one of the weirdest sports star appearances in comics of all time. In his article, he revealed that Ali agreed to appear in the comic if he would discover Superman's alter ego. Well, the rest is history, as they would put it.
Karl "The Mailman" Malone
With 36,928 points and two MVPs under his belt, Karl "The Mailman" Malone is one of the NBA's greatest power forwards. His strength and size gave him the advantage to tower over his opponents on the court. Malone was also fast and released deadly mid-range jumps when needed. Due to his immense popularity, Allstar Arena Entertainment grabbed the opportunity and wrote a comic book for him. Karl Malone is the Mailman was written by none other than Karl Malone and Brett Lewis. Published in 1998, it only ran for one issue and subsequent issues weren't released. To date, it's still one of the most coveted comics by collectors.

Charles "Sir Charles" Barkley
Compiling 4,000 assists, 20,000 points, and 10,000 rebounds, this six-foot-four power forward was a beast to contend with on the hard court. Thanks to Charles Barkley's outstanding performance, Nike decided to pit him against another legend—Godzilla. The marketing campaign was a huge hit and Dark Horse Comics decide to adapt their idea into a comic book. Keith Aiken, Jeff Butler, and Mike Baron were responsible for creating this one-shot masterpiece of sorts. Charles Barkley vs. Godzilla will always be one of the oddest and cutest mash-up in comic book history.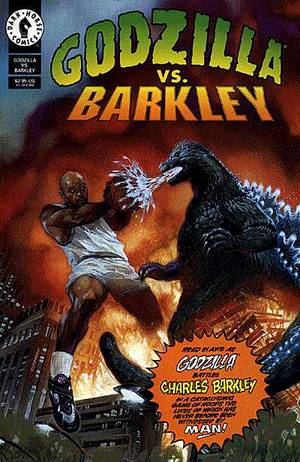 William Anthony "The Fridge" Perry
Hailing from Aiken, South Carolina, William "The Fridge" Perry was one of the Chicago Bear's best defensive linemen. Due to his enormous size, he was nicknamed "The Refrigerator" or "The Fridge." With the Bear's triumph over the New England Patriots in Super Bowl XX, he was eventually "drafted" by Hasbro to join the ranks of America's elite—G.I Joe. That same year, Hasbro created an action figure for him, forever cementing Perry in pop culture history. As The Fridge, he was also featured in IDW Publishing's G.I Joe: America's Elite and Devil's Due Publishing's World War III story arc.
So, there you have it. Four super star athletes who also graced the pages of our beloved comic books. It goes to show that comics and sports can truly mix, and these stars can be superheroes too.