X-Men: Emperor Vulcan picks up where The Rise and Fall of the Shi'Ar Empire left off. How do Havoc and his ragtag group of Uncanny X-ladies fit in as Starjammers? What's Emperor Vulcan, aka Gabriel Summers, going to do with the keys to the Shi'Ar Empire? Is this mini-series a worthy follow up to Rise and Fall? Find out after the jump!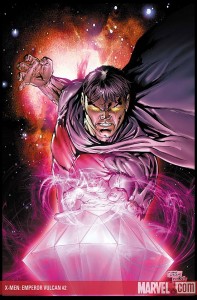 Comic Book Run: X-Men: Emperor Vulcan (#1-5)
Publication Dates: Sep 2007– Jan 2008
Writer: Christopher Yost   Artist: Billy Tan
 CBH Score: 7.3
Support For Comic Book Herald:
Comic Book Herald is reader-supported. When you buy through links on our site, we may earn a qualifying affiliate commission.
Comic Book Herald's reading orders and guides are also made possible by reader support on Patreon, and generous reader donations.
Any size contribution will help keep CBH alive and full of new comics guides and content. Support CBH on Patreon for exclusive rewards, or Donate here! Thank you for reading!
Continuity Relevance?: Surprisingly relevant to Marvel Cosmic.
Who Needs It?: Deep lovers of all things X-Men and Marvel in space. Anybody who's been reading Brubaker's X-Men: Deadly Genesis and Rise and Fall of the Shi'Ar Empire. Fans of the big green alien dude on the Starjammers.
Has the Mini-Series Become the Master???
Considering I was pretty non-plussed with Ed Brubaker's Rise and Fall of the Shi'Ar Empire, I had a real hard time convincing myself to read Christopher Yost's follow up, X-Men: Emperor Vulcan. I'm glad I did, though, because this mini-series is a surprise improvement on the story of Gabriel Summers, aka Vulcan.
Here's where the Uncanny X-men stand leading into Emperor Vulcan (check out the story arcs mentioned above for the full experience): Vulcan has taken over as Emperor of the Shi'Ar and Havoc, Marvel Girl, and Polaris have joined the Starjammers to aid Lilandra's resistance against Vulcan. If a good chunk of that last sentence was like reading a foreign language a) It kind of is and b) I'd highly recommend reading Chris Claremont's run on Uncanny X-Men, conveniently collected in Marvel's Essential volumes.
Anyway, Emperor Vulcan, long lost brother of Cyclops and Havok, has a raging hard-on to kill Professor Xavier. Fortunately for Prof Daddy X, Vulcan is distracted in this mini series by a race who's name literally means "Death to the Shi'Ar."
This leads to a classic "you're evil and we're good, but we'll team with the devil we know for now" plot line, with Havoc and Vulcan combining the might of the Starjammers and the Imperial Guard to avoid the complete annihilation of the Shi'Ar race.
Why's it an improvement on Rise and Fall of the Shi'Ar Empire? Primarily, it's Yost's character development. Within the clear structure of the five issue mini-series, Yost is able to charm huge comic relief out of Ch'Od (the green "Hulk meets Lizard" guy on the Starjammers), turn Vulcan into a semblance of an interesting character (he's enjoyably evil for most of this), and build Havoc into something other than Cyclops's brother. Billy Tan's art holds the line, and viola – the mini series is easily the master.
Nonetheless, Emporer Vulcan is really only for readers who are already dedicated to X-Men and Marvel Universe continuity. I enjoyed the reading experience here more than Rise and Fall, but the nature of Emperor Vulcan means it can't stand alone as a substitute read.
If you have any thoughts of your own on the Vulcan saga, shout them out in the comments!