Some stories are charming and intricate because they offer multiple perspectives and characters to appreciate and consider. However, stories about stories show how the power of storytelling can shape lives by telling tales steeped in history, myth, and culture. In the medium of comic books alone, there are books, such as Marvel's Loki: Agent of Asgard
and the graphic novel memoir The Magic Fish
by Trung Le Nguyen, that have leads who use the power of stories to explore and express identity. Now, Juni Ba's West African fantasy epic Djeliya
joins them with a blend of stunning art, thoughtful characters, and interconnected tales.
Long ago, a futuristic magical world lived in peace and harmony. Then, everything changed when the wizard Soumaoro destroyed it using his ivory tower. Ten years passed and two people now journey to the tower for answers: Prince Mansour Keita, the last survivor of an ancient kingdom and Awa, his djeli. Along the way, they see and learn the stories of others surviving the apocalypse and begin to question everything they previously knew.
One of the first things that had me in awe of this graphic novel was Juni Ba's art. It looks like the minimalist art style of Genndy Tartakovsky's animated series "Samurai Jack" combined with bold linework, warm colors, and shadowing. A particularly stunning page that drew me in features the giant warthog Mbam meeting Keita for the first time. The contrast between the two is demonstrated with Mbam towering over Keita's figure, which resembles nothing more than a shadow.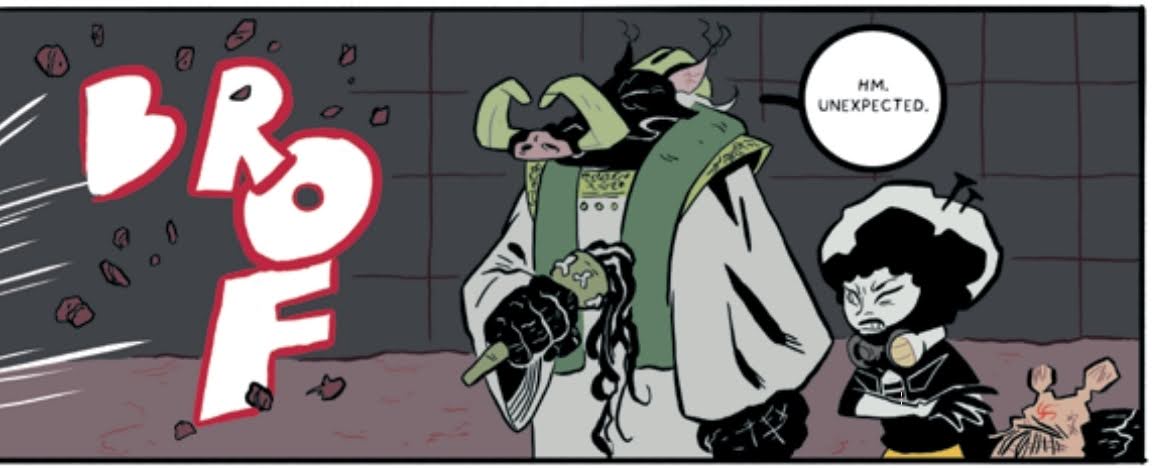 Besides the art, the lettering enhances the visuals and the dialogue with use of big balloons, text that changes color depending on the discussion, and a font reminiscent of Windlass. In fact, the sound effects are particularly notable because they are a bit grittier than the ones found in your average superhero comic book. For example, the sound effect of "Shank!" is red to convey the act of someone being stabbed, while the sounds of Awa's musical equipment is conveyed with white chalk-like letters and the words "Boom" and "Tuss."
Support For Comic Book Herald:
Comic Book Herald is reader-supported. When you buy through links on our site, we may earn a qualifying affiliate commission.
Comic Book Herald's reading orders and guides are also made possible by reader support on Patreon, and generous reader donations.
Any size contribution will help keep CBH alive and full of new comics guides and content. Support CBH on Patreon for exclusive rewards, or Donate here! Thank you for reading!
Both the artwork and lettering work in harmony to tell the story of the book's main protagonists, Awa and Keita. Awa is a young djeli, a West African and Malinke term for a storyteller and historian that is also known as a griot. Awa is meant to serve and guide Keita, the prince with untapped potential. As expected of someone like Awa, she is dutiful but also stubborn and a bit close-minded. However, she still serves as a good foil to Keita, who is vain and has an inferiority complex. Awa and Keita's flaws are made up for with Awa's drive and knowledge and Keita's mechanical handiness and sensitivity. It is these qualities that allow Awa and Keita to improve themselves as they continue through their journey.
In fact, Awa and Prince Keita's intertwined stories are a part of the larger theme of stories and power. At the beginning, Awa believes her story is solely defined by her role and lineage as a djeliya and the legacy of King Keita, Prince Keita's deceased father. Likewise, Prince Keita is having a hard time because his father's shadow looms over his story in more ways than one. Both Awa and Keita have their own innate powers to hone, but in order to do so, they must consider how the stories they've been taught affect their view of the world.
Depending on the nature of a story, it can affect a person's worldview in ways good, bad, or both. For Awa, her past experiences with King Keita and the lessons she learned from her father about being a djeliya has caused Awa to revere King Keita as a benevolent ruler that can do no wrong. On the other hand, the gossip Prince Keita heard about himself, about being a "failure" and "second best" compared to his father has resulted in the prince trying too hard to prove himself.
Supplementing Awa and the prince's stories are the stories of the post-apocalyptic world they live in. Although it doesn't have a specific name, a handy glossary in the back of the book explains its influences in West African's folklore and oral history. As a Black reader, I was familiar with certain terms such as "griot" and the myth and folklore figures of Anansi and Nyame, but I was intrigued to see them and newer terms presented in a fresh and creative fantasy story.
In fact, the West African cultural influences are particularly notable because I can only think of a handful of fantasy comic books inspired by Black culture. Besides Djeliya, there is also Sebastian A. Jones' Asunda comic books, Roy Okupe's Malika Warrior Queen
, and Jacque Aye's Adorned By Chi. Whether they are set in another world or inspired by the real world, these comics retell the past, present, and future to entertain and invigorate the imagination.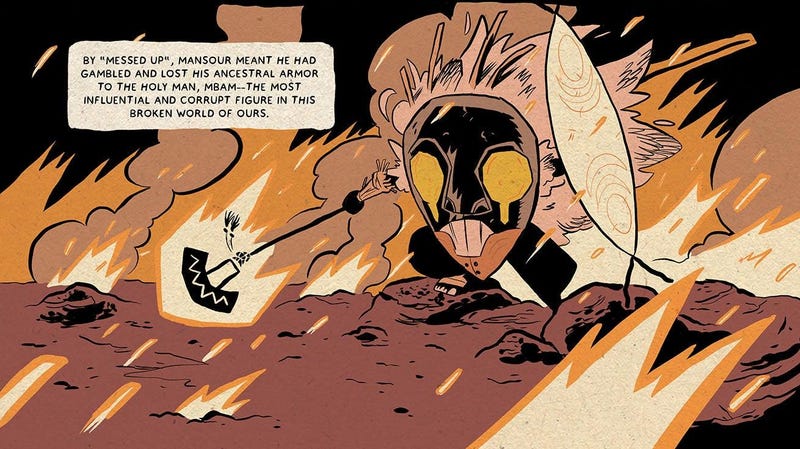 On top of enhancing Awa and Prince Keita's stories, the stories of the post-apocalyptic world have their own uniqueness and detail to them that is connected to Awa and Keita. This is clearly seen during a chapter that serves as a black and white interlude to the overall story, set in a particular village that has people gossiping and wondering aloud about the wizard, the tower, and who is responsible for the current state of things. The interlude, seemingly small and unconnected to the main story, offers a powerful moral about fear that is echoed in Awa and Prince's Keita's story.
Although Awa and Prince Keita's personal stories are influenced by the world around them, they also have the power to do the same to others for better or worse. Awa's fear of not fulfilling her responsibility to her deceased family as a djeliya and Prince Keita's fear of being unworthy of his father's legacy initially warps how they perceive themselves and others. For Awa, this initially causes her to be unable to recognize her privilege that comes from being connected to a family that obtained wealth and resources in oppressive ways that were disguised as good will. At the same time, Prince Keita originally turns to shady characters like Mbam in order to gain recognition and status.
On the way to the wizard's tower, Awa and Keita visit a few places that gradually change how they see the world. One such place is the Guele Tapee region, of which Mbam tells a story about it being a place of criminals led by Bouki, who must be killed to obtain his protective charm known as juju. As it turns out, this story is only partly true and the full story humbles Awa and Keita. In particular, Keita is forced to take a hard look at himself once he learns who the "criminals" truly are.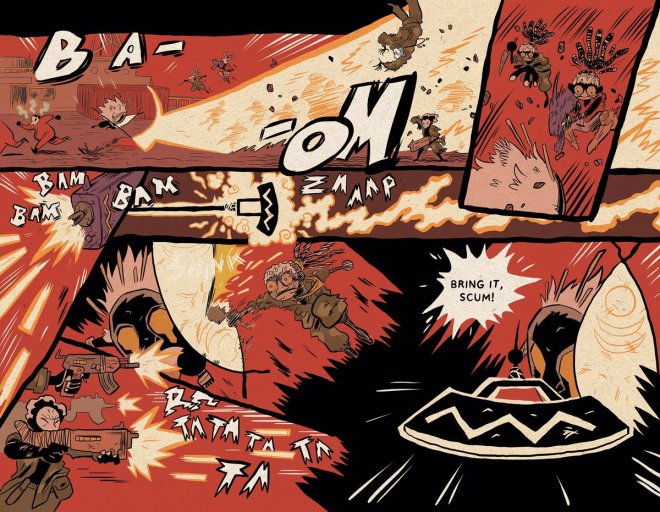 As a result of their experiences in the Guele Tapee region, Awa and Keita start to change internally. Awa's decision to carry out the deed Mbam entrusted them to do gives her a glimpse of how harsh the world can be while testing her resolve to guide Keita on the right path. Meanwhile, Keita's discovery of the truth behind the criminals and seeing Awa covered in Bouki's blood results in him turning away from Mbam and gaining some integrity.
Initially beginning with a young girl and a prince amid a post-apocalyptic world, Djeliya unfolds like a patchwork quilt as a story about stories and the power they have over others. As Awa and Keita learn how their personal stories and the world's stories are connected, they uncover tales and history with both beauty and pain and use that knowledge to heal for a better future.